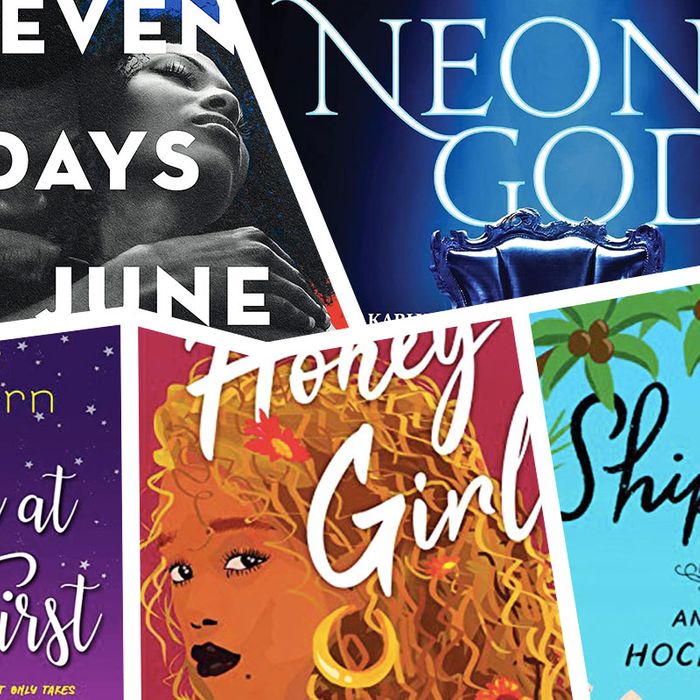 Photo-Illustration: Vulture; Photos by Publishers
For many of us, 2021 feels like a year dedicated to recovery mode, the aftermath of something life-changing and unpredictable where we now have the opportunity to start to pick up the pieces from the year before. Of course the publishing industry, like so many others, was negatively impacted in 2020, but one of the few genres that continued to carve out a path forward (like it always has) was romance.
In some ways, it shouldn't be surprising that the romance genre still found a way to thrive during the coronavirus pandemic and its lingering effects on our world. The essential tenets of the genre — a central love story and an emotionally satisfying resolution (typically referred to in shorthand as a HEA, for Happily Ever After, or HFN, for Happy For Now) — are grounded in hope and happiness. In a world of uncertainty, readers have clung to books that will give them the promise of their basic premise, and this year featured so many that served as a light in the darkness. (This list will be updated on a monthly basis.)
Photo: Publisher
For the Love of April French is a romance that seems like a dichotomy at first glance; how can a book about BDSM and kink manage to also be one of the sweetest stories ever written? But that's what makes Aimes's work so perfect here. It's effortlessly inclusive and insightful, accessible for those who may not be very familiar with the kink lifestyle, illustrates an emotionally mature relationship between two people who have realistic and relatable struggles, and ultimately reminds us of what the romance genre is capable of — which, actually, is just about anything. April French starts off as a character who is relationship-avoidant, and most of the time she's just the last fling for someone else right before they meet the One. But when she strikes up a conversation with Dennis Martin at her local kink club and they end up spending one incredible night together, keeping it casual might not necessarily be in the cards anymore. Can April let down her guard to let herself have the love and commitment she hasn't even known she's been craving all along?
Photo: Publisher
MacLean kicks off a brand-new series with a bang — and a bold, assertive heroine who embraces her scandalous reputation proudly and without shame. Lady Sesily Talbot is used to possessing a certain notoriety, but now, she's using it to her advantage. As a key member of a clandestine girl gang whose main mission is to take down unrepentantly terrible men, she's wielding her wiles in ways that the majority of people in society circles would never expect. The only hiccup? The return of Caleb Calhoun, the American who broke her heart years ago and has somehow made his way into her orbit again. Of course, we know these two are destined to collide eventually, but how it happens is in particularly incendiary fashion. MacLean is a master at weaving passion and vulnerability equally in her characters, and Bombshell serves as proof that when it comes to historical romance, she's one of the best for all these reasons and then some.
Photo: Publisher
Remember that news headline about the three women who discovered they were dating the same guy, ditched him, and then proceeded to go on a road trip together? It almost sounds like a plotline lifted straight out of a romance novel — and, it turns out, Rochon wrote it before reality unexpectedly imitated art. Her Boyfriend Project series revolves around a group of ladies who, after realizing they've all been dating the same loser, dump him publicly (and in front of lots of cell phones) and ultimately become best friends. The Dating Playbook, the second of that series, is truly as much about the relationship between these women as it is the evolution of its main love story, too, which makes it such a joyful reading experience. Taylor Powell is killing it as a personal trainer, but financially, the situation is critical. Former football player Jamar Dixon might be her knight in Under Armour, although he doesn't want anyone to know about their sessions — so clearly the solution is for them to pretend they're a couple, right? With smoking hot chemistry, next to no angst, and a friend group that is literally squad goals, Rochon has written another winner.
Photo: Publisher
If Charlie's Angels were actually a breakup agency, you've already got a partial sense of Hartl's charming, hilarious, and devastatingly hot adult romance debut. Brinkley Saunders is part of a company that offers a specialized service to jilted exes, unhappy professionals, or anyone with an ax to grind against someone who's wronged them: revenge. It's not a totally glamorous job, but it pays the bills, and it's something to do while she works on nailing down her longtime dream of having her own art gallery where she can show off her paintings. Everything seems to be going to plan, until Brinkley's boss decides that their heartbreak agency could use a little more male energy — and when Brinkley comes face-to-face with her new co-worker, she discovers that Mark is someone she was hired to carry out revenge against once upon a time. What's more? She came way too close to breaking one of her major rules that night: Never sleep with a target. Turns out that Brinkley's attraction to Mark has never really gone away, either, but beneath the playful banter and bickering, there's a lot of trust that needs to be rebuilt between them on both an emotional and physical level. Hartl skillfully manages to merge a romance with a story of learning to love and prioritize one's self, all while tackling relatable workplace issues head-on, and the end result is a rom-com that really needs the adaptation treatment ASAP.
Photo: Publisher
For those who are still mourning the end of Schitt's Creek — and also wanted Alexis Rose (Annie Murphy) to get her own happily-ever-after by series's end — Bailey's rom-com scratches that itch and then some. It Happened One Summer is packed full with the trademarks she's best known for as an author, including scorchingly steamy romantic tension and a hero who could get his own Ph.D. in dirty talk. Hollywood "It" girl Piper Bellinger has always been known for making headlines, but when her latest flavor of the month breaks her heart, she decides to throw a slightly illegal rooftop party — which is the last straw where her stepfather's patience with her antics is concerned. Being banished to a beach town in the Pacific Northwest is punishment enough, but Piper and her sister have also been charged with renovating the dive bar that used to belong to their late father, a local hero in Westport. The first time Piper runs into big and burly sea captain Brendan, it's loathing at first sight — although keeping her distance is easier said than done in a small town like this, and as they encounter one another more and more, the two start to become real proof of the "opposites attract" concept in action. The only question that lingers is whether this will just be a sexy summer fling or possibly something more.
Photo: Publisher
The latest installment in the Rajes series (each of which takes a Jane Austen title and completely flips it on its head) is quite possibly its most moving and profound, tackling themes of grief and trauma for characters that must embrace self-discovery and understanding before they can heal — and ultimately, reconnect with one another for an utterly sweeping slow burn of a romance. Yash Raje is driven by the dream of becoming California's first Indian governor, and he's prioritized that goal over just about everything else in his life. After he survives an attack on his life at a rally, Yash begins to lose hold of the composure he thought he possessed — but if his emotional struggles get out, it could be a PR nightmare. Enter India Dashwood, close family friend and best friend to Yash's sister, who's professionally qualified to help this ambitious man manage his stress levels. But Yash and India have their own shared secret, too: a brief night of intimacy and passion between them ten years ago, one that Yash can't help but remember the second India walks back into his life again. Their journey to a happy ending is one filled with angst and emotion, and Dev's reimagining transcends the classic novel to become its own iconic text in the process.
Photo: Publisher
Some historical romance novels are truly exemplary not just because of the deserved happy ending they offer their characters, but the established systems in place they masterfully interrogate in the process. Sebastian's trade debut, The Queer Principles of Kit Webb, manages to be so many different things at once: a charming and mesmerizing romance, a comedic heist novel that perfectly encapsulates the Be Gay Do Crimes slogan, and a story that wrestles on the page with class difference and the inherent privilege that comes with wealth and possessions. Percy, Lord Holland is seeking a way to bring about his own father's downfall, but in order to do that, he needs to hire someone skilled in procuring items in a most illegal manner. Enter: Kit Webb, a mostly retired highwayman who owns a coffee shop and has no interest in returning to his former line of work, thank you very much — but he does begrudgingly agree to teach Percy how to pull off the job. Too bad all of those sparring and thieving lessons will only bring them closer together, to a point where Kit comes to the very distressing conclusion that he can't sit idly by while Percy risks his life — not while he himself is beginning to possess very real feelings for this nobleman and aspiring highway robber.
Photo: Publisher
Mythological and fairy-tale retellings are almost a dime a dozen in romance, but the truth is there's a reason these iconic legends are mined over and over again — with each revamping as memorable as the last. One of the undeniable standouts of 2021, however, goes to Katee Robert's modern and very sexy reinterpretation of the Hades and Persephone story in Neon Gods, the first in her planned Dark Olympus series. In this world, the gods in question are merely avatars for powerful people, with each holding control over a certain territory. There has been a tentative peace between those who have taken the titles of Zeus and Hades for some time — at least until society princess Persephone Dimitriou, confronted by the possibility of an arranged marriage to the current Zeus, flees to the forbidden undercity. Finding herself the unwitting guest of the mysterious Hades is one thing; pretending to be his in order to thwart Zeus might be more than she's entirely prepared for. The two strike a bargain with mutual vengeance in mind, but in binding themselves together against a common enemy, they'll find true partnership (and love) where they least expect it.
Photo: Publisher
Eva Mercy is a single mother and successful author of a best-selling Twilight-esque paranormal romance series, but she's feeling burned out on her current career trajectory and wants to pursue other stories for a change. When she unexpectedly encounters literary darling and famous recluse Shane Hall at a writers' event, the two are practically propelled back in time to the wild week of infatuation they had when they were teenagers, a love affair that was forced to end almost as instantaneously as it began. Meanwhile, the rest of the world doesn't know that they've been using one another as inspiration for each other's books for years. Second-chance romances are a tough needle to thread; the writer has to weave both past and present together, crafting two different love stories that are equally believable in pursuit of that inevitable happily-ever-after that occurs by the final page. Seven Days in June is about the intoxicating, all-consuming power of first love, of young love, but it's also about the deepening and complicated love between two people who run into each other years later, hearts still tender and bruised, and recognize that their feelings for one another have become something even stronger with time.
Photo: Publisher
The Girl with Stars in Her Eyes isn't just a romance novel about rock music; it's a book that literally sings, with lyrical prose that will keep you turning page after page well into the night. Antonia "Toni" Bennett (and yes, she's heard all the jokes) grew up with mostly just a guitar for company. When a 12-year-old Toni meets 13-year-old Sebastian Quick, they make a pact to escape their small town together — but when he turns 18 he bails out by himself and leaves her behind. Years later, Toni is still living her dream as a performer, even if she's only playing in local Philadelphia bars and laying in backup tracks on other artists' albums. Getting the chance to try out for a spot in the Lillys, one of the hottest new girl bands out there, is a dream opportunity — until she runs into her old childhood friend Seb and realizes he's one of the people who could either make or break her dream. Never mind the fact that she's never fully forgiven him for abandoning her all those years ago, either. Whether you want an agonizingly good slow-burn romance, an ode to indie rock, or some amalgam of the two, this novel is as impossible to get out of your head as any earworm — but you should definitely read it with the music that was written specifically to accompany the book!
Photo: Publisher
Lam's debut romance is a genuine gift and a reminder of the fact that romances can be just as much about second chances as they are about falling in love for the very first time. Trixie Nguyen is a refreshing, sex-positive heroine who makes a living selling adult toys. She genuinely adores her job instructing women about how to make sex a more pleasurable experience. Making a fresh start in Washington, D.C., after a bad breakup feels like the best next step — but then she comes face-to-face with Andre Walker, her ex, tending bar at her very first pop-up event! As if that weren't enough, it turns out Andre originally dumped her via a Post-It note, which is obviously going to demand some serious groveling. At first, Trixie and Andre decide not to pick up where they left off but to try something new: being friends with benefits. The only problem is that they're reminded all too quickly of just how well they work together, both in and out of the bedroom, and soon the benefits start to outweigh the desire to keep their situation strictly friendly. When Trixie sets her sights on a new co-op initiative in the neighborhood, Andre's concerned it'll threaten the legacy of his late mother's restaurant, and the two are left with a decision to make between business and pleasure — as well as the real possibility of starting over together.
Photo: Publisher
In a landscape that can't even technically be described as post-pandemic yet, where many of us are longing for the ability to escape the quarantine of our homes and simply go places, there's something about Henry's latest romance that offers both immense satisfaction and an intense hunger for travel and making lasting memories with the people we love. Poppy and Alex have arguably nothing in common, but they've been best friends for years, and they celebrate their long-distance dynamic in a very specific way: every summer, they take a vacation together. Or they did until two years ago, when one fateful summer night changed everything between them, and they haven't spoken since. Now, Poppy's navigating feelings of millennial ennui at her job, but she does remember the last time she was truly happy: on a trip with Alex. Convincing her former BFF to take one more trip with her is almost the easy part; realizing there's still one huge secret that's been hanging over their entire friendship is what could drive them apart forever. In her follow-up to the equally compelling Beach Read, Henry has solidified a name for herself as an author with the ability to write romances that burst with both humor and emotional yearning.
Photo: Publisher
Office romances can be a tricky tightrope to navigate, especially between two characters where the playing field isn't entirely level, but Barrett's rom-com debut is a refreshing take on navigating romance in the workplace and confronting the obvious power dynamic issues with realism and care. Corinne Blunt is used to people having preconceived notions about her ice-queen status, but she's only gotten to the executive level by operating in a certain light. Of course she's always had some level of awareness around it, but when she overhears someone laughing at a co-worker giving her an especially rude nickname, she decides to wield her authority against the assumed offender: new intern Wesley Chambers. To Corinne's chagrin, however, Wesley is all too happy to work hard and try to prove himself to his new boss, and the warmth he exudes soon proves strong and sincere enough to melt the ice she's built up around her heart too. This book exemplifies all of the best parts of the genre, with sweetness and steaminess abounding in equal measure.
Photo: Publisher
Danan's follow-up to her sparkling, sexy debut The Roommate (released in September of last year) is more introspective and emotional than its predecessor, but with that same captivating prose that made her first release so successful even in the height of a difficult publishing landscape. Naomi Grant, the best friend and ex of The Roommate's Josh, has been poised to make the jump from sex worker to sex educator since the start-up they co-founded together hit big. The only problem is that due to her background, she's having trouble finding gigs as a lecturer. Enter Ethan Cohen, a rabbi who has been tasked with attracting a younger generation to his synagogue and only three months to do it. When the two team up for a seminar about intimacy in the millennial world, crafting a syllabus that revolves around love and sex proves to be the spark that lights the match of their burning attraction for one another. This book tackles issues of religion and romance in a way that makes them simpatico, not opposing forces, and Naomi is a lead with nuance who owns her past without shame, while Ethan never expresses judgment or condemnation towards her at any turn.
Photo: Publisher
Hibbert's dazzling Brown Sisters series comes to a close with the newest release featuring likely the wildest sister, but the good news is Hibbert really wraps things up on a high note. Eve Brown can't seem to get anything right no matter how hard she tries — and when her latest antics ruin an expensive wedding, her parents finally put their foot down. She needs to get her act together, even if she doesn't know how to do that yet. Interviewing for an open chef position at a bed and breakfast seems like the right move, but then she accidentally runs over the owner with her car. Oops! Jacob Wayne's used to being in control of everything, but with a broken arm and a business that needs him, he'll have to rely on the last person he wanted to help out around the place. These two characters are a true case of opposites attracting, and even though they get off on the wrong foot, the heat between them is smoldering.
Photo: Publisher
Accidentally Engaged does what all good romance novels do best: It's full of emotion, fun, and family, with that ultimately satisfying HEA that will settle in your stomach like a home-cooked meal. Reena Manji isn't the biggest fan of her family shoving themselves into every detail of her life, but she can focus on her baking, something reliable and delicate to put her efforts into. When her father conveniently moves his newest employee, Nadim, in across the hall from her, it feels like a very obvious setup situation. But he cuts a nice figure and he enjoys her bread, two things in his favor. When her career takes an unexpected downturn, Nadim even agrees to fake an engagement with her so she can enter a couples contest. They might be playing at pretending to be a match, but when the secret gets out, what will happen when her family catches wind?
Photo: Publisher
Honey Girl isn't your typical romance novel — at least not in its more strictly defined terms — but it's one of the most powerful coming-of-age stories debuting this year and it should be required reading for any millennial who finds themselves buckling under the weight of expectation. Wielding her newly earned Ph.D., Grace Porter decides to go on a girls' trip to Vegas to celebrate. She's not the type of person who would party hard and get drunkenly married to a woman she doesn't even know … and yet that's exactly what she does. Deciding to throw caution to the wind, Grace jets off to New York to spend time with a wife who might as well be a stranger, and over one memorable summer, begins to fall for her. The question is: Is Grace actually running to someone, or running away from something else?
Photo: Publisher
Clayborn writes romances that are engaging, heart wrenching, and so ultimately satisfying that you won't want to put the book down. When he was a teenager, Will Sterling encountered the girl of his dreams on an apartment building balcony, but she never even knew he was there. Sixteen years later, he's back, dealing with the unexpected surprise of his uncle's passing and the inheritance of a new apartment he never wanted. But he doesn't expect he'll run right into his dream girl from all those years ago, or that she'll want nothing to do with him now. Nora Clarke is definitely taken aback by her handsome new neighbor, but when she learns his plans to rent out the apartment, she tasks herself with preserving the building's community, throwing a wrench in at every turn. That might be easier said than done when every second she spends in Will's company forces her to acknowledge their connection.
Photo: Publisher
Solomon's a YA author, but in her adult rom-com debut, she pens a love letter to radio — as well as anyone who can't ever get enough of NPR in their earbuds. Shay Goldstein has been a producer at a Seattle public radio station for almost ten years, but her latest struggle occurs in one tall, handsome coworker named Dominic Yun, who name-drops his master's degree in journalism at every opportunity and thinks he knows it all. But the station is in dire straits and needs an infusion of new programming, and when Shay casually suggests a show hosted by exes who used to date each other, their boss jumps at the idea. Unfortunately, he also decides Shay and Dominic should be the hosts. The only problem? They've never dated. Not only are they going to have to fake a past relationship, they'll have to fake a break up too, and over the course of their research, the two begin to wonder if maybe they might be falling for each other for real.
Photo: Publisher
What do you do when your long-standing professional enemy is also someone you've never laid eyes on … until now? That's the premise of Hockman's charming contemporary romance, about an overworked heroine named Henley Evans who gets the chance to prove herself when she's up for her dream promotion at the cruise line where she works. However, there's one other person in contention for the same role: the company's social media manager, Graeme Crawford-Collins. Their boss informs them they'll need to draft a proposal to prove why they're the best candidate for the gig — and what better place to do that than on location in the Galapagos Islands, on one of the company's very own cruise ships? The first time she lays eyes on Graeme IRL, Henley's shocked to discover he's nothing like what she imagined, and when they're forced to work together, she realizes that her loathing for him may not be completely hate-based after all. Hockman's debut is smart, witty, and charming, with steamy on-page chemistry that will make you want to take a dip even in winter.