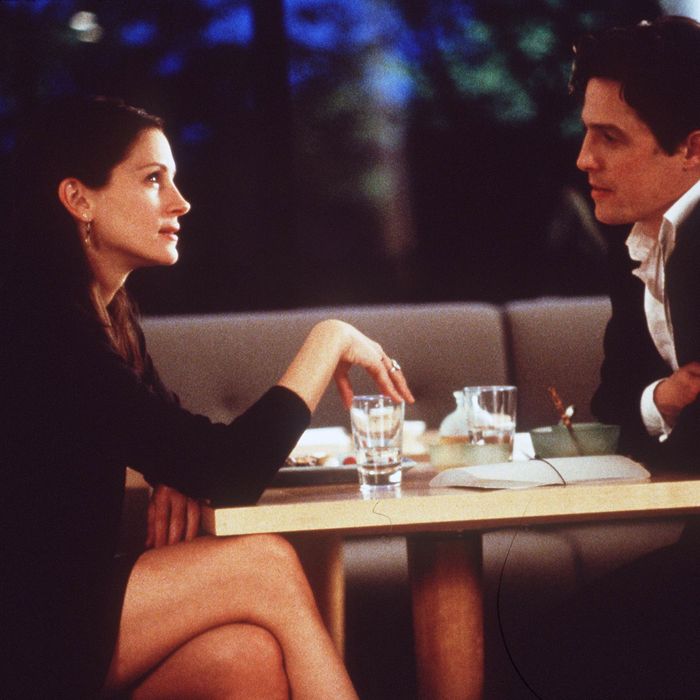 Notting Hill
Photo: Getty Images
This list has been updated to reflect Netflix's current offerings.
Romantic comedies: They make us laugh, they make us cry, they make us laugh at how much we cried. We've rounded up the best romantic comedies on Netflix from the high periods of the late '80s, mid-'90s, and early aughts to the current renaissance of low-budget rom-coms. You may remember some of them from our lists of the 25 best romantic comedies since When Harry Met Sally, the 27 best indie rom-coms, and eight mumblecore rom-coms, but, hey — if a movie's good, why recommend it only once?
Eat Pray Love
Year: 2010
Runtime: 2h hours 13 minutes
Director: Ryan Murphy
Stars: Julia Roberts and Javier Bardem
The book-club phenomenon that launched a million vacations comes to the screen with Julia Roberts as its greatest asset, her everywoman likability the key factor selling a cross-cultural fantasy of getting your groove back that now faces more critical scrutiny than it did upon release. The film espouses a markedly white perspective on the appeal of far-off lands, but Roberts's humanity illustrates why so many Americans think this way, putting an earnest face on the desire to make travel a spiritual, restorative experience. A sultry supporting appearance from Javier Bardem as a Brazilian lothario doesn't hurt either.
Frances Ha
Year: 2012
Runtime: 1 hour 26 minutes
Director: Noah Baumbach
Stars: Greta Gerwig and Adam Driver
Greta Gerwig was a reliable veteran of the mid-aughts mumblecore scene before making the leap to slightly more mainstream fare. She's since done some of her best work in Noah Baumbach rom-coms: the salty Greenberg and the sweet Frances Ha, which finds her floundering optimistically through postcollege life.
Jerry Maguire
Year: 1996
Runtime: 2 hours 19 minutes
Director: Cameron Crowe
Stars: Tom Cruise and Renée Zellweger
Yes, yes, Cameron Crowe gave us "You complete me" and "You had me at 'Hello'" in the unlikely coupling between a slickster sports agent (Tom Cruise, as it could only be) and a single mother (Renée Zellweger), who joins him on his quixotic mission to live better. But that moment hits so hard only because of the character work put in to get there, the connection blooming from a broader tribute to the transformative power of patience, trust, and service — you know, the stuff love is made out of. (And any squares with an aversion to the "chick flick" will be relieved to know there's a meat-and-potatoes sports drama in here, too.)
La La Land
Year: 2016
Runtime: 2 hours 8 minutes
Director: Damien Chazelle
Stars: Emma Stone and Ryan Gosling
Damien Chazelle's musical fantasia lands in a deeply melancholy place, but even a doomed pairing of Emma Stone with Ryan Gosling still burns with the residual comic chemistry ignited in Crazy Stupid Love. She's a frustrated actress, he's a frustrated musician, and they gravitate toward each other in mutual teasing about their stymied passions. From their meet-uncute in a traffic jam to a goofy flirtation during a keytar solo, their attraction is magnetic and inevitable — until, tragically, it's not. The tone changes along with the dynamic between the irresistible leads, humor giving way to a more downbeat emotionality as conflict seeps into love's early throes.
Notting Hill
Year: 1999
Runtime: 2 hours 4 minutes
Director: Roger Michell
Stars: Julia Roberts and Hugh Grant
Screenwriter Richard Curtis elevates the pedestrian daydream of "Ordinary fella lands movie star" with help from a never-better Hugh Grant and Julia Roberts, a study in opposites — a stammering, bookishly handsome bookseller versus, well, Julia Roberts — that go together perfectly. Grant in particular runs away with the show, the epitome of British charm in his rumpled wardrobe, dry wit, and refined gentlemanly manners. We can't help but want them to end up with each other, the truest mark of a successful romcom.
Om Shanti Om
Year: 2007
Runtime: 2 hours 42 minutes
Director: Farah Khan
Stars: Shah Rukh Khan and Deepika Padukone
Farah Khan's tribute to Bollywood classics of the '70s begins with a lovelorn background extra (the incomparable Shah Rukh Khan) losing his crush (Deepika Padukone) in a fire and then his life in a car crash. Flash-forward 30 years, and his reincarnated form teams up with an exact doppelgänger of his lost darling (S.R.K. and Padukone, both on double duty) to expose her killer. In addition to a rollicking musical, a savvy inside-baseball send-up of the Hindi film industry, and a celebration of cinephilia as a sustaining life force, this nearly three-hour hunk of movie is a love story stretching across decades and lifetimes.
Year: 2017
Runtime: 2 hours 11 minutes
Director: Paul Thomas Anderson
Stars: Daniel Day-Lewis, Vicky Krieps, and Lesley Manville
Bickering over breakfast, diarrhea humor, a Weekend at Bernie's parody with a passed-out souse, and you're trying to tell me this isn't a romantic comedy? Paul Thomas Anderson's immaculate dalliance between a perfectionist designer (Daniel Day-Lewis) and the waitress (Vicky Krieps) he plucks from obscurity to be his lover-muse may not go for belly laughs, but there's a bone-dry levity to the persnickety mind games played between two domineering personalities in the fou-est of amours. "Kiss me, my girl, before I'm sick" is at least as swoon-worthy as "I'm just a girl, standing in front of a boy, asking him to love her."
Year: 2018
Runtime: 1 hours 45 minutes
Director: Claire Scanlon
Stars: Zoey Deutch, Glen Powell, Taye Diggs, and Lucy Liu
Netflix has been vocal about its objective to revive the rom-com, but this feather-light trifle is the only original production that comes close to the genre's '90s glory. We've got a winning duo in Zoey Deutsch and Glen Powell, a novel premise in their scheme to get their evil bosses (Lucy Liu and Taye Diggs, both killing it) off their respective backs by tricking them into a fling, some primo escapist-bait Big Apple scenes, and some sturdy joke construction affirming that the art form has not yet completely died out. It all goes down easy and without leaving the sour aftertaste of lowered standards.
She's Gotta Have It
Year: 1986
Runtime: 1 hours 28 minutes
Director: Spike Lee
Stars: Tracy Camilla Johns, Tommy Redmond Hicks, John Canada Terrell and Spike Lee
Armed with a minuscule budget, an encyclopedic knowledge of political and cinema history, and an unbeatable soundtrack mixing plaintive jazz with proto-hip-hop, Spike Lee stepped on the scene with this daring paean to female sexual empowerment. Nola Darling (Tracy Camilla Johns) likes juggling her three boyfriends (Tommy Redmond Hicks, John Canada Terrell, and Lee himself as motormouthed Mars Blackmon), so she has to get crafty as they all try to lock her down in monogamy. It's the "single and loving it" valentine's pick, a gesture of solidarity to empowered women who'd rather get off than get cuffed.
Spanglish
Year: 2004
Runtime: 2 hours 11 minutes
Director: James L. Brooks
Stars: Adam Sandler, Téa Leoni, and Paz Vega
James L. Brooks's caustic comedy of family and class hits like a dark chocolate in reverse, the bitterness giving way to a faintly sweet finish. Adam Sandler, in one of his precious few dialed-back performances, plays a chef drawn to his decent housekeeper (Paz Vega) over his cruel wife (Téa Leoni). There are no swells of violins or soft-focus lip-locks here, just the difficult yet rewarding work of relating to another human being across society and circumstance's dividing lines. For those who prefer romances of the unrequited, yearning variety, here's your movie.
This Is 40
Year: 2012
Runtime: 2 hours 14 minutes
Director: Judd Apatow
Stars: Leslie Mann and Paul Rudd
Judd Apatow's Knocked Up sorta sequel joins fan faves Pete (Paul Rudd) and Debbie (Leslie Mann) as they tremble on the precipice of middle age, hoping to restore the spark to a long-term marriage that was already fueled by animosity when first we saw them. Through their arguments and near indiscretions and further arguments (and an exceptional supporting turn from Megan Fox), they remember the lesson that forms the bedrock of all relationships going the distance: You need someone who's there when the chips are down, in the unsexy moments that make up everyday life.
Wedding Crashers
Year: 2005
Runtime: 1 hours 59 minutes
Director: David Dobkin
Stars: Owen Wilson and Vince Vaughn
Valentine's Day can be whatever we want it to be — for instance, an opportunity to bro out with Vince Vaughn and Owen Wilson as they go from a Point A of pathological poonhoundery to a Point B of settling down into emotional maturity. As co-wingmen trawling strangers' nuptials for bridesmaids, they learn the same painful lesson so many men choose to learn the hard way: Sleeping around may be fun, but it will leave you by your lonesome at the end of the day. And for all the musk of jolly chauvinism in the air, Rachel McAdams and Isla Fisher both have a ball as the gals in whom these tomcats meet their match.