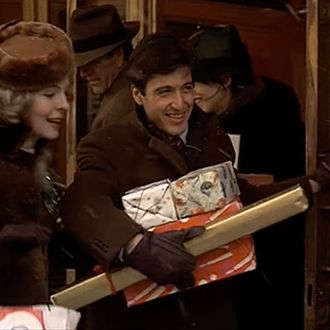 Some of these streaming sticks may or may not have fallen off a truck.
Photo: Paramount Pictures
It's shopping season again, a time of year when throwing money at stuff you may or may not need but definitely want isn't only socially acceptable but rapturously encouraged. And why not? If it's your dream to watch Cats on a $3,200, 77-inch TV, all power to you — let's knock $500 off that goal. To ease the strain on your bank account, to alleviate your stress in a time of blah blah supply-chain something something, and most importantly, to spare you the agony of waiting on a line in a physical store surrounded by icky people, we've curated the list below.
Note: We'll update this list with more deals as we see 'em.
Streaming Boxes and Sticks
We're talking the best dedicated streaming devices on sale here, not multi-purpose gear like TVs or streaming soundbars (though you can keep scrolling for those options).
This streaming box can hold a hard drive's worth of apps, FWIW. You can also double up to 64GB if you need more.
Roku's (slightly) older streaming stick, not quite as powerful as the Streaming Stick 4K, but still good for 4K, HDR, and watching Drag Race.
Google's streaming device goes toe to toe with Roku and Amazon's sticks, and this one comes with Google TV.
Remote not included, but you can use your phone.
Not quite in the big leagues of streaming devices, but still packs tons of apps and 4K support.
Amazon boasts that its newest Fire Stick (which ships with a voice remote) is 40 percent more powerful than its 4K model.
Still an HD streaming contender and 50 percent more powerful than the generation before it.
A dirt-cheap way to stream tons of apps, with the same voice control as every other Fire TV Stick model above.
Packed with storage and a six-core CPU, the Cube also lets you use Alexa without a remote.
Smart TVs
TVs tend to sell out first thanks to recent global stock issues. The sets below are some of the top-rated on sale now.
A very expensive cheaper picture frame that also plays movies!
This TV's "Crystal" processor will automatically upscale your favorite shows and movies to 4K.
Like the TV above, but bigger.
Among some of the largest TVs on sale this holiday season.
Roku TV is a pretty intuitive operating system overall, and you can bundle this unit with a soundbar for added oomph.
The "O" stands for "organic." Seriously! Also, OLED TVs can often be faster, reproduce dark colors better, and even (sometimes) roll.
Unlike LEDs, OLEDs produce both color and light, eschewing the need for a backlight. This makes everything just a little bit clearer.
This deal may be a $750 markdown, but it also happens to come bundled with a two-year warranty.
… And here's a bigger model, at $1,100 off.
LG actually makes the panels that go into Sony's OLED TVs, but a TV is also more than its screen alone, and the A9S series is among the best.
The smallest of Amazon's new Fire TV units, this 4-Series offers 4K entertainment on a budget.
An upgrade. Note also that all of the sizes in the 4-Series ship with an Alexa voice remote.
The biggest of this series; if you want to go bigger on an Amazon TV, you'll have to look at the company's Omni line.
The main leg up Omni has over the 4-Series is its hands-free Alexa functionality and two-way calling.
One thing you may want to know about the Omni TVs: Hard drives apparently aren't supported yet. For some folks, that's a dealbreaker.
The biggest Omni TV you can get before the internal features get upgraded.
The 65- and 75-inch Omni sets support DolbyVision, if that matters to you.
Speakers and Headphones
Because hi-res sound matters, too — often even more than the picture quality — and the inherent flatness of a lot of the TVs above mean most of them weren't built with audio in mind.
If you want a combo streaming device and a speaker, look no further.
A few kit options are available, but this one comes with a wall mount, a voice-assistant, and a remote that pairs with Samsung TVs.
For immersive soundscapes, you could do a lot worse than 5.1.2 channels and Dolby Atmos and DTS:X.
For when you need 1,500 watts of power to fill a room with sound.
Available in a bunch of colors, these buds pack great sound, noise cancellation, and a subtle form factor that disappears into your ears.
Just in case you've recently lost a pair this year.
For anyone who prefers the over-ear comfort.
Antennae
Do you like getting sports or game shows or easing into your day with the morning news? Or do you just like getting 35+ HD channels for free? Just buy an antenna.
Clearance-level pricing for an antenna that does everything and more.
This antenna comes with a little tabletop base, which can be handy.
Antop's "Big Boy" is about as good as the antenna game gets, and while it's pricier than competitors, it's got better customer support and build quality.
More Stuff to Look At
Sometimes you actually need some of this stuff for the rest of your stuff to work at all. Plus: It's nice to accessorize.
It's cheaper, but this one can hold more, good for most screens up to 90 inches with a max weight of 150 pounds.
To keep every other bit of plug-able tech on this list under control.
For a smooth streaming connection, you want the latest Wi-Fi standard. This one supports it.
Teamwork makes the dream work. So too with mesh systems like this one, which can relay a good Wi-Fi signal across huge square footage.
For when you want to play Blu-rays and stream Netflix.
If you subscribe to a service through our links, Vulture may earn an affiliate commission.