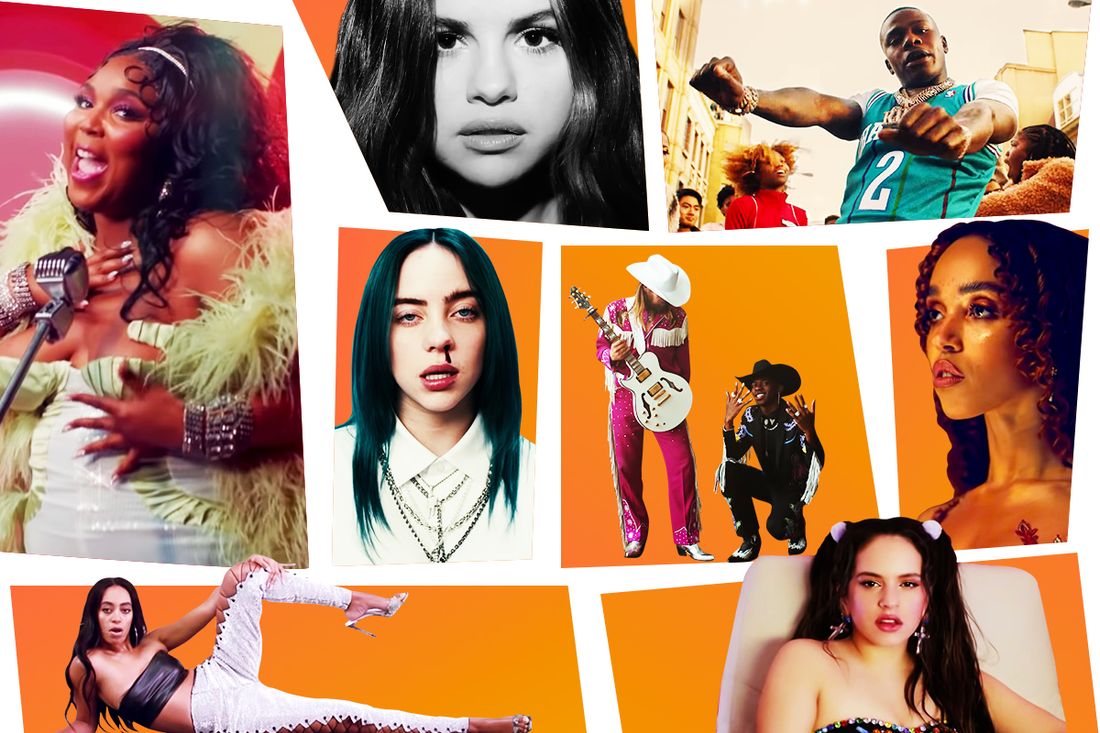 If you're looking for music made by people in search of hard truths or bliss or some wild combination of both, these songs will have you covered.
Photo-Illustration: Vulture and Youtube
The common music debate of the decade, it sometimes seems, is what the dominant medium is these days: a full-length album — or "project," if you wanna get real abstract — or songs, a la carte. It's a complicated question with no one-size-fits-all answer. In 2019, some songs intended to be loosies, like "Old Town Road," shook up the music landscape; others, like Lana Del Rey's "The Greatest," tell a larger story. It's proof once again that there's no one way to make and release music and certainly no one right way. This year has seen exciting new songs from indie veterans, career-best (so far) music from bubbling stars, and much more. If you're looking for music made by people in search of hard truths or bliss or some wild combination of both, the ten songs below, chosen by Vulture music editor Dee Lockett, will have you covered.
10. Lil Nas X ft. Billy Ray Cyrus, "Old Town Road Remix"
In almost every way, 2019 could be best summed up by "Old Town Road," an indefinable two minutes and 30 seconds of genre blending and bucking born of a meme, a $30 beat sampling some old Nine Inch Nails banjos, and a whole stampede of controversy. Fitting that an endorsement from a fellow country pariah boosted the song to become one of the biggest modern history's ever seen. For all our historical insistence on categorization and status quo, "Old Town Road" and its success feels like cultural comeuppance.
9. Megan Thee Stallion ft. DaBaby, "Cash Shit"
Houston's Megan Thee Stallion and Charlotte's DaBaby, two of the year's most electrifying new rappers, meet on Meg's "Cash Shit," off her major label debut Fever, exchanging pussy stunting and chest puffing verses with a cogency and matter-of-fact raunchiness that only the other could match.
8. Brockhampton, "Sugar"
Between BTS and Brockhampton, the boy band is both thriving and evolving. Still, the hallmarks of a grade-A boy-band bop remain airtight harmonies, an irresistible hook, and matters of the heart. It's just that, nowadays, your typical boy band might just be a 16-member diverse (across all spectrums) collective crooning about drug abuse, codependency, and the timeless stress of uncertainty.
7. FKA twigs, "Cellophane"
The once very guarded singer lays it all bare on her new album, Magdalene, reflecting on the personal pains of her last few years. The transformative power of what she's been through crystallizes on "Cellophane," an icy ballad about giving up privacy and a certain sense of identity but finding something better along the way in exchange for the sacrifices. Twigs has been tested and emerged sounding the strongest she's ever been.
6. Lizzo, "Juice"
Lizzo's dominance this year has seen two years-old songs climb the charts (with "Truth Hurts" nearly making history for a woman rapper), so much so that January's "Juice" already feels like old news — except, despite the retro-funk callbacks to "Super Freak" and its made-for-the-roller-rink circa 1982 energy, it's a breath of fresh air like everything to do with Lizzo.
5. Billie Eilish, "Bad Guy"
Was there a lyric this year more uncomfortable than "might seduce your dad type"? Now, think again: Was there also an artist who relished in making the masses uncomfortable more than Billie Eilish? "Bad Guy," with its throbbing bass and taunts to a crush, sees Eilish playfully posturing as wiser than her 17 years all to prove a point that she answers to no man — a solid metaphor for the way she's turned an industry overcrowded by grown-ass men on its head.
4. Solange ft. Playboi Carti, "Almeda"
When I Get Home's "Almeda" extends the message of A Seat at the Table's "F.U.B.U.," listing as gospel the rich qualities of blackness (be it our liquor of choice or the versatility of our hair) that make us us, often imitated but never duplicated. My colleague Hunter Harris put it best: "'Almeda' plays with a special alchemy of everything that feels banal, but special. Brown skin, black braids, brown liquor — sip, sip, sip."
3. Rosalía and J Balvin ft. El Guincho, "Con Altura"
Con altura roughly translates to doing everything just that much bigger and better than you — or at least it does when Rosalía and J Balvin, the leading voices of música urbana and flamenco pop, use it. Their collaboration with Barcelona's El Guincho takes on the idea of scaling new heights to heart by freeing Rosalía from a prematurely assigned genre box and allowing her to interpret reggaetón with one of its most exciting new stars. The result is cultural fusion done beautifully.
2. Selena Gomez, "Lose You to Love Me"
Artists aren't required to give an inch of their personal lives; that's a choice all creative types must make. For a long time, Selena Gomez left pretty much all of her life up to the imagination or, worse, gossip sites, then started peeling back the curtain when her health took a nosedive at the same time as her romantic life. "The Heart Wants What It Wants" saw her budge, just a little; "Lose You to Love Me" is the full picture revealed. Closing some of that emotional distance with her listeners is a tremendous benefit to the work. As we hear her come out on the other side of grief, for the first time, her journey these past few years feels like a shared one.
1. Lana Del Rey, "The Greatest"
If I had to pick two defining lyrics of the 2010s, they'd be the whole of Kendrick Lamar's "Alright" and this: "The culture is lit, and if this is it' I had a ball / I guess that I'm burned out after all." The latter comes courtesy of Lana Del Rey and her entry for consideration into the Great American Songbook, Norman Fucking Rockwell. Over the latter part of the decade, Del Rey has written with more clarity, sense of self, and a sense of what's bigger than herself than she has for the whole of her career. The Trump era, climate change, and the "death" of her idols, like Kanye West, seems to have lit a fire under her pen. "The Greatest" is a eulogy for the culture writ large 'cause Lana, like anyone with a clue, is ready to burn it all to hell. Who'd have thought the real voice of a generation would be Lana Del Rey?
*This article appears in the December 23, 2019, issue of New York Magazine. Subscribe Now!