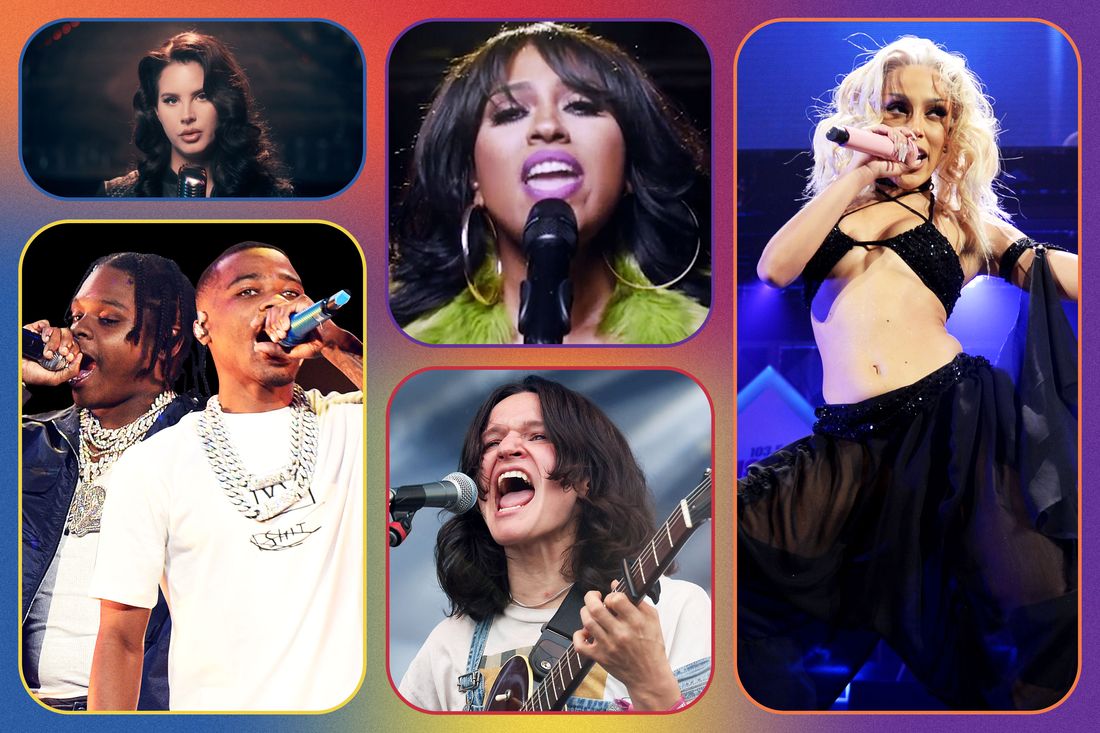 Photo-Illustration: Vulture; Photos by Getty Images
Things felt a little more alive in 2021. Thanks to the miracle of COVID-19 vaccines, this year became one when many people, at least in the U.S., could reconnect with old friends and feasibly make new ones. Restaurants, bars, and crucially, concerts, buzzed once again; even if you still didn't feel up to any of that, you could notice the shift in energy just walking down a city street. Maybe you noticed it in the best songs of 2021 too, which also felt like signs of new life. This year, musicians collaborated and cross-pollinated, they experimented within and outside their genres, and — especially compared to the songs that captured the unease of 2020 — many of them loosened up and had some fun. Many of the songs that resulted gave us reason to do the same, when we desperately needed it most.
10.

"Easier Than Lying," Halsey
As rock music has returned to the top of the charts over the past few years, some trends have coalesced: a revival of 2000s pop-punk, rappers building songs from guitar samples. Then there was Halsey, turning away from pop stardom to work with their heroes Trent Reznor and Atticus Ross and make the most unique rock statement of the year in the process, If I Can't Have Love, I Want Power. It isn't a coincidence that the best of these songs, "Easier Than Lying," is also the heaviest — it's Halsey fully giving into the experiment, to spectacular results. Just listen to them scream and snarl the chorus, overpowering shredded guitars and pounded drums. There's meaning behind that venomous delivery, too: clever Biblical allusions ("If you're a hater, then hate the creator / It's in your image I'm made") and poetic turns of phrase (their heart is "a permanent part of me, that innocent artery"). Later on the album, Halsey declares that they're not a woman, but a god. On "Easier Than Lying," their domain is endless.
9.

"The Other Side," Jazmine Sullivan
Jazmine Sullivan has a climactic voice. It earns the descriptor of explosive, building toward moments of full-bodied catharsis. The best of those moments on her fourth album, Heaux Tales, comes on the climax to the entire project, "The Other Side." The album is a concept about different women's relationships to love and sex, and on "The Other Side," Sullivan returns to a familiar character from her previous effort, Reality Show: you might call her a gold digger. But Sullivan is as deft of a writer as she is a vocalist, making her narrator someone you root for — especially once the dam breaks in the bridge, and everything that woman's been holding back finally comes through. "I just wanna be taken care of / 'Cause I've worked enough," she pleads, fighting against a wall of a dizzying drum beat. "I deserve that life!" she declares a few lines later, her voice stretching. By that point, you believe it too.
8.

"CORSO," Tyler, the Creator
The first proper song on Tyler, the Creator's latest opus CALL ME IF YOU GET LOST was supposed to feature A$AP Rocky at one point. Yet it's hard to imagine "CORSO" as anything but the solo outing that properly introduces us to alter-ego Tyler Baudelaire in all his complexities. The flexes are for the books: Tyler contemplates buying unnecessary boats and brags about his multiple Rolls Royces and his "other-other-other-other crib." It all makes good on the promise of a modern-day Gangsta Grillz, with Tyler slipping into some of his boldest rapping in years and DJ Drama himself providing the hype. But as the song goes on, "CORSO" reveals itself to be more than a typical brag track, introducing the love triangle that's still left Tyler reeling. The motives behind the flexing become clear, before Tyler ties it all together in two biting lines: "Remembered I was rich, so I bought me some new emotions / And a new boat 'cause I'd rather cry in the ocean." Yet that melancholy tinge doesn't suck any life out of the song — from start to finish, it's also one of CMIYGL's most purely entertaining.
7.

"White Dress," Lana Del Rey
At points since her 2019 career-high Norman Fucking Rockwell!, Lana Del Rey has bordered on self-parody: the cop boyfriend, the ill-advised Instagram callouts, the mesh mask. At first, "White Dress," the stunning opener off NFR! followup Chemtrails Over the Country Club, sounds like more of that same parody, mostly thanks to that instantly-memed line about "the Men in Music Business Conference" (and her intentionally breaking, strained delivery of it). Listen a bit deeper, though, to hear that Del Rey is serious, interrogating her own oft-mythologized past and wondering if she was "better off" as Lizzy Grant, the waitress. Her voice has never sounded more visceral than on this delicate ballad, as she reaches toward higher notes than ever in airy rasp in the chorus. For a singer with a reputation for projecting detachment, Del Rey sounds strikingly engaged, asking the listener to return the favor by leaning in as she nears a whisper. The full-band crescendo after the bridge (thanks to Jack Antonoff's exacting touch as producer) sends "White Dress" into a dreamlike haze, without losing its grounding — like the memory Del Rey is recalling.
6.

"Amazing Grace (West Texas)," Jack Ingram, Miranda Lambert, and Jon Randall
Naming a song after another so well-known and sacred is a bold move. It's also necessary in the case of "Amazing Grace (West Texas)," the closer to Jack Ingram, Miranda Lambert, and Jon Randall's passion project The Marfa Tapes. After other songs on the album captured incidental bits of Marfa, like a whistle of wind or distant mooing cow, "Amazing Grace" is a conscious attempt to pack as much of what makes Marfa so wonderful into a song — a hymn to the town that gave so much inspiration to these singer-songwriters. Randall takes lead, his voice steady and reserved, as he sketches the desert scenery, from those cows to the sunsets, taken in over drinks with friends. Lambert joins in the chorus, to sing of the congregants descending on the churches that dot small-town Texas, "just to hear that old piano and feed their faith." It's the same thing Ingram, Lambert, and Randall are doing out in the desert, with their acoustic guitars and some songs.
5.

"Chaeri," Magdalena Bay
Mercurial World, the debut album by synthpop duo Magdalena Bay, is a concept album about time and the universe. As its lead single, "Chaeri" was fans' first introduction to those ideas — yet it can also succeed totally independent from them. There's the song at its base, a glowing four-on-the-floor beat, with synthesizers stacking meticulously atop one another. There's Mica Tenenbaum's one-of-a-kind soprano, breaking with emotion as the song builds. There's the lyrics about reaching out to a struggling friend, told straightforwardly and affectingly. And there's that monstrous, awesome drop, coming in right when it seemed like the song couldn't generate more power. Tenenbaum and bandmate Matthew Lewin may be former prog-rockers, hence Mercurial World's concept; more importantly, though, they're unabashed pop fans who've studied expertly crafted pop songs from Madonna to Charli XCX. "Chaeri" is their best attempt yet to enter that pantheon — while staying true to themselves.
4.

"BLACKOUT," Turnstile
The songs on Turnstile's expansive, uncompromising fourth album, GLOW ON, are life-affirming in the most literal sense — about the thrills of just being present and cutting through the rest of the shit. Often, as on "BLACKOUT," they're also about finding that sense of euphoria through music and performance. "And if it makes you feel alive! / Well then I'm happy to provide!" Brendan Yates shouts in the chorus, distilling the Turnstile ethos into just two lines. It's a feeling that comes through everywhere in the song: the blunt force of the guitars, the concussive drums, the most hardcore cowbell solo ever performed. Of the songs on GLOW ON, "BLACKOUT" best toes the line between the album's genre-bending (the funk-influenced percussion) and evangelism for hardcore (the formidable guitars and that textbook breakdown at the end). It's an offering from a band that clearly loves music, and wants as many people as possible to feel the same way.
3.

"4 Da Gang," 42 Dugg and Roddy Ricch
42 Dugg was developing a reputation as one of rap's new great scene stealers, using his energetic antics to take the spotlight on features for Big Sean, Meek Mill, and his mentor Lil Baby. "4 Da Gang," off his own mixtape Free Dem Boyz, changed that. The song is still a collaborative effort — it pulls together fellow rising trap star Roddy Ricch, NBA YoungBoy producer TayTayMadeIt, and one ingenious Scorpions sample. But Dugg is leading here, setting the tone for the song with an effortlessly high-octane verse that takes stock of his dope game and its wonderful spoils, mainly some impressively outfitted cars (not to mention easily one-upping "No One Like You"). He and Roddy, contributing a playful, laid-back verse to follow his 2020 breakout Please Excuse Me for Being Antisocial, drive the beat like it's one of the Bentleys they rap about, powerful but precise. It's Dugg's best star-making performance yet, right when he didn't even need another.
2.

"Little Things," Big Thief
Sometimes, good bands play loose, trying out flourishes and following their whims as they feel their way through performances. Sometimes, they play tight, each musician finely attuned to the others' motions. On "Little Things," in a feat of magic, Big Thief does both. The first offering from the band's upcoming double album is massive on its own, five-and-a-half minutes of layered guitars swirling around singer Adrianne Lenker. The band behind her ties and unties a perfect knot of riffs, guided by drummer James Krivchenia on production and rock genius Shawn Everett on engineering. Even as a guitar strays off or a tambourine pops up, the song moves as a unified body of sound. At first, it contrasts with Lenker's intimate lyrics, contemplating "the little things" she likes about a lover. But as the song goes on, the feelings grow bigger — "I was inside of you / Where are you now?" she cries out later. "Little Things" leaves room for these emotions to expand, while never swallowing them up.
1.

"Need to Know," Doja Cat
"I do what I can to get you off," Doja Cat declares on "Need to Know," the standout from her third album Planet Her. She's rapping about one of her favorite subjects, sex, but the line is its own double entendre — what follows is a vocal and lyrical tour de force on which the performer puts all of her skills to use to make the most exhilarating track of the year. Doja Cat promises "a lot of new tricks" on the trap-pop outing, but it's really the best showcase of all the talents she's possessed for years. Lyrically, "Need to Know" is indulgently sexual; lines like "Eat it like I need an apron on" and "Sorry if I gave a random erection" are, shockingly, just the tip of the song's contents. Those lyrics couldn't land, though, without Doja's vocal contortionism. She channels the overflowing charisma that jump-started her career as an internet star into sighs, moans, squeals, shouts, and wails, straddling between effortless playfulness and total seriousness.
The one thing that could keep a listener from fully giving into the song's charms has little to do with Doja's performance — it's the song's production and writing credits for Dr. Luke, who has been accused of sexual assault and abuse by Kesha. It's unfortunate that such a joyfully horny song as "Need to Know" is part of the public rehabilitation of an alleged rapist, yet that's more the fault of a whole broken music industry that has continued to empower him than just Doja (who may still be obligated to work with Luke from a contract she signed with his Kemosabe Records when she was 17, before the allegations became public). But Luke's production barely rises above requisite, a beat that exists simply because a song needs one. Like Doja also says on the song, though, she's flexible. She'd already shown she could run the obstacle course of a difficult beat like "Boss Bitch"; what makes "Need to Know" all the more dizzyingly impressive is her ability to turn Luke's minimal effort into such an original, over-the-top, intoxicating performance. Doja Cat dominates the song, much as she has the whole year.
Honorable Mentions
Throughout 2021, Justin Curto and senior editor Dee Lockett maintained a "Best Albums of the Year (So Far)" list. Many of those selections appear above in Curto's top 10 picks. Below are the rest of the songs that stood out to Curto and Lockett this year:
"Swimmer," Half Waif
Half Waif's 2020 album, The Caretaker, confronted isolation before the world experienced it, coming out in the early days of the pandemic. The songs Nandi Rose has released off her follow-up, Mythopoetics, focus on relationships — especially the captivating single "Swimmer." "Come a little closer / Give me something I can hold," she pleads in the chorus, chasing a connection. It's as high stakes as Half Waif has ever sounded, over a crescendo of glistening synthesizers. (Even the album and single art capture her mid-scream.) It makes sense, then, for the song to be one of Rose's most personal, inspired by a memory of her aunt, who has Alzheimer's, and coming with a music video starring her mother. Rose has said music is now her main connection to her aunt, describing in the lyrics how she sings for her. "Swimmer" is the spectacular result of Rose trying everything to be heard. —J.C.
"THE LIGHT," Brockhampton
Joba feels things at a fever pitch. It's what gave the rapper the reputation as one of "boy band" Brockhampton's loosest cannons, and it's what can make his most dialed-in moments so devastating. That's precisely the case on "THE LIGHT," the centerpiece of new album ROADRUNNER: NEW LIGHT, NEW MACHINE. Joba reflects on his father's recent suicide, opening on a couplet that cuts deep — "When I look at myself, I see a broken man / Remnants of my pops, put the Glock to his head" — and only plowing ahead from there, wrestling with the song's winding guitar track. It's a hard verse to follow up, but Kevin Abstract is up for the task, cataloguing his own demons with a stinging line about homophobia to top it off. Brockhampton has often found powerful catharsis in facing darkness head-on, but the difference with "THE LIGHT" is how it aspires toward something brighter. As Joba's introduction frames it, the song is an essential parting of the clouds. —J.C.
"Please," Jessie Ware
Jessie Ware's marvelous club outing What's Your Pleasure? was pure polish — every beat, line, and note arranged into a precise house of cards. On "Please," which leads off the album's deluxe The Platinum Pleasure Edition, Ware starts to loosen up. That's not to say she's cutting corners; "Please" still has the requisite elements of a Ware banger, from that pulsing house-pop beat to those playfully sexy one-liners. ("Don't you be too good to believe," she teases a lover in an effortless flip.) But "Please" is the most human song she has made in this new era — literally full of life, from the backup singers to the chatting partiers in the background. It sounds sweaty and crowded in the best way, brimming with the gloriously haphazard energy of a 3 a.m. second wind. "I want a place where golden moments last forever," Ware opens the song. Over the following minutes, she argues that you don't find that place; you create it. —J.C.
"Gold," Ashley Monroe
"Gold" is the most sun-kissed, straightforward pop song on an album full of them. Here's the catch: It's by one of country music's best traditionalists. The way Ashley Monroe tells it, "Gold" was the song that made her left-turn new album, Rosegold, click, and it doesn't take much to hear why. The song — a reliable recipe of strings, vocals, and a drum track — toes the line between crisp spring day and grand cinematic introduction. It's a line that suits Monroe, who helms the whole thing with that cool pop-star swagger you just can't teach. Like Madonna's Ray of Light, also fueled by the confidence of new motherhood, Rosegold feels like a rebirth, like Monroe is arriving somewhere. "Gold" makes that feel like the place she was meant to be all along. —J.C.
"Good Days," SZA
SZA has exactly one full album to her name, yet there's never much worry that she won't deliver; it's just always a matter of when. During the wait for the follow-up to her 2017 masterpiece CTRL, she dropped off a taste of the new in last year's "Hit Different," an exceptional radio single that seemed to serve as a bit of a gut check for her; it also teased another new song at the very end. That song, "Good Days," didn't come until the last dying breaths of 2020, but it is the heart of SZA's path forward — a mid-tempo ballad that no longer gives as much time to the people who've taken from her as it does to the only person who's going to continue to offer something to her core. "I don't miss no ex, miss no text, I choose not to respond" has been the punch line for a thousand tweets, but the line that precedes it, "Gotta get right, tryna free my mind before the end of the world," should probably be the larger takeaway. For SZA, life doesn't seem to be all about fight or flight anymore. What will control look like for her now? —Dee Lockett
"Anyone," Justin Bieber
The idea of Justin Bieber making '80s–inspired rock music should elicit as much of a cringe as Justin Bieber making R&B or gospel-pop. But against all odds, "Anyone" arrived at the top of 2021 as not only Bieber's best song in years but his most convincing love song since his marriage to wife Hailey. That's not thanks to the lyrics or the production as much as to the heart in Bieber's performance, which is even stronger in the song's live takes. (Okay, and that drum breakdown is pretty great too.) When the song first came out, it sounded as if it could have been a fluke; turns out it was a taste of the best moments to come on Bieber's best album, Justice. —Justin Curto
"Pick Up Your Feelings," Jazmine Sullivan
Jazmine Sullivan made her name writing scorching songs about falling in love and losing love, and for singing them with even more fire than what's on the page. So many of those songs were autobiographical, mined from her own life experiences and traumas, but often the best source material for songwriting is the lives of those around us. Heaux Tales, Sullivan's splendid first album in too long, marries her gift for storytelling with the stories of the women she knows, whether it's a peer like Ari Lennox waxing poetic about some dude who dickmatized her, or a close friend struggling with self-worth. That said, who knows who or what real-life event inspired "Pick Up Your Feelings," but whoever the subject of this song is, sorry to that trash man, your time is up. Flipping from falsetto to the deepest depths of her register, she spends three minutes and seven seconds eviscerating a man who should've known better. "You need to hurry and pick up your feelings while I'm up cleaning" is a lyric you hear and can immediately sense Beyoncé seething for not having come up with it first for "Irreplaceable." Jazmine's just that good. —D.L.
"Oversharers Anonymous," Wild Pink
"Oversharers Anonymous" could have earned its spot on this list based on one lyric: "You're a fucking baby, but your pain is valid too," which is all the more potent coming from Wild Pink's soft-spoken leader, John Ross. But that would have neglected the other wonders of this gem off the New York band's heartland-rock opus A Billion Little Lights. Ross is a meticulous narrator, and nowhere on the record is his attention to detail more apparent than on the road trip of "Oversharers Anonymous." The song finds him fixating on everything from corporate ad copy to the reverberations of American Colonial history. It all drifts off into a minutes-long instrumental outro — a landscape more sweeping than even Ross could depict in his lyrics, colored by deliberate strokes of pedal steel, strings, and synthesizers. —J.C.
"Skin," Sabrina Carpenter
Every love triangle has to have a villain, the story goes, and while that third person out should logically be the one who's been trifling rather than the two just along for the ride, where's the fun in logic? And so in the off-camera saga of the trio at the center of the Disney Channel gift that is High School Musical: The Musical: The Series, our villain is famously "that blonde girl." Welp, Sabrina Carpenter is doing her damndest to make people know her name. The Girl Meets World actress might not have the chart or Taylor Swift bump of an Olivia Rodrigo or the raw talent of a Joshua Bassett, but she's been at this music thing professionally longer than those two co-stars, and her entry into their trilogy of songs about the gossip, "Skin," is the breath of fresh air and perspective the rest are lacking. "Maybe you didn't mean it. Maybe 'blonde' was the only rhyme," is about as direct as Carpenter gets in addressing the subtext (and addressing Rodrigo directly), but closer attention to her lyrics and delivery reveals a song less concerned with the optics of Disney Channel dating and more with that world's damaging history of young women pushed to villainize one another. "I just hope that one day we both can laugh about it when it's not in our face," she sings, "won't have to dance around it / don't drive yourself insane." The stakes in these songs are low, but the stories of Britney, Demi, Selena, etc. should tell us that the pain will always be heightened. —D.L.
"Wilder Days," Morgan Wade
Morgan Wade has said in interviews that people made fun of her voice when she was growing up. That's baffling to consider upon hearing any of the songs on her debut album, Reckless, especially the standout single "Wilder Days." Wade pairs her commanding, gritty rasp with a straightforwardly huge pop melody on the song; if we're not getting another Miley Cyrus country album soon, Wade could be the next best thing. Not that Wade is firmly a country singer either — "Wilder Days" sits somewhere between country, Americana, and rock thanks in part to the 400 Unit's Sadler Vaden, who produced Reckless. (It's all the more impressive that the pair struck gold on "Wilder Days," the first track they worked on together.) The song's confident sexuality won't do it any favors when it comes to country radio either, but that doesn't make the chorus any less perfect for evening drives with the windows down. —J.C.
"Look at the Sky," Porter Robinson
"I'll be alive next year" is a defiant line to be singing after 2020. But the declaration from the chorus to Porter Robinson's "Look at the Sky" has less to do with the chaos of the past year than it does with the few that came before it, during which the EDM producer grappled with writer's block and depression as he struggled to follow his 2014 debut album, Worlds. Much of Robinson's eventual April 2021 follow-up, Nurture, confronts that struggle: "You're losing your gift, and it's plain to see," Robinson sings elsewhere on "Look at the Sky," voicing his doubts. But the magic of "Look at the Sky" is Robinson's ability to spin his struggle into an uplifting, victorious electro-pop anthem. It's not just wildly life-affirming — "Look at the Sky" is music that sounds like Robinson poured life into it; listening to the song's drops feels like watching a flower burst into bloom all at once. "I can make something good," goes the following line of Robinson's chorus. "Look at the Sky" doesn't just speak that into existence; it's proof of concept. —J.C.
"Narrator," Squid featuring Martha Skye Murphy
Once you find out that Ollie Judge, lead singer and lyricist of Squid, also plays drums, it makes sense. Judge's voice itself is percussive — he can put enough force behind a single syllable to cut through the mind-bending post-punk chaos on English rock outfit Squid's debut LP, Bright Green Field. He's an urgent singer, and watching Squid perform, you get the sense that he needs that drum set to hold him back from destroying an entire stage. Nowhere is that truer than in "Narrator," the album's imposing centerpiece. As erratic as Squid sounds, "Narrator" is a technical stunner, with Squid twisting knots out of guitars, synths, and horns, only to unravel it all in the final minutes. The song takes on the idea of the unreliable narrator, inspired by the 2019 film adaptation of Long Day's Journey Into Night; Martha Skye Murphy contributes guest vocals to counter Judge's perspective, with her whispers standing against his yelps. Yet as "Narrator" starts to devolve across its eight and a half minutes, Judge's voice becomes a steady beat, repeating "I'll play mine" as Murphy's screams overtake the song. It's a visceral descent into madness that's impossible to turn away from. —J.C.
"Up," Cardi B
As Cardi B graduates from rap newcomer with something to prove to a highly decorated artist with several titles to defend (not to mention her honor, if her Twitter correspondence tells us anything), much has changed: Her budget is bigger (the "WAP" video was an embarrassment of her riches) and so is her audience, which would typically trigger the kind of balancing act between pleasing everyone and no one that sets most artists up for failure. In taking her time with her sophomore record, though, Cardi has turned more Teflon. "Up" is the kind of song you release as a solo follow-up to a massive hit that sparked mass moral panic, when you understand that discourse of all types is just a hazard of the job, so let 'em talk. Her delivery is more taut; her insults are better barbed; and her self-aggrandizing is both believable and contagious. I wouldn't try to stand in Cardi B's way this year, or any other. —D.L.
"Rainforest," Noname
Although some fans and followers have crowned her an authority on revolutionary politics, Noname has been quick to note that she's still learning herself, just like those fans. On "Rainforest," an offering from her forthcoming album, Factory Baby, the Chicago rapper works through her thoughts in real time: "How you make excuses for billionaires, you broke on the bus?" she wonders in the hook. Rather than directly answering her questions, Noname outlines what she does know, making for a stunningly powerful second verse that connects the dots between everything from anti-Black police violence to environmental degradation. It all happens over one of Noname's grooviest beats, leaving you to contemplate a line like "You ain't seen death, I can hear the blood on the moon" as you're dancing. —J.C.
"Be Sweet," Japanese Breakfast
Soft Sounds From Another Planet was the perfect name for Michelle Zauner's second album as Japanese Breakfast, an ethereal dream-pop odyssey. But Zauner's follow-up, Jubilee, may have an even more fitting title — at least based on its infectious lead single, "Be Sweet." It's the easiest Japanese Breakfast music to dance to thanks to the funky guitars and buoyant chorus, but it's also deceptively intricate, especially in moments like the perfect lockstep of the pre-chorus. Lyrically, it marks a shift for Zauner. "After writing two albums and a book about grief, I feel very ready to embrace feeling," she told Pitchfork. Zauner has become a master of looking inward (see also her upcoming book, Crying in H Mart), and "Be Sweet" finds her stretching herself to do so even more. —J.C.
"Leave the Door Open," Silk Sonic
At this point, Bruno Mars and Anderson .Paak have their musicianship and showmanship down to a science, so much that it makes sense for them to form a duo that could just as easily count as a supergroup. Between the two — and a murderer's row of session musicians, courtesy of .Paak's band the Free Nationals — they are Silk Sonic, an act aesthetically suspended in the time of Motown but with cues taken from present-decade rap. Or at least that's the introduction they've offered in "Leave the Door Open," a distant cousin to Mars's previous "Versace on the Floor" that borrows less from Boyz II Men and more from the Isley Brothers — twin ideas separated only by era. Mars has always been something of a human karaoke machine; he got his start as a kid performing in Elvis Presley drag. .Paak tries on a million hats as well, but his references are often just less obvious. Neither is going about musical curiosity the wrong way. Together, they're next to impossible to creatively beat. (Enjoy their 2021 Grammys performance for further evidence.) —D.L.
"Control," Mannequin Pussy
"Control" is Mannequin Pussy at its most whiplash inducing. The song shifts from whispery rock ballad to pummeling punk track in a single minute; few things are more exciting than hearing lead singer Missy absolutely howl the final line of an otherwise delicate chorus. "Control" continues to push the Philly band in the direction of 2019's Patience, which polished its sound and refined its hooks to outstanding results, so it's no surprise the band has been playing the song live since 2019, shortly after releasing Patience. It grapples with some of the same ideas as Patience, too, namely asserting agency and independence. Fittingly, then, it presents the band in perfect control of its own powers, wielding them to electrifying results. —J.C.
"Shelter Song," Iceage
Every Iceage album feels like the biggest yet from the Danish art punks. So what to do after the messy orchestral masterpiece that was 2018's Beyondless? "Shelter Song," the third offering from the band's upcoming fifth album, Seek Shelter, is the best answer: an arena-size anthem of resilience with a choir to boot. As terribly cheesy as it sounds on paper, it's that undeniable in practice. Singer Elias Bender Rønnenfelt leads the long, winding trudge toward the chorus, where everything finally clicks into place. The guitars suddenly sound straighter, Rønnenfelt's vocals clearer. It's a glorious moment of Oasis-esque uplift: "Come lay here right beside me / They kick you when you're up, they knock you when you're down," Rønnenfelt sings. The lines just beg to be echoed by a crowd in some baptism of sweat and cheap beer. —J.C.