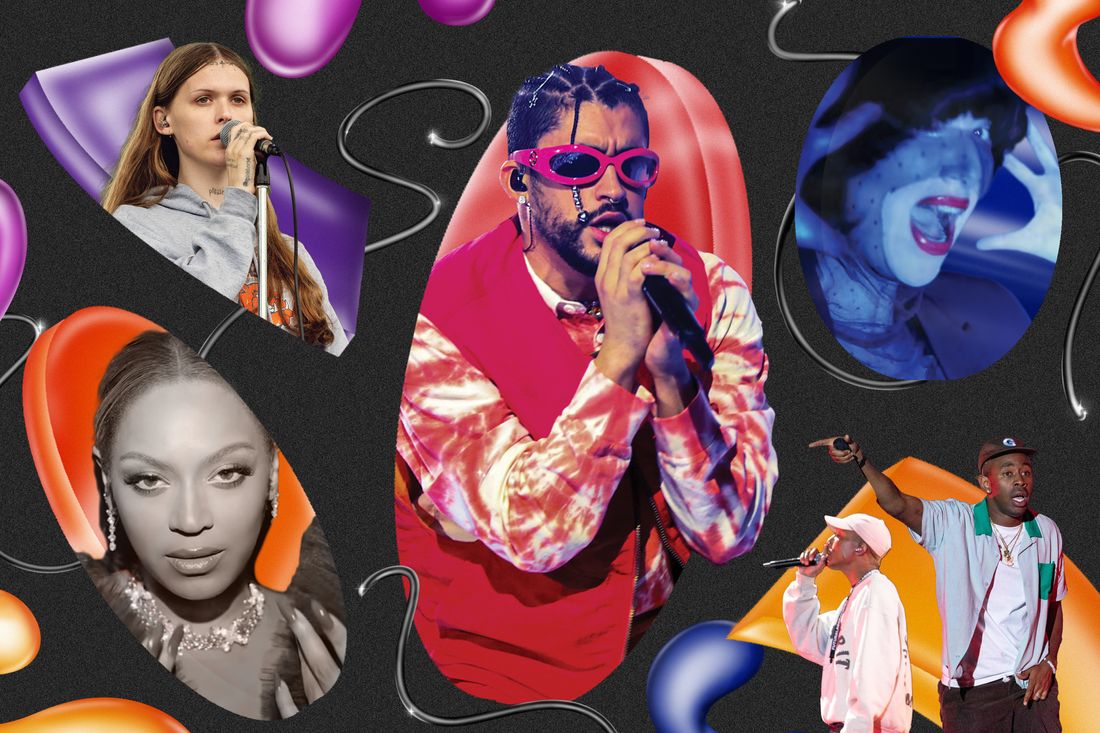 Photo-Illustration: Rowena Lloyd and Susanna Hayward; Photos: Courtesy of Getty Images
Music in 2022 yearned for release. This was, in hindsight, to be expected. Liberation in the industry was in short supply over the last 12 months, what with an imploding touring business, an increasing number of artists taking time off for their mental health, and one of the most influential acts of the last two decades devolving into unadulterated Nazism. To escape it all, we searched for something bigger than ourselves: the comfort of nostalgia, a club-floor renaissance, the occasional merengue, freedom from a world untethered from climate change. The best songs of the year couldn't give us all the answers we hoped for, but at very least, they provided a fleeting and desperately needed moment of salvation. —Alex Suskind
10.

"F.N.F.," GloRilla
The breakout single from Memphis upstart GloRilla is the sound of reckless abandon, dancing with your friends in a parking lot on a summer day while chugging from the same bottle of Old E. There isn't much to Hitkidd's thudding piano-and-drums production, and there doesn't need to be. Glo's voice does all the heavy lifting "F.N.F." needs, her syrupy drawl serving as both announcement and taunt: "Bitch, I'm G to the L to the O, Big Glo(Rilla) / You can catch me out in traffic tinted, sliding with your ho." In case you don't get the message, she spells it out even further: "I'm F-R-E-E, fuck n- - - - free (fuck 'em) / That mean I ain't gotta worry 'bout no fuck n- - - - cheating." By the time the "Let's gooo" ad-libs pipe in from the peanut gallery, you'll want to jump on the hood of your car. —A.S.
Read Lawrence Burney's profile of GloRilla.
9.

"Home Maker," Sudan Archives
Brittney Parks is a meticulous arranger. "When the place a mess, I get the maddest," she sings, as Sudan Archives, on her song "Home Maker" — and by that point, you believe her. The song's beginning is a minute of starts and stops, horns and pianos clicking in and out, as if they're not quite in the right spot. But once everything is right where she needs it, Parks is unstoppable. She swoops into the song nearly rapping, an instantly steady force over the shifting beat underneath her. That's doubly the case when she introduces her violin in the chorus, guiding the song as it traces the contours of her voice. It's a song to settle into, and she wants to make that happen. —Justin Curto
8.

"Persuasive (Remix)," Doechii, SZA
When Doechii signed with TDE, it was hard not to helicopter-parent; the label doesn't exactly have a stellar track record of treating its female artists favorably (as seen via SZA's infrequent dispatches about Top Dawg president Punch). Thankfully, things are moving swimmingly for the Tampa singer-rapper. While the mêlée of her single "Crazy" is enough for the Best of 2022 shortlist, it's "Persuasive" that feels like the more fully realized work: a somehow not-cringey ode to weed that's cool enough for the downtown crowd yet popular enough for Barack Obama to include on his annual list of favorite songs. (The president made one small mistake: He should have selected the remix.) With SZA, Doechii flips the overused drug-anthem trope on its head by rebuilding it into a slinky club anthem. "That marijuana, she's so persuasive," she coos over a pulsing beat. Part of a class of young no-fucks-given artists keen on showcasing their visions, Doechii's "Persuasive" feels like a small taste of what's to come. —A.S.
Read Cat Cardenas's profile of Doechii.
7.

"Boys Back Home," Hailey Whitters
Hailey Whitters already mastered the lyrical twist. "You gotta let your heart land / in the middle of nowhere," she sang on "Heartland," a song about her midwestern roots, in 2020. Now, "Boys Back Home" is a next-level fakeout. The title implies the passionless drivel that's populated country radio for the last decade, built on tropes about trucks and beer. Instead, Whitters's boys are just characters in a rich, sweeping portrait of her small Iowa hometown as she remembers it from her teenage years. The lines about trucks and beer are there, but only to make the place feel more lived-in. And no matter how close to home Whitters's experience is, the sentiment in the bridge will be familiar: "I left that town, and we all grew up," she sings. "But sometimes I still miss that girl that I was." —J.C.
Read Justin Curto's profile of Hailey Whitters.
6.

"Burning," Yeah Yeah Yeahs
The Yeah Yeah Yeahs singer Karen O performs with a sense of urgency, screaming and swaggering as if nothing could be more important than that very moment. On Cool It Down, the band's first album in nine years, they find a perfect channel for that urgency in the rapid, rampant threat of climate change. The record reaches a fever pitch on "Burning," where the Yeah Yeah Yeahs give into their larger-than-life impulses, from a medieval-pop opening (à la Florence + the Machine) to cinematic synthesized strings in the chorus to blaring distorted guitar from the band's underappreciated shredder Nick Zinner. Karen O is the only one holding back, her voice at a near-whisper as she chants, "Whatcha gonna do?" The result isn't just haunting, it's terrifying. —J.C.
Read E. Alex Jung's In Conversation with Karen O.
5.

"American Teenager," Ethel Cain
Accurately conveying teen emotions on a song years after you've left high school is like trying to capture lightning in a bottle. How do you channel that level of insecurity and hormones and dumb social hierarchy without sounding like *insert "Steve Buscemi carrying a skateboard" meme*? Ask Ethel Cain, who turns "American Teenager," the centerpiece of her breakthrough album Preacher's Daughter, into a relatable rush of youth. "I do what I want, crying in the blеachers / And I said it was fun," she sings with panache over a bold guitar hook and the kind of arena-rock reverb that wouldn't sound out of place on Born in the USA. "I don't need anything from anyone, it's just not my year." Cain's conceptual approach — the song and album center around a character named "Ethel Cain" who runs away from home — is equal amounts ennui and cynicism: that moment in life where you're still dreaming big but realizing you put a little "too much faith in the make-believe and high-school football team." —A.S.
4.

"bites on my neck," yeule
On "bites on my neck," yeule feels things intensely. The performer born Nat Ćmiel sings of walking through fire, needing ten lines to numb themselves, and loving someone for 10,000 years. And they've created a song to match the size of those emotions. A crisp piano opening soon gives way to a siren synth that, in the moment, sounds like the biggest sound they could possibly conjure. Yeule sings the chorus in a near-monotone, but that synth beat pulses with all the feeling they need to convey, like it's a living thing. Often focused on the virtual, here yeule uses technology as a bridge to something visceral, begging to be experienced in full physicality on a crowded dance floor. —J.C.
3.

"Después de la Playa," Bad Bunny
There are few more dopamine-inducing sounds in music right now than hearing Bad Bunny have his way on the mic. "Después de la Playa" feels like a microcosm of both Un Verano Sin Ti, his genre-smashing, chart-dominating 2022 album, and the Puerto Rican artist's career as a whole: someone who can meld together different musical styles and effectively rap and sing over anything. On "Después," he starts things off slow, humming along to starlight synths before challenging his partner who says he doesn't take risks: "Dime qué tú juega' y yo lo juego," he sings. (Basically, "Tell me what you're playing to and I'll play it too.") Then, a minute later, he hits overdrive, and a merengue kicks in, twisting an unhurried sex-after-the-beach jam into one with passion and verve. —A.S.
2.

"Cash In Cash Out," Pharrell, Tyler, the Creator, 21 Savage
Everyone's peaking here. Pharrell morphs his familiar repeat-four intro into something unexpected and off-kilter (distorted kick drum, funky falsetto sample, hissing percussion effects), Tyler throws in a blustery rhyme scheme and insatiable ad-libs (the "They was talkin' 'bout a hundred million, baby" a cappella; the way he injects multiple syllables into the word "furry"), and rap feature king/Her Loss load-bearing wall 21 Savage drops some hilariously grimy banter ("She swallow all my kids, she a bad babysitter"; "Money turned me into an assholе I ain't gon' lie / I was used to being poor"). Pharrell once accurately described this song as "letting two pit bulls loose," and his minimalist production creates a kind of space two far less compelling rappers would fail to fill adequately. That approach helps the trio transform "Cash In Cash Out" from rote collab into something scarcer: an unbloated supergroup track. —A.S.
1.

"Summer Renaissance," Beyoncé
Homage can be a tricky needle to thread in music: A song needs to recall and honor its predecessors while also feeling like a step forward. How do you do that for a track that, almost a half-century later, still sounds like the future? If anyone could, it's Beyoncé, as she did on "Summer Renaissance," the time-bending coda to her album Renaissance. The song has the bones of Donna Summer's groundbreaking "I Feel Love," that chugging spacey beat and light-as-air hook, where Beyoncé perfectly embodies Summer's sensuous voice. But, just as it was for decades of electronic dance music, "I Feel Love" is Bey's launch point. "Renaissance" becomes an ecstatic roller coaster through dance history, taking turns into a diva-size house anthem and vogue-ready bitch track. She does it all with last-call intensity, not ready to leave the club with any unspent energy. In the process, she charts a course for a future of dance music by bringing a song from the past into the present. And like Beyoncé herself sings, it's sooo good. —J.C.
Honorable Mentions
Throughout 2022, Justin Curto and senior editor Alex Suskind maintained a "Best Songs of the Year (So Far)" list. Many of those selections appear above in Curto and Suskind's top-ten picks. Below are the rest of the songs that stood out to us this year:
"Happy New Year," Let's Eat Grandma
Let's Eat Grandma knows the power of a straightforward lyric. That's the key to "Happy New Year," the thrilling opening cut off new album Two Ribbons, which details changes in the duo's dynamic as best friends. The song is colored by vignettes from the pair's shared history, recounted over synths that pop like fireworks. The emotional punches, though, come from single lines: "There's no one else who gets me quite like you," Rosa Walton declares to Jenny Hollingsworth, whom she's known since age 4. Other songs on Two Ribbons chart the ways the two have had to reconfigure their friendship, but the end of each "Happy New Year" chorus centers the project: "Because you know you'll always be my best friend / And look at what I have with you." What more do they need to say? — Justin Curto
"You Will Never Work in Television Again," the Smile
There's a tight propulsion to the first single from the Smile, a new Radiohead spinoff project starring singer Thom Yorke, guitarist Johnny Greenwood, and Songs of Kemet drummer Tom Skinner (Yorke's explanation for the band's name: "Not the smile as in 'ahh,' more 'the Smile' as in, the guy who lies to you every day.") "You Will Never Work in Television Again" unloads like a precision drop: eight seconds of ambient feedback before you're thrown into a quick and dense guitar riff, harkening back to Bends-era Radiohead. Yorke's lyrics are especially gnarly, as he sings of bones being spat out, unpicked stitches, and gangster trolls. By the end, some dissonance gets tossed in the mix, but the trio always keeps the rhythm steady. — Alex Suskind
"Wild," Spoon
Nearly three decades in, Spoon is still one of rock's most suave and consistent bands. The proof is in "Wild," a swaggering, explosive track where everything falls exactly into place — a push-pull between restraint and passion that always moves forward but never fully bursts. Frontman Britt Daniel is the song's driving force, stretching his voice to its raspy extremes. The second single off the classic-rock-indebted Lucifer on the Sofa, "Wild" is big enough to fill an arena, with layers of guitars and a victorious piano line lifted straight from the U2 playbook. Fittingly, it's a song about feeling like you have more to find in the world — and one that shows Spoon isn't done reaching yet, either. — J.C.
"Surround Sound," JID featuring 21 Savage and Baby Tate
"Surround Sound" blends a handful of elements that would be fun to listen to on their own into a fantastic collage. There's the adeptly cut Aretha Franklin sample; 21 Savage's effortless guest feature, which builds momentum with each bar; a slick four-line bridge from Baby Tate, the keystone to the song's two-part gambit; and, most importantly, the wildly fun JID verse, full of street talk, distinctive wordplay, and more flows than some full albums. It's the sort of verse that will have you replaying single lines like "I'm a, I'm a, I'm an, I'm an anomaly / I turned into a rapper ironically" on loop. — J.C.
"Bliss," Amber Mark
"Oh, didn't know what love is / 'Til I found my bliss," sings Amber Mark on the funky penultimate track off her long-awaited debut Three Dimensions Deep. Structured over three sections, the album starts with a deep dive into Mark's own self-doubts, shifts into recovery mode, then, in the final act, arrives at a place of peace and joy. As she sings on the part-three single "Bliss," "You teach me things I never knew / A crush don't have to leave a bruise / My soul is shining, changed my life with perfect timing." Mark's delivery over the song's soupy bassline is a marvel, as she dips in and out of the groove, taking brief pauses for dramatic effect, and using her impressive range to showcase a sense of triumph. It's the kind of approach that can't be taught. — A.S.
"YEET," Yung Kayo featuring Yeat
Yung Kayo might be the weirdest rapper on the Young Stoner Life roster, delivering braggadocios trap bars over tracks that draw more from PC Music than Atlanta. See: the intoxicating "YEET," which works best when you fully give yourself over to it. (Another thing to give yourself over to? The fact that "YEET" happens to feature a fellow up-and-comer actually named Yeat, whose name is a blend of "yeet" and "heat.") Kayo squares off against an unrelenting wall of bass and synth lines for one of his most technically skilled performances, rapping one verse at a rapid-fire clip before taking a breather in the second. And sure, you could say his writing is surface-level and basic, but it's better to enjoy Kayo while he's flexing about Goyard dreams and dropping lines like "I'm 'bout to float like I'm elevate, I'm 'bout to float like a BRB." — J.C.
"Jealousy," FKA Twigs
"I learned to write a hook," admitted FKA Twigs in a statement accompanying her intimate 2022 mixtape, CAPRISONGS. The maturation is apparent on "Jealousy," a bouncy Afrobeats-indebted single that explores two sides of a story: a woman suspecting nefarious actions of her partner, while her partner — played by Nigerian star Rema — tries to convince her otherwise ("Girl, I'm sick and tired of your drama," he sings, "Don't let me take you back to your mama"). Twigs is looking for a tension break, and she finds it in the chorus, pouring her desperate need for a reprieve into an infectious melody: "I just want to go outside / and feel the sun is shining on my better side." — A.S.
"One Way, or Every N - - - - With a Budget," Saba
Saba's "One Way" is a snapshot of success — the double-edged sword of being the one friend in your group who broke big and started making money. For now, the 27-year-old rapper is ordering "pasta that I cannot pronounce properly," netting a million after taxes to spend on fashion, and hiring an accountant to manage it all. "We all splurgin' on this dumb shit, 'cause we careless and we youngins," he spits over a jangling beat and nervy guitar riff. But caution still lies around the corner, both from his white neighbors eyeing him and his friends suspiciously and for the bottom that could fall out at any moment. As Saba says, "It's a one-way street." — A.S.
"Porta," Sharon Van Etten
Sharon Van Etten pivoted to electronics to superb effect on her last album, 2019's nostalgia-fueled Remind Me Tomorrow. Where that record leaned into darkness, her latest single, "Porta," uses those same tools to make a burst of synthpop-lite. Not that it's easy subject matter — Van Etten confronts her anxiety and depression head-on here, personifying those thoughts into a stalker that wants to "steal" her life. It's a concept that might come off as too heavy-handed from another artist, but Van Etten makes it work thanks to those synths, which take "Porta" from wallowing to motivating. (The music video of Van Etten doing pilates with an instructor friend is surprisingly fitting and moving.) Once the churning track behind Van Etten climaxes, the song turns too: "Stay out of my life!" she declares to what's been following her. It sounds like freedom. — J.C.
"Red Moon," Big Thief
The cover of Dragon New Warm Mountain I Believe in You, the transcendent double album from folk-rock heroes Big Thief, is a graphite sketch of four animals playing guitars, sitting around a campfire. It's a perfect expression of some of Big Thief's best traits: casual, playful, communal. And if that picture had a sound, it'd be "Red Moon," the country toe-tapper that kicks off the second disc. It's one of the most laid-back songs the band has ever made, like an impromptu jam session that just happened to get recorded. It's the album's best showcase for the lively fiddle playing by unofficial fifth member Mat Davidson and features some especially clever writing from Adrianne Lenker ("I got the oven on, I got the onions wishing / They hadn't made me cry"). Oh, and it's got a shoutout to Lenker's own grandmother on top of it all. — J.C.
"Baby," Charli XCX
Sorry, but the stans were wrong: "Baby" is the best track off Charli XCX's new album, Crash. The album's tightly wound fourth single is one of the most polished songs Charli has ever made — and one of the most fun, a balance earlier offerings from Crash failed to strike. On an album that pushes for pop maximalism, "Baby" cuts all the fat, from its breakneck dance beat to that one-line hook, such an earworm that it deserves to be repeated into oblivion. Producer and True Romance collaborator Justin Raisen condenses Crash's '80s-meets-'10s sound into a single track with astute touches such as those opening strings. Like a true pop star, Charli makes the song hers with a dominant vocal performance. — J.C.
"This Is a Photograph," Kevin Morby
Lately, Kevin Morby has been fascinated by death. The singer-songwriter contemplated the afterlife on his 2019 opus, Oh My God, and wrote his 2020 follow-up, Sundowner, after three deaths (the musician Jessi Zazu, his former producer Richard Swift, and his hero Anthony Bourdain) impacted him. "This Is a Photograph," the first single off his new album of the same name, turns that motif into a song that feels distinctly alive. Morby found the titular photo after his father collapsed at a family gathering: a picture of their family when his father was around his age. "Got a glimmer in his eye," Morby notices. "Seems to say this is what I'll miss after I die / And this is what I'll miss about being alive." As the song grows from a twangy acoustic guitar to incorporate a full band, choir, and horn section — clearly influenced by the time Morby spent working in Memphis — that line becomes a rallying cry, with Morby sounding more urgent than ever before. His father ended up being okay, and the event gave Morby more life, too. — J.C.
"Hentai," Rosalía
There's nowhere to hide on "Hentai," the final single off Rosalía's Motomami and one of the year's most gorgeously seductive tracks. The Catalan singer spends all two-and-a-half minutes expertly curving her voice around plaintive chords, taking the time to patiently linger over each syllable ("So, so, so, so, so, so good," she sings on the hook). The vocal-first approach only elucidates the explicit subject matter: sexual freedom, diamond-encrusted genital piercings, pornographic animation (somehow, a hilariously random nod to Spike Jonze). Pharrell cranks the production up in the last 20 seconds, throwing in a steady churn of crunchy machine gears, but Rosalía keeps her cool. — A.S.
"Shotgun," Soccer Mommy
Sophie Allison's tempered vocals can make even her most upbeat proclamations sound charmingly off-kilter — and the ones that aren't get stamped with double the dread. She uses this to striking effect in "Shotgun," off her new album, Sometimes, Forever: "Look at your blue eyes like the stars / Stuck in the headlights of a car," she sings, ready to take the dive into a relationship without knowing what comes next. "You know I'll take you as you are / As long as you do me." Allison's surf riff is layered over production from synth master Daniel Lopatin (a.k.a. Oneohtrix Point Never), who infuses Soccer Mommy's spare alt-rock with wall-of-sound sonics. When they collide on the hook, her voice — "So whenever you want me, I'll be around," Allison drones, "I'm a bullet in a shotgun waiting to sound" — gives the song an exhilarating emotional release. — A.S.
"Highway Boys," Zach Bryan
If American Heartbreak, the 34-song triple album from country breakout Zach Bryan, seems daunting, look at it another way: It's a collection of 34 opportunities for Bryan's vivid writing to pull you in and, often, devastate you. For me, that was "Highway Boys," a fiddle-laden ballad about the difficulties of life on the road. Bryan's dusty voice is best when it's bursting with resolve, as on the song's second verse, which doubles as a sample of his best writing: "And all of my old friеnds miss havin' me around, but / Highways work both ways, and I can't stand the liars in town." As a writer, the 26-year-old can convey detail and emotional depth in a matter of words; as a performer, he knows those lyrics hit best with a folky, neo-traditional backing. But as good as "Highway Boys" is, it's just a sliver of the talent to wade through on American Heartbreak; it's a song that finds you right when you think you've gotten lost. — J.C.
"Leave You Alone," Ella Mai
Ella Mai followed up her runaway 2018 success — which included a chart-topping debut album, a Song of the Year Grammy nod, and the definitive onomatopoeic romance anthem in "Boo'd Up" — by keeping a low profile. "Leave You Alone," the first single from her forthcoming sophomore LP, picks up where she left off — attached, love-drunk, and questioning whether the physical attachment she's currently feeling will lead to something more substantial. (In short: Nope.) "I be hoping that it's more than just my body that you wanted / Shoulda left you on read / I blew it, so stupid," she sings over slinky production and that slick vocoder effect that used to pop up in every '90s slow jam. One of Mai's strengths is her ability to center the internal tension we all feel in the beginning of a relationship ("I just can't stop / Falling, for you," she sings in the chorus). Few can pull it off as eloquently as she does here. — A.S.
"Ice Cream," Freddie Gibbs and Rick Ross
Freddie Gibbs channels his Power Book drug kingpin alter ego Cousin Buddy in "Ice Cream," effortlessly rapping over a Kenny Beats production — which flips the same Earl Klugh sample RZA once used in Raekwon's 1995 single "Ice Cream" — like it's a second appendage: "I was pushin' on the interstate / Trunk full of weight when my dawg woke up / Told him I just did a whole thing of the Fetty Wap, no dog, all cut." Ross, up to his usual antics, hops in for a short but powerful second verse, blending braggadocio ("Put a chopper on you pussies with the GPS") with Robin Hood wealth redistribution ("Couple mill a duffle bag, I got a block to feed"). It's Gibbs's first offering of 2022 and hopefully a taste of what's to come. — A.S.
"Fruit," Oliver Sim
Oliver Sim was the final member of the xx to go solo (after bandmates Jamie xx and Romy), and it took him a second to find his space. Debut single "Romance With a Memory" sounds like an outtake from 2017's I See You, with its swaying verses and piano-and-synth backing, courtesy of Jamie xx. But his follow-up, "Fruit," makes Sim's case as a solo artist. The song is more personal than anything he's written for the xx, about reconciling his gay identity with his family. "What would my father do?" he asks. "Do I take a bite, take a bite of the fruit?" (The expert double entendre, repurposing fruit as a gay slur, only adds to the song's power.) Sim sings with a commanding presence here, his often subtle voice hitting high against the churn of a dark dance beat (once again from Jamie). Watching him in the music video, out from behind his bass guitar and dancing around the stage, showcases just how freeing this song truly is. — J.C.
"La Buena Vida," Camila Cabello
Past bouncy single "Bam Bam," Camila Cabello had an even better breakup kiss-off on her new album Familia. That's "La Buena Vida," the punkish mariachi song she first debuted live in October 2021. The lyrics are cutting: "I woke up happy by accident," she opens, going on to tell her lover (all but certainly ex-boyfriend Shawn Mendes) she's "forgetting what it's like to wake up next to you." Cabello's delivery is poised and poisonous, with the former Fifth Harmony singer wrapping her voice around her lyrics and flawlessly slipping into rapping into the second verse. She plays off the energy of the live mariachi band, especially as the final chorus reaches a fever pitch to punctuate her attacks. But that's not the only source of Cabello's passion in "La Buena Vida" — the mariachi song pays homage to the music she grew up around in her family, and her father even guests in the studio for the song. It's a heartfelt performance, through and through. — J.C.
"Shake It," Kay Flock featuring Cardi B, Dougie B, Bory300
Before she became one of the biggest rappers in the world, Cardi B was a master of street rap — just listen to her underrated Gangsta Bitch Music tapes. She returns to those roots on "Shake It," a neck-snapping posse cut of Bronx drill. "Shake It" is built for summer parties, around spliced samples of Akon's "Bananza (Belly Dancer)" and Sean Paul's "Temperature." Scene ascendant Kay Flock sets the pace, stomping over the beat with a growling confidence that Dougie B and Bory300 are quick to match. But Cardi is the main event here, rapping more aggressively than she has since Invasion of Privacy opener "Get Up 10." Her "Shake It" verse features multiple all-time Cardi lines, from "Come get showered with bullets, no bridal," to "She lyin', hakuna matata," all delivered with her unmatched charisma. We may still be in a drought of solo Cardi music, but she takes control of "Shake It." — J.C.
"Plan B," Megan Thee Stallion
Meg's cypher-ready "Plan B" is the kind of song that sends its subject into witness protection. "Still can't believe I used to fuck with ya / Popping Plan B's 'cause I ain't planned to be stuck with ya," she raps over a clever flip of Jodeci's "Freek 'N You." Things somehow get more devastating from there: "The only accolade you ever made is that I fucked you"; "How you want a bitch that you don't deserve?" Well, damn. Consider "Plan B" a warning call to any man stupid enough to try and cross the Houston rapper. — A.S.
"Kind of Girl," Muna
On older Muna songs, Katie Gavin lists the things she feels like she can't do: get the girl, advocate for herself, be happy. That changes on "Kind of Girl," the keystone of Muna's newly confident, self-titled third album. The single sees Gavin and her band finding power in declaration, realizing that the first step toward making change is reorienting your mind. Muna's music has always been empowering, but here it holds new weight as Gavin works through her issues in real time. After two albums' worth of songs about fucking up relationships, hearing Gavin say she could "Go out and meet somebody / Who actually likes me for me / And this time, I'll lеt them" packs a punch. "Kind of Girl" is Muna reevaluating what sort of band it wants to be: a lush country-inspired ballad from musicians who made their name on synthpop. It would sound like a dream, if the lyrics weren't so believable. — J.C.
"Headspace," Sharon Van Etten
Worries recur on Sharon Van Etten's latest, We've Been Going About This All Wrong, an anxious album prompted by not just the COVID-19 pandemic but the general state of the world. "Don't turn your back, don't leave," she pleads to her son early into the album, on "Home to Me"; later, on "Headspace," a similar sentiment becomes a repeated call to a lover. "Baby, don't turn your back to me," she calls out, into the darkness of fuzzy churning guitars. Van Etten's delivery grows more forceful as her repetition continues, but that's not all that makes the words feel urgent. She knows how universal loneliness and abandonment can be after singing about it for years, and as she repeats the line, it can bore into your head, taking on meaning for your own worries. The song never finds a resolution, but that's not what it's searching for — catharsis is. — J.C.
"The Heart Part 5," Kendrick Lamar
Kendrick sounds haunted on "The Heart Part 5." "Desensitized, I vandalized pain, covered up and camouflaged," he raps over a flip of Marvin Gaye's "I Want You" (which, kudos to K.Dot, is not an easy sample to clear in 2022!). "Get used to hearin' arsenal rain / Analyze, risk your life, take the charge." Part of a long-running series that started in 2010, each chapter of "The Heart" acts as a sort of Kendrick State of the Union: where he's from, what he's seen, and, most important, where he's at now. Like its predecessors, "Part 5" — released as a stand-alone single ahead of his new album, Mr. Morale & the Big Steppers — is drenched in paranoia and death. By the third verse, he has taken on the persona of fellow Los Angeles rap staple and friend, the late Nipsey Hussle, who was gunned down in 2019. "And to the killer that sped up my demise / I forgive you, just know your soul's in question," raps Lamar, and later, "I don't need to be in flesh just to hug y'all / The memories recollect just because y'all / Celebrate me with respect." He wants more than to just commune with deceased legends; he wants to hold a mirror up to himself, his peers, and his community — for what they've built, where they have to go, and what he needs out of them. — A.S.
"Xtasy," Ravyn Lenae
Ravyn Lenae knows just how intoxicating her powers can be. Her voice is the definition of ethereal — a classically trained power channeled to delicate R&B — and her best songs are bouncy, joyful outings about love and letting loose. Of course, all of this applies to a track called "Xtasy," where the singer keeps her voice at a whisper as it glides along a buoyant, summer-ready beat from Kaytranada (a new collaborator who's equally adept at setting a mood). "If we're going higher, feel my touch," she sings. The song's high is all-purpose, the sort that can make the crowd in a club disappear just as well as it can make an empty room feel like the whole world. — J.C.
"Don't Forget," Sky Ferreira
Sky Ferreira's first new song in three years is an explosive comeback in every sense. Literally, the song is about setting fire to houses. "Don't Forget" finds Ferreira returning to bombastic '80s–inspired synthpop — now with a more complexly layered arrangement — over eight years after it became her signature on 2013's Night Time, My Time. But the most incendiary aspect of the song is that it's a commentary on the label drama that delayed its very release. "Nobody here's a friend of mine," Ferreira taunts, before lobbing the titular reminder at those who've held her back. Yet the industry's transgressions aren't all she hasn't forgotten, either — multiple years and returns later, "Don't Forget" is proof that she's still not playing by pop's rules. As she reminds us: "You can't keep me in line." — J.C.
"Want Want," Maggie Rogers
Heard It in a Past Life was an apt title for Maggie Rogers's debut, an album full of eminently listenable folk-pop centered around her voice, pleasant like a light breeze. Her follow-up, Surrender, looks to be advice: Give in to the jarring, dazzling electropop to come. Take "Want Want," the album's superb second single, which channels pure ecstasy over the buzz of an industrial bassline. True to its title, "Want Want" is omnivorous, pulling from glam, punk, and dance all at once to make undeniable pop. It's remarkably complex, with dynamics shifting instantly and Rogers's voice pushed higher, louder, and more layered than ever. — J.C.
"Nothing in My Head," pinkshift
Throughout the pop-punk revival of the past few years, fans have been hungry for an answer to Paramore: a band fronted by a confident woman who can throw barbs and deliver sing-along-ready hooks in the same song. Pinkshift could be it. The trio of Baltimore 20-somethings may prefer the harder side of Paramore, but their songs are no less catchy. "Nothing in My Head," their Hopeless Records debut, refines the work on the band's 2021 EP, Saccharine (which already sounds shockingly professional), to make a song that would fit right in at Warped Tour 2008. Singer Ashrita Kumar sounds as captivating on record as she does in the band's exciting live sets, unraveling from snarls to screams in the final chorus. It's three minutes of pummeling, pit-ready catharsis. — J.C.
"Spitting Off the Edge of the World," Yeah, Yeah, Yeahs
Give me the defiant resolve of Karen O yelling "Cowards!" in the Yeah Yeah Yeahs' "Spitting Off the Edge of the World," a song that taps into our political leaders' deranged lack of action on climate change. The soundtrack matches the mood: booming drums, scuzzy guitar work, thick synthesizers reminiscent of the ones the trio used on 2009's It's Blitz! "Spitting" — the YYYs' first single in nine years and the lead track off their forthcoming fifth studio album — furthers the explosively punkish spirit of the band's best work while subbing Blitz's high-tempo electropop for the lolling tendencies usually heard in the solo output of featured guest Perfume Genius. It's a perfect fit for a song with its eyes toward an ugly future that's slowly unfurling before our eyes. "Here's the sun / So bow your heads," Karen sings, less as a warning than a vision of our coming hell. "Dark places shall be none / She's melting houses of gold." — A.S.
"Wretched," Bartees Strange
After conquering rock, rap, country, and soul on his indie hit debut, Live Forever, it was time for Bartees Strange to make a dance song. But more than proof of concept or celebration, "Wretched" is a thanksgiving. "I was tryna be something wretched," he croons in the second verse when the band cuts out, leaving him strumming his guitar. "But you were the only one who / Would come through calling / You found ways to rescue me." The song comes in the midst of an endless rise — multiple plum opening slots, a 4AD signing, some producer gigs — and, as Strange reminds us, it hasn't been easy. But one of his greatest gifts as a musician is his audacious confidence, and he puts it to work here, throwing a big-tent-style drop in the middle of what would otherwise be a straightforward rock ballad. It's a heartfelt gift to the people who got him here and a thrilling listen for the rest of us. — J.C.
"Part of the Band," the 1975
When the 1975 teased the lyrics to "Part of the Band," the lead single off their fifth album Being Funny in a Foreign Language, ahead of its release, the groans were near instant. "Am I ironically woke? The butt of my joke? / Or am I just some post-coke, average, skinny bloke / Calling his ego imagination?" Matty Healy asked, knowing many people would respond with a yes. But the 1975 are masters of provocation, and the song turned out to be one of the band's prettiest, most relaxed compositions — a twee, stringy number that sounds like a cross between indie-rock faves Vampire Weekend, Wilco, and Bon Iver. (Consider it a new turn from co-producer Jack Antonoff.) Plus you can't really appreciate how perfect of a rhyme "I know some vaccinista tote-bag chic baristas / Sittin' east on their communista keisters" is until you hear it from Healy's mouth, comforting and sincere as ever. Of course, he's the butt of the joke — that's what he does best. — J.C.
"Free Yourself," Jessie Ware
Jessie Ware has a gift for making dance music that feels raw and human — not just songs, but moments with their own time and place. That made her 2020 album What's Your Pleasure sparkle among some of that year's more plastic disco music, and it's again the key to her stellar follow-up single "Free Yourself." The track is classic house music: a precise, infinite piano loop, high-stakes strings, and a vocal performance that breaks through the pulsing, crowded arrangement. Ware has stepped into the diva status that came alongside Pleasure with panache, and here, she gives something jaw-dropping. "Keep on moving up that mountaintop," Ware belts as her voice does just that, reaching further for each note than the last. The song isn't just meant for the club, it brings you into the action. — J.C.
"Bed Time," Flo Milli
Few artists can serve as cutting a taunt as Flo Milli. On "Bed Time," she's in peak form, mocking her enemies and reminding anyone who crosses her that she's the last person you want to face off with in a street fight. "Knock a bitch out to teach her a lesson / Swear to God, I can't go back and forth with none of you peasants," she raps over stuttering drums. And later, on the hook: "I might fuck around and make the headlines / Make a ho go night night like it's bedtime." The Mobile, Alabama, rapper's music typically toggles between provocation, braggadocio, and outright threat. With "Bed Time," she pulls off a menacing mix of all three. — A.S.
"Gotsta Get Paid," Rico Nasty
At her best, Rico Nasty is a cartoonish rapper — as she shouts and sneers, you can almost imagine the veins popping out of her temple. On "Gotsta Get Paid," she has the beat to match, centered on a ding-whoosh sound that recalls a Looney Tunes character getting smacked in the head. (Thank her close collaborators 100 Gecs, who regularly match Rico in energy and whimsy.) From the first bars, the song feels like getting walloped with a hammer: "Feelin' like fuck a bitch, n- - - -," Rico growls, before launching into a smattering of boasts and threats. But once she pivots to the hook, in joyful, punky singsong, it's clear it's all in good fun. — J.C.
"grimace_smoking_weed.jpeg," Chat Pile
Chat Pile's pseudonymous singer, Raygun Busch, shifts from sounding terrifying to terrified across the metal band's great debut, God's Country. On the epic nine-minute closer, "grimace_smoking_weed.jpeg," the fear in his voice is what makes things so chilling. Sure, the story behind the song can make you laugh: It's about a stoned hallucination of Grimace, McDonald's purple-blob mascot. But while Chat Pile has a sense of humor, the band is never joking. (That goes especially for the musicians behind Busch, who put in the album's most bludgeoning performance here.) "Don't want you / I don't need you / Don't think I'd forget," Busch screams at the apparition, already sounding breathless on some of the first lines. The scariest part comes as the song goes on, with Busch singing about how much he hates himself and how he feels like a monster too. "You weren't supposed to see this," he screams. "But here it is!" — J.C.
"Foxglove Through the Clearcut," Death Cab for Cutie
If you haven't heard yet, Death Cab for Cutie is back back. The long-running rock band looks to be readying its best album in over a decade (since 2008's Narrow Stairs), which splits the difference between a return to the grandiose form of 2000's The Photo Album and 2003's Transatlanticism and new territory. Take "Foxglove Through the Clearcut," the dreamlike new single from the upcoming Asphalt Meadows. Ben Gibbard is part storyteller, part philosopher as he speaks about an encounter with a man who remains awed by the world despite his disappointment in its state. (The title comes from a wonderful image: "And now, he and I watch the foxglove grow through the clearcut / Where a forest once grew high and wild.") The band hits all the right twinkly touchpoints: American Football, the World Is a Beautiful Place, Death Cab's own "Transatlanticism." Then it explodes into a full-band breakdown big enough to fill the vast expanses Gibbard sings about. — J.C.
"Been to the Mountain," Margo Price
"I got nothin' to prove, I've got nothin' to sell," Margo Price opens her new single "Been to the Mountain." The Americana singer-songwriter doesn't just have an independent streak — it's her whole ethos, and it defines this song. Price continues to stray from the classic-country palette of her first two solo albums, Midwest Farmer's Daughter and All American Made, here in favor of blues-inflected rock with steadily spinning guitars and a Janis Joplin–like screaming interlude. "Well, I've been called every name in the book, honey / Go on, take your best shot!" Price goads her critics, exuding pure fearlessness. Don't believe her? Just listen to the rest of the lyrics recounting her often-rough backstory. "I know the scent of death like a perfume," she sings later, which makes the next line that much sweeter: "No, this ain't the end." — J.C.
"Midnight Legend," Special Interest featuring Mykki Blanco
Everyone from Beyoncé to Drake has been making house music this year — but no one has made it quite like Special Interest. "Midnight Legend" is the most approachable song yet from the often abrasive glitch-punk collective, which makes sense given the song's dreams of a more accepting and accessible dance floor. "Midnight Legend" gets there through empowerment. "We know a holy war needs some patience too / The girls vicious, all envious of you," Alli Logout sings over a bassy track that shimmers amid its cacophony — like a crowded club or nighttime city. Rapper Mykki Blanco contributes a verse to one cut of the song, commanding instant attention (like the titular "Midnight Legend") as she paints the scene of a rave; Logout is as much of a star on the album version, rapping a bitch-track-like verse about another partier forgetting their worries. There's room for both, and much more, in Special Interest's vivid vision of the club. — J.C.
"Too Much," Freddie Gibbs featuring Moneybagg Yo
It's a bit surreal to be talking about the just-released major-label debut from Freddie Gibbs, one of the most successful and acclaimed independent rappers of the last decade. Thankfully, being pulled into the Big Three didn't water down the product. The Gary, Indiana, native's space-casino-theme album features more introspection than past projects without losing any of Gibbs's patented swagger. Lead single "Too Much" shows how versatile a rapper Gibbs can be, pairing with Memphis favorite Moneybagg Yo for an energetic ode to excess and disposability: "All this money that I got, I could never get too much / All these hoes that I got, I could never get boo'd up," Gibbs raps over an electric-keyboard riff pulled from DeBarge's "All This Love." The song is a three-minute rundown of one of Gibbs's many strengths: blending humor, shit talk, and earned confidence. — A.S.
"Pressure," Ari Lennox
Ari Lennox fans never seemed too concerned about what the singer's long-awaited sophomore album would sound like — only when it would arrive (with Dreamville boss J. Cole catching plenty of heat for the delay). They were right not to worry: age/sex/location is gorgeous — a nostalgia-heavy set filled with smooth hooks, missed connections, and hedonistic pleasures. "Pressure," the lead single, feels like the anchor. "Now you textin' me, you know I won't reply / Why you ain't fuck with me when I wasn't this fly?" Lennox asks over a beat from Jermaine Dupri and Bryan-Michael Paul Cox. It's a pointed rebuke, but the heart of the song is about seeking pleasure — "Now I'm on top and now I'm ridin' sky-high (Pressure) / Don't need nobody, but I'll take you down tonight" — on her terms and no one else's. — A.S.
"Kill Dem," Jamie xx
Jamie xx's lone solo album, In Colour, from 2015, was so good that the producer has been able to ride its sterling reputation for seven years without fans breaking down his door asking for more full-length drops. Thankfully, we got a taste in the club-ready "Kill Dem," his second new single this year. An ode to the spirit and sounds of the annual Notting Hill Carnival, which Jamie xx attended as a teenager and DJ-ed for the first time this year, "Kill Dem" includes a flip of "Limb by Limb" from Jamaican dance-hall icon Cutty Ranks. By chopping Ranks's riddim into a high-tempo, percussion-heavy beat, Jamie xx shapes the future by honoring the past. — A.S.
"Mel Made Me Do It," Stormzy
It has been two years since we got a stand-alone single from the British grime legend. Consider "Mel Made Me Do It" — named for influential stylist Melissa Holdbrook-Akposoe — Stormzy's State of the Union: a cypher-ready, bar-heavy, seven-plus-minute stream of boasts, braggadocio, and name-dropping. There's "To be fair, I don't feel Twitter / Getting told I'm not a real spitter by some broke-arse bill splitter" and "Every time I try a ting, top bins like / Haile when he sings / So of course they don't like me, I'm the king" and "Okay, three O2s that I sell out / Man, I'm such a sellout / Might fuck around and bring Adele out." Yet "Mel" is the rare track with an accompanying music video that completely shifts the song's perspective, showcasing a set of emotional stakes that lie just under the surface. At the end of the clip, a Wretch 32 poem is read by Michaela Coel while a flood of celebrated Black British figures waltz across a veranda, turning this talk-your-shit anthem into one about generational talent and survival: "Our DNA empowers us," says the Chewing Gum actress. "We can make a song and dance out of anything. Our genes are enriched. It seems there is not a seam out of place in our fabric." The monologue transforms "Mel Made Me Do It" and everything Stormzy said before it into more than a song; it's a statement: We made it through the fire, and we're not going anywhere. — A.S.
"Can I Take My Hounds to Heaven?" Tyler Childers
The title track from Tyler Childers's new album isn't really about hunting or God — it's about the joy of doing what you want. That's what makes Childers's new music shine. A triple album of spiritual-inspired songs (rendered as full-band cuts, orchestral arrangements, and remixes) would be a tough sell to Nashville, but luckily, Childers has long operated outside of the country establishment. "Hounds" fits right in alongside the album's traditional songs — with its classic lilt and charming naivete ("Now all that's fine and dandy, and I'm sure it's nice up there," he sings of heaven). Not to mention the fact that his band, the Food Stamps, plays like a long-lost session group, dialed-in and embellishing the song with just enough flourishes. But listen closely and hear Childers singing about his own life (like his recent sobriety). He performs it with conviction, assuring us that he's not motivated by any promise of what's to come — just more of the heaven he has already found here. — J.C.
"The Girl in the Picture," Ashley McBryde and Pillbox Patti
Small towns are full of potential. That's the thesis of Lindeville, the concept album by Ashley McBryde featuring a stellar cast of country-music friends. The central town may be fake, but the songs' stories feel remarkably real — especially "The Girl in the Picture," a stealthily heartbreaking tale of Lindeville's former golden child who went missing. The single starts as a meditation on the titular picture, economic and vivid from the opening line ("She didn't see the flash"), but it's the chorus that packs a punch, shifting from observation to fantasy. "If looks could kill, she'd be killin' it, killin' it / Oh, but life ain't fair," sings Pillbox Patti, a writing partner of McBryde's who wraps the song's devastation in the best top-line melody you won't hear on country radio this year. — J.C.
"Body Bag," Monaleo
What happens after Monaleo comes beating down your block? She pulls out the body bag. The rising Houston star is back with a vengeance on her first solo single of 2022, "Body Bag." Monaleo doesn't waste a second of the track, filling it to the brim with disses, which the 21-year-old spits with off-the-charts bravado. (It's hard to be mad at Monaleo for detailing no album plans when she continues to be such a skilled singles artist.) The standout of standout lines? "I will kill you and let my cousin do a TikTok on yo' grave." Monaleo doesn't just know how to body the competition — she knows how to turn it into a moment too. — J.C.
"Changes," Jeremih
Contrary to the title of his new single, Jeremih hasn't changed — thankfully. Since getting off a ventilator for COVID treatment in 2020, the icon of club R&B popped up here and there, on songs with DJ Khaled, 50 Cent, and Tinashe; before that, he'd been focused on full-length collaborations with Chance the Rapper (on 2016's Merry Christmas Lil Mama) and Ty Dolla $ign (2018's MihTy). Now, nearly two years after that COVID bout, he's made a characteristically smooth solo return with "Changes." The presumed lead-off to a new project is a sexy homage to '90s R&B, down to the singing-in-the-rain music video. It's a more subdued track than Jeremih's bigger crossover hits, but that works in his favor, putting the focus on his vocals — here with a touch of Auto-Tune and healthy dose of runs. He may be singing to a lost love, but "Changes" is the sound of Jeremih holding his own again. — J.C.
"Anti-Hero," Taylor Swift
Stop the presses — Taylor Swift picked a good first single. Unlike "Me!" or "Shake It Off," "Anti-Hero" is an ideal introduction to Midnights, an album returning to Swift's polished latter-'10s pop with the reflective lens of her pandemic albums. Swift has rarely been more candid about her anxieties, from feeling like a misfit to worrying about her future family and legacy. (Laugh at the third verse all you want, but it's the sort of evocative, precise writing Swift excels at.) At the same time, it's one of the album's most dynamic compositions, with just enough flourish from producer Jack Antonoff, right in his sweet spot of '80-inflected synthpop. Even the lyrical shortcomings — "sexy baby," the devices/prices/vices/crisis rhymes — add to the charm of the song. It's good yet imperfect, like the Swift who narrates "Anti-Hero." — J.C.