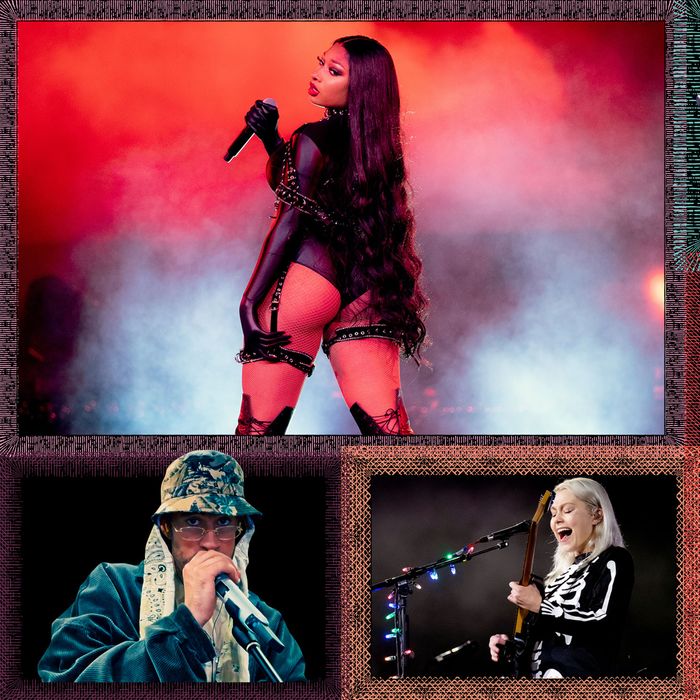 Photo-Illustration: Vulture, Rich Fury/Getty Images, Theo Wargo/Getty Images, Matt Jelonek/Getty Images and NBC/NBCU Photo Bank via Getty Images
The music industry has no idea how to sit still and slow down. If that weren't already clear from the steady clip of new albums released from artists six months (or less) after their last, 2020 served as something of a victory lap for musicians motivated or unfazed by pressure — even when the pressure is a global pandemic. This was the year the music would not stop. From the tracks that rose to the political moment, the cultural moment, and especially our horniest moments, these are the best songs of 2020.
10. Lady Gaga and Ariana Grande, "Rain on Me"
It almost didn't matter if "Rain on Me" was going to be good. The single was bound to be a blockbuster before anyone even heard it, a collaboration between two of the biggest divas currently running pop. Along with the larger-than-life dance stylings of Chromatica, "Rain on Me" marked a return to the homosexual fan service that Lady Gaga's early career relied on. But 2020 didn't need the "real" music Gaga had been playing for the past few years anyway, from lounge-pop with Tony Bennett to rock balladeering in A Star Is Born. It needed a loud, nonsensical pop linkup vaguely about overcoming something, with big enough vocals for any vodka-soaked singalong. So, that's what Gaga and Ariana Grande gave us, and it remains exceptional.
9. Lil Uzi Vert, "POP"
Lil Uzi Vert is one of rap's biggest showmen, and "POP" is one of his most entertaining performances yet. He dances over a signature Working on Dying beat, twisting it to whatever flow he wants to use in the moment. His bars would sound downright stupid from some other rappers, but he delivers them with enough panache to make them feel profound ("Got a bitch taste just like ice cream / Read her text, she said, 'Girl, I scream!'"). It's impossible to complain when Uzi raps "Balenci'" 14 times in a row, because at this point, this is the shit we want to hear from him. It only makes sense that he gets abducted by aliens at the end of the track. He's already otherworldly; "POP" just reminds us.
8. Lil Baby, "The Bigger Picture"
It's a shame Lil Baby has decided to "back up off politics," considering the fact that this summer (and well into the election season), his voice rose to the top of a short list of rappers still making any political sense. He was willing to expose harsh and inconvenient truths about what it means to be Black and exist — rather than singing "Kumbaya" with the people responsible for killing us for a photo op and a dollar. Atlanta's newest rap king proved himself a worthy heir to the throne with February's My Turn, his sophomore album, but his June one-off "The Bigger Picture" is what'll keep him occupying that seat. Released in response to the renewed international interest in police brutality against Black people in America following the murder of George Floyd in Minnesota, it was the first major piece of protest art to come out of this new decade and this pandemic, during which familiar evils have persisted. "The Bigger Picture" does not aim to be its generation's "Alright," because hope is not enough for this generation. Instead, it tries to make sense of a "wicked" system designed to fail Black people, while also sowing the seeds of an uprising; its video was filmed in the middle of a BLM protest. Lil Baby made $1.5 million off this song and intends to donate every penny. Respect where it's due.
7. Victoria Monét, "Jaguar"
Though she has been correctly credited for architecting much of Ariana Grande's soul- and R&B-favoring sound across Ari's past three albums, it'd be both incorrect and inconsiderate to think of Victoria Monét as a background player. For as much as she has spoiled Grande since 2013, co-writing most of her best songs, Monét hoarded her superior strengths for her own debut project (smart). Jaguar is a sublime step into someone else's fantasy where it's just the listener and the person who makes them feel sexy, powerful, and loved on (even if that person is themself). Thematically, it contains a lot of short stories about intimacy and horniness told far more subtly, suggestively, and creatively than in her work for Grande, master of the unsubtle. The album's title track plays a game of cat and mouse in which the hunter is big game and her prey should just feel lucky to have been chosen, and the music traverses soul and funk assisted by the surprise entrance of "Beychella" horn player Arnetta Johnson. Every Victoria Monét song is about world-building and brief suspensions of reality that allow all the space in the world for her to show off her best talents — "Jaguar" hits that sweet spot.
6. Waxahatchee, "Lilacs"
Katie Crutchfield is at the peak of her powers on "Lilacs," the standout off Waxahatchee's fifth album, Saint Cloud. Her voice sounds crisp and sunny against a loose backing band, for one of the rootsier cuts on her album-length foray into alt-country. The lyrics, meanwhile, are quiet revelations from Crutchfield's time working through her sobriety and co-dependency. "And if my bones are made of delicate sugar," she sings, "I won't end up anywhere good without you." You could always count on Waxahatchee for these sort of musical breakthroughs, but "Lilacs" is Crutchfield's most refined yet, especially potent as a song delivered from Crutchfield's isolation into our own. It's almost fitting that a song about how beautiful things take time would be the last one Crutchfield wrote for the album.
5. Fiona Apple, "I Want You to Love Me"
"I Want You to Love Me" is the thesis to Fiona Apple's long-in-the-making Fetch the Bolt Cutters, a mosaic of ideas she'd return to throughout the album. Apple acknowledges her time away from music and painstaking process, assuring listeners, "Every print I left upon the track has led me here." Motifs like time, potential, and femininity are introduced, only to reappear later. Even if "I Want You to Love Me" is not as experimental as what's to come, Apple lays out her sonic intentions rather clearly — "Blast the music! Bang it, bite it, bruise it!" — before reducing her voice to squeaks and yelps by the end. And central to it all is an insecurity that has long haunted her career, now confronted head-on. She needed to address it to make the album that followed.
4. Bad Bunny, "Safaera"
"Safaera" is the most ambitious song of a year marked by ambition, and it is a true cultural crossover event. Appearing on Bad Bunny's February gift YHLQMDLG, the song unites reggaetoneros Jowell Y Randy and Ñengo Flow for a lesson on the history of the sound, one Jowell in particular felt Bunny owed his fans in addition to the one he'd already been giving on Latin trap. The result isn't a lesson, it's a masterclass: "Safaera" famously samples so many tracks that one got the song temporarily removed from Spotify while rights were worked out; it makes smart use of everything from the tumbi instrumental in "Get Ur Freak On" to Jowell Y Randy's own "La Pega Cuernos" to "Could You Be Loved" to dozens of others, with Puerto Rican hit man Tainy acting as more DJ than producer in the booth. The song travels across generations, subgenres, and influences to tell a more complete story about one of the most popular styles in the Spanish-speaking world, where Bunny fits in it, and where it's headed next.
3. Megan Thee Stallion/Beyoncé, "Savage (Remix)"
Megan Thee Stallion's rise to becoming Houston's next music icon was cemented when she linked up with the city's biggest legend for a surprise remix that was one of the first miracles of quarantine. They fit together like a perfect puzzle: Megan sounds audacious and unflinching, while Beyoncé is effortlessly smooth. Together, they make the song into a game of lyrical one-upwomanship, with each line they spit being more quotable or head-turning than the last. (Who thought we'd hear Beyoncé say the word "OnlyFans" in 2020?) But just like Megan Thee Stallion's even bigger hit with Cardi B down the line ("WAP"), "Savage Remix" is all in the name of fun, supportive collaboration. Beyoncé even said it: "I'm a bad bitch. She's a savage. No comparison here."
2. Charli XCX, "anthems"
Charli XCX was responsible for the first true piece of pandemic art, her quarantine album how i'm feeling now, released way back in May. Most of us were still trying to figure out just how to make it through the day without breaking, forget trying to figure out how to work through it, too. But Charli XCX is the type of artist who excels when presented with the unknown, and she took this time as a chance to test herself. She completed her fourth album at home in L.A. in six weeks, with only the help of her longtime producer, A.G. Cook; BJ Burton; her boyfriend, Huck; a couple friends like 100 gecs' Dylan Brady; and … the internet. Fans were invited to help her pick cover art, lyrics, stems, and attend Zoom meetings to plan the roll out. You could call it fan service in its most literal form. How the album was made could've been more interesting than the music, but Charli XCX has never let process be the focal point of the work in the way a Grimes might. The album's penultimate song, "anthems," a collaboration with 100 gecs, is chaotic, loud, and lonely — mirroring and, in a way, magnifying the feeling of the moment into which it was released. It longs for the freedom for harmless fun, to get a little reckless and rowdy on a night out with people who make you feel alive and without having to worry about someone dying because of it. It longs for everything 2020 stole. Plenty of quar albums have come and gone since how i'm feeling right now, but it remains the highest bar.
1. Phoebe Bridgers, "I Know the End"
The greatest tragedy of 2020 — aside from, well, everything else — is that Phoebe Bridgers never got to perform her masterpiece Punisher before the world shut down. Released in June, well into the pandemic, it hit like an emotional hammer, like the taxman come to collect from a world where the only currency is trauma. Punisher would've been a groundswell for the hurt and hurting in any year; pain is not always tethered to time and circumstance, not always so linear or surfaced in ways easy to receive. But in a year as unforgiving as 2020, Punisher is met with the feeling that what you're hearing is a defining work of this uncertain moment in time. Album closer "I Know the End" leans into the free fall, clearing a way for Bridgers to dissociate from the physical world and all its unruliness to a place of clarity, where she can spend time in the inner world wandering around memories and reflecting on what built them in order to better understand what shapes her as a person at the core. She stops to think about the relationships that didn't last and the version of herself she became with them, to own up to self-destruction, and to revisit fond snapshots on the road to nowhere.
When the song breaks off from reminiscing and loathing to erupt in its "doomsday chorus" — where Bridgers is joined for a guttural siren of screams by the album's many guests, including Julien Baker, Lucy Dacus, and Conor Oberst — her descent back to reality begins, and we reach the calm after the storm. The final seconds of "I Know the End" are spent on Bridgers a capella, gasping for more air to scream with — only to choke on it. Frankly, I can't think of a better metaphor for 2020.
Other 2020 Highlights
Justin Curto's Picks
Jayda G, "Both of Us"
Laura Marling, "Held Down"
Bartees Strange, "Boomer"
keiyaA, "Hvnli"
U.S. Girls, "4 American Dollars"
Jessie Ware, "Spotlight" / "Remember Where You Are" (TIE)
Jeff Rosenstock, "Ohio Tpke"
Run the Jewels, "Yankee and the Brave"
Dogleg, "Kawasaki Backflip"
SAULT, "Wildfires" / "Strong" (TIE)
Dee Lockett's Picks
Cardi B and Megan Thee Stallion, "WAP"
DJ Imarkkeyz, "Coronavirus" / "You About to Lose Yo Job" (TIE)
Curtis Roach, "Bored in the House"
Cookiee Kawaii, "Vibe (If I Back It Up)"
The Dixie Chicks, "Gaslighter"
Rina Sawayama, "XS"
Roddy Ricch, "The Box"
Chloe x Halle, "Ungodly Hour"
Rico Nasty ft. ppcocaine, Rubi Rose, and Sukihana, "Smack a Bitch Remix"
Maren Morris, "The Bones"
Kehlani, "Can I"
Noname, "song 33"
Freddie Gibbs and The Alchemist, "Scottie Beam'
HAIM, "I Know Alone"
Jazmine Sullivan, "Lost One"
Christine and the Queens, "people, i've been sad"
YG and Nipsey Hussle, "FDT"