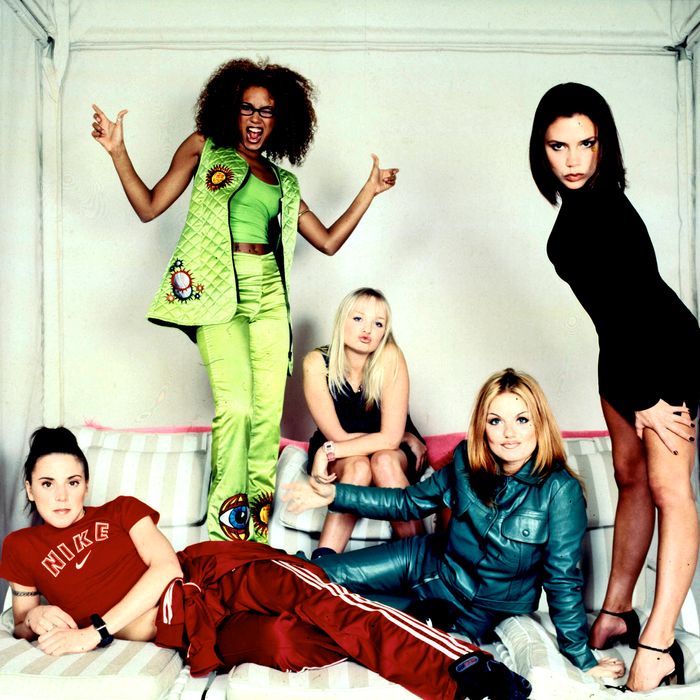 Photo: Ann Summa/Getty Images
Last week, the Spice Girls reunited for their 13-stop reunion tour, and while any Real Fan will tell you it doesn't count without Victoria Beckham (it's like nobody cares about those of us who cosplayed as Posh), it's still exciting to think that a few select cities will get to revel in a live version of "Spice Up Your Life" (no matter how bad the sound seems to be.)
Which was obviously the perfect excuse for us to delve deep into the Spice Girls catalogue and rank their songs accordingly. True, the task was nearly impossible. There are many good options! But frankly, the mark of a great fan isn't one who loves all their music but one who can confront nearly every single released after Ginger's departure and admit that for that cursed time, we all suffered.
Or maybe that's just me.
Anyway, by ranking the 38 tracks you could find: a) on any full-length album, or b) via CD single (since the nineties had those), we know we're courting controversy. But we also hope the nostalgia soothes any angry souls who hate us for our choices, or for excluding the Girls' brief cover of "Leader of the Gang." So without further adieu, zig-a-zig-ah!
38. "Walk of Life," Sabrina the Teenage Witch Official Soundtrack // "Too Much" EP (1998)
Since we're here, let me remind you that the Sabrina the Teenage Witch soundtrack included a cover of Melissa Joan Hart singing Blondie. But, like a previously mentioned Spice Girls single, "Walk of Life" isn't on this end of the list because it's bad or upsetting. It's here because most of us forgot about it. It's "fine," and we're all so much better than that.
37. "Sleigh Ride," Sounds of the Season (1998)
If it's any consolation, if this list was a ranking of Spice Girls Christmas songs, "Sleigh Ride" would be No. 2.
36. "Weekend Love," Forever (2000)
Is it possible to just give a blanket rating to all Forever ballads? Can we just say all of them fall between Nos. 30 and 41? Most songs from Forever feel like watching a reunion episode of your favorite TV show that pales in comparison to the glory of the original. They're the musical equivalent of every time two or more Friends cast members have been forced to gather in public onstage.
35. "Oxygen," Forever (2000)
What did I just say.
34. "Right Back at Ya," Forever (2000)
Another song that absolutely exists.
33. "Headlines (Friendship Never Ends)," Greatest Hits (2007)
The thing about this track is that it's a lie. And while it was released on the Greatest Hits album in support of the Girls' 2007 reunion, diehards know that the dynamic and the friendship between the Fab Five is storied and complicated. Sure, they can sing about "giving it all" to friendship (or whatever) via headlines, but it's also 2019 and we only just saw the gang regroup for a photo op that wasn't even in support of a reunion. Sell us your BFF mandate from the stage I'm being removed by security from.
32. "Tell Me Why," Forever (2000)
And speaking of friendship. To watch a group soldier on without the presence of a key member is a sad and confusing thing. And it was especially awful for those of us who realized "Tell Me Why" was the Spice Girls' attempt at throwing shade at the recently departed Geri Halliwell. You can't pull a Fifth Harmony when your empire hinges on "friendship never ends." We adopted "zig-a-zig-ah" for you.
31. "Time Goes By," Forever (2000)
Between the first notes on that early-'90s keyboard and the "I can't believe how much I love you" narrative, this particular song feels pulled straight out of a dramatic moment between Zack and Kelly at the Max. So, in the immortal words of the commenter on this YouTube video, "Who [is] still listening to this in 2016 and 2017."
30. "Holler," Forever (2000)
It's not that every offering off the Spice Girls' third full-length release is an abomination. It's just that they pale in comparison to the anthems that made the group so worthy of adulation in the first place. In this particular case, the group maintains the sex positivity they established in the days of "2 Become 1" (more on that soon), but without the depth of songs like "Naked" or "Last Time Lover." Mainly, it feels like a Spice Girls cover song trying to break into mainstream pop.
29. "Get Down With Me," Forever (2000)
At its start, "Get Down With Me" makes you feel almost like you're running into a pal you grew apart from after college, then realizing they're actually still funny, cool, and someone you're happy to follow on Instagram. That is, until they start talking about their cleanse. The Spice Girls built a dynasty on "I don't need your bullshit, idiot." And "Get Down With Me" is the spare room built onto that empire with the theme, "Please, let's date?" set to solid late-'90s beat.
28. "Naked," Spice (1996)
As a tween, "Naked" was the song you knew your parents wouldn't be cool with. (Especially if they watched Live in Istanbul, where the Spice Girls performed the number behind large chairs, making them look — yes, obviously — naked.) But as an adult, a congratulations belongs to the creative team who made "Naked" seem grown-up and risqué despite the subject matter dealing with … who knows what.
The lyrics seem to refer to peeling back layers and exposing one's self for who one really is. But then there are lines that seem to refer to actual nakedness, which, like, cool. But who is this for? And why?
27. "The Lady Is a Vamp," Spiceworld (1997)
The only song on Spice World any of us skipped. Even worse, it followed "Viva Forever," the song we eventually all equated with Geri's departure and prompted some of us to (hello, hi) weep openly. Now is not the time for sexy sax.
26. "Let Love Lead The Way," Forever (2000)
Where were you when the Spice Girls first got existential? It doesn't matter. (And that's the same answer I would give any first-year philosophy student who asked me these questions.)
25. "Christmas Wrapping," B-side (1998)
It's not the Waitresses' 1981 original, but it isn't bad.
24. "Wasting My Time," Forever (2000)
Perhaps one of the Spice Girls' greatest naughties-era tragedies was how their sound shifted so dramatically (almost emptily) from when we first met them back in 1996. But while "Wasting My Time" is still a far cry from the glory of Spice World, it's a decent nod to their anthems of yore. Both through the melody (which sounds a lot like "Do It") and its how-dare-you themed lyrics ("Now you know I can live without you / You should see that it's not all about you").
For any other group, it would be average. For the Fab Five, it was a bold step toward an even spicier (#LOL), more grown-up persona.
23. "Outer Space Girls," B-side (1997)
Imagine that the Spice Girls covered the Backstreet Boys' "We Got It Goin' On." (Amazing.) Now, imagine a pop song written from the perspective of the Spice World aliens. (Terrific!) Enter: "Outer Space Girls," a song that merges the worlds of boy-band beats, rhetoric about space travel, and the lyric "close encounters of the female kind." Why NASA doesn't use it today, I do not know.
22. "Step to Me," Spiceworld Japanese edition (1997)
When "Say You'll Be There" merged with "Move Over," we got this: a song released as part of Spiceworld's Japanese edition and as another extension of the Pepsi empire. In fact, you could only even hear this song if you collected 20 Pepsi pull tabs in the U.K. back in 1997. Which is odd, considering its lyrics err on the side of adult ("There's no time for your insecurities / I'm going to wipe that smile off your face") and don't exactly scream "Drink Pepsi." But maybe that's where its power lies.
21. "Voodoo," Greatest Hits (2007)
No band's legacy is complete without a song that could accompany the makeover montage in Bridget Jones. I now dare you to listen to this without thinking about Bridget throwing out books or using the elliptical or buying new books to replace the old, shitty books I just mentioned.
20. "My Strongest Suit," Elton John and Tim Rice's Aida (1999)
And speaking of montages, imagine one that looks something like this: Five women known as the Spice Girls waking up and dusting off the memories of songs 50 to 25. They look at each other and realize that it's finally time; that the moment has come to regroup and perform the type of music that helped define a generation. They put on their underwear and their overwear (as the song instructs), and realize their actions are in step with the lyrics of this masterpiece.
19. "Stop," Spiceworld (1997)
Over two decades since the release of Spiceworld's second single, most of us can perform the steps to "Stop" without even thinking about them. But does good dance a good song make? Yes and no. Had the Spice Girls not used "Spice Up Your Life" to introduce us to Spiceworld, "Stop" would've been a great attempt at proving how different they were willing to get when following up Spice. (Think about it: Spice doesn't contain anything remotely like "Stop.")
But "Spice Up Your Life" was daring and adventurous and ideal for the club sect. And this made "Stop" seem a little young in comparison. Which isn't to say it's bad; it's just the group's most PG-friendly offering. Especially since even "Viva Forever" came so emotionally loaded.
18. "Never Give Up on the Good Times," Spiceworld (1997)
Or, if you're going to tie a song to a set of dance steps, align it with the scene in Spice World where the gang refuses to adopt the worst choreography they've ever seen. Especially since "Never Give Up on the Good Times" is a straight-up bop appropriate for club floors or any space that allows for dancing.
17. "Something Kinda Funny," Spice (1996)
I have a theory that if you put this song on at any event (birthday party, baptism, wedding, funeral, graduation), that event will improve exponentially. It's laid-back enough not to put anybody on edge, quiet enough to fade into the background if you need it to, and is quick enough not to slow down the vibe if everybody's giving it their all. Which is exactly why none of us ever cite this jam as one of the Spice Girls' best. It's too good a chameleon.
16. "Viva Forever," Spiceworld (1997)
True, this song was boring and meaningless upon first listen of Spiceworld a.k.a. a celebration of Girl Power and friendship and all things Fab Five. And then Geri left, the official video came out, and our last image of the group altogether was as weird little fairies born from Kinder Eggs and presented in puppet and/or CGI form.
So should anyone ask you what true (girl) power looks like, play "Viva Forever" and explain how it evolved from being slightly better than "The Lady Is a Vamp" to somehow carrying as much emotional clout as "My Heart Will Go On."
15. "Goodbye," Forever (1999)
I don't care what the lyrics imply: This was a song written for Geri and inspired by Geri and "went into the world / What a revelation" was one of many lines too precious to be played at middle-school dances.
Plus, it was the Girls' first step into the world of obvious autobiographical writing. Because while any one of their songs could apply to their personal lives, only one event was enough to shake up Spice Girls fandom: the departure of Geri Halliwell. And while we all went on to comb through the lyrics of Justin Timberlake, Britney Spears, Christina Aguilera, and/or literally any other pop star, "Goodbye" and it's message of finality and endings ushered in an era of deep-seated lyrical analysis. Arguably, "Goodbye" made us social scientists and relationship experts — at least when we weren't distracted by whether or not the group would split up.
14. "Love Thing," Spice (1996)
Not only can you very easily follow the vocal stylings of each Spice Girl (it's easier said than done, I promise), "Love Thing" delivers unto us the line, "God help the mister, yeah, God help the mister / That comes between me and my sisters." Which inspired some of us to spend many tween months counting down to when we could actually use it ourselves.
13. "Last Time Lover," Spice (1996)
A beautiful example of what the Spice Girls can do best. Melding slowed-down, sexy instrumentals with a pronounced beat and playful vocals, "Last Time Lover" sounds both like a late-night text and the start of a "Here's how this is going to happen" monologue. Which is why you can sing along, listen silently along, or use it as the soundtrack for a psych-up speech. All before it gets stuck in your head for weeks.
12. "If U Can't Dance," Spice (1996)
It's a statement as true today as it was 22 years ago.
11. "Denying," Spiceworld (1997)
To start, you almost think this song's about to sample "Say You'll Be There," but no: Instead, it's a graduation from its Spice predecessors. For the first time, the group straight-up asks, "Who the hell do you think you're talking to?" making "Denying" one of their most assertive efforts, especially when you remember that "Who Do You Think You Are" is another Spice Girls single. (And doesn't include cursing.)
Ultimately, it's the "How dare you?" speech of their discography. And for that, I salute it.
10. "Mama," Spice (1996)
It isn't as lyrically strong as its preceding singles ("Wannabe," "2 Become 1," and "Say You'll Be There," especially), and it's somehow even more Hallmark-esque than "Goodbye." But it's also the reason many of us avoided disputes with our mothers at ages when we were being told to please turn down the Spice Girls as though we were living in that scene in Spice World ourselves. Which, during puberty, is almost an impossible feat.
9. "Who Do You Think You Are," Spice (1996)
The fact that we don't talk about this dance anthem on a daily basis while performing the choreography wearing each Spice outfit is a disgrace to ourselves and to the group we revere. If you are ever asked what the late '90s looked like, you show them this video and watch as that person weeps tears of joy. And then you remind them that you don't care that the lyrics never really expand past the title because it isn't the point (the beat is the point! The choreography is the point!), and you hate them for asking.
8. "Do It," Spice World (1997)
It a song of respect ("Give a little respect to me, and it will be returned"). It is a song of self-power ("Make your own rules to live by"). Shockingly? It is also a song that throws any/all shame-based rhetoric in the face of those who dare utter it ("I will not be told / Keep your mouth shut, keep your legs shut, go back in your place"). Which, while "Do It" isn't the most melodically strong offering, reaffirms the group's seriousness about aligning with a brand of power that celebrates independence over complacency. Even that message is easily digestible and the title plays off the Nike slogan.
7. "Saturday Night Divas," Spice World (1997)
Not just the song that soundtracked the photo-shoot scene in Spice World (co-starring Dominic West, you Wire obsessives), "Saturday Night Divas" is a shining example of the high quality that went into Spice songs that weren't singles. It's also the only song any of us need to listen to when we're getting ready to go out on a Saturday night. (You heard me, Bee Gees.)
6. "Move Over," Spice World (1997)
Whether or not it was written exclusively for the Generation Next™ marketing movement doesn't matter. What does is that "Move Over" was an anthem so powerful it inspired countless listeners (like this easily influenced one) to abandon Coke for Pepsi, which is a feat not even Britney Spears could manage. Who even cares what this song is about.
5. "Too Much," Spice World (1997)
Was it a song that I got in trouble for singing in the car when my Nana took me to the mall one morning? Absolutely. (It's weird for a wee baby tween to urge a listener "to unwrap [themself] from around [her] finger" — and weirder for that same tween to wax poetic about needing a lover and a friend.) But therein lies the magic of the official Spice World movie tie-in: It's a grown-up song. It's a slow, seductive, single delivered with intent and served to reaffirm that despite the "girls" in their band name, the Fab Five were grown-ass women. It's also the group's closest effort to what could also work beautifully as a Bond theme, despite James being a boy who thinks he can. Which is one of the most important sentences I have ever typed.
4. "Say You'll Be There," Spice (1996)
Behold: the perfect middle-ground between slower, sensual Spice jams and the singles we still dance to. Which is why the Spice Girls deserve more credit than their boy-band counterparts: Where BSB and *NSYNC tended to do ballads and high-paced pop well, the songs that fell in between were forgettable and boring. Meanwhile, over 20 years later, we still remember the words to "Say You'll Be There." As well as the fact that it was shot in a desert.
Plus, the lyrics were the stepping-stone from "Wannabe" to "2 Become 1." Each member asserts herself as a woman of her own agency and reminds whoever it is she's over it, moved on, and that she will decide the terms of her relationships. Which set us up for delivering the same type of discourse in "2 Become 1." A true evolution.
3. "Spice Up Your Life," Spice World (1997)
As the lead single off their sophomore release, it was important for "Spice Up Your Life" to break from slump tradition and up the danceable ante — especially since well into 1997, we were all still clinging to "Wannabe."
And it succeeded! Maximalist over minimalist, the single not only delivered important dance instructions — "Slam it to the left (if you're having a good time) / Shake it to the right (if you know that you feel fine)" — it kept its energy up to the end and left us wanting more from this exciting and super-confident fivesome. It was evidence that they weren't just a one-album wonder. It was our gateway into a more grown-up and dynamic record. Also, the video was set in space.
2. "2 Become 1," Spice (1996)
Considering so much of the '90s were defined by a reclamation (and celebration) of sexuality, it's interesting that the Spice Girls' third single remains merely a footnote in cultural history. But alas.
A song defined not just by the acknowledgment of sex but by the importance of safe and consensual sex ("Be a little bit wiser, baby / Put it on, put it on"), the track was also a departure from the super-poppy version of the Spice Girls that "Wannabe" and "Say You'll Be There" introduced us to. Instead, it was the ballad of five grown woman and proof of their musical versatility.
Plus, the song's just really good.
1. "Wannabe," Spice (1996)
Without "Wannabe," the Spice Girls wouldn't exist as we know them. And not just because "Wannabe" was the group's first single. Thanks to its bridge, its chorus, and its light, relatable lyrics, the Fab Five used it to establish themselves not just as bankable singers but as women who had something to say. (Specifically, that friendship ranked higher than some dude pining for a date. Like, hello: "If you wanna be my lover / You gotta get with my friends.")
In fact, "Wannabe" set the precedent for the Spice Girls' '90s ethos. By stressing the importance of friendship via song, the group created a platform on which to promote Girl Power™, their easily digestible (and sellable) brand of feminism that thrived more on a slogan than it did on a concrete ideology. But in 1996, even a minimalist effort felt like a big deal. A bigger deal, in fact, than the fact that "Wannabe" introduced the infamous "zig-a-zig-ah" into our lexicons: a phrase that embedded itself into our tween and teen minds despite its (less-than-glamorous) origins only actually being revealed in 2015. (Spice) Girl Power indeed.