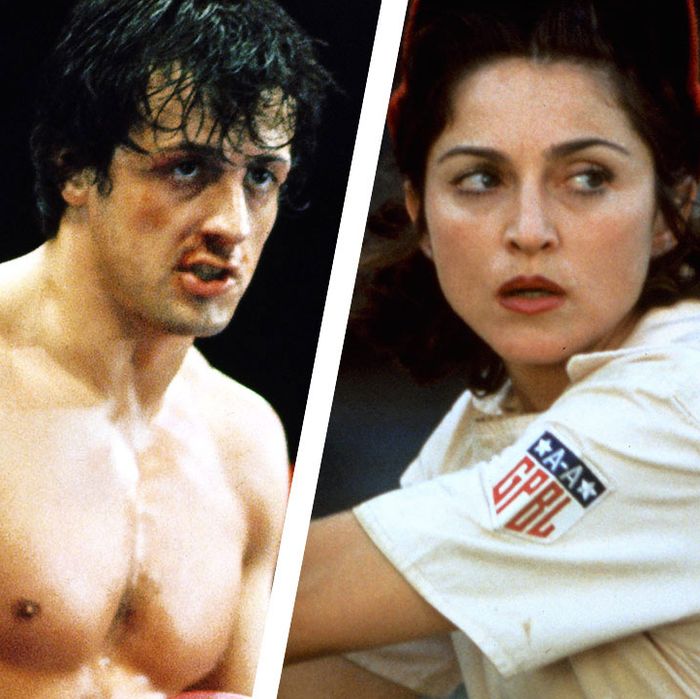 This story was originally published in 2019 and has been updated to include recent releases.
It is strange that sports movies are considered a genre since, all told, they really are just a setting. It's like saying that "desert movies" are a genre, or "ocean movies" are. The best sports movies are independent of the sport they're depicting, with universal stories that should appeal to anyone whether they love the sport or not. Though loving the sport does help.
This is to say: Our favorite sports movies tend to avoid the traditional "meet hero, see hero overcome adversity, see hero win big game" sports movie structure, or at least deconstruct it enough to justify themselves. The thing audiences love about sports and movies, the thing they have in common, is that they are unpredictable: You never know when you sit down to watch either what's going to happen. But for some reason, many sports movies insist on being predictable, adhering to the formula.
Those are not the sort of sports movies you will find on our list of the 50 best sports movies of all time. The best sports surprise us: These great sports movies do the same.
The Natural's most lasting contribution to popular culture is Randy Newman's shimmering, inspirational score, which would soon be parodied and appropriated, quickly becoming the go-to music for any walk-off homer. As for the movie, it's a paean to the sacred beauty of baseball — which, even for two people like us who are baseball diehards, can be a bit much. Robert Redford plays Roy Hobbs, a nearly divine being with a talent for hitting who is looking for his shot after a dark past. Will he find his redemption? Will he get the girl? Will he sock a magnificent dinger while he's bleeding badly from his side? Yes, yes, and absolutely yes. Barry Levinson luxuriates in Caleb Deschanel's sepia-tinged period cinematography, inviting us to share in this hogwash fantasia for a couple of hours. You wouldn't want to live in The Natural, but it's fun to visit. And, seriously, that score.
Ben Affleck clearly digs into something tortured about his own addiction in his portrayal of a former high-school-basketball star who gets a second chance as coach of his old high school's basketball team. The basketball scenes are well orchestrated and put together — you can tell director Gavin O'Connor knows his hoops — but the sports stuff in many ways is a red herring; this is the story of a man at war with himself, someone for whom sports serves as a reason to keep on going … but not as his be-all and end-all salvation. This is the rare sports movie that keeps sports in its proper perspective: It's there to help, but the hard work — that you've got to do yourself.
Some sports films are less about winning and losing — and more about the mysterious drives powering world-class athletes. Robert Towne's exploration of runner Steve Prefontaine (Billy Crudup) and coach Bill Bowerman (Donald Sutherland) is a film about philosophy and temperament, about the eternal question of whether being the best automatically means that you also have to be a rotten human being. Crudup plays Pre as utterly uncompromising — he wants to be in the lead during his races from the beginning, despite the strategic disadvantage that presents — while Sutherland gives us a Bowerman who must learn how to coexist with his stormy pupil. Their chess match provides Without Limits its spark, and even if the film is more thoughtful than pulse-pounding, the intelligence brought to bear is appropriate for a sport that's as much about mental toughness as it is physical skill.
Also on our list of great Olympic movies, this Robert Towne drama revolves around a group of American women training for the 1980 Olympics before realizing that the United States would be boycotting them. Mariel Hemingway does a terrific star turn as the top runner, and the movie has aged well, particularly when it comes to the bisexual love triangle at its center. The early '80s were a big time for movies featuring people running long distances in slow motion.
A picture-perfect example of the manly sports-movie weeper — the best ever of this is Brian's Song, a TV movie about the friendship between Chicago Bears players Brian Piccolo and Gale Sayers — this features an extremely young Robert De Niro (playing a redneck from Georgia, no less) as a Yankees catcher who confides in his erudite starting-pitcher friend (Michael Moriarty) that he's dying. The movie is a two-hankie manipulative piece of work, but we guarantee you that it made your parents cry at some point.
45.

Goon (2012)
Seann William Scott has never been as soulful as he is in Goon, a heartfelt comedy about an enforcer for a local, low-rent hockey team. His Doug is a bruiser who likes knocking the other guy out — he gets paid to deliver pain — but this is also someone with real depth; he struggles to deal with an inferiority complex that stems from his judgmental family, who are all more learned than he is. The movie may be about violent dimwits, but there's a blue-collar purity to its vision of working-class dudes who have nothing else in their lives, and director Michael Dowse shows such affection for these goons that the feeling is contagious.
44.

Senna (2011)
Before director Asif Kapadia won an Oscar for Amy, he focused on Ayrton Senna, a race-car driver compelled to be the best. Senna utilizes archival footage to tell the story of the man, who died in 1994 at the age of 34, and even if you know how he met his fate, it doesn't make this story any less compelling or tragic. What this documentary communicates most vividly is the unknowable depths of some people's need to compete — how it's nearly a religion, or a sickness — and that lack of understanding leaves Senna as a fascinating, inscrutable figure. As for the glimpses of Formula One racing, they're electric even after all these years — which is undercut by the sense of sadness and terror hovering over each pulse-pounding moment.
Destined, alas, to be known as "the movie Will Smith won the Oscar for just a few minutes after the Slap," it's easy to forget how perfectly cast Smith is as Richard Williams, the uncompromising, unconventional, often-maddening-and-also-maybe-just-brilliant father of Venus and Serena Willams. Smith inhabits the incorrigibly determined Richard in a way that plays off Smith's star power, and how it (and he) has aged, making Richard so convinced of his own correctness about everything that it's all the more astounding that he turns out to be right. You wish Venus and Serena were bigger parts of what is, after all, their own story, but then again, they were producers on the movie: This is a love letter to a father who made them who they are … for better and for worse. If you can separate it from That Oscar Night — and it's not easy— it remains stirring; it's truly an incredible story.
42.

I, Tonya (2017)
Have we been unfair to Tonya Harding all this time? That's the provocative question asked by I, Tonya, a nervy biopic about the disgraced figure skater, brought to complicated life by Margot Robbie. The Tonya we meet in this comedy-drama is an ambitious athlete from a working-class background who's been nettled by her disapproving mother (Oscar winner Allison Janney) all her life. Robbie nails Harding's insecurity and wounded pride — the sense that she's been dealt a bad hand but is gonna play it for all it's worth — and director Craig Gillespie uses her as the film's emotional, bittersweet anchor. Other aspects of I, Tonya are glib and self-satisfied, but the thrill of watching Harding briefly realize her dreams gives the movie its vibrancy and poignancy.
Not the Adam Sandler remake — though we'll see the Sandman on this list a little later — this is the surprisingly gritty and dark Burt Reynolds movie about a team of inmates asserting their dignity in a violent football game with their prison guards. The movie plays as comedy, but Reynolds delivers one of his strongest performances as a former pro football player who screwed up his life and career but, with his fellow prisoners, finds a purpose that had eluded him on the outside. And this has one of the more satisfying Big Game finishes you'll find. (Seriously, though: Do ignore the Sandler version, even if Reynolds himself has a role in it.)
Not technically a sports movie — it's not about a big game, and almost all the boxing happens either in flashback or not involving the main character at all — it makes the list because, sheesh, if you've got Daniel Day-Lewis in anything even sports-movie-adjacent, you've got to include it. The movie features DDL as a former IRA member and boxer who returns after 14 years in jail and attempts to navigate his new world and a boxing club he founds for wayward boys. This is probably the weakest of Day-Lewis's three films with Jim Sheridan, but it's still powerful. Oddly, Joe Rogan has said Day-Lewis gave the most convincing performance as a boxer that he's ever seen, and now, we are proud to say, you have seen Joe Rogan's and Daniel Day-Lewis's names in the same sentence.
"I had the title before I had written a word," writer-director Ron Shelton told Entertainment Weekly in 2017 about his basketball comedy, which starred Woody Harrelson and Wesley Snipes as unlikely partners scamming players on the Venice courts. Indeed, White Men Can't Jump's title conveys all that's edgy and playful about the film, although underneath is a pretty sober tale of two men who need to grow up. In the case of Snipes's Sidney, that means becoming a responsible father and husband. As for Harrelson's Billy, maturity comes in the form of committing to his Jeopardy!-obsessed girlfriend Gloria (Rosie Perez). White Men Can't Jump is wise about the insecurity beneath the trash talk: For these guys, ruling the court is far easier than navigating real life's financial and emotional hurdles.
Every actual Major League Baseball player's favorite baseball movie, though we're not sure that's a mark in its favor or a strike against it. Basically a big bawdy baseball sitcom, this David S. Ward film leans into every possible baseball cliché and wrings them for all they're worth. Charlie Sheen's Wild Thing remains the least interesting character, but, again, not surprisingly, that's probably why active players relate to him so much. It helps that the movie had so much cooperation from Major League Baseball itself, not only letting them use the actual Cleveland Indians, but also big-league parks, mostly Milwaukee's old County Stadium. Plus, everything Bob Uecker does in this movie is funny.
37.

Dodgeball (2004)
Low-rent, sloppy, aggressively dumb … which is to say, surprisingly wonderful, right? Vince Vaughn is in full slob mode here as the leader of a (all together now) ragtag group of misfits who have to win the big game. Dodgeball has one go-to joke that's guaranteed to work every time you need it to: It is unquestionably funny to watch someone get bashed in the face with a big rubber ball. Ben Stiller has a grand time as White Goodman, and Jason Bateman is simply hilarious throughout. The Lance Armstrong cameo hasn't aged that well, though.
You can read Will Ferrell and Adam McKay's second big-screen collaboration as the definitive portrait of Dubya's America, where unbridled stupidity and unearned confidence reigned supreme. Or, you can just find it hilarious from start to finish. Ferrell tweaked his Ron Burgundy persona to give us another portrait of entitled-white-male dumbness. Ricky Bobby's not a bad guy, but his single-minded selfishness makes him deserving of comeuppance — which arrives in the form of, among others, a snooty French driver (Sacha Baron Cohen) who takes his crown. Featuring some great car-racing sequences (not to mention the first pairing of Ferrell with his ace comedic wingman John C. Reilly), Talladega Nights shakes and bakes with glee. And we'd love to see Amy Adams cut loose like this more often.
35.

Rudy (1993)
Whether you find the big victory of Rudy — which isn't about winning the big game, but rather just getting a chance to play — inspiring or oddly low-hanging may depend on your own level of apple-cheeked optimism. But this story of Notre Dame scrapper Rudy Ruettiger (Sean Astin) is the tale of every untalented kid who had a dream and wouldn't give up. Since most people aren't incredibly talented football stars, it appeals to the dreamer in all of us — even if, in real life, as teammate Joe Montana loved to tell people in interviews, most Notre Dame players were all making fun of Rudy. The movie gets extra credit for introducing Vince Vaughn to Jon Favreau; they both have small roles as teammates.
An inspirational soccer movie for a generation, its the story of two women who just want to play soccer but keep being thwarted by their families and a culture that tries to stand in their way. This was probably the first time you saw Keira Knightley, and it's possible that she was never more purely likable; in a fair world, co-star Parminder Nagra would be just as big a star (no offense to Bird Box fans). Beckham was made into a musical in England a few years ago, and it's no wonder: The movie just has that kind of cheerful, big-hearted appeal.
Eight years after Rocky, director John G. Avildsen delivered another underdog sports movie, telling the story of a New Jersey kid named Daniel (Ralph Macchio) who moves to Southern California, falls in love with Elisabeth Shue's cheerleader character Ali, and trains with an immigrant handyman (Pat Morita) after some bullies beat him up. The Karate Kid is a fantasy for every sensitive young person who dreams of being cool, and it's made with tons of heart, sweetness, and sympathy. Macchio embodied teenage insecurity for the Atari generation, and Morita (who received a Best Supporting Actor nomination) brought compassion and wisdom to a performance that could have easily just been a stock wise-mentor role. (Not for nothing, but at a time when racial sensitivity wasn't exactly in vogue in Hollywood films, The Karate Kid actually paid lip service to the life Mr. Miyagi left behind before he moved to California.) The film hits all of the expected beats with skill and enthusiasm before the winning formula got ground down by uninspired sequels and remakes.
In the midst of John Sayles's remarkable run of low-budget features, the Oscar-nominated filmmaker dove deep into the 1919 Black Sox scandal, giving us an ensemble picture that presented a conflicted version of why, precisely, these players threw the World Series. Not surprisingly from the man who crafted Matewan, Lone Star, and City of Hope, Eight Men Out is an examination of politics and economics, of how social forces and cultural norms influence individuals' decisions. This is not a baseball movie for the Field of Dreams fan in your life; that film is far rosier in its depiction of Shoeless Joe Jackson. Rather, Eight Men Out is an honest look at labor long before the era of $200 million contracts.
31.

The Fighter (2010)
David O. Russell's comeback began with this true story of an underdog boxer, Micky Ward (Mark Wahlberg), and his impossible family, including addict brother Dicky (Christian Bale, who won an Oscar). The Fighter emphasizes Micky's working-class roots, striving for a straightforward authenticity in its depiction of characters with few opportunities and too many self-destructive tendencies. On paper, The Fighter has a pretty conventional sports-movie trajectory, but Russell and his cast (especially Melissa Leo, who plays Micky's mom and also took home an Academy Award) keep digging into the story's odd rhythms and messy realism, showing us how, from the inside, clichés just feel like real life when they happen to you. It's a film with a chip on its shoulder — too scrappy to be "lovable," but too affecting to be denied.
30.

Happy Gilmore (1996)
"Are you too good for your home?!? Answer me!" Among Adam Sandler's most quotable early hits, Happy Gilmore is relatively more sophisticated than Billy Madison while retaining that film's affection for moronic comedy. Sandler is Happy, a failed hockey player who discovers that he's perfect for golf since he can drive the ball a long way — he just can't do any of the other stuff on the green. This was the first of several collaborations with director Dennis Dugan, and the movie is shockingly well-cast, featuring a pre–Modern Family Julie Bowen as Happy's love interest and Carl Weathers as his eternally patient mentor. But the film's MVP is Christopher McDonald, who goes all-in as our hero's nemesis on the links. Shooter McGavin is an inspired boo-hiss villain, and McDonald has a blast with the character's vanity and stupidity.
Martin Scorsese's sequel to The Hustler brings back Paul Newman's Fast Eddie Felson, this time using him as a mentor, and potential hustler of, yet another Tom Cruise Young Superstar Talent Who Has Some Lessons to Learn. The movie isn't one of Scorsese's best — not even close, really — but it's fun to watch him rattle around and jostle Newman and Cruise, a fascinating pairing. Plus, somehow, Scorsese can make a game of eight ball look as visceral and thrilling as a boxing match.
28.

Creed (2015)
The Rocky series had run out of gas several times by the time Ryan Coogler got together with his Fruitvale Station star Michael B. Jordan to inject the whole franchise with adrenaline and soul … and even liven up old Rock himself in the process. The best scenes of Creed aren't even about boxing at all, as we see young Adonis Creed struggle with his identity, his purpose in life, and the power of his feelings for a young, hearing-impaired musician (played wonderfully by Tessa Thompson). Putting Rocky Balboa in the Paulie role is a brilliant idea, and the relationship between the young boxer and his trainer works … and even manages to transcend the whole 40-year-old enterprise.
A kids' sports movie for a particularly cynical age, this is '70s underdog cinema at its finest, with Walter Matthau immortally rumpled as Morris Buttermaker, a drunk who hates kids and even, when the movie begins, hates baseball. The fun of The Bad News Bears is that while the team becomes a winner and pseudo-"inspirational," they're still ratty and gnarled and ornery all the way: They are, after all, sponsored by Chico's Bail Bonds. A whole generation of kids wanted to be Kelly Leak, even if eventually he would turn into Rorschach and Freddy Krueger.
26.

Sugar (2009)
A film that speaks to so much that's fraught about baseball — how some of its most talented players come from conditions overseas that are intolerable, only to arrive on our shores and suffer culture shock — Sugar is a minor-key heartbreaker. This drama stars Algenis Perez Soto as Miguel, an aspiring pitcher in the Dominican Republic who gets his shot at the big leagues, only to discover how unlike a sports movie that journey will be. Half Nelson filmmakers Anna Boden and Ryan Fleck chart Miguel's confusion with a country and an industry that treat him like a product, not a person. Baseball's internal cultural tension — the phrase "playing the game the right way" is code for a racist intolerance for outsiders — is at the heart of Sugar. But the film's also fairly damning about America's hostile treatment of foreigners, a tendency that clearly has not improved much in subsequent years.
25.

Rush (2013)
One of the tenets of the sports movie is that you're meant to root for somebody, whether it's a team or an individual athlete. Ron Howard's mildly daring race-car movie suggests, "Well, what if both of our main characters are jerks?" Based on actual events, Rush follows the bitter rivalry between hunky, charming Formula One racer James Hunt (Chris Hemsworth) and the aloof, unsmiling Niki Lauda (Daniel Brühl), and Howard makes it clear pretty early on that he has no desire to present us with a rooting interest. At the same time, though, Rush isn't a sports movie where we're meant to admire both men equally — these competitive, closed-off men both seem to be striving for something bigger than victory, and both seem incapable of finding it. Whom you ultimately side with probably says more about you than them, and the thrill of Rush is its questioning of our need to position athletes in the roles of heroes and villains in the first place.
Kevin Costner and filmmaker Ron Shelton worked together on a classic sports movie that doubles as an ace romantic comedy. That movie is coming up later in this list, but their second pairing, Tin Cup, is also pretty darn terrific, once again casting Costner as a coulda-been star who never quite made the big time. Roy (Costner) runs a driving range, nursing memories of once being an up-and-coming golfer, when he meets the charming Molly (Rene Russo). And much like in Bull Durham, the main characters' attraction is both physical and intellectual: In his prime, Shelton was a writer who understood that lovebirds are even more appealing when they're smart. Tin Cup suggested that Shelton would make various versions of wonderfully grown-up, sexy sports movies for years to come. It's a shame that didn't happen.
A famously chaotic (and stoned) shoot produced a film that is a classic, despite not particularly holding up well as a film at all: It's amazing, watching the film from start to finish today, how little of it you remember. (Honestly, who cares about Danny Noonan in this movie?) Fortunately, it has two weapons that it deploys liberally enough to make the movie legendary nearly 40 years later. First, it has Bill Murray's demented Carl Spackler, a riff on a Second City character that he had created back in Chicago, a Murray doodle so immortal that it has arguably loomed over his entire career since. And secondly, every time the movie starts to lag, Rodney Dangerfield appears and just blows everything up. Caddyshack is far from perfect, but it doesn't have to be, not with those two … and, of course, that dastardly gopher.
The movie's small-town-white-kids ethos has frayed a bit over the years, and watching it in 2019, you find yourself wondering if you should have been rooting for South Bend in the final game all along. (As Spike Lee has pointed out, the movie has an undeniable "white kids rallying together to beat those more talented but undisciplined black kids" subtext.) Still, this is a classic Big Game sports movie, with some terrifically filmed basketball scenes and a momentum in its final scenes that you almost can't help but give yourself over to. Gene Hackman might have been a huge pain during filming, but he gives a terrific, prickly performance, and Dennis Hopper earned an Oscar nomination as the alcoholic father of one of the players. The movie's magic still works. Just don't think too hard about it.
Criminally underappreciated at the time, writer-director Gina Prince-Bythewood's debut film stars Sanaa Lathan and Omar Epps as neighbors in Los Angeles who pursue their basketball careers side by side while ultimately falling in love. But that simple explanation ignores the thought and depth of feeling Prince-Bythewood puts into her characters, giving them autonomy and sharp edges and a genuine sense of discovery. It is also sort of remarkable how much it gets right about basketball — particularly professional women's basketball, considering that the WNBA was only three years old when the movie came out. The movie is wise and warm and smart, and it has an absolute killer of an ending.
20.

Moneyball (2011)
While we'll always wonder what Steven Soderbergh's aborted adaptation of the celebrated Michael Lewis book would have been like, the actual film we got is a smartly measured look at a group of grown men who have devoted their lives to a game played by boys. Billy Beane isn't Brad Pitt's showiest role, but as time goes on, the more it feels like perhaps it's his best. (Much like Robert Redford, Pitt has become a more interesting and soulful actor as he's gotten older, his impossible good looks softening slightly as middle age brings with it wisdom and regret — which is exactly what you need for a character who secretly feels his glory days are behind him.) The baseball part of Moneyball isn't particularly dynamic or insightful, but director Bennett Miller and screenwriters Steven Zaillian and Aaron Sorkin have latched onto plenty of thematic through lines that give the story its power. Aging, fatherhood, the fear of not living up to your potential, failure, second chances, being willing to change: These ideas swirl through Moneyball, which is stacked with impressive performances. Beyond Pitt and Jonah Hill, who both received Oscar nominations, you've got a terrific Philip Seymour Hoffman as the defeated A's manager and a pre-megafame Chris Pratt as one of the team's unlikely heroes. For a movie about focusing on the science of baseball, Moneyball is awfully emotional — but it earns its goose-bumps moments sincerely.
When screenwriter Peter Morgan isn't obsessing over the royal family (The Queen, The Crown), he's got a taste for thorny sports figures. He wrote Rush as well as The Damned United, another true story, this one about hotshot soccer coach Brian Clough, who was hired to lead the famed Leeds United in the mid-1970s. Michael Sheen plays Clough as an arrogant bloke with a chip on his shoulder as he's about to discover that his dream job is about to become a nightmare. Directed by Tom Hooper, long before he fell in love with more awards-y fare like The King's Speech and Les Misérables, The Damned United is a snotty little character study that defies the sports-movie tradition of championing the maverick coach who revolutionizes his team through his unconventional ways. Spoiler Alert: Clough's tenure at Leeds is a disaster, mostly because of his boneheaded decisions, and Sheen articulates every square inch of humiliation, hubris, insecurity, and desperation that his character feels. Nice guys don't finish first — but sometimes, right bastards don't either.
Released in 2004, during a time when America's spirits were low in the wake of 9/11, Miracle speaks to another era when the national mood was abysmal — the late 1970s, as the economy was stagnating and Jimmy Carter was scuffling. The movie depicts the journey of the U.S. Men's Olympic Team as they fight their way to the 1980 gold medal, and because it's one of the country's most famous sports triumphs, you probably know the outcome from the start. That's fine: Miracle is one of those rare rah-rah movies that deeply, genuinely earns its U!S!A! U!S!A! spirit, presenting us with a collection of blue-collar kids working together to raise the nation's morale. Kurt Russell is terrific as crusty coach Herb Brooks, and director Gavin O'Connor gives the on-ice action plenty of electricity. "Believe," Miracle's posters proclaimed. With pleasure.
Of all the Best Picture winners of the last 40 years, we might argue that this is the most commonly forgotten: When was the last time you heard someone even mention this movie? It holds up surprisingly well, though, thanks largely to its universal story about strong-willed men overcoming adversity and prejudice through persistence, skill, determination, and a good British stiff upper lip. It's probably not possible to make scenes of a person simply running more stirring than they do here — Tom Cruise would be envious of the running they do in this movie — and Chariots of Fire's message arguably retains more power today than it even did in 1981. And the score remains the movie's enduring legacy: We'll be humming it to ourselves every time we cross any sort of finish line for eternity.
16.

He Got Game (1998)
Only a basketball fanatic could have done justice to He Got Game, a father-son story about a promising young baller (Ray Allen) and his uneasy reunion with his dad (Denzel Washington), who's just been let out of jail. Thankfully, the man behind this film was Spike Lee, directing from his original screenplay, which touched on everything from institutional racism to the machinery that exploits young athletes' labor and leaves them with nothing. In the decades since He Got Game came out, the hypocrisy of the student-athlete system has only been more exposed, but in Allen's character Jesus, we get an inside perspective on the excitement and anxiety of following one's hoop dreams. Washington is titanic as a fuck-up father trying to make amends, but watching the film now is extra poignant because of Allen, who was just starting his NBA career at the time. (He last played in the league in 2014, retiring two years later.) Through Allen's startlingly babyish face, He Got Game reminds us that sports greatness can't last forever.
Murderball is what happens when you take a gaggle of potential clichés — the inherent drama of competition, a ready-made inspirational tale, the poignancy of centering the story on paraplegics — and instead focus on the grit and heart of the subject matter. Directors Henry Alex Rubin and Dana Adam Shapiro made a documentary about the rival American and Canadian wheelchair rugby teams as they prepared for a collision course at the 2004 Paralympic Games, but while Murderball is moving and exhilarating, it's also impressively honest about what life is like for these athletes. Rugby proves to be therapeutic and life-affirming — some more sports clichés that have extra urgency in the context of these wheelchair-bound competitors — and the matches have a visceral, violent quality that suggests that the stakes are far greater than winning some trophy. Even if you don't care a lick about sports, you'll care passionately about these raw, vigilant warriors.
14.

When We Were Kings (1996)
Plenty of sports films are about underdogs, but When We Were Kings introduces us to arguably the most compelling ever: some past-his-prime bum named Muhammad Ali. Impossible to imagine now, but in 1974 that's exactly how the legendary boxer seemed when he signed on to fight the champ, George Foreman, for the "Rumble in the Jungle" in Zaire. However, nobody told Ali that he was predicted to lose. The documentary, directed by Leon Gast, had an arduous trip to the screen: Gast filmed the fight and then spent decades trying to get his movie financed. As a result, When We Were Kings is as much about the bout as it is the political currents of the time: Everybody from Spike Lee to Norman Mailer provide context for why this pulse-pounding upset resonated far beyond the ring.
13.

Field of Dreams (1989)
Yeah, we know, but it's sappy in a really, really great way. Unapologetic in its moony devotion to the myth of baseball as a symbol for All That Is Good About America, Field of Dreams sets Kevin Costner's Ray Kinsella on a whimsical journey to figure out what that damn voice in his head is trying to tell him. This is one of the best tough-guy weepies of all time, and no matter how sophisticated and cynical you get, it's simply impossible not to well up when Ray finally reunites with his father and asks him, "You wanna have a catch?" In that moment, this Best Picture nominee embraces all that is hokey, comforting, and powerful about the notion of a national pastime — how it can erase generational divides, economic strife, and an uncertain future. It is so easy to mock Field of Dreams, but it's probably better for your soul to embrace its big, sloppy, sincere heart.
This good-hearted movie about four high-school best friends who use cycling as a way both to escape their status as townies ("cutters!") in an Indiana university town (actually Bloomington, where screenwriter Steve Tesich went to school) and embrace their friendship captures the feeling of being stuck in a small town and both loving it and wanting to get out more than any movie we can remember. It is graced with an all-timer of a cast, with Dennis Quaid, Jackie Earle Haley, Daniel Stern, and Dennis Christopher, all impossibly young. It also breaks the sports-movie mold only to embrace it in the end, in a race that reminds us that every game is a big game for someone.
Clint Eastwood's boxing drama sneaked up on everybody in 2004: No one saw it until right before the Oscar deadline, and it blew us all away immediately, ultimately winning Oscars for Best Picture, Best Actress, Best Supporting Actor, and Best Director. The scenes with Maggie's family are stilted and clumsy, and some of the movie's emotional beats are a little too on the nose. (Remember, screenwriter Paul Haggis also did Crash.) But the movie still has muscle and heart, both in Hilary Swank's tough performance and also Eastwood's, which includes the only time he's ever cried on camera. Million Dollar Baby is a boxing movie that doesn't always feel like a boxing movie, which is one of the main reasons it's one of the great ones.
10.

Slap Shot (1977)
Paul Newman's grizzled, appreciably dingy little hockey movie might be more beloved by fans of its sport than any other film on this list: This is how hockey fans imagine their sport to be, in its purest form. (We have friends who watch this movie before every Stanley Cup playoffs just to get themselves pumped up.) The movie is notably honest about what attracts sports fans — violence, blood, more violence — and even more honest about how little of it ultimately matters: Newman's shopworn old hockey player is ultimately helpless against a corporate owner who barely even knows she has a hockey team. There's a healthy '70s skepticism to the film that wears well today, even if now we recognize that these players didn't know the half of it.
It is funny to think that when this movie was released, the main draw was Madonna. (Who is actually really funny in this!) Penny Marshall's comedy about a women's professional baseball league during World War II sneaks up on you, at first seeming like a bouncy farce before settling into something that's downright moving: The relationship between the sisters played by Geena Davis and Lori Petty is a through line that gains power as the movie goes along. It also understands baseball much better than a movie like Major League — the griminess of it, the way it grabs ahold of you and doesn't let go, even when sometimes you might like it to. And of course it has Tom Hanks right before Tom Hanks truly became Tom Hanks, in an inspired, weirdly touching performance as the alcoholic manager who can't help but get behind these inspiring women. Of all the baseball movies on this list (save one), this is the one we rewatch the most.
8.

Ali (2001)
What was the point, people argued at the time, of Michael Mann making a biopic of Muhammad Ali? The boxer, who died in 2016, was one of the most famous people in the world, and other works such as the Oscar-winning documentary When We Were Kings (see: No. 14 on this list) had already sufficiently encapsulated his legacy. Plus, could Will Smith possibly capture the great boxer's spirit and swagger? Two decades later, Ali (like the man it depicts) still proves its doubters wrong. A movie about race and politics as much as it is about Ali, Mann's film is uniquely inquisitive about the making (and unmaking and eventual triumph) of a champion, and Ali has no illusions about the external and internal obstacles holding its protagonist back. Smith cannot fully embody Ali's galvanic charisma — nobody could — but the actor's struggle is part of the movie's greatness because it suggests that, to a certain degree, Ali was also trying to play Muhammad Ali, the rhyming, boasting, all-powerful king of the world. And even if you know how the film's finale, at the infamous "Rumble in the Jungle," plays out, you're not prepared for how dynamically Mann stages it.
A story about a faded wrestler that doubles as a meta-commentary on its star, The Wrestler brought Mickey Rourke back to respectability after years of bad projects and questionable personal decisions. He plays Randy "The Ram" Robinson, whose glory days are long gone but still wrestles because he loves it so much. Into his life comes a stripper (Marisa Tomei), who's also had a hard life, and Ram's nervous reunion with his estranged daughter (Evan Rachel Wood), a symbol of a world away from the ring he could pursue if he could figure out what he wants. The Wrestler was also a comeback for its director, Darren Aronofsky, who made the movie in a stripped-down, unfussy way after the overblown, critically derided sci-fi epic The Fountain. Not surprisingly, then, The Wrestler feels like a melancholy acknowledgment of past mistakes as we watch Randy search for his shot at redemption. He doesn't quite get it, but those involved with this movie sure did.
When TV Guide did a reader poll of the most famous television moments in the history of the medium a few years ago, its readers voted Lou Gehrig's "I'm the luckiest man on the face of the earth" speech into the top ten even though, uh, it was never actually broadcast live on television. That's a testament to Gary Cooper's portrayal of the Yankees legend, who was diagnosed with ALS at the peak of his powers as a player. The movie lays out not just his legend, but the legend of the Yankees themselves: Go to Yankee Stadium today, and you will still see them trying to replicate the booming echo of those speakers, sending out Gehrig's famous farewell speech to the weeping masses. Bonus points for Babe Ruth being played by … Babe Ruth, a mere six years before he died.
Many sports movies are sad or touching, but few are as profoundly pathetic as Foxcatcher, which finds director Bennett Miller further exploring the role that sports has in people's lives. But unlike Moneyball's generally hopeful disposition, this dramatized true story of the Schultz brothers and their eccentric wrestling coach is almost unceasingly pessimistic. Steve Carell plays the wealthy, odd John E. du Pont, who recruits Mark (Channing Tatum) and Dave (Mark Ruffalo) Schultz for his team, convinced that they can win gold for the U.S. in the 1988 Olympics. A movie about patriotism, masculinity, and brotherhood, Foxcatcher is an emotional minefield in which these inarticulate, unfulfilled men struggle after something that they can't ever hope to achieve: equilibrium. There's no big match — no final showdown — in Foxcatcher because winning and losing end up meaning very little in this powerful, insular character drama.
4.

Bull Durham (1988)
There was a brief moment, we swear, when watching Bull Durham that you thought Kevin Costner might be our Humphrey Bogart. (You really did have to be there.) He's a weary, gruff veteran catcher named Crash Davis who has made his career in the minor leagues, hired to tutor a hothead pitcher (Tim Robbins) with a million-dollar arm and a ten-cent head before his career in baseball is over. Once they run into Annie Savoy (Susan Sarandon, in the definitive Susan Sarandon performance, sorry Dead Man Walking), their struggle/bond reflects baseball at its most philosophical, a constant battle between young and old, between talent and effort, between the strikeout and the groundout, between the past and the future. No movie has ever understood baseball on such a molecular level, whether it's the wacky small-town mascots or the crusty old dead-end managers or how you gotta breathe through your eyelids. All three leads were never better, and it still somehow captures the game's soul 30 years later. And it's not so dumb about matters of the heart either.
3.

Rocky (1976)
Roger Ebert famously wrote, in his initial review of Rocky, that Sylvester Stallone reminded him of a young Brando, and while that classification hasn't, uh, aged so well, you can understand what he was thinking. Before all the sequels, before the montage sequences, before Stallone became a muscled, chiseled ode to misguided masculinity, he was just a guy who wanted to tell a story about a past-his-prime palooka who met a girl and then suddenly finally got his chance at the big time. This is a big hokey underdog story, but it's told with a grit and realism that matches the era; Rocky's just a good-hearted schmo from the neighborhood who doesn't have the stomach to break thumbs for the mob but isn't sure what else the world has for him either. But he's got heart, kid. This series is more than 40 years old now, but, as Creed showed, this story remains eternal. It's probably going to outlive us all. Even Stallone.
Martin Scorsese famously dislikes sports, saying that "anything with a ball, no good," and that "I always thought that boxing was boring." But Robert De Niro constantly pushed him to understand how the story of Jake LaMotta wasn't about boxing, but about violence and women and pain — and that, that Scorsese understood. Thus, Raging Bull, which is technically about sports but is really about brutality and cruelty and agony, an epic of toxic masculinity and all that is destroys, including the self. The boxing scenes look nothing like actual boxing, but any boxer will tell you that they feel like boxing: the disorientation, the punishment, the blood. De Niro's performance won him, still, his only Best Actor Oscar, and it's a measure of his achievement that his famous weight gain is almost beside the point. This is a movie about boxing that will make you think boxing should be banned … which, after all, is Scorsese's type of sports movie.
Before there was Boyhood, there was Hoop Dreams, a documentary that followed two Chicago-area teens, William Gates and Arthur Agee, over the course of high school as they pursue their dreams of playing in the NBA. As directed by Steve James, this three-hour film isn't just a momentous coming-of-age story; it's as unadorned a portrait of poverty, broken families, a failing education system, and America's entrenched racism as one could possibly imagine. Hoop Dreams has some nerve-racking sports scenes — has a free throw ever been more momentous? — but what's wonderful about the documentary is the light it shines on all the aspects of the sporting life that most films ignore. We get to meet the coaches who will determine these young men's fate, as well as the broader basketball apparatus that will elevate them to wealth and stardom or leave them on the side of the road. And it's a movie that becomes more poignant the older you get. In your teens, you'll probably relate more to William and Arthur's ambition, but in your 40s, it's their parents who might resonate strongest — the people who sometimes sacrifice to help their kids and other times fail them, worsening their fragile circumstance. James has named his more recent projects Life Itself and America to Me. Either title would have been perfect for this definitive American family snapshot.
Grierson & Leitch write about the movies regularly and host a podcast on film. Follow them on Twitter or visit their site.