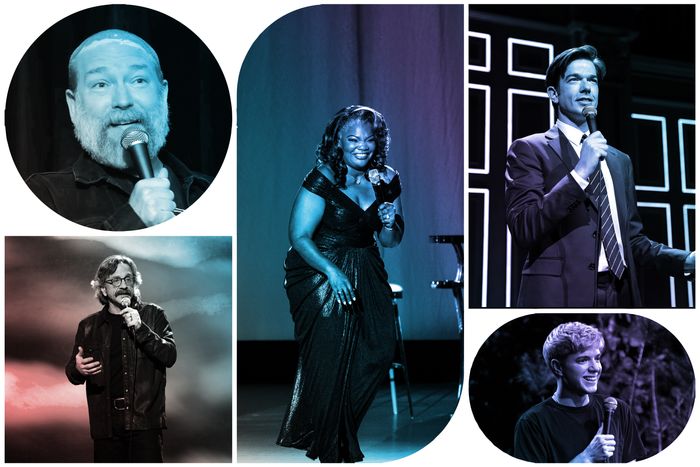 Photo-Illustration: Vulture; HBO, Netflix, Youtube
Although it's too early to say what the full year in comedy will look like, the first four months of the year have already provided a stellar slate of new specials. The best of 2023 so far are mostly from comedy veterans, and many are pointed personal reflections — Marc Maron and John Mulaney think specifically about the last few years, while Marlon Wayans and Mo'Nique do full, career-length reconsiderations. But each comedian approaches those subjects differently, and they make for wildly distinct end results. Mae Martin's special tightens into a frustrated public service announcement; Wayans gets raucous; Kyle Kinane wanders through a glorious story about a van in the desert. There are many flavors of great comedy, and part of the pleasure of a great special is watching how comedians can translate intimate specificity into a resonant universality.
All specials are listed from newest to oldest.
John Mulaney, Baby J
It is a guarded special that insists it is a vulnerable one; it's a return to form for a comedian who is arguing that the core of that form is actually different now. But John Mulaney is still one of the strongest and most culturally influential stand-ups of the last decade, and Baby J is a solid, striking piece of Mulaney comedy. Although the body of the special is a retelling of key points from the last three years (his drug addiction, intervention, and time in rehab), the special's best and most fascinating joke is the one he uses to open the show. It's a joke about Mulaney's childhood realization that he could leverage real tragedy for attention, and how much he wanted a tragedy to happen solely for the attention it would bring. The suggestion inherent in that joke becomes the subtext for the rest of the special, and it makes Baby J pricklier and better as a result.
Read Kathryn VanArendonk's review of Baby J.
Mo'Nique, My Name Is Mo'Nique
Five years after accusing Netflix of trying to pay her significantly less than comedians who were her peers, Mo'Nique's Netflix special is a funny, bracing, furious, and intricate celebration of her own strength and joy and how she has gotten to this point in her career. It's also an indictment of the many systems that have tipped the scales against her — there are stories about her years as a special-education student, the racism she's encountered throughout her life, and how hard she's worked to get where she is. But the special is also a demonstration of Mo'Nique's ability to turn that lens on herself. Her strongest jokes are the ones that come from many perspectives at once, balancing her self-confidence with how she imagines herself being seen from the outside. The special's back half, which focuses on Mo'Nique's marriage, is where she's on her strongest footing, telling the same story from multiple sides and finding new, hilarious, and surprising joke beats each time.
Read Craig Jenkins's interview with Mo'Nique.
Mae Martin, SAP
Mae Martin's SAP is a special full of delightful weirdos: themself, their parents (especially their moon-loving, hippieish dad), a mailman who steals all the mail, a silly set of characters in the Edinburgh Dungeon. But Martin's main interest is in describing the way each of us presents ourselves to one another. The signature joke of SAP is about snow globes and a vision of human interaction where we all hand one another our beautiful little self-contained anecdotes and hope they're received with care. The snow-globe joke turns all of those stories of oddball characters into a ticklish and sweet literalization of precisely the theme Martin's most interested in: Martin shares their own snow globes. At the end, as Martin shifts into a more serious mode to talk about gender and their teen years, the snow globe is also a reminder of how hilarious — but also how fragile — those stories can be.
Read Kathryn VanArendonk's review of SAP and Hershal Pandya's analysis of Martin's snow-globe joke.
Kyle Kinane, Shocks and Struts
Kyle Kinane's specials are not built to drive cultural conversation or to reinvent any wheels. They're generally unflashy productions, featuring a collection of jokes that don't speak to some heartfelt personal issue or life-changing revelation. They are not really-more-of-a-one-man-show specials. That's not the point. The point is that Kinane is a comedy bloodhound — he has one of the keenest noses for where to find every stray bit of a joke, and Shocks and Struts is a demonstration of his superhuman ability to stand on a stage and use words in bizarre, fascinating ways. A joke about pillows slides backward through the inherent gayness of 17th-century trade routes. His cruise-ship material conjures a nightmarish, hedonistic carnival. His story about a van goes places no one could've predicted. But Shocks and Struts is a reminder that Kinane is so good he can do it with no words, too: There's an act-out about a jam band that is somehow perfectly exasperated while also nearly silent.
Marlon Wayans, God Loves Me
God Loves Me is fueled by the pent-up energy of a long history, and Marlon Wayans wrings every ounce of comedy out of it. The special's framework is the Will Smith–Chris Rock slap incident from the 2022 Academy Awards, which Wayans uses in about 20 different ways, including reenactments, speculation, pop-cultural observations, and, most extensively, autobiography. Every part of that incident, and every player in it, becomes a catalyst for introducing some piece of Wayans's past or present. The wave of it all builds slowly over the hour as the comedian returns again and again to the incident itself, now recontextualized within all of his desires, grudges, fears, and accomplishments. Never has a bit of heartfelt personal storytelling been more bound up with electric celebrity gossip, and certainly not to better results.
Marc Maron, From Bleak to Dark
If Marc Maron's previous special, End Times Fun, was about how to live in an apocalyptic moment, 2023's From Bleak to Dark is about what happens when the apocalypse arrives and you find yourself somehow still standing. Despite its title, elements of it are optimistic in a bewildered, almost humbled way; the core of the special is Maron discussing the death of his partner, Lynn Shelton, and although the material is certainly not light, its heaviness has an open, appreciative quality to it, a sense of delight that's palpable in Maron almost in spite of himself.
Read Kathryn VanArendonk's review of From Bleak to Dark and read or listen to Jesse David Fox's Good One podcast interview with Maron.