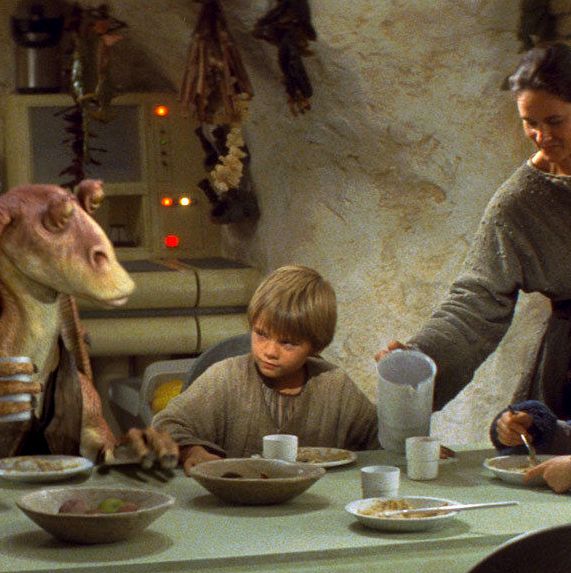 Star Wars has always been big on merchandising: If George Lucas's intellectual property could be spun off into a tangible good, it's already happened. While that ultracapitalistic strategy has yielded a deluge of expected products and pricey frivolities, it has also provided fans with an array of actually useful Star Wars home goods — dishes, bed sets, décor, party supplies, even outdoor furniture — that enables enthusiasts to showcase their affinity without sacrificing practicality. If you're looking for a gift for a diehard fan, or simply want a Baby Yoda–tinged overhaul of your home décor, here's a 101-item guide to outfitting every room of the house.
Bathroom
This Force Awakens droid is so adorable that you just want to pet him like a puppy. This lotion dispenser comes close enough and it helps you stay moisturized, which seems like a fair trade-off.
If you really want to make your bathroom a shrine to BB-8, here's a matching cotton rug that won't slide around like the robot does.
Unlike that time Luke, Leia, and Han got caught in the trash compactor, nobody should have issues with this Darth Vader and TIE Fighter–themed wastebasket.
Sit down on a cold toilet lid in the winter and you might as well be on Hoth. This fleece cover set, which fits standard and elongated thrones, will prevent any chilly surprises.
Don't have space for a life-size replica of Han frozen in carbonite? Try this 71-inch shower curtain and hang it "like some trophy," as he says. Curtain hooks included.
Forget the Force — the water pressure with this three-setting Vader showerhead is all anyone needs. There's also a fixed version with R2-D2 that includes most of the same features.
For kids, bath time will be a lot more fun and enjoyable when they can dry off and pretend to be one of the galaxy's greatest Sith Lords. For parents … well, that depends on how evil the kid is.
For anyone who doesn't want a beard like Last Jedi Luke's, snag this Chewie and BB-8-themed shaving set that includes a razor, grape-scented foam, a mirror, a brush, and a comb.
In the Star Wars expanded universe, how many times has a character slipped and fallen somewhere in the snow or jungle? Avoid a similar mistake with this suction-cup bathmat.
Get nice and clean with this six-pack of terry washcloths that feature the faces of Darth Vader, R2-D2, and a stormtrooper.
Sit down on a cold toilet lid in the winter and you might as well be on Hoth. This fleece cover set, which fits standard and elongated thrones, will prevent any chilly surprises.
Bedroom
Especially in the winter, anyone with dry skin could benefit from this mildew-fighting humidifier. Keep your complexion fresh and avoid looking like the unmasked Vader.
Available in full and twin sizes, these sets feature a selection of images from the saga's best fight scenes. Each set includes a fitted sheet, flat sheet, and two pillowcases.
Honestly, it's one of the more refined pieces of Star Wars merch out there, even if it's Old Yoda and not his young relative.
Who wouldn't want to wake up every morning with this cute Lego Vader alarm clock? Bonus: If you hit him on the head, you can snooze for a few more minutes.
The old-school wireless on/off switch is the closest anyone will come to using the force IRL.
This wooden box plays the John Williams theme music when you crank it, no batteries needed.
The poor little thing looks terrified, so give it to someone who'll snuggle this 16-inch pillow.
It's a fact that BB-8 is adorable, but this First Order droid is kind of cute, too, if you want to accentuate someone's bed with a potentially evil bot.
Closet
It's like a fanny pack, but smaller and cuter.
An elegant accessory from a distance, and a conversation piece up close.
They're incredibly detailed, yet still understated as far as cufflinks go. Cheaper alternatives include Vader and stormtrooper versions.
This movie-quality cotton number will keep you warm in Hoth-like weather and comes with seven pockets for storing all the stuff you steal during your adventures.
It's too small for a laptop, but you can carry a light load with this bag, which makes it look like Chewie and the Porg are clinging to you.
There's no jetpack included (we checked) but as far as Star Wars merch goes, it's pretty stylish. It's got multiple pockets and can fit up to a 15-inch laptop in the padded interior.
Surprisingly, this backpack version of the tiny critter can fit more than its Chewbacca-including counterpart. Great for someone on the go.
This one-piece pajama is as close as anyone can get to feeling the embrace of a friendly Wookiee.
For 25 bucks, batteries included, nobody will ever have to make a fake stormtrooper voice again. Comic Cons are forever changed.
This understated rose-gold watch pays tribute to Princess Leia's famous Jabba outfit, with this inscription on the back: "Can't Hold Me Down." For $150, there's a digital BB-8 watch that reads "That's How I Roll."
The descriptions of these sprays include the following phrases: "Top notes strike futuristically," "Lightsabers are centers of total power and 'Imperial luxury,'" and "Amber & Tonka give the fragrance a distinctive deepness." Do with that what you will.
Dining Room
There's no super laser to shoot out salt and spices, but these ceramic shakers sure look cool on a dinner table.
Unless you're opposed to playing with your dinner, how could you resist dining with these lightsaber chopsticks that actually light up? The only difficult choice: Should you pick Skywalker blue or Vader red?
One of the few pieces of merch featuring "The Child," the little guy's cute visage will certainly bring an added splash of joy to your morning cup of coffee.
Drink a pint of your favorite beverage, hot or cold, in this hand-painted ceramic mug and comes with a spoon that has nothing to do with the films. Still, free spoon!
Raise a pint of blue milk with Vader, Yoda, a stormtrooper, and fan favorite Boba Fett.
This "May the froth be with you" cup parodies the coffee chain and is a great way to start a conversation about the follies of consumerism.
Much like the Death Star destroys planets, a spilled bottle of wine can destroy a pleasant evening, so remember to use this metal stopper.
We've never seen the galaxy's greatest bounty-hunter knock back a cold one, but fans will feel great imbibing from this 22-ounce stein. It's also available in R2-D2, Chewbacca, and Vader models.
Kitchen
You can't Force-choke anyone who gets in your way in the kitchen, but this right-handed silicone mitt lets chefs grab pans and dishes as hot as 445 degrees Fahrenheit.
This limited edition Dutch oven is cool enough to display for diehard fans and understated enough to never look out of place in a classy kitchen. Williams-Sonoma also has a Darth Vader cast-iron oven, if you prefer.
Five temperature settings let you whip up Darth Vader waffles at the desired level of crispness.
Another Williams-Sonoma entry, this is the perfect complement to your dessert dish.
The loyal droid makes a sweet bowl of popcorn and stands just over a foot tall. If you're more into the dark side, there's also a Death Star model.
"Stew" seems to be the main cuisine of the greater Star Wars universe and now you can make your own in this slow cooker. There's also a 2-quart version with black and white illustrations of spaceships for $15.
There are many Star Wars serving boards out there, but this is the only one that comes with four cheese knives concealed within it.
This Darth Vader corkscrew looks really cool and opens your finest wines with ease.
Yet another cute piece of droid merch, this ceramic set features a 12-ounce teapot and a 6-ounce cup that can be stacked for convenient storage.
"Do I prefer the light or dark side, or rectangular or circular cutting boards?" Ask yourself this question before picking one of these glass cutting boards.
It's probably not good for storing a bowl of broth but you won't know until you try it.
Pizza lovers, take note: This slicer features the hilt of Darth Vader's lightsaber and makes a noise just like it.
This set has four stackable cups, and R2-D2's arms also detach into four separate measuring spoons, making it a great item to leave on a countertop.
Another great kitchen gadget, this R2-D2 French press brews up to 32 ounces of coffee and has a handle and spout for easy pouring.
Because wookies and cookies make the perfect team.
Want to watch the Death Star slowly melt while enjoying a beverage? This ice mold is sizable enough to fill out a lowball glass, and perhaps a few refills of your favorite liquor.
"He should be quite well protected. If he survived the freezing process, that is." Han's icy fate is sealed when people use this mold, but it beats taking a lightsaber through the gut.
For some toast to go with the waffles, this Vader-themed gadget burns the Star Wars logo into slices of bread.
What's cooler than a Star Wars Funko doll? One that feeds you candy. In addition to Jabba, these Pez dispensers come in Boba Fett, Jawa, Tuskan Raider, and other models.
Rather than merely ring to let you know your food is ready, this BB-8 timer lights up and makes its signature bleeps and bloops. You might find yourself turning it on just to watch it go.
If you're craving ice pops, this tray makes up to four of them, featuring the lightsaber hilts of Luke and Vader. It's got all the makings of a delicious, messy duel.
This beechwood rolling pin has a laser-cut design, which is great for making batches of Star Wars cookies that feature the cartoonlike faces of main characters and droids alike.
This tiny gadget has two chambers: one for grinding up dry herbs and another for storing the finished product. It'll work for any kind of dry herb, in case your stoner friend loves the Star Wars films. (No way, right?)
Your baking-savvy friends can decorate desserts with Yoda, Vader, etc., and then place them in these themed baking cups.
You can really put anything you want in this jar, but its "I find your lack of treats disturbing" message says it really is meant for your furry friend. Or kid. Whatever.
Living Room
Geeks can be refined, too! Add a little Pop Art to your living room with this Death Star–inspired take on Robert Indiana's famed sculpture, and maybe accent it with this Chewbacca pillow.
Perfect for a couch, chair, picnic, or concert, this 40-inch by 50-inch raschel polyester blanket has great throwback-comic–style renderings of our heroes and villains.
If you're looking for a retro lava lamp, check out this one made to resemble Obi-Wan's blue lightsaber. Just be sure to heed the instructions — it gets extremely hot if it's left on too long.
This small lamp projects a 3-D image of Darth Vader in seven colors. Except black, because that would defeat the purpose.
With this rug, you'll never need to slice open a tauntaun to stay warm. The head is made out of a plush pillow, the claws are made of vinyl, and it's made to not slip, so it's a perfect area rug to put in front of the fire or TV.
Made from an old vinyl record that's cut to resemble the shapes of your favorite characters, the clock can actually be customized, so get cracking on making your clock unique.
This tasteful print is a reproduction of the actual patent Disney filed in 1994 for an "amusement space vehicle."
This BB-8 toy is 16 inches tall, responds to voice commands, can be controlled via an app, and will literally follow you around if you ask it to, using 360-vision and AI to help ensure it won't crash into people, walls, or furniture (or pets). It's basically a comfort Roomba. (If you're more into the cheaper, dark side, there's a smaller remote-controlled BB-9E for $130.)
The rules are the same. The setting is A New Hope. Players will want to land on "Death Star Destroyed" and "Medals for Heroes," the equivalents of Park Place and Boardwalk. There's also a new version of Trivial Pursuit that includes canonized questions through The Force Awakens.
We don't know how the little bird-mammals will act in the film, but this electronic toy, with its chirping and flapping wings, is supposedly a good imitation.
BB-8 finally gets a droid friend and now fans can play with their own version with this interactive toy that can be controlled by an app. It'll even follow the user around!
There are Funko dolls for nearly every popular character, but if you have to choose one, why not make it the Princess?
You can go for the classics, or the newest hero's saber.
Study
This 100-page notebook comes ensconced in a furry, wookiee-style covering, complete with a bandolier.
The Darth Vader sticky notes and Chewbacca binder clips are perfect for any fan with a home office. A regular office? Maybe not so much.
Anyone feeling intrigued, or a bit overwhelmed, by the canonical backstories that lead to the events of the films and the book and television tie-ins can get up to date with this comprehensive book. Until the next trilogy, anyway.
With audio from the original trilogy, a huge Death Star, and enough flashing lights to make George Lucas say, "That's excessive," this coin-op machine proves that no Force in the universe will make those metal balls land where you want them.
Filled with gorgeous photos and plenty of behind-the-scenes info.
The casual fan might not recognize his name, but McQuarrie is responsible for the design of Darth Vader, Chewbacca, R2-D2, and many other iconic characters and settings from the original trilogy. This collection of his conceptual art is absolutely fascinating.
So it's not quite "complete," but this nine-disc set includes Episodes I to VI, with bonus discs featuring deleted scenes, audio commentary, interviews, and much more.
This Marvel-published set includes hardcover comic book adaptations of all seven movies, plus offshoots involving many of the main characters from the original trilogy, a canonical Force Awakens prequel, and a poster.
They're no longer canon, but Timothy Zahn's three novels, which follow the events of Return of the Jedi, are widely beloved. The high point of the "Expanded Universe" of books, comics, and memorabilia, now rebranded as "Star Wars Legends," the Thrawn books are an entertaining detour from everything that's happened since George Lucas left the franchise.
Outdoor/Garage
Thanks to its simple design, visitors might not notice this Force Awakens joke at first glance, making the payoff even better when they finally get the reference.
You'll have to provide the fire or light bulb for this lantern that's subtly patterned to look like an Imperial walker, but it certainly adds a dark side ambiance to your porch or patio.
With these heat-resistant, 22-inch tongs, you'll become the undisputed master of the grill. Of course, they also emit lightsaber sounds while flipping burgers and hot dogs.
Complete the BBQ ensemble with this Darth Vader apron. (Don't forget that silicone oven mitt for grilling with some big flames!) There's also an R2-D2 version available.
Remember the Chewbacca Mom wearing her mask in the car? This Chewy bandolier-style seatbelt cover would really complete that outfit.