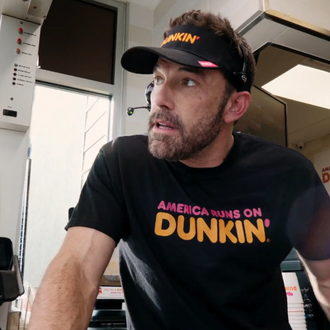 Affleck in his element.
Photo: Dunkin/Twitter
Super Bowl LVII has come and gone, and while the epic highs and lows of professional football may be over for the season, we'll always treasure the memories of the game we had. Incredible touchdowns, massive runs, Patrick Mahomes — wait, sorry. We're getting word that the Super Bowl is about eating seven-layer dip, stanning Rihanna, and getting our brains flooded with dopamine from the novelty of the commercials. For 99.7 percent of the year, ads are something annoying you have to deal with because your parents don't pay for ad-free Hulu. On Super Bowl Sunday, which took place on February 12 in Glendale, Arizona, the game was the pee break. Below, find a compilation of all the released Super Bowl ads, because if capitalism is tearing the world apart, we might as well have fun with some rock stars, some chip-loving celebs, and some gambling.
Ben Affleck Finally Gets That Dunkin' Dough
The prophecy has been fulfilled: Ben Affleck has monetized the Dunkies bit. We knew this commercial was coming, because Ben was papped shooting this commercial with J.Lo and a host of unsuspecting Bostonites. Odd how much more comfortable Affleck looks working a drive-thru than sitting quietly at the Grammys.
Tubi Pulls a Prank
Tubi certainly knew how to make an impact. Tubi's strategy was to make it seem like the game was back on, and that Matilda was using her powers to control your family's remote, changing the channel from the game to Mr. and Mrs. Smith. If we were in charge, we probably would have stopped it at Akeelah and the Bee, but what do we know?
Amazon Pulls Out the Dog Card
Amazon had a problem. When you're a company known for things like union busting, how do you convince the world that you're actually a force for good? By putting out a commercial with a dog, obviously. Manipulative? Maybe. But at least the cat people are still able to rise above.
Rakuten Recruits the Other Cher
If you're an online-shopping website like Rakuten, then you might as well get the original diva of digital clothing options, Ms. Cher Horowitz, on your side. With Alicia Silverstone back as Cher and Elisa Donovan reprising her role as Amber, and featuring designer Christian Siriano, this spot begs the question — would Cher really wear mom jeans? Still, it's nice to see Silverstone back in her iconic yellow plaid. Iggy Azalea could never.
Peyton Manning Supports "That Beautiful Bean Possibility"
Peyton Manning may have played for Indianapolis and Denver, but clearly he's spent enough time in Chicago to understand the glory of the Bean. In this Bush's Beans commercial, Manning extols the value of beans in many ways, but misses out on how they make you toot.
Marcia Griffiths Still Gets Paid
Species all over the world are joining hands and doing the electric slide, set, of course, to an "Electric Boogie" remix by Marcia Griffiths and Shaggy for Jeep. The birds, we assume, are singing, "Jeep jeep jeep."
E-Trade Kinda Creeps Us Out, TBH
We'll level with you here, E-Trade. While the whole talking-baby thing is memorable, this commercial brought us into an uncanny-valley area that we're not comfortable with. Intelligent-baby content could start and end with the Boss Baby for our taste.
Sam Adams Wants to Un-Boston Boston
Sam Adams leans into Beantown with its mascot, Your Cousin From Boston. Here, Your Cousin (played by Greg Hoyt) imagines a "brighter Boston," where people are friendly and Kevin Garnett doesn't talk trash. Impossible!
Anna Faris Shills Avocados From Mexico
There's one commercial on the docket that pairs especially well with eating your body weight in guacamole: the one for Avocados From Mexico, of course. In it, Anna Faris as Eve first dooms the world to despair by eating an apple, then solves the problem at the behest of a chipmunk by eating an Avocado From Mexico, allowing everybody to still be naked. We're just sad that the censors at the FTC didn't allow us to see Lady Liberty's full bush.
Sarah McLachlan Returns to Save Beer and Bears
Sarah McLachlan parodies her 2007 ASPCA commercial with Busch beer, hiding inside a tent, a.k.a. a shelter from the outdoors. Turns out it was beer that was in the arms of an angel.
Dave Grohl Is Intentionally Confusing for Crown Royal
This teaser is just Dave Grohl reading off a mystery list of things including peanut butter, the paint roller, the battery, trash bags, and the egg carton. What do they all have in common? Crown Royal invites you to tune in to the Super Bowl to find out. Perhaps it's things Grohl bought while drunk off Crown Royal.
The Sanders Family's Strength Is From Oikos
Deion Sanders may be retired from playing, but that doesn't mean the two-time Super Bowl champ has lost his strength. Oikos wants you to know that the Sanders family gets its strength from the company's yogurt, because Popeye's spinach method is soooo 20th century.
Meghan Trainor Made You Eat Some Pringles
Meghan Trainor is making us look again. And there's nothing that says "I have a TikTok hit" faster than starring in a Super Bowl commercial. In the teaser, the Spy Kids paramour gets her hand stuck in a Pringles can while filming a TikTok. Been there.
Jack Harlow Is in a Love Triangle
Also in the category of Celebrity Chip Endorsements: Jack Harlow, clocking in as a Doritos employee (following his shift at KFC). The southern boy is in a love triangle, it turns out, but the triangle is a Dorito. Good — he's not allowed to cheat on Amelia from Chicken Shop Date.
Walt and Jesse Are Alive and Eating PopCorners
The one thing more addictive than blue meth is apparently PopCorners, seeing as in a new ad for the snack, Walter White and Jesse Pinkman have developed six flavors of the stuff — soon to become seven at Tuco Salamanca's request.
Melissa McCarthy Is Ready to Grab Her Husband's Butt Somewhere Else
Melissa McCarthy has put in the hard work prepping to sing for the upcoming live-action Little Mermaid film, and now she's ready to throw on some wigs and show her voice off for Booking.com. Plus, she gets to call her husband, Ben Falcone, sexy and grab his butt. A win-win.
Someone (Danny McBride) Is Hidden by a Sweatshirt
Downy Unstopables took a new path in its teaser by not revealing its star at all (it's Danny McBride). Instead, an unidentified person (McBride) covers himself in a sweatshirt and says he's sniffing it every day for 12 weeks to test the product. Gross <3.
Tony Romo Does Caddyshack, and Logan Roy Plays Golf With Serena Williams
Making a play for the hearts of dads around the country, Michelob Ultra has former Dallas quarterback Tony Romo playing Bill Murray's role from the 1980 film Caddyshack. In another ad, Brian Cox and Serena Williams make an unlikely duo of golf competitors.
And Serena Is Back!
Many of us are constantly talking about how much Serena Williams reminds us of Al Pacino, so it only makes sense to have her do a version of Pacino's Any Given Sunday speech. Now let's put her in The Godfather.
Rock Stars Are Fighting Appropriative Language
Ozzy Osbourne may not be able to tour anymore, but he can still fight for rock-star rights, alongside Joan Jett, Gary Clark Jr., Billy Idol, and Paul Stanley, all of whom are coming out against the inclusion of the term "rock star" in corporate lingo. That's their word.
Pete Davidson Eats Brie (Larson) and (John) Ham(m)
Nom nom nom. Pete Davidson likes a ham-and-Brie sandwich, but who wouldn't want to get into a John Hamm and Brie Larson sandwich?
Popeyes Revives a Meme
Dieunerst Collin is here to get his side-eye bag. Popeyes put this now-adult Vine icon into their Super Bowl ad and gave him his own celebrity meal. He only got seven seconds to save the world, and he did it.
Miller Lite and Coors Light Are Facing Off
Molson Coors knows how to get the most out of one commercial. "How?" you ask? By advertising three beers in one. This commercial finds Molson Coors brands Miller Lite and Coors Light fighting over whose commercial it is, with Blue Moon (a fellow Molson Coors beer) coming in at the end. And that is called synergy.
Budweiser Knows Two Common Uses of the Number 6
Six has a good marketing strategy, probably in an attempt to get away from Seven. Budweiser's ad references both the "six-pack" beer and the common adage that everyone is just "six degrees from Kevin Bacon." People who share the same spirit share the same beer, intones Bacon.
Gronk Is Back in His Acting Bag for FanDuel
Following a very sexy cameo in the upcoming film 80 for Brady, Rob Gronkowski is ready to be a commercial star. The former tight end will be kicking a live field goal for FanDuel to the tune of a potential split of $10 million for those placing bets.
Ant-Man Can Drink and Drive With Nonalcoholic Heineken
In the new Heineken ad, two queens (Heineken and Marvel) are coming together to maximize their joint slay. Ant-Man, played by Paul Rudd, refuses to be judged by an ant for drinking on the job — because he's actually drinking nonalcoholic beer. Now save the world, tiny superhero!
John Cena Sings About FICO Scores
John Cena might have started in pro wrestling, but now he's ready to boogie on Broadway. The actor stars in a commercial for Experian with a musical number that indicates you're going to have a great day because of your FICO score. But when you get to see dimples that large, who cares about FICO scores anyway?
A Nut Gets Roasted (Not Like That, You Perv)
Planters' roasted nuts managed to fit a pun in the first word of that phrase, rather than the second. The peanut company is hosting a Roast of Mr. Peanut for its Super Bowl ad, featuring comedians Natasha Leggero, Atsuko Okatsuka, Frank Castillo, Yamaneika Saunders, David Lucas, Sarah Tiana, and alleged sexual abuser Jeff Ross.
Poker Face to Fool Audiences Into Thinking Their Ad Happened in Real Time
Peacock is beginning its Successful Era, and there's no better way to show that off than by having a Super Bowl ad. Its ad will feature Natasha Lyonne, as her Poker Face character, commenting on Super Bowl ads that already aired. We hope that no audiences at home will be able to tell that Lyonne isn't commenting in real time.
Squarespace Watched Some Christopher Nolan Movies
Normally, Super Bowl commercials cannot be described in terms that one would use for Charlie Kaufman or Christopher Nolan films, but that seems to be the goal of this Adam Driver–starring Squarespace ad, in which Driver's mind is blown by a website that creates websites. Spooky.
Netflix Does a Greenwashing
Will Ferrell is in awe of Netflix goodness after its decision to put more electrical vehicles in their shows in partnership with GMC. Greta Thunberg is weeping with gratitude, we're sure.
Diddy Recruits One-Hit Wonders
Anyone who placed money on "I Love You Always Forever" singer Donna Lewis being in a 2023 Super Bowl commercial is taking that bet straight to the bank. For Uber One, Diddy recruits a slew of singers known for hits that you'll both be pleasantly nostalgic for (Lewis), or angry to hear again ("What Does the Fox Say").
Miles Teller Dances for Over an Hour
Miles Teller and his real-life wife Keleigh Sperry Teller are shilling Bud Light by dancing to some hold music. At the beginning of the commercial, the automated voice tells the Tellers that the estimated hold time is "under 96 minutes," which seems to imply that the Tellers dance to hold music for over an hour. That Top Gun cardio paid off, we guess.
John Travolta Looked Up What Scrubs Is Using T-Mobile Internet
Zach Braff and Donald Faison have experience with filmed musicals, so they must have felt right at home on the set with John Travolta. Just because we were curious about what the vibe was like on set, we used Slate's Adele Dazeem name generator to figure out what the Scrubs boys were known as — so congrats to John Travolta, Zack Borfes, and Dillon Farster for their new big game ad!
Sylvester Stallone Is Climbing Sylvester Stallone
Paramount+ kidnapped Sylvester Stallone from Philadelphia, and it's gonna use him. A commercial for the streamer shows various representatives from their favorite shows watching as Stallone climbs a mountain shaped like his face. The New Hampshire quarter has nothing on this old man on the mountain.
Various Stoners Conduct a Joint Slay (Star in a Commercial for a Lighter)
With due respect to Mr. Benoit Blanc and his mystery-solving friends, this is the Zoom call we want to join. In it, famed stoner Willie Nelson is confronted by other famed stoners Snoop Dogg and Martha Stewart for stealing their lighter. Wait, sorry, did we say we want to join this Zoom call? We meant blunt rotati — [*live feed cuts out*].
TurboTax Does Not Support Tax Fraud
What would you do if you didn't have to do your taxes? TurboTax is betting that the answer is dance in public. "Don't do your taxes," they say. "Meet with one of our experts who will do your taxes for you." Talk to some tax nerd? We guess TurboTax Knows Best.
Disney Does a Victory Lap
Disney will celebrate its 100th anniversary this October. Ahead of that milestone, the company put together a supercut that pairs footage of fans with clips from some of its biggest hits. It's not the Little Mermaid trailer that some fans were expecting, but at least they gave us something?
Blockbuster Is Back! Kind of.
While the show Blockbuster is no more, the last official Blockbuster is sticking to its roots by putting out the rentable commercial on VHS. It's only available on Instagram Live during the halftime show, so while many will be mesmerized by RiRi, they can rent-rent the video.
This is a developing story.