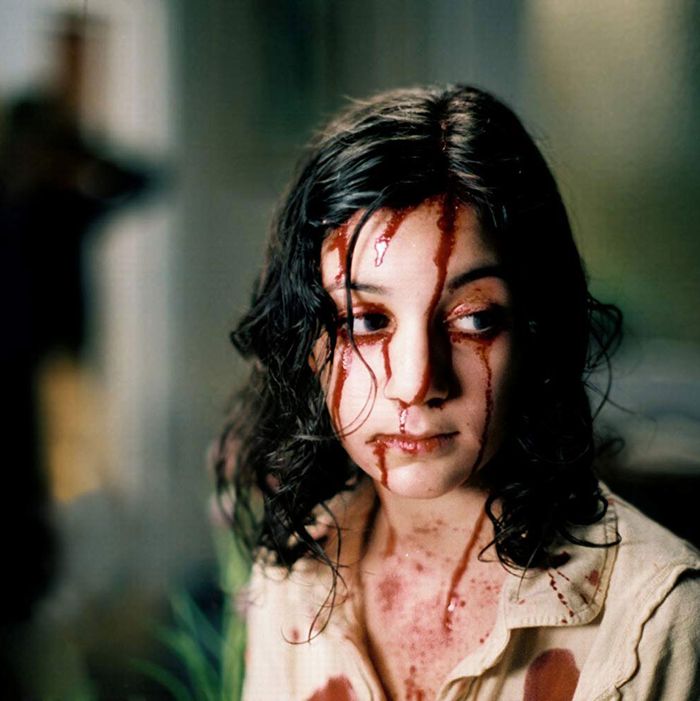 Let the Right One In
.
Photo: EFTI
So you're going to see Midsommar, writer and director Ari Aster's follow-up to his feature debut, Hereditary. Aster is not Swedish, and Midsommar was not actually filmed in Sweden, but that is indeed the setting for the filmmaker's latest descent into existential hell. In a bucolic paradise, a grad student named Dani (Florence Pugh) tags along with her boyfriend (Jack Reynor) and his buddies to a summer festival in a secluded bucolic village. Their school friend Pelle (Vilhelm Blomgren) invited them a ceremony that occurs only once every 90 years, but he doesn't disclose the particulars of what their time in his home will entail. Over the course of more than two hours, the Americans and the audience are slowly sucked into a brightly colored hell, which is exactly what you'd expect from Ari Aster.
But what of the actual horror cinema of Sweden? If you exit Midsommar hungry for more dread and gore and handsome blondes, Vulture has put together a ten-film list to guide you through some major beats of Swedish horror. When did zombies come into the picture? Do the Swedes do zombie movies? And what has Ingmar Bergman contributed to the genre? From the visual wonders of The Phantom Carriage to the modern classic reimagining of the vampire story with Let the Right One In, here is a getting-started guide to Swedish horror.
The Phantom Carriage (Körkarlen, 1921)
Ingmar Bergman was heavily inspired by Phantom Carriage director Victor Sjöström, and called his initial viewing of the film at the age of 15 "one of the major emotional and artistic experiences of my life." An adaptation of a Selma Lagerlöf novel of the same name, Carriage tells the story of the soul charged with driving death's chariot, a dubious honor given to the last person to die on New Year's Eve before the clock strikes midnight. In this case, the driver is an abusive alcoholic who, over the course of one night, sees the error of his ways in a somewhat Christmas Carol fashion. The cinematography by Julius Jaenzon and special effects were groundbreaking, and while Sjöström is hailed as the father of Swedish cinema, Carriage is likely his most world famous work.
Häxan (1922)
This landmark film by Benjamin Christensen blends "documentary" and fiction to explore witchcraft and the scientific hypothesis that the feared witches of lore were in fact women in need of psychiatric intervention. (You know, for the "hysteria.") But what is posited as dispassionate analysis is a film that becomes a grotesque and tragic horror film unto itself. Through a series of vignettes, we see ritual Satanic celebrations, devil worship, torture at the hands of the Church, and in the movie's most visually striking segment, women flying through the night sky on broomsticks. Special effects have come a long way in 100 years, but there's still something uniquely affecting about the gritty, crude recreations of atrocities in the Middle Ages that makes Häxan impactful even today.
Hour of the Wolf (Vargtimmen, 1968)
The trailer for Hour of the Wolf explains it as the time between night and morning when "reality becomes a mockery of madness" and when "masks hide behind faces." This Ingmar Bergman film stars his stalwart collaborator Max von Sydow as a troubled painter living in self-imposed isolation with his wife. When the two are invited to a neighboring castle for dinner, the behavior of their wealthy hosts starts unraveling the artist's already fragile mental state. It's a rare film from the cinematic master that veers into dizzying terror, and you could hardly have any list of Swedish films without Bergman.
Fear Has 1,000 Eyes (Skräcken Har 1,000 Ögon, 1970)
Filmmaker Torgny Wickman was known for comedies and educational sex films (dubbed pornography by some) when he made Fear Has 1,000 Eyes, which is described by the Swedish Film Institute of representing the "sex sensationalism" subgenre of horror in the country. In it, a priest named Sven lives in a remote area with his wife, Anna, who is pregnant and suffers from general anxiety and nervousness. Anna's friend Hedwig comes to live with the couple to help care for her, but Hedwig is a witch in concert with the Devil, and as Anna starts seeing things and people die around them, Hedwig brings the couple fully under her power. Note: In the United States, the film was titled Sensuous Sorceress.
The Visitors (Besökarna, 1988)
The SFI's description of The Visitors's plot is great: "What are those creatures inhabiting the house that the Eriksson family just have bought, creatures who will not leave them any peace? Let's just, for the sake of simplicity, call them demons." Yes, let's! Directed by Jack Ersgard, The Visitors follows an American family's move into a Swedish country farmhouse, but the dad, Frank, has a bad feeling about the place. Before too long, there's a ghost hunter involved and a mystery presenting itself about the creepy attic. If you want to see some supberb Swedish haunted-house horror, check out The Visitors.
Mask of Murder (1988)
Arne Mattsson was a prolific Swedish filmmaker, and some of his most famous works are the five Hillman thrillers, named for the crime-solving couple at the center of them, Kajsa and John Hillman. But check out Mask of Murder for some cheap serial-killer thrills. The story takes place in a Canadian town where women are being murdered and top law-enforcement officers set out to stop the killings. It's not Mattsson's most outstanding work, but he's an important figure in the country's film history, and watching Mask of Murder is time better spent than watching The Snowman.
Evil Ed (1995)
This satire directed by Anders Jacobsson (who also shot, edited, and co-wrote it) is a big tone switch for Swedish genre, and it takes dead aim at the infamously restrictive Swedish censorship board that was active for almost all of the 20th century. A snooty art film editor named Edward Swenson is assigned the soul-killing task of working on the splatter pic Loose Limbs 5 after the film's original editor committed suicide by blowing his own head up with a grenade. As the gore and horror and sexual degradation washes over him, Edward starts to crack, and by the time he's done with the assignment, he emerges into the world as Evil Ed, a psychotic woman-killer and mutilator and general deviant. The movies made him do it! Skip lunch and have a laugh with this rare Swedish horror comedy.
Insomnia (1997)
American audiences will likely know Insomnia best by the Stateside remake starring Al Pacino, Robin Williams, and Hilary Swank. The original, directed by Erik Skjoldbjærg, generally follows the same premise: A murder in a small community results in a police officer from out of town being brought in to investigate. The tricky part about the town is that it's above the Arctic Circle, where the daylight hours are a lot different from lands farther south. Stellan Skarsgård plays the cop out of his element and struggling to stay stable as the midnight sun shines, and won't it be nice to see the elder Skarsgård play a hero before our American eyes for a change?
Frostbite (Frostbiten, 2006)
Although Sweden's most famous vampire film would arrive two years later, Frostbite is possibly the country's first, and that earns it a shout out here. (Props to Sweden for resisting the urge to make and remake vampire movies ad nauseam for 100 years!) The movie opens during World War II, when a group of wartime volunteers take shelter in an abandoned house, only to find a demon inside that they kill and bury. Fast forward to the present day and we find a young scientist named Annika who is working for a heralded old geneticist. It turns out the elder scientist has been trying to create a vampire super-race for decades since WWII ended, and his experiments lead to a bunch of interns recklessly consuming a solution that transforms them. Bottom line: Let the vampires stay buried!
Let the Right One In (Låt den Rätte Komma In, 2008)
Before the surge of prestige horror started picking up in 2015 with movies like It Follows and The Babadook and The Witch, Tomas Alfredson teased the coming genre boom with his modern take on the vampire tale, Let the Right One In. Young, sensitive Oskar lives a lonely sort of life until a strange girl, Eli, moves into his apartment complex. She becomes his friend and protector, and the two gradually form an intense bond, which survives even the revelation about her true nature. Let the Right One In blended art-house refinement with global fame and acclaim among film fans by toying with genre conventions and incorporating the fine filmmaking sensibilities of highbrow drama. And isn't that just the sort of cinematic alchemy you'd expect from the land of Bergman?
Wither (2012)
For another switch-up in the subgenre smorgasbord, Wither brings you cabin-in-the-woods horror, Scandinavian mythology, and zombies. (It's also only the second zombie film from Sweden, after Die Zombiejäger from 2005.) Based on Sam Raimi's original Evil Dead, Wither centers on a group of young folks gathering at an abandoned house for a weekend away, but after arriving, they realize they've invaded the home of a Vittra, a nature spirit known in Swedish folklore. So it's really a cultural grab bag, and worth it to see Evil Dead through the lens of another country's tribute to it. There is also a lot of gore, so be prepared.