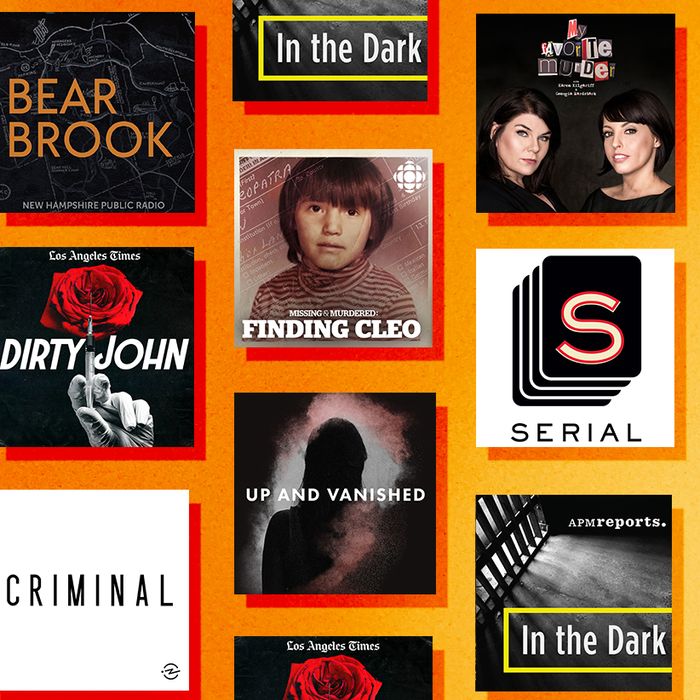 When future historians look back at this golden age of podcasting, they'll likely point out that true crime was the engine that boosted the medium into the stratosphere.
What they'll probably get wrong, though, are many of the things critics are getting wrong today: that the "true-crime podcast" is a monolithic genre, a single kind of thing with a single kind of fan; that it's a cheap and tacky plague on an industry previously dominated by the real pioneers — the snarky comedians, the nerd-pop-culture commentators, and the public-radio producers; and that its popularity is driven by some reductive idea or event, like "our society's growing social anxiety" or "the release of Serial."
That's not to say there aren't a lot of terrible true-crime podcasts out there, because there are. Some are irresponsible. Some are exploitative. And, worst of all, some (okay, many) are copies of copies of copies, recycling the same stories and formats and background music and naming conventions and logos to the point where a glimpse at the true-crime podcast charts can feel like an exercise in parody.
But for those willing to dig a little deeper, the true-crime podcast world is also a rich one, encompassing dozens of subgenres and formats. Most fit into a handful of categories: standalone long-form series; anthologies; buddy chat and commentary shows; investigations (both professional and amateur); podcasts about criminal justice/wrongful convictions; comedy shows; and subculture shows that look at crime in sports, for instance, or in the music industry.
And while some like to write off true crime as a flash-in-the-pan trend, its influence is everywhere. Some of the best podcast journalism being produced today is borrowing liberally from the production and writing style of true-crime podcasts, building on what works best from the genre, from cliffhanger endings and narrator-as-guide signposting. And that's a good thing, because as outlets like Slate and the New York Times and Longreads have learned, a piece of in-depth journalism produced like a true-crime podcast can reach far more people than a standalone story on a homepage. Heck, it may even inspire people to visit an outlet's website or subscribe to their local newspaper for the first time.
All that said, it's important to acknowledge that there's no way to make a list of the most important true-crime podcasts without killing a lot of darlings. Because I've worked on or reviewed several of the podcasts up for consideration, I relied on a bunch of podcast heavyweights to weigh in. And of course, some very strong contenders didn't land on the list. But we feel confident that many of the shows on the list below will still be earning mentions when those future historians parse this era's golden age.
Let's face it: This list (and, some may argue, an entire era of podcasting) might not exist without Serial, which set the gold standard not just for true crime, but for the whole genre of first-person, long-form podcast journalism. "It's the holy grail," says Up and Vanished host Payne Lindsey, who adds that reporter and host Sarah Koenig "pioneered investigative storytelling" for the medium. Released in late 2014 as a spinoff of public radio darling This American Life, Serial's first season sparked a storytelling renaissance, giving hope that an old-media format (the serialized, week-by-week radio program) could find a whole new audience for long-form audio stories, one willing to listen to and even embrace ads for brands like Mailchimp. The show also kicked off a shift of the public's interest from crime stories with clear-cut "bad guys" and "good guys" to deeper narratives about flawed investigations and potential miscarriages of justice. And while Koenig's singular style inspired a half-decade of haters and imitators, no honest podcaster can deny her unparalleled influence. As best-selling true-crime author and podcaster Billy Jensen puts it, "Serial is the most important, because it went viral, got into the zeitgeist, introduced many people to podcasts, and got them hooked."
There is perhaps no other podcast, true crime or otherwise, that has had a greater real-world impact than In The Dark, which launched in 2016 with an examination of the failed investigation into the infamous disappearance of Jacob Wetterling. This is especially true of the show's second season, which focuses on Curtis Flowers, a Mississippi man who was tried six times for four murders he probably didn't commit, an assertion most listeners would be comfortable making after hearing the ample evidence uncovered in the series. "This case is precisely the type that crime podcasting is made for," says investigative reporter and Accused podcast host Amber Hunt, one of the many people who told me In The Dark was at the top of their list. Hosted by the measured and confident Madeleine Baran, the journalism behind In The Dark is second to none, a team reporting effort that's transparently explained to the listener. And the proof is in the pudding: Flowers's latest conviction was recently overturned by the U.S. Supreme Court, which considered, among other things, a pattern of egregious prosecutorial misconduct uncovered in the podcast. It's the rare show to effectively combine shoe-leather investigation, exhaustive sourcing, and groundbreaking data dives, all driven home with rare precision and a welcome dose of humanity.
Before Serial exploded the medium, the anthology show Criminal, which debuted nine months earlier, was one of the genre's first true hits. The brainchild of North Carolina-based public radio host Phoebe Judge and producer Lauren Spohrer, Criminal is a gift to the ears, in no small part because the show makes a point to stretch far beyond murder and mayhem in the stories it covers. It also brought true crime, a genre long relegated to mass-market paperback bookstore shelves and networks like Investigation Discovery, into the ears of a discerning new audience that would soon embrace it in the media mainstream. But make no mistake, it's the hypnotic host that makes Criminal an essential entry. "She simultaneously makes herself perfectly present in the story but invisible in the reporting," says Patrick Hinds of True Crime Obsessed. And, importantly, the show played a big part in shifting the listener's perspective. Radiotopia producer Julie Shapiro puts it best: "Criminal reframed our sense of the impact of crime on both victims and perpetrators."
There are two kinds of people in the world: Murderinos … and the rest of us. When it launched in 2016, My Favorite Murder felt like a weird kind of therapy, a place those who've long been obsessed with real-life crimes could go to feel, well, a little more normal about that. It was also a fresh format for the genre, bringing the long-established comedian chat show to the otherwise grim world of true crime. Since then, My Favorite Murder has become a bona fide juggernaut, breaking all kinds of ground and — for better and worse — inspiring countless "friends who talk about crime" copycats. Hosted relatably and imperfectly by comedians Karen Kilgariff and Georgia Hardstark, the series delivers in spades on the potential of audio as the most intimate of media. It's at once earnest and silly, irreverent and crusading, and can take credit for building an unrivaled fan community that extends far beyond the podcast itself.
How did a podcast that began with a 20-something amateur Googling a cold case and selling his grandmother's cookies to fund his show become an essential title? Despite its rough edges, it's hard to deny that the hugely popular Up and Vanished deserves a spot on true crime's Mount Rushmore. With a helping hand from a private investigator, aspiring filmmaker and musician Payne Lindsey kicked off his show's first season by rummaging through the Georgia town where beauty queen Tara Grinstead disappeared in 2005. At one point, he even crawls (with his microphone!) under a house where he thinks a body might be buried.
But is it journalism? Or ethical? Or even good? These are fair questions that have been raised and debated in the years since Up and Vanished debuted, and are the basis of several cutting parodies of the show. But at the end of the podcast's initial run, Grinstead's alleged killer Ryan Alexander Duke stepped forward and confessed to the crime, catapulting Up and Vanished to podcast-legend status. Although Lindsey never focused on Duke and the police never considered him a suspect, Duke said his unsolicited confession was prompted by the podcast, an incredible testament to the power of the blooming medium. While inspiring a wave of knockoff I-could-probably-solve-that-cold-case amateur podcasts, Up and Vanished did provide audiences with something few podcasts have: a satisfying ending.
In pondering the place Dirty John deserves on this list, I couldn't help but think of one of the most memorable lines delivered by Alicia Silverstone's Cher in the movie Clueless. As podcasts go, it's a "full-on Monet … It's like a painting, see? From far away, it's okay, but up close, it's a big old mess." From far away, Dirty John — which chronicles the life of Debra Newell, a wealthy California divorcée duped by a love-bombing con artist named John Meehanis — is actually a lot better than okay; it's kind of groundbreaking. It's the first story to go from newspaper to podcast to TV show, complete with a plot twist that blew listeners away. But up close, Dirty John is deceptively simple, comprising a series of interviews that retell a story previously reported by host Christopher Goffard in the Los Angeles Times. Its subjects are consistently unrelatable, often confounding, and occasionally infuriating. And despite all of that, the show deserves every bit of the rabid praise it's received. Not only does it bring an important narrative about coercive control and the cycle of domestic abuse to the forefront, but it sets a precedent for what true-crime podcast success can look like.
Connie Walker, the CBC reporter who hosts Missing & Murdered, recently told me that she set out to make a history podcast about the systemic oppression of indigenous people in Canada, but she knew that in order to get people to listen to it, it had to be a true-crime story. Walker succeeded in getting those listeners with show's excellent first season, "Who Killed Alberta Williams," which digs into the unsolved case of a young woman murdered in 1989. But it's her follow-up series "Finding Cleo" that's the true revelation, dishing out mounds of history lessons while giving true-crime fans just as much to chew on. The titular "Cleo" is Cleo Nicotine Semaganis, a young girl taken from her Saskatchewan Cree family by government welfare workers in the 1970s as part of a horrific program known as the Sixties Scoop. But, in an episode that comes relatively early in the podcast, Walker achieves something even she admits she didn't think was possible: She learns the truth and finds out what really happened to Cleo. That's just part of what makes this series stand out and above just about every other podcast in the genre. The other factor here is Walker, an experienced journalist who is also Cree, taking the listener on a journey across thousands of miles to remote towns, into living rooms, through graveyards, and onto reservations, adding new layers every step of the way.
"Bear Brook is simple, elegant, well told," says Josh Dean, host of the true-crime podcast The Clearing. "And there's a reason for it to be," he adds. Covering the decades-long investigation around four unidentified bodies stuffed in a pair of barrels found in a wooded New Hampshire park, the show delves into a complicated story about a previously unknown serial killer and the many investigators — some amateur, some police, and mostly women — who worked it tirelessly. The story spans more than 20 years and involves victims and investigators on both coasts, yet it was the very existence of Bear Brook that moved the needle on the case, resulting in real-world revelations that changed the investigation. But perhaps the podcast's biggest contribution to the genre is its exploration of genetic genealogy, the forensic technique that led to an arrest in the Golden State Killer case in April 2018, and has solved dozens of cold cases since then. Yet the series stands out for another reason, according to In The Dark executive producer Samara Freemark: "It's such a good example of how to be measured and journalistically responsible while still crafting an edge-of-your-seat story."
Believed is the ultimate example of a podcast that achieves near-impossible feats. Focusing on the story of former USA Gymnastics and Michigan State doctor Larry Nassar, who sexually abused girls and women for decades, the series manages to put Nassar's victims front and center, daring listeners to flinch as they detail stories about being groomed and molested. It's an element that hosts Kate Wells and Lindsey Smith make clear we need to understand. They succeed in large part because they're both already well-versed in the story, having reported on it for Michigan Radio since 2016. Believed also manages to humanize Nassar — not in order to engender sympathy, but so we can also understand how it was possible he got away with his crimes for so long. Finally, and perhaps most surprisingly, Believed is unapologetically gripping, even entertaining, as it tells one of the most viscerally difficult true-crime stories of the modern era. A right-on-time series that was delivered at the crest of the Me Too era, the series also sticks one of the best landings in podcasting, letting us listen in as more than 150 women give testimony at Nassar's sentencing, a brand of justice we desperately crave but so seldom get to witness.
For all Serial did for Adnan Syed's case, Undisclosed did more — literally. Picking up where the genre's greatest podcast left off, host Rabia Chaudry, who appeared in Serial as the family friend who brought Syed's case to Sarah Koenig's attention, teamed up with an unlikely duo of bloggers and proceeded to tear apart, bit by bit, the state's case against Syed, and many aspects of the Serial narrative itself. In early episodes, the Undisclosed trio dug up information about reward money, police corruption, and prosecutorial misconduct. They identified the "tap tap tap" on a taped interview as detectives coaxed witness Jay Wilds by pointing to a map. They made the term "Brady violation" part of their listeners' vocabulary.
But perhaps the biggest surprise is that Undisclosed has remained an enduring title beyond the post-Serial frenzy around the Syed case. Since that first batch of episodes, the show has covered the stories of wrongfully convicted people all over the country, raising money for defense teams and even helping to win exonerations. The show captures our current moment in which audiences want to hear stories about innocent people caught up in an unfair and cruel system, positioning Undisclosed as the closest thing podcasting has to the Innocence Project.