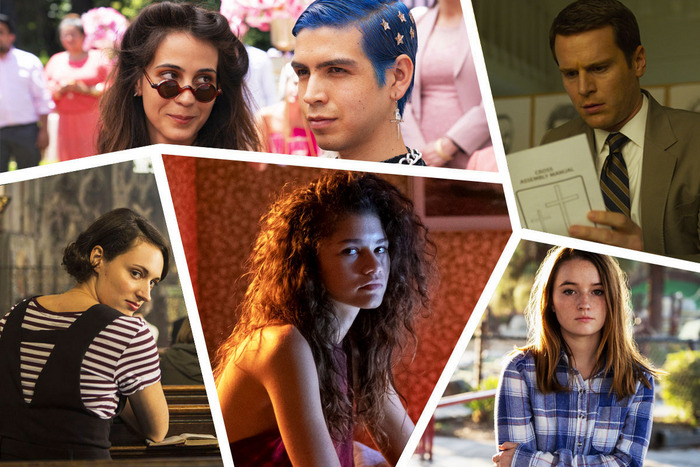 Clockwise from top right:
Mindhunter
,
Unbelievable
,
Euphoria
,
Fleabag
,
Los Espookys
.
Photo: Vulture, Amazon, HBO and Netflix
The fall TV season is in full swing, and so are Vulture's picks for the best TV shows of 2019 (so far). In the interest of helping you keep your watch lists current, we'll update this list on a monthly basis throughout the year.
A note about our selection methodology: Nonfiction and scripted series are both eligible, but because the focus is on this calendar year, seasons that debuted in 2018 were ruled out if more than half of the episodes debuted prior to January 1. This is a consensus list by both Jen Chaney and Matt Zoller Seitz, whose individual lists at the end of the year may differ.
This HBO sketch-comedy series, created by Robin Thede and starring Thede and a core cast of hilarious black women, is both funny and long overdue. The sketches on the series are not just LOL-worthy, but surprising, escalating again and again to conclusions that viewers won't see coming. But most important, the humor is completely steeped in the perspectives of black women, which makes this series not only a consistent hoot, but a groundbreaking one. —Jen Chaney
Even if you already know the story of Dee Dee Blanchard, her daughter Gypsy, and the lies perpetuated about Gypsy's allegedly debilitating illness, The Act is still engrossing television. If you don't, these ten episodes inspired by their story will make you say, "Are you kidding me?" almost as frequently as you did during Abducted in Plain Sight and Wild, Wild Country. As conceived by co-creators Nick Antosca and Michelle Dean (the latter of whom wrote a BuzzFeed article about the Blanchards), The Act is a tense, nuanced exploration of Munchausen syndrome by proxy. But what really makes this show a can't-miss is its consistently superb performances, most notably from its two leads, Patricia Arquette as Dee Dee, a honey-dripper of a con artist, and Joey King as Gypsy, whose girlish behavior serves as both disguise and a genuine reflection of her sheltered existence. This deeply codependent mother-daughter relationship is one of the more disturbing and memorable love stories we'll see on TV this year. —JC
In its first season, Barry was a great dramedy about a hit man attempting to leave the killing life in order to pursue acting. In its second, Barry rose to exceptional heights. The writing, the directing (by the likes of Hiro Murai and the show's co-creator Bill Hader), and the acting across the board became even more layered, deliberate, and gripping. Yes, this is still a show about a hit man attempting to leave the killing life in order to pursue acting, but it's more broadly about whether it's possible for anyone to lead an honest life. P.S. It's also darkly hilarious and the only show that features a Chechen gangster — Anthony Carrigan's glorious Noho Hank — who's more concerned with the quality of the table on which he plans to sort heroin than he is about the quality of the heroin he plans to sell. —JC
Pamela Adlon's series about a divorced single mother and actress posts its strongest season this year, doubling down on its storytelling style (which expands and explores individual moments) and going for broke in the direction (Adlon helms every episode in addition to co-writing, producing, and starring). There are at least a dozen sequences in this batch of 12 episodes that affirm the idea that cinematic isn't just a synonym for "we spent a lot of money." Adlon has a rare ability to suggest the emotional interiors of characters even as she gives them their space. —Matt Zoller Seitz
Yes, we've reached the point in Peak TV where there's now a show about glassblowing. And wouldn't you know? It's actually good! Ten contestants are given a different artistic challenge each episode and progressively eliminated until we're down to the final two. That structure is the same as every other reality competition show. But what distinguishes Blown Away is how seriously it takes its craft, and how eye-opening it is to watch the sweaty, complex, daunting process of turning glass fragments into sculpted artistic statements. This isn't just a contest; it's a portal into a form of creative expression that most people have never seen up close. —JC
A moving and unexpectedly cosmic finale made the fourth season of Catastrophe the best since its first. This consistently surprising romantic comedy from the creative team of Rob Delaney and Sharon Horgan showed the main characters and their immediate circle coming to terms with age, compromise, and the finiteness of life, and figuring out how to create a bubble of contentment within a chaotic world. The season would've been moving even if it hadn't given co-star Carrie Fisher a formal send-off, but the touching and raucously funny memorial episode (doubling as the series ender) made the whole thing feel cathartic. —MZS
What's the worst that can happen? This. Writer Craig Mazin and director Johan Rencks subject the 1986 nuclear disaster at Chernobyl to a long-deferred political autopsy, showing how an incompetent, fearful, ass-covering bureaucracy can make an already unthinkably awful situation a hundred times worse. Combining horror, black comedy, and political satire, and tying it all together with a respectful, at times funereal tone, this is one of the feel-bad events of the TV year, and strangely cathartic for that reason. —MZS
The best way to stick the landing when you're finishing a long-running TV series is to craft an ending that feels true to the show's best self. That's what Crazy Ex-Girlfriend star and creator Rachel Bloom and co-creator Aline Brosh McKenna did in this fourth and final season, bringing all of their characters into direct confrontation with their desires for the future and the consequences of their past choices, and refusing to wrap anything up in a neat little box. The end of Rebecca's odyssey was particularly resonant because it paralleled Bloom's own story: seeking introspection and catharsis through art, without making any unrealistic promises about the quality of the art that the star's alter ego might eventually deliver. The more you think about that final scene, the more reminiscent it is of Mad Men, which likewise ended on a hopeful note without overpromising in the personal-growth department. —MZS
Returning to the heyday of Jim Henson and Frank Oz's creative peak, this lavish Netflix series is a prequel to the 1982 puppet fantasy Dark Crystal, which was deemed too dark for popular taste. As it happens, popular taste eventually caught up: Not only did the movie find a loyal cult audience, it helped pave the way for wildly popular, rather dark fantasies like Peter Jackson's Tolkien adaptations and Game of Thrones. Directed by Louis Lettieri (The Incredible Hulk, Clash of the Titans), this series, set on a planet far away, boasts extraordinary old-school puppeteering and practical effects, treating every scene and image as a chance to dazzle the eye. —MZS
Medical shows are one of the oldest TV genres. But Diagnosis, a docuseries based on the New York Times Magazine column by Dr. Lisa Sanders, takes stories of disease, doctors, and cures into new territory that reflects an increasingly collaborative approach toward medicine. Each episode focuses on a patient dealing with a rare affliction that medical professionals have struggled to identify or effectively treat. Sanders takes on each case and uses her platform to crowdsource a diagnosis, relying not only on doctors and health experts, but also others who have experienced similar symptoms. The result is a series that's uplifting without being too treacly, and one that highlights the shortcomings of modern, for-profit medicine as well as the idea that sometimes it takes a village to treat an illness. —JC
The latest season of this documentary parody series was three years in the making, its production complicated by the busy schedules of its founding co-stars/co-creators, but these irritations seemingly spurred the storytellers to new heights of sophistication and invention. Juicy major roles went to heavy-hitting guest stars, including Cate Blanchett, Michael Keaton, Owen Wilson, Natasha Lyonne, and Michael C. Hall. And the scripts went all-in on tip-of-the-iceberg characterizations (implying that the subjects depicted in the films were all much deeper and more troubled than the filmmakers' preconceptions could capture) and metafictional subtext. Some of the latter amounted to a philosophical critique of nonfiction filmmaking and its practitioners — the sort of thing you'd expect to hear during a film festival Q&A, but never on a series that appears on commercial cable. —MZS
Exuberantly embracing the idea that too much can be just right, this teen melodrama from Sam Levinson is set in a Southern California bedroom community, but tells the story in a fantastically exaggerated, expressionistic style, storyboarding all the action to within an inch of its life, and filming mainly on constructed sets rather than real locations, the better to permit acrobatic camera moves and wild lighting effects. Essentially Paul Thomas Anderson's My So-Called Life, if you can imagine such a thing, Euphoria is completely over the top yet sincere in the way that teenagers themselves are. There are no small moments. Even the grace notes are epic. —MZS
Absence makes the heart grow fonder, and it has certainly grown justifiably fonder for this British series created by the bundle of side-eyed brilliance that is its star, Phoebe Waller-Bridge. When the first season of this character study dropped on Amazon back in 2016, it received positive notices but not a lot of buzz. But the second season, still full of Waller-Bridge's signature fourth-wall-shattering commentary, has become one of the hottest topics on social media, at least among the TV-watching cognoscenti. Waller-Bridge is as sharp as ever, and the storytelling is even more focused, particularly with regard to a budding romance between Fleabag and a hot priest played by Andrew Scott that has forced Twitter to collectively and repeatedly fan itself in appreciation. It's six episodes of perfection that you'll want to watch all over again the second you finish. —JC
This series about the creative and romantic relationship between director-choreographer Bob Fosse (Sam Rockwell) and dancer-choreographer-actress Gwen Verdon (Michelle Williams) was catnip to theater-history obsessives, marinating in marginalia and dropping references and names so generously that it's hard to imagine a casual viewer stumbling upon it and becoming immersed. Yet the specificity of it, particularly in showing the minute details of collaboration, is a big part of what made it feel unique. That and the mosaic storytelling, which focused on particular periods of weeks and months in the couple's life and didn't try to wrap things up with any grand statement. It's far from perfect — Rockwell is a bit too reticent and internal, perhaps, and it probably erred by focusing on Fosse's by now stereotypical "bad genius" behavior in the first couple of episodes, when Verdon ultimately defined the character of the entire piece. But the more you sit with this one, the more substantial it feels. —MZS
GLOW (Netflix)
The third season of the female wrestling dramedy shifts the action from L.A. to Las Vegas, where the Gorgeous Ladies of Wrestling are staging a live show several nights a week. Another show working in this very specific milieu — pro-wrestling in Vegas in the '80s — would have leaned hard into the cheesy, neon, fluorescent camp of that setting. But while GLOW still has more than its share of big hair, it goes a more satisfying and subtle route, capturing the claustrophobic state of limbo that sets in when you're living and working in a hotel on the Strip. GLOW gives more of the members of its ensemble cast time to shine, most notably Gayle Rankin's Sheila the She Wolf. But it also continues to dissect the relationship between Ruth (Alison Brie) and Debbie (Betty Gilpin), the best friends turned rivals turned colleagues who continue to look to each other for reaffirmation. Separately, Brie and Gilpin are fantastic. Together, they're dynamite. —JC
It almost feels disrespectful to consider this two-part, four-hour documentary about two sexual-abuse survivors in the context of lighter entertainment. Director Dan Reed's film concentrates on two adult men who say they were groomed for underage sex abuse by Michael Jackson, whose behavior was the subject of two prior civil actions. But the documentary is ultimately less interested in bringing down a legend than in bearing witness to Wade Robson and James Safechuck, men who still carry the scars of a profoundly damaging experience they say they suffered at the hands of Jackson. The bulk of Leaving Neverland's running time is dominated by close-ups of their faces, and by the sounds of their voices, which seem to come from a lightless place deep in their psyches. —MZS
This half-hour comedy, co-created by Fred Armisen, SNL writer Julio Torres, and comedian Ana Fabrega, plays by its own set of idiosyncratic rules. Set in Mexico and L.A., it uses subtitles at all times: English when someone is speaking Spanish, and Spanish when someone is speaking English. It follows a "horror group" who stage scary situations — sea-monster invasions, exorcisms, you know, the usual — in exchange for money. It's the kind of show where a line like "I just met a parasitic demon that lives inside of me. But I'm free now. What's up?" is spoken with a straight face and is entirely accurate. It's a very special, wonderful kind of weird. —JC
The second season of David Fincher's deep dive into serial-killer psychology isn't great because of its dead-on portraits of actual famous murderers, although that certainly doesn't hurt. The conversations that FBI agent protagonists Holden Ford (Jonathan Groff) and Bill Tench (Holt McCallany) have with David "Son of Sam" Berkowitz (Oliver Cooper) and, especially, Charles Manson (a superb Damon Herriman) are fascinating and unnerving to watch. But like the rest of the series, they tell us something about the men who, along with their colleague, Wendy Carr (Anna Torv), are trying to understand what makes homicidal maniacs tick without considering that their internal clocks are built using similar machinery. On the surface, this season of Mindhunter becomes increasingly focused on the famous Atlanta child murders that happened in the late '70s and early '80s. But really it's about how, in different ways, every human being seeks attention and often gains it the more lurid their story becomes. —JC
It took more than two years for the second season of The OA, the spiritual mystery-thriller puzzle box of a Netflix drama from Brit Marling and Zal Batmanglij, to finally arrive. The result is an even more complex, sprawling, self-serious journey through multiple dimensions. It's also a more confusing one that made my eyes roll on more than one occasion. So why does this show make the cut, then? Because of its ambition, its fierce commitment to its extremely particular artistic sensibility, and a twist ending that made me immediately curious to see a Part III. —JC
Set in the fictional Los Angeles neighborhood of Freeridge, and co-created by Lauren Iungerich (Awkward) and the screenwriting team of Eddie Gonzalez and Jeremy Haft (All Eyez on Me), this teen-driven series favors broad comedy built around shenanigans. But it also manages to swing between that mode and the crime thriller, the telenovela, and social satire, sometimes within the space of a few minutes. Even when the viewer gets whiplash, it's impossible not to appreciate the multitudes that this modest show contains. —MZS
Straight out of the gate, it's obvious that The Other Two has a strong sense of itself even if its two main characters, Cary (Drew Tarver) and Brooke (Heléne York), the siblings of on-the-rise pop singer ChaseDreams (Case Walker), have no clue what they're doing. As conceived by former SNL writers Chris Kelly and Sarah Schneider, this is a cutting and giddy satire of showbiz b.s., but one with heart and relatable characters who, in the midst of paparazzi chaos, are still rooting for each other. —JC
Co-created by its star, Hasan Minhaj, and head writer Prashanth Venkataramanujam, Patriot Act is one of the few political-commentary series to come along since Last Week Tonight with John Oliver that adds something fresh and new to the format. It's distinguished not only by its perspective (that of an Indian-American fluent in Hindi and Urdu) but by its emphasis on international news, which puts all other American current events-oriented series — including the non-comedic ones — to shame. This year's batch of episodes has included a look at how Brazilian President Bolsonaro is threatening the Amazon and its indigenous people; the tension between democracy and authoritarianism in Sudan; the globalization of the National Rifle Association; and the way geographical and class biases affect who gets internet access in the United States. —MZS
The pitch for this Hulu comedy admittedly sounds sketchy: It's a coming-of-age story in which two women in their 30s play middle-schoolers. But Maya Erskine and Anna Konkle are so convincing as their tween alter egos that PEN15 just works. It's a portrait of young female friendship that's poignant and crude, hilarious and cringey, brutally honest and gloriously nostalgic for the AIM-infused days of the year 2000. —JC
Watching a woman repeatedly die and come back to life at the same birthday party could have been an exercise in redundancy. But Russian Doll's version of hitting repeat is anything but dull. With the peppery Natasha Lyonne as its star, a compelling existential mystery at its center, and a subtle approach to exploring the psychological burdens that keep human beings anchored in the same place, Russian Doll deservedly emerged as one of the year's TV talkers. And it did all of that with a distinctly female eye, with every episode directed by a woman. Metaphorically, Russian Doll goes backward, again and again, and does it in heels. —JC
This Hulu series about body positivity is a smartly written, funny, and wonderfully observant comedy that's also the perfect vehicle for star Aidy Bryant. As Annie, Bryant — who co-created the series alongside Alexandra Rushfield and Lindy West, author of the book that inspired it — is sometimes insecure, sometimes Über-confident, and always recognizably human. Not only does Shrill flip the bird at the idea that being fat should be a source of shame, particularly in its strongest episode, "Pool," it also treats all of its characters as flawed, complicated individuals deserving of empathy. Its episodes are a series of streaming-TV reminders that every person is a novel whose cover only tells a tiny slice of their story. —JC
If season two of Netflix's blockbuster '80s nostalgia fantasy didn't settle the question of whether it should have quit while it was ahead, season three went a long way toward justifying the decision to keep things going. All the major players got new threads to play out, and while some of these were forced and awkward (the sexual tension between Joyce and Hopper only worked as a setup for the cliffhanger ending), others were sensationally effective (Billy's descent into John Carpenter–like demonic evil) or amusing because of their sheer goofiness (Dustin's under-pressure Neverending Story duet with the girlfriend that you might've assumed was nonexistent). The Duffer brothers also tweaked the milieu in ways that resonated with the present, introducing a Russian conspiracy into a show already thick with vintage Cold War tensions; adding a Trump-like mayor (Cary Elwes) under the Reds' thumbs; and stirring in surprisingly effective nostalgia for malls, which in the Reagan era were portrayed as bland destroyers of downtowns and mom-and-pop stores but now seem like lovely artifacts of a time when people willingly left their homes to physically be part of a community, however provisional, rather than sitting on their couches all day and night, ordering stuff on Amazon and watching, er, Netflix. —MZS
Who knew that watching random people clean their houses could be so entertaining and moving? Tidying Up is both, partly because best-selling author Marie Kondo is such a charming and calming presence, but also because so many people struggle with curbing clutter and keeping their homes straight. Tidying Up shows a potential path toward overcoming the piles without setting unrealistic expectations. It also caused people all over the world to start folding their clothes into perfect, dresser-drawer-ready rectangles, and for that alone it is obviously Emmy-worthy. —JC
After a first season that was equally spellbinding, ridiculous, problematic, and agreeably demented, Nic Pizzolatto's anthology series very nearly self-destructed in season two's fit of purplish neo-noir self-indulgence. The third season, starring Mahershala Ali and Stephen Dorff as detectives trying to solve the murder of one child and the disappearance of another, didn't just rescue the franchise; it suggested a sensitivity to the boundaries between fiction and mythology, true crime and exploitation, that previous stories had barely hinted at. —MZS
This is quite simply one of the decade's best crime series, one informed by the care and nuance it brings to its portrayal of female victims and the female detectives who play a vital role in tracking down a serial rapist. Based on the true story brought to light by investigative reporting from ProPublica and the Marshall Project, Unbelievable is distinguished from similar series by the gender-informed attention to detail that creator Susannah Grant brings to this study of lapses in the criminal justice system. Also, the performances are extraordinary. Kaitlyn Dever will break your heart as Marie, the rape victim whose recall is questioned by careless cops. And as detectives who team up to get to the bottom of several assualt cases, Merritt Wever and Toni Collette give us the True Detective we always deserved. —JC
Kate Purdy and Raphael Bob-Waksberg, known for their work on BoJack Horseman, are behind this fascinating animated series with an entirely different style and sensibility. Created using live action-esque rotoscope animation, Undone follows Alma (Rosa Salazar) whose sense of reality gets fractured after a car accident. Suddenly, she begins seeing her late father (Bob Odenkirk) who wants to teach her how to bend the rules of space and time to figure out why he actually died years earlier, in what was believed to be a car wreck. The freedom afforded by the genre enables viewers to truly live inside Rosa's head while also asking questions about what's going on inside it. Is Rosa mentally ill or is she finally seeing things with true clarity? You want to keep watching to find out. —JC
This brutally funny HBO series has functioned, sometimes accidentally, as a kind of political meteorologist. In ways that have been both amusing and unsettling, it has often known which way the wind would blow in D.C. before the first breezes could even be felt on Capitol Hill. In its seventh and final season, Veep still managed to unwittingly sync with reality. (Remember when people at a Trump rally yelled that we should kill immigrants just days after the same thing was shouted at a rally for presidential hopeful Jonah Ryan on Veep?) But it also leaned more purposefully than ever into a darkness that acted both as commentary on our actual political climate and as its own parallel universe of crazy. One of the best comic ensembles on TV ran at full steam right up to the end, shutting down the story of Selina Meyer with a finale that punched us in the heart as much as it made us laugh, thanks in no small part to Julia Louis-Dreyfus's commitment to making Selina complicated and unapologetically awful. Yeah, go ahead and give that nasty woman another Emmy. —JC
Yes, we're all drowning in reboots and revivals. But the fourth season of Veronica Mars, less a revival than a post-movie-follow-up resurrection of the detective series, distinguishes itself by being more than just a good ol' nostalgia wallow for the Marshmallows. The Hulu version, which follows Veronica as she tries to get to the bottom of a series of bombings in Neptune during spring break, feels like a throwback only in the sense that it does well what the first two seasons of Veronica Mars also did well. It digs deeply into a good mystery, gives Kristen Bell the space to make sarcastic remarks, and arrives at shocking conclusions. It also understands that the best relationship on the series was never Veronica and Logan, or even Veronica and Duncan. It's Veronica and her investigative dad Keith, played by the great Enrico Colantoni. —JC
This Starz series, now in its second season, is one of the best examples on TV today of how to tell a culturally specific story. With the first-ever all-Latinx writers' room, one dominated by women and heavily populated by those who identify as queer, Vida looks at the struggles that two Mexican-American sisters, one straight, one queer, face when they inherit the East L.A. apartment building and bar that belonged to their late mother. You can feel in every frame that the details are right, from the way characters slip and slide between English and Spanish to the way the steamy sex scenes are always presented with a female point of view. Vida also explores gentrification with a complexity that is emblematic of the show's approach. The colors on Vida are multiple and mixed, never black-and-white. —JC
This TV adaptation of Taika Waititi's faux-documentary feature about New Zealand vampires got off to a modestly dazzling start by not trying to replicate its source material exactly, instead populating the story with a new bunch of vampires in a new (impeccably chosen) setting, Staten Island. It's not as though huge numbers of people saw the movie, thus there was no obligation to refer to it, but it's still worth appreciating how gracefully the project made the transition. More important, the damned thing is hilarious from frame one, which is all the more surprising when you consider how long filmmakers have been leaning on this format, which Christopher Guest and Rob Reiner perfected 35 years ago with This Is Spinal Tap. The show has its own understated yet delightfully crackpot energy, and the obvious delight the cast takes in playing these sardonic bloodsuckers powers the entire series like an electrical current. —MZS
Incarceration and segregation as the continuation of slavery by other means is the unifying subject of a lot of Ava Duvernay's work, dominating some projects and appearing as subplot or subtext in others (including her OWN series Queen Sugar, which features an ex-convict as a major character). She levels up with this Netflix miniseries about the so-called Central Park Five. This sweeping yet human-scaled miniseries is not just about the railroading of a group of African-American teens for a rape none of them committed, but the institutional biases and individual treacheries that combine to make black men vulnerable to precisely this sort of targeting. Even the moniker itself, a dehumanizing phrase coined in the white-run mainstream press, dehumanizes them, and as a result, we name them here: Antron McCray, Kevin Richardson, Korey Wise, Yusef Salaam, and Raymond Santana. The filmmaking itself is pitched just right, often hanging back and giving the characters visual as well as dramatic breathing space, and constantly reminding us of how the world itself can be imprisoning even when there are no bars in sight. —MZS
Stephen Falk's anti-commitment romantic comedy concludes with a final season focused on the wedding of Gretchen (Aya Cash) and Jimmy (Chris Geere), which doesn't sound like an effort to stick to the show's cynical sensibilities. But it absolutely is. Gretchen and Jimmy remain unreliable and, in many ways, reprehensible, but you still want to see these irredeemable dummies wind up together. Without spoiling how it all ends, I'll just say that the finale wraps things up satisfyingly without sacrificing the black heart beating inside You're the Worst. Until the end, this show is the worst, by which I mean the best. —JC
For more of the year's greatest pop culture, don't miss Vulture's list of the best movies, best songs, best albums, best books, and best video games of 2019.