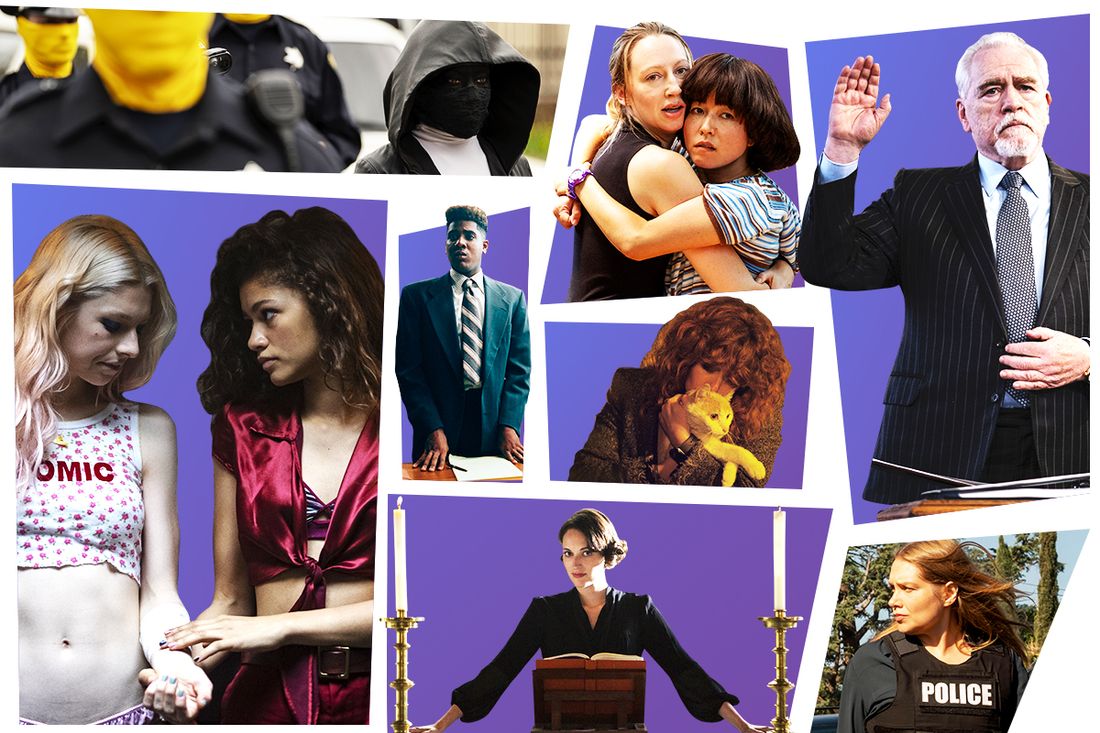 Photo-Illustration: Vulture and Courtesy of Network
Is television going to slow down anytime soon? It sure didn't in 2019. After a year that saw, conservatively speaking, a bajillion shows jockeying for pole position on our screens — not to mention all those newcomers from Apple and Disney's streaming sites — it's long past time to admit that no one person can keep up with everything worth watching. Thank goodness, then, that we have four.
Below, Vulture critics Matt Zoller Seitz, Jen Chaney, Kathryn VanArendonk, and Angelica Jade Bastién count down their ten favorite shows of the year. In an era where there's simply too many great shows to watch, their picks reflect the staggering wealth of choices that were available to audiences in 2019, from the delightful and the captivating to the beguiling and the flawless. Some of these shows you've probably seen; others you may have never even heard about. But all of them are significant additions to the TV canon. Maybe you'll even find time to watch them before 2021.
Matt
Zoller
Seitz's
Top
10
Shows
of
2019
10. Sherman's Showcase and Documentary Now! (IFC)
Catnip for pop-culture obsessives, both these series were labors of love that could only have existed on IFC. Sherman's Showcase is a variety series from Bashire Salahuddin and Diallo Riddle, presenting a long-running African-American-dominated variety series set in an elaborately detailed showbiz universe adjacent to the one we know. Documentary Now's third season was its most audacious, with creators Bill Hader, Fred Armisen, Seth Meyers, and Rhys Thomas exploring new parodic terrain; the highlights were a send-up of D.A. Pennbaker's Company-cast-album documentary, with original music, and a spoof of The Artist Is Waiting that gave guest star Cate Blanchett one of her most iconic roles.
Turning the merciless passage of time to its advantage, this long-delayed revisiting of David Milch's prematurely canceled Western was set ten years after the final episode and wove brief, soundless flashbacks into its story line so deftly that if seemed as if the town itself were doing the remembering. A touching and ultimately life-affirming meditation on age, death, evolution, and forgiveness, the film doubles as a piercing final statement by Milch, who is suffering from Alzheimer's disease and is unlikely to write any more scripts.
Directed by Louis Letterier (the Transporter films) and developed by Jeffrey Addiss and Will Matthews, this continuation of Jim Henson's 1984 cult classic built out the story to allow for political and theological satire that will intrigue and amuse adults while flying over the heads of most kids (who probably shouldn't be watching anyway because of the violence and scariness). The series is also a technical marvel, seamlessly blending old-school puppetry, miniatures, and silent-era sleight-of-hand with the latest in digital compositing.
The hands-down winner of this year's Best Show You Never Even Heard Of trophy, this South Korean import from writer Kim Eun-hee and director Kim Seong-hun might be the best use of the zombie genre for social satire since George Romero's original Dawn of the Dead. It's set in the late-17th century, where an emperor has gone ghoul but his advisers keep his transformation a secret so they can execute a secret takeover of the realm. While the series is a study in how epidemics are allowed to spread for expedient political reasons, the script's depiction of official corruption, class inequity, and the triumph of superstition over science might prove scarier for American viewers than the brilliantly staged, flesh-munching action scenes.
6. Fleabag (Amazon)
Although it's destined to be known as "The Season With the Hot Priest," the second go-round of Phoebe Waller-Bridge's fourth-wall-breaking psychological comedy was an exponential improvement on its predecessor, focusing more sharply on present-tense moments of interaction between characters and hurtling through its plot so confidently that the whole thing felt like the product of a creative self-dare: "How perfect can I make this?"
5. Euphoria (HBO)
Television and cinema have had no shortage of tales of drug-addled, sexed-up, yearning, lonely teens, but none took the genre as far as creator and executive producer Sam Levinson, who concocted a superheated melodrama filmed on sets that could be pulled apart to enable stylized lighting and acrobatic, at times omniscient-seeming camerawork. The brazen excess of Euphoria synced up with the too-muchness of the story, an ensemble tragicomedy depicting adolescent heroes and antiheroes, as well as their equally screwed-up parents, stumbling and crashing through life.
Masterminded by star Natasha Lyonne and her co-executive producers Lesley Headlund and Amy Poehler, this trippy series about a New York computer programmer coming unstuck in time was a tribute to the classic films that shaped their sensibilities — in particular, All That Jazz, The Shining, and Defending Your Life — but it immediately established its own sensibility and managed to neutralize even the most obsessive plot-guessers in the audience by springing surprises that came from characterization, philosophy, theology, and physics. Every scene is packed with so much detail that repeat viewings are a must.
Jesse Armstrong's series about a New York media family headed by a Rupert Murdoch type quickly moved beyond its basic premise — essentially, King Lear meets Arrested Development — and became a corrosive study in the consolidation of financial as well as emotional capital. The second season delved more deeply into the lingering trauma inflicted by the father upon his children, humanizing the family without ever losing the electrifying contempt for the billionaire class that marked the show as a stealthy populist satire of the world's true rulers.
The third season of writer-director-star Pamela Adlon's series about a 50-year-old actress and single mother was the series' best, finding increasingly inventive yet controlled ways to tell stories of parenting, work, relationships, and intergenerational tension. Every half-hour was a perfectly shaped short story, packed with moments that were alternately droll, moving, sexy, disturbing, and profoundly sad, and Adlon's filmmaking always managed to find a way to make its points with images and sound, even when they drew on the actors' performances for inspiration.
As the title suggests, Ava DuVernay's four-part miniseries about the so-called Central Park Five reframed history, insisting that a bunch of scapegoated teenagers railroaded on rape and assault charges were innocent human beings with lives, not just a faceless problem to be "solved" by police and the courts. But the production was more than an earnest, muckraking social drama. DuVernay's direction drew on every lesson she'd learned in a filmography that often zeroed in on institutionalized racism, wrongful incarceration, and the use of the prison system to perpetuate a version of slavery into the 21st century. The storytelling structure, cinematography, editing, and use of music were peerless and contributed to the sense that we were seeing an epic American story about real people in a mode rarely seen since the 1970s and '80s.
Jen
Chaney's
Top
10
Shows
of
2019
It was a big year for TV finales, but some of the best didn't get nearly as much attention as that one about dragons and thrones. You're the Worst was one of those overlooked bests. This blatantly sardonic romantic comedy delivered a fifth and final season that celebrated the love between its two protagonists, the dysfunctional Gretchen (Aya Cash) and the equally messed-up Jimmy (Chris Geere), while still staying true to its cynical core. It also kept its audience guessing from its first episode, a playful deconstruction of a typical '90s indie movie, right up until the final, oddly heartwarming scenes of the series. Your favorite Hallmark Christmas movie could never.
Co-creating a comedy in which they star as middle-school versions of themselves could have been a disastrous proposition for Maya Erskine and Anna Konkle, especially since the other preteens in PEN15 are played by actual preteens. But they made it work in cringey, amusing, and poignant fashion. For millennials in particular, PEN15 operated on an appealingly age-specific nostalgia frequency. (The mere sound of the AOL knock-knock in the episode "AIM" may have been almost too real of a flashback for those who came of age around the time of Y2K.) But whether you grew up then or not, PEN15 succeeded at vividly capturing the awkwardness of that age, a time when an argument with your best friend can feel like the equivalent of the sky falling. In a year with plenty of buddy dramedies about women, PEN15 stood out as a daringly odd paean to female friendship and the exquisite agony of hitting puberty.
I enjoyed and appreciated a lot of television this year, but I had more fun watching A Black Lady Sketch Show than anything else in 2019. The first season of the HBO series created by Robin Thede and starring what its title promises — a core ensemble of black female performers that included Thede, Quinta Brunson, Gabrielle Dennis, and Ashley Nicole Black — didn't just make me laugh. It consistently surprised me. Its sketches, all written by black women and directed by another black woman, Dime Davis, often started in one spot and escalated to a place impossible to see coming. A sketch about the pressure to go makeup free turned into a medical horror movie. An absolutely hilarious riff on Pose, the Basic Ball, became a relatable hit parade of personal issues. (The categories were, among others, "Clinical Depression" and "Awkward in the Body.") These six episodes were groundbreaking, refreshing, and most important for a sketch show, a freakin' riot.
7. Veep (HBO)
The last season of the decade's quintessential political comedy plunged into even darker territory, which is saying a lot for a show whose characters once celebrated positive polling numbers over a dead woman's body. Acknowledging that there was no way to avoid the specter of Trumpism, the seventh season leaned hard into it, with story lines about Chinese election interference, a Jonah Ryan campaign with MAGA-matching rhetoric, and, in the end, Selina Meyer's horrifying decision to fling her most valued staffer under the bus in order to save her presidential campaign. The series finale was not only funny and brilliantly acted by the decade's strongest comedy ensemble; it brutally displayed how pointless and reckless politics is at its worst.
Is it fair to include BoJack Horseman on this list when only one half of its final season dropped in 2019? (Part two arrives on Netflix in January.) Well, if six episodes of Fleabag can qualify, then eight great episodes of BoJack count, too, especially since they were as sharp as the series has ever been. This was a half-season about codependency: how to shed it if you're an addict like BoJack (Will Arnett), who's working his way through rehab; how to redirect it if you're Princess Carolyn (Amy Sedaris), who is attempting to adjust her workaholic tendencies now that she's a mother; and how to redefine it, as Diane (Alison Brie) does in a new relationship. BoJack addressed all that heavy subject matter with intelligence and insight, but still felt light thanks to its brilliant jabs at the entertainment industry and a joke-per-minute ratio that never ceased to blow the mind.
I shouldn't like Succession as much as I do. It's about a bunch of rich assholes who do awful things to each other, who are responsible for a TV network that feeds conservative propaganda to the masses, and who don't care at all about how their actions affect the little people. (I'm sorry, but I'm still taking it personally that a bunch of journalists at a site called Vaulter all got fired this season.) And yet I loved Succession's excellent second season, which worked on a canvas similar to season one but produced a piece of art both brighter and richer. There were so many highlights: Kendall (Jeremy Strong) rapping a so-horrible-it-was-great tribute to his father, the presence of Holly Hunter, the sublime idiocy of "We Here for You," and every piece of Shiv's wardrobe. But the real chef's kiss was that season finale, which was simultaneously shocking and exactly what we should have seen coming. Anyone who disagrees can, in the words of Logan Roy, fuck off.
4. Watchmen (HBO)
Are you sensing that there will be a lot of HBO shows on my list? Yeah. I know. I tried to figure out a way around it but eventually surrendered to the reality that the premium cable network still produces more great TV than anyone else in the game. That includes Watchmen, Damon Lindelof's risky, enormously satisfying attempt to "remix" the comic masterpiece by Alan Moore, Dave Gibbons, and John Higgins. Honestly, even if I were only judging it based on a single episode — that would be episode six, "This Extraordinary Being" — it would still deserve to be on this list. What truly distinguishes Watchmen is how challenging it is. It is challenging in its commitment to discuss the history of race relations in America. It is challenging in its refusal to spoon feed the audience exposition covered by the comic. And it is challenging in its belief that the best storytelling follows the motto made famous by another Lindelof series: It let the mystery be.
Speaking of familiar stories, how many times have we seen shows or films about men trying to disengage from a life of crime? But like Unbelievable, Barry has proved it's possible to take a played-out narrative and approach it from an angle that turns it into something brand new. After an excellent first season, Barry did even more of that in season two, in which the titular hit man struggled even harder to contain his latent rage. Every one of its principals delivered revelatory performances: series co-creator Bill Hader, Henry Winkler, Anthony Carrigan, Sarah Goldberg, and Stephen Root doing what may have been career-best work (which, given his long career, is saying something). The genius of Barry was its ability to engage with deeper issues about morality and ethics while still being immensely entertaining and cleverly directed, week after nail-biting week.
Unbelievable took an overfamiliar genre — the true-crime-based procedural — and flipped it inside out. Instead of dissecting the psychological issues of male assailants, showrunner Susannah Grant focused on the experiences of women who had been victimized by men but resolved to survive. Instead of offering up another pair of men acting as "true detectives," Unbelievable gave us Merritt Wever and Toni Collette as detectives Karen Duvall and Grace Rasmussen, a pair of women so competent, dedicated, and compassionate that by the end of the final episode, you wished they were in charge of solving every crime — make that every problem — in America. It was often distressing to watch this limited series, in large part because the very real story of Marie, a woman raped, then dismissed by police after reporting the crime, was so familiar and heartbreaking. But it was also the most feminist crime series I've ever seen. That made it revolutionary.
It is rare in life for something to exceed expectations, but Fleabag season two did that rare thing. Even fans of season one could not have anticipated what a gift Phoebe Waller-Bridge's return to this darkly comic, achingly honest series would be. Its six episodes swept us off our feet by placing us in the company of two people — Waller-Bridge's Fleabag and Andrew Scott's irresistible priest — whose charms and flaws interlocked to form a fucked-up jigsaw puzzle that we knew, deep down, could never be completed. (Guys: Hot Priest is a priest.) Despite that, the show itself felt as complete as a television show can be. It was tightly constructed, superbly acted, romantic yet real, cynical yet hopeful, and a celebration of humanity in all its loveliest and loathsome forms. I fancied this show for the same reason Fleabag fancied her priest: She and I and seemingly everyone you know couldn't help it.
Kathryn
VanArendonk's
Top
10
Shows
of
2019
10. What We Do in the Shadows (FX)
Some shows just hit you, you know? For me this year, one of those shows was FX's What We Do in the Shadows, a goofy vampire comedy adapted from the 2014 movie. It is roughly a mockumentary, shot as a sequence of reality-show-esque footage intercut with talking-head interviews, centered on the lives of the dumbest vampires to ever attempt to take over Staten Island. There's so much to love about the show, including an episode featuring an astonishing lineup of vampire guest stars. But my favorite thing may be the careful inclusion of retouched artworks from throughout history, which illustrate the centuries-long lives of these silly bloodsucking goofballs. One of TV's jobs is to make you happy, and What We Do in the Shadows did it for me.
9. Couples Therapy (Showtime)
Couples Therapy is a reality show that should not work. "Real" therapy on TV is almost always bad, exploitative, voyeuristic, and unrealistic. Fictional therapy is rarely any better. It doesn't seem like it'd be possible to actually follow several couples through a serious therapeutic experience and to film it without it turning into cheap, ugly mess. And yet, Couples Therapy, a near miracle of a docuseries, does exactly that. It works because its creators were meticulous about every aspect of production: the casting, the filming process, the set, the editing. Its works because its therapist, Orna Guralnik, is brilliant and empathetic and incisive. Mostly, though, Couples Therapy works because its filmmakers were committed to making it as ethically as they could, so that no one would be damaged by the show and viewers would come away with a reasonable understanding of what therapy can be. The result is intensely absorbing.
8. The Good Fight (CBS All Access)
The thing about life in 2019 that The Good Fight realized (and almost no other TV show has fully understood) is that being buried by apocalyptic news creates an emotional Ping-Pong effect. Sometimes it's bleak and depressing. Sometimes it's overwhelming. And sometimes, it's surreal to the point of silly absurdity — the kind of surreality that allows a legal drama to suddenly cut to an animated musical number about Roy Cohn. The Good Fight occasionally bites off more than it can chew, and it's better at raising questions than it is at supplying answers. The questions are so funny and surprising and dark, though, that I never mind following the show down its winding paths.
7. Dickinson (Apple)
If the future must be a glut of similar-looking TV-flavored products produced by ever-more-unnecessary new streaming services, then at least sometimes it comes with something unexpectedly great. In this case, the launch of Apple TV+ also came with Dickinson, a show so singular and weird that it seems like it just hitchhiked along with the Apple wave, hoping no one was paying much attention. Dickinson's magic is in its fearlessness: It's a show about teen Emily Dickinson that is as horny, nerdy, surrealist, and idiosyncratic as its imagination could dare to be, and its best scenes are the ones it commits to with complete abandon. Its best installment is the Christmas episode, where, in a conversation about Bleak House, Emily's brother Austin says he's "mainlining that shit" and Louisa May Alcott tells everyone she's "all about that hustle." I can't wait for season two.
6. Lodge 49 (AMC)
I did not appreciate Lodge 49 nearly enough during its first season, then came to love with all my heart after many people in my life kept bugging me to check it out. Now, I must accept my small part in its premature cancellation: I did not do enough for this magnificent show about community and alchemy and sadness and swimming pools. It took me a while, but eventually I realized that the lodge in Lodge 49 is like a VFW hall, except the war was capitalism and everyone of us is a veteran. As with all great TV shows gone too soon, I will mourn for its lost future and be grateful for what it gave me while it was on: beach-noir magical realism that felt like hanging out with your friends.
5. Russian Doll (Netflix)
I've rewatched Russian Doll more than almost any other show this year. It's one of those stories that you watch until the end, then think, "Oh, now I see what I was supposed to be looking for all this time," and then jump back to the beginning pick out all the pieces you missed. It rewards that kind of viewing, not just for the clues hidden throughout its six short episodes but also because its direction is so dense and evocative. But Russian Doll's rewatchability, like Russian Doll itself, operates on a few different levels. The deeper level, the one that will keep you coming back, is the show's beautiful thematic ambiguity. It is open to multiple interpretations, many different experiences, a range of conclusions and emotions. Like arriving at your own birthday party over and over again, Russian Doll has been a gift that just kept on giving.
4. Watchmen (HBO)
In the closing months of the year, the top answer to "What's great on TV right now?" has been and will continue to be Watchmen. HBO's not-really-an-adaptation of the legendary comic proves that high-risk ideas can yield incredibly high-reward results. The show is an ideal mix of massive ideas (inheritance, trauma, racism, identity), microlevel attention to detail, absolute seriousness, and a helpfully sly sense of humor. I have the benefit of having seen the next episode already, and let me tell you: It is going to blow your hair back.
3. Unbelievable (Netflix)
So much true-crime television is the entertainment equivalent of a bag of cheap potato chips. Delicious, bingeable, bad for you, briefly remarkable and ultimately unmemorable, and probably exploitative of the people behind the scenes. Unbelievable is the antidote to that. It is the most feminist, thoughtful, radical piece of true-crime television ever made. The trio of leads, played by Toni Collette, Merritt Wever, and Kaitlyn Dever, are among the best characters I saw on TV this year, even though the sections devoted to Dever's character were so overwhelming I had a hard time watching them. When I started Unbelievable, I couldn't focus on anything else until I finished it, but it was not the mindless, compulsive sensation of a junky binge. Seeing it through felt like a way of being respectful to these women, of witnessing and living with their trauma and their work.
2. Succession (HBO)
Succession is almost too of this world. It is perfectly, excruciatingly, precisely what it's like to live in a society run by a cavalcade of wealthy idiots. I watch and I thrill at how funny and smart it is, and in the same breath I groan at how awful and plausible it all is. But the thing I admire most about Succession, aside from its pitch-perfect performances and diamond-clear writing, is its total generosity. It's a strange way to think about a show that feels like it's knocking the air out of you every episode, but time after time, Succession punches you in the gut in the most thorough way imaginable.
No show in 2019 buried itself deep in my brain and refused to let go the way Fleabag did. Because so much of TV is now big — big premises, big run times, big battle scenes, big budgets, big stars, big name recognition — something about the small, polished perfection of Fleabag let it stick in my mind. Recommending it to friends and strangers felt like recommending they go spend a little time with themselves, apart from the rest of the world. It has been a little grain of crushing beauty I've carried with me when watching other shows, writing other reviews, thinking about different performances. Everywhere I look, there it is, in the way I think about romance, self-knowledge, faith, storytelling, foxes, jumpsuits, sisters, and the possibilities of what great TV can do.
Angelica
Jade
Bastién's
Top
10
Shows
of
2019
What an unexpected delight. This DC Universe series follows a ragtag group of not-quite-superheroes whose abilities are more akin to a curse than a boon: There's Cliff Steele (Brendan Fraser), a former NASCAR star whose brain was implanted into a robotic body after a traumatic accident; Crazy Jane (Diane Guerrero), whose distinct personalities each have their own powers; and Larry Trainor (Matt Bomer), a former Air Force captain who spent his life hiding his sexuality and who now has a negative-energy entity sharing his body, just to name a few. The series is boldly meta, and it takes big risks — look no further than its ecstatic introduction of Danny, a sentient, genderqueer, teleporting street — but what makes Doom Patrol ultimately stand out is its sincere exploration of mental-health concerns, trauma, and the ache of loss.
9. Bob's Burgers (Fox)
There is something to be said about chasing joy. For me, Bob's Burgers is the most joyful series currently on air. Watching it is akin to slipping in a warm bath. It's easy to forget about Bob's Burgers on lists such as this one given its consistency, but it shouldn't be taken for granted. In its tenth season, Bob's Burgers continues to do what it does best: portray with heartfelt complexity the nature of familial love, with an added touch of zaniness and immensely catchy songs.
8. The Good Place (NBC)
No show makes my heart swell as consistently as The Good Place. In its fourth and final season, the show lost me briefly as I worried it was spinning its wheels. But in recent episodes like "The Answer," it found that enviable balance again between the graceful lattice work of its complex, ever-evolving plot and a depth of its characterization that expertly pulls at your heartstrings. I remain in awe of how its bright cheeriness has an undertow of wistfulness. What keeps me coming back are the characters, namely the endlessly anxious philosophy professor Chidi (William Jackson Harper) and the Arizona dirtbag turned genuinely good person Eleanor (Kristen Bell). I sincerely have no idea how the show will end — which is an exciting prospect as a viewer — but what stays with me most of all about The Good Place is its frank, glimmering hope for humanity.
7. Primal (Adult Swim)
Created by Genndy Tartakovsky after the bold final season of Samurai Jack, Primal is a study in the elasticity of television itself. Tartakovsky and his collaborators have crafted a story about a caveman and a T. rex who form an unlikely partnership in the wake of trauma and try to survive the terrors off their prehistoric world. All without a shred of dialogue. Primal demonstrates the potency of television as a visual medium. At turns funny and thrilling, the series is never short on stunning moments thanks to the great visual design and lush color palette. It's an arresting, richly detailed series that surprises me with its ingenuity.
6. Unbelievable (Netflix)
Rape is a hard topic to explore in any medium. It's a subject matter I find harrowing to consider, which is why I was initially wary of this miniseries co-created by Susannah Grant, Ayelet Waldman, and Michael Chabon based on a Pulitzer-winning investigation. But Unbelievable surprised me with its grace and detail as it follows Marie (Kaitlyn Dever), a sexual-assault victim who is pressured into recanting her statements, as well as two detectives (Merritt Weaver and Toni Collette) who are investigating rape cases along a twisting path toward the truth. The POV shots of rape sequences are bruising without being gratuitous. The performances by Collette, Weaver, and Dever are fierce in their detail and their beauty. The miniseries does what so much media struggles to: portray rape and its aftermath with the gimlet-eyed grace and humanity that victims deserve.
5. I Am the Night (TNT)
Noir is a powerful genre many filmmakers misunderstand, taking only the lessons of its visual ingenuity and forgetting the ways the genre speaks potently to notions of race and gender. I Am the Night, created by Sam Sheridan and executive-produced by director Patty Jenkins, is an imperfect but beguiling masterwork. The series takes place in 1960s Los Angeles and Nevada, inspired by the real life Fauna Hodel (India Eisley), whose unusual life and connection to her grandfather, George Hodel (Jefferson Mays), provides the backbone of the series. The other side of the show is a completely fictional story about Jay Singletary (Chris Pine), a disgraced journalist and Korean War vet haunted by his traumas amid a searching for the truth about the Black Dahlia killer. What lands I Am the Night on my list is its exploration of blackness in a noir milieu and Pine's triumphant performance, which reigns as a great, sad, complicated illustration of the addictions and traumas that haunt us.
4. Fleabag (Amazon)
What more can be said about the greatness that Phoebe Waller-Bridge has created? There's much to love about the romantic gut punch that is Fleabag's second season. There's the meta relationship Fleabag has with with the audience itself. There's the intense chemistry between Waller-Bridge and Andrew Scott. There's the exploration of loss and regret that is sharp enough to draw blood. Fleabag stands in a realm of its own as a series that is simultaneously hilarious and heart-wrenching for how it explores the longings we all share.
3. Mindhunter (Netflix)
What can I say? I love a taut, true-crime mystery that delights in turning over minute details about what it means to investigate the violence of men. This second season of Mindhunter boasts mesmerizing, astute, and impactful direction from David Fincher and Carl Franklin. I return to the show again and again for its performances, especially Anna Torv as Wendy Carr, a closeted lesbian and psychology professor of sharp constitution, and Holt McCallany as Bill Tench, a man who holds his emotions closely with white-knuckle intensity.
2. Russian Doll (Netflix)
Russian Doll is like the perfect dessert. It's trippy and experimental, yet it has depth and weight to its zaniness as it explores the strange afterlife of Nadia Vulvokov (Natasha Lyonne) and Alan Zaveri (Charlie Barnett), each stuck in a time loop reliving their last day. Russian Doll astounded me for its empathy, but what I love about this show is how it grounds itself in exploring mental illness and the traumas we inherit from our parents. How can we survive a life marked by pain? How can we find joy? the show asks. By moving forward.
1. Watchmen (HBO)
No show this year has inspired me like Damon Lindelof's Watchmen. Taking place 30 years after the events of a comic, it introduces a provocative new character in Angela Abar (Regina King), a masked detective who navigates this strange, dystopian world full of squid storms, clones, and drugs that store memories. With its sixth episode, Watchmen strikingly pushes itself forward by exploring the origins of Angela's grandfather and the traumas she has inherited from him. The show is visually astounding, brimming with ingenious transitions and striking blocking. King's performance is a masterwork of fierce anger and heart-wrenching loss. The show's exploration of blackness and generational trauma is provocative. Every time I rewatch a new episode, I discover something new and I'm dazzled all over again.
*This article appears in the December 23, 2019, issue of New York Magazine. Subscribe Now!