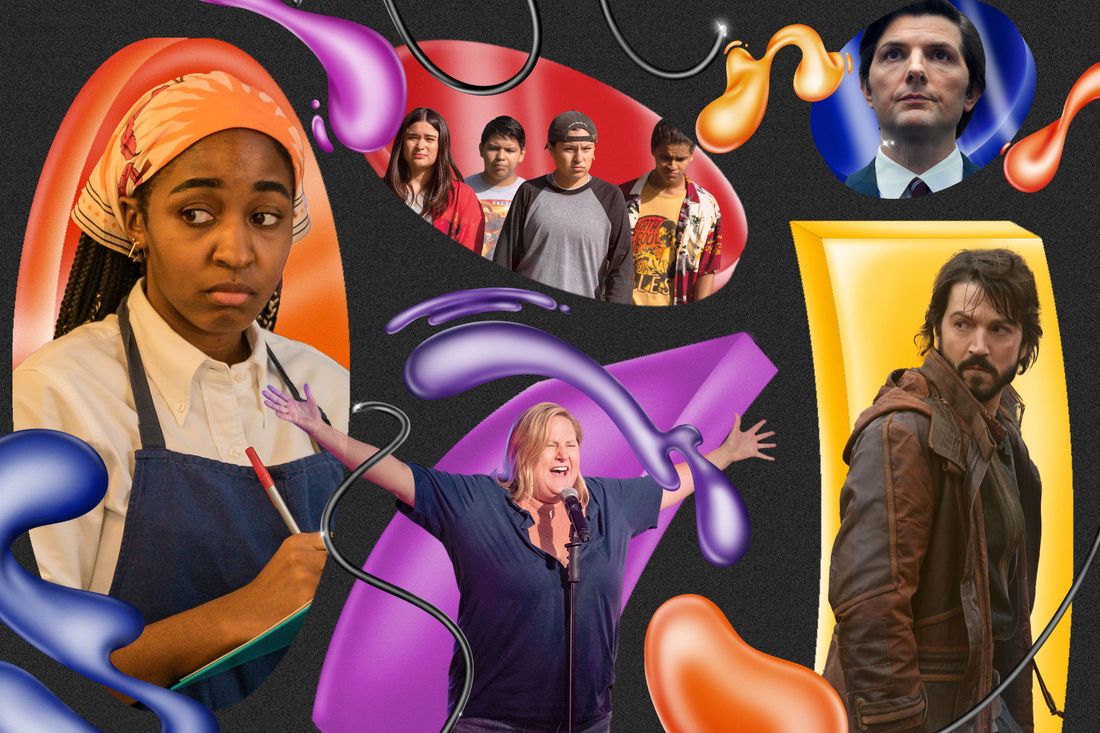 Photo-Illustration: Rowena Lloyd and Susanna Hayward; Photos: Courtesy of the Networks
This was the year Peak TV finally seemed on the verge of toppling. As we close out the final quarter of these 12 tumultuous months, AMC is planning to lay off 20 percent of its workforce, CNN (part of WarnerMedia) is in the midst of layoffs, Netflix is still rebounding from a lousy few months for subscriptions, Disney is reeling from the arrival of new boss Bob (who's the same as old boss Bob), and every platform and network seems to be thinking about ways to streamline. And yet the purveyors of streaming, broadcast, and cable "content" continued to roll out more new scripted series than ever: During this summer's Television Critics Association's press tour, FX chairman John Landgraf said that 2022 would finally mark the peak of Peak TV, given that in the first half of the year alone, 357 original scripted series were ushered into existence.
With a gargantuan mass of television to consider at an incredibly chaotic moment for the medium, TV critics Jen Chaney, Roxana Hadadi, and Kathryn VanArendonk nevertheless went about the traditional task of choosing their ten best shows of the year, and despite everything going on, their lists signal that there's still hope for the good ol' idiot box we all love. Terrific series based on existing IP and true stories, the industry's current bread and butter, made the cut in the form of Disney+'s Andor (some of the most satisfying Star Wars storytelling in years) and Hulu's The Dropout (which miraculously gave us more perspective on the well-known downfall of fraudulent Theranos CEO Elizabeth Holmes). Long-running shows that took incredibly satisfying final bows — Better Call Saul, Better Things — are represented, as are brand-new entries brimming over with confidence in their characters and storytelling approaches (The Bear, Severance, Somebody Somewhere). The second season of Reservation Dogs made it onto all three of our critics' lists, and that feels appropriate, since it ends on a note of uncertainty tinged with optimism. As we end 2022 and look toward 2023, we feel a lot like Bear, Elora, Cheese, and Willie Jack standing on the edge of the Pacific — not sure at all where things are headed in the TV world but happy for the moments of wonder and grace it's still giving us.
Jen Chaney's Top 10 Shows
10.

Abbott Elementary
This was a big year for television inspired by the familiar. The constant lure of existing IP gave us more series based in the Marvel and Star Wars universes, extensions of stories told by J.R.R. Tolkien and George R.R. Martin, and tons of scripted takes on real tales of true crime and high-level con artistry. Some of the shows in these categories were very strong (see Andor and The Dropout), but as networks and platforms become wary of green-lighting original series, I decided to focus my top-ten list on shows that reflect the creators' imaginations and influences.
Abbott Elementary is a series born from the familiar — it's a network workplace sitcom, one of the oldest forms in the medium, framed in the well-worn mockumentary format — that feels completely fresh thanks to the voice of creator Quinta Brunson, a cast of hilarious veterans and newbies (including Emmy winner Sheryl Lee Ralph), and a sturdy sense of the inequities and absurdities that define work in the public-school system. At a time when it's easy to assume that broadcast television doesn't have much to offer anymore, Abbott completely dispels that notion with weekly episodes that are laugh-out-loud funny and a beacon of light to every weary educator trying to do right by their students.
Read Jen Chaney's review of Abbott Elementary, Ashley Ray Harris's interview with creator and star Quinta Brunson, and Ile-Ife Okantah's recaps of season two.
9.

This Is Going to Hurt
There are roughly a million medical shows, but few are as unsparing, authentic, and urgent as this one. Created by British writer Adam Kay (who adapted the series from his own memoir about his years in the medical field), the series follows a fictional doctor of obstetrics and gynecology named Adam, whose emotional well-being teeters literally and figuratively on the edge of a scalpel's blade. Played by the brilliant Ben Whishaw with the intensity of a tightened guitar string about to snap, Adam has plenty of personal issues to tend to — a longtime partner (Rory Fleck Byrne) who feels neglected and a mother (Harriet Walter) who has no idea her son is gay — but he's constantly being yanked away from such matters by whatever emergency has arisen at the hospital. And there's always a legitimate emergency at the hospital. While This Is Going to Hurt certainly contains its share of eye-widening deliveries and patient-doctor drama, what distinguishes it from other shows of its ilk is its honest illumination of the British health-care system's limitations and how it can squeeze the life out of the doctors, nurses, and residents in it. In a less humorous context, This Is Going to Hurt does a version of what Abbott Elementary does: It illustrates how brutally governmental systems can treat those who take care of the rest of us at our most vulnerable.
8.

The Last Movie Stars
This six-episode docuseries about the personal and professional lives of two of the most revered actors of all time, Paul Newman and Joanne Woodward, easily could have been a gushfest in which contemporary stars prattle on about the sense of love and altruism these two greats generated. To be fair, there is some gushing from the high-profile names that director Ethan Hawke assembles to revisit the impact of the Newman-Woodward marriage. But Hawke manages to accomplish something higher, something every documentarian aiming to animate history hopes for: He presents his subjects, honors them, and insists that we look at them with eyes unclouded by nostalgia or deification. Using transcripts from long-lost audio tapes recorded for a canceled memoir by Newman and casting well-known voices as readers of key narratives (George Clooney as Newman, Laura Linney as Woodward), Hawke shows us that even the perfect couple is far from perfect — and all the more relatable and beautiful for exactly that reason.
Read Kathryn VanArendonk's review of The Last Movie Stars and Alice Burton's recaps of the series.
7.

Better Things
The fifth and final season of FX comedyBetter Things landed — like all of its previous, terrific seasons have— by giving us an observant, poignant, but not sappy, portrait of single motherhood that garnered critical acclaim while generating a disproportionately modest amount of buzz. Weirdly, that feels right for this quintessentially Gen-X series from its creator, star, writer, and director, Pamela Adlon, who, in her role as Sam Fox, repeatedly reminds her three children throughout the season that she is one of the oft-neglected Xers who should never be told, "Okay, boomer." In the process, the series does something we rarely see on television: It makes middle age look like the vibrant, provocative, and thoughtful time of life that it truly can be. (Take that, And Just Like That …!) As I wrote in my review of this swan-song run of ten episodes, this is a show that tells us that, even as you age, "you can remain curious, open to change, and energized by others. In other words: You can still be alive."
Read Jen Chaney's review of Better Things' final season and interview with creator and star Pamela Adlon.
6.

The Bear
The Internet may suggest that the popularity of this series derives entirely from the sex appeal of star Jeremy Allen White, who plays Carmy, a gifted chef compelled to take over the Chicago sandwich shop owned by his late brother. To be clear, that is part of what makes The Bear so exciting to watch. But the defining elements of this briskly paced dramedy — hallelujah for episodes that run for 30 minutes or less! — are its economic, visceral storytelling and interest in giving screen time to characters other than Carmy. Ayo Edebiri's Sydney (a young, meticulous, and ambitious chef who struggles to assert her authority in a bustling kitchen) is as central to the story as the guy nicknamed Bear. That story pulsates with the life-or-death energy that makes every kitchen feel like it's on the verge of combustion with each new order that comes through — a dynamic palpably illustrated in the first season's seventh episode, which is among the best that 2022 had to offer.
Read Jen Chaney's review of The Bear, Roxana Hadadi's interview with Jeremy Allen White, and Marah Eakin's recaps of the first season.
5.

Reservation Dogs
Last year's first season of Reservation Dogs, about a group of young friends attempting to define themselves outside the bounds of an Oklahoma tribal community, stood out for its honest, refreshing portrayal of Native American life. The second season of this series co-created by showrunner Sterlin Harjo and Taika Waititi does the same thing but extends its vision further and wider than its initial eight episodes. While we continue to learn about our core band of Rez Dogs — the charming and vulnerable Elora (Devery Jacobs), Bear (D'Pharaoh Woon-A-Tai), Cheese (Lane Factor), and Willie Jack (Paulina Alexis) — the second season devotes episodes to their moms, the loss of significant community elders, and the hypocrisy of online influencers. The touching season finale brings us back to our core group and allows in just enough sunshine to give hope priority over pain.
Read Kali Simmons's recaps of seasons one and two, Roxana Hadadi's essay on the season finale, and Kathryn VanArendonk's interview with showrunner Sterlin Harjo.
4.

Barry
This character study of a hit man desperate to drop his gun and pursue the craft of acting has always mixed genres. Barry is a crime thriller and a comedy, a Hollywood satire and an existential drama about the human capacity for change. It is all these things in season three, too, but works those levers with even greater finesse. The talented cast gives more complicated, darker performances — as just one example, watch how Anthony Carrigan turns Noho Hank's buffoonery into a surprisingly poignant portrait of a gangster in love. Take a look at the inspired direction by star Bill Hader of the episode "710N," which contains possibly the best chase scene of 2022 — in film or television. Consider the hilarity of the journey that Sally (Sarah Goldberg) takes through the TV-development process, which takes such pointed digs at the industry that it may convince you to loathe TV while you're watching TV. Just like Barry Berkman, this medium is flawed, but it can't be all bad. Not while shows like Barry still exist.
Read Jen Chaney's review of Barry's third season, Jesse David Fox's interview with co-creator and star Bill Hader, and Ben Rosenstock's recaps of season three.
3.

Somebody Somewhere
In the 1989 movie Steel Magnolias, Dolly Parton famously says, "Laughter through tears is my favorite emotion." That's the emotion that Somebody Somewhere conjures repeatedly as it follows Sam (a beautifully grounded Bridget Everett), a woman grieving the loss of her sister after moving back to her hometown of Manhattan, Kansas. Sam feels like an oddball in the normie Midwest but soon realizes there's a whole bunch of misfit toys living under the radar who are happy to count her among their members. One of the many qualities that make Somebody Somewhere so special is the way it defies stereotypes. Every character in this series created by Hannah Bos and Paul Thureen seems like a genuine human who exists in the world and a person worthy of our empathy and interest. The friendship formed between Sam and Joel (Jeff Hiller), the high-school choir mate she barely remembers, is one of the sweeter onscreen gifts 2022 had to offer. And yes, every episode will make you laugh and cry — often at the same time.
Read Kathryn VanArendonk's review of Somebody Somewhere and Jackson McHenry's interview with star Bridget Everett.
2.

Better Call Saul
The sixth and final season of Better Call Saul, which unfolded this year in two parts, cemented the show's legacy as one of the all-time great TV shows and the best spinoff ever made. As a follow-up to Breaking Bad, its inclusion on this list arguably violates my rule of avoiding shows based on existing IP. But the incredible trick that Better Call Saul pulls off is it feels like an entirely new narrative while, at the same time, deepening our understanding of Breaking Bad.
The last season, which depicts the dissolution of the relationship between Jimmy McGill (Bob Odenkirk, finding more nuance in con artistry than Anna Delvey could ever dream of) and Kim Wexler (Rhea Seehorn, the MVP of this series), puts its characters (and us!) through the wringer. If you didn't hold your breath for at least part of one of the final episodes, you probably weren't alive while watching them. But what's so masterful about this series — aside from the gorgeous directing, specificity of the writing, and high level of overall craftsmanship — is the way it uses its half-prequel, half-sequel framework to make us think we know whether its characters can change, then subverts our expectations. Since creators Vince Gilligan and Peter Gould have never been fans of easy answers, the final, noirish scenes of the series may still have you wondering if someone — specifically Jimmy/Saul — can shake their worst tendencies. Where the Breaking Bad finale gave viewers the definitive ending they wanted, Better Call Saul offers something more complicated and gray. It was the conclusion you didn't know you needed and were grateful to have witnessed. Oh, also, Carol Burnett was in the last season, and she was incredible. Carol fucking Burnett!
Read Jen Chaney's review of Better Call Saul's series finale and interview with Rhea Seehorn and Scott Tobias's recaps of season six.
1.

Severance
In an early scene in the first episode of Severance, Lumon Industries employee Mark S. (Adam Scott) walks to his desk through hallways that appear to stretch to infinity. Where is he going? Where is this going? Those were questions I never stopped asking throughout the nine episodes of this absorbing mindfuck of a dystopian drama created by newcomer Dan Erickson. Severance is certainly evocative of pop culture that has come before it — it has the color palette of a '70s conspiracy thriller and a deliberately cryptic storytelling style best described as Lindelofian. But its exploration of a company that allows certain employees to be "severed" — to have their thoughts and memories of work and home completely divorced from one another — felt brand new and a chilling, provocative vision of an easily imaginable future as well as commentary on the present.
In a cosmic coincidence, Severance happened to arrive as society was taking more noticeable steps toward a return to non-pandemic life and some bosses were insisting that their employees needed to put in more face time at the office. In other words, the questions that Erickson and his filmmaking collaborators, Ben Stiller and Aoife McArdle, were asking about work-life balance were already floating around in the Zeitgeist. Severance showed up and gave those questions weight as well as an idiosyncratic air of the ridiculous (egg bars and waffle parties). In its absolutely dazzling, extended gasp of a finale, Severance suggests that workers need to take matters into their own hands if they want a full understanding of who they are and what they're sacrificing. In a year when "quiet quitting" allegedly became a thing, Severance implied that perhaps there's something to be gained by staying on the payroll and fighting back.
Read Roxana Hadadi's review of Severance and interview with star Britt Lower, Jen Cheney's season-finale analysis and interview with star Patricia Arquette, and Erin Qualey's recaps of the first season.
Roxana
Hadadi's
Top
10
Shows
10.

The Righteous Gemstones
I fear and adore Danny McBride's brain and its ability to make loathsome and self-involved characters charismatic, relatable, and even loveable. Nearly everyone on The Righteous Gemstones — particularly the coddled adult children played by McBride, Edi Patterson, and Adam DeVine — is an absolute asshole. They want power but don't want to work for it. They've been born into wealth and loathe the poor. They can't remember their father, Eli's (John Goodman) birthday as much as they argue about which of them is his most deserving heir. What keeps The Righteous Gemstones from being unwatchable, though, is how each performance is perfectly calibrated to make McBride's Jesse, Patterson's Judy, and DeVine's Kelvin endearingly pathetic in their desire for love, acceptance, and friendship. McBride eased up on the religious satire of the first season to instead tell a larger story about the overlap between American exceptionalism and delusion and how those dueling factors trickle down to people who are convinced they're special but can't quite explain why. Between Eastbound & Down and Vice Principals, that's McBride's sweet spot, and the second season of The Righteous Gemstones followed that established protocol with funnier, stupider, and more resonant situations and schemes. Could any other series pull off a scene grosser, and more emotional, than the Gemstone children mass-vomiting in a hospital parking lot after visiting their nearly assassinated father? Doubtful.
Read Roxana Hadadi's review of Righteous Gemstones's second season, interview with creator and star Danny McBride, and interview with star Edi Patterson and Scott Tobias's recaps of season two.
9.

Girls5eva
Paula Pell beat the crap out of a Property Brother, and it was only one of many delights in the second season of this series. What else do you need?
Read Roxana Hadadi's review of Girls5Eva's second season and Jackson McHenry's interview with star Renée Elise Goldsberry.
8.

Pachinko
Min Jin Lee's Pachinko felt unadaptable. The 2017 novel about a Korean family shaped by Japan's annexation of the country during World War II is packed with cultural specifics as it illustrates how the family's generations adapted to pervasive discrimination and built new lives. It's divided into thirds and spans 80 years, and its epic nature is dense and sprawling. How to transform it for a visual medium? Showrunner Soo Hugh took the talents she honed over the first season of The Terror, another book adaptation — patience in storytelling, the ability to develop many subplots at the same time, managing a wide ensemble, a strong sense of time and place — and used them to immersive effect in Pachinko. All of the density and sprawl of Lee's novel is maintained, but there's a finesse to how each episode is shaped to track the way choices both monumental and meaningless mutate over time to bring about effects that we never could have anticipated. Consider the opening credits, which are set in a pachinko parlor and depict series cast members — actors of all ages — dancing in their costumes to "Let's Live for Today," by The Grass Roots. They're joyful but melancholy — a reminder that we'll never again be as young as we are today. No other show this year captured that duality of potential and regret as well as Pachinko did.
Read Kathryn VanArendonk's review of Pachinko and Nina Li Coomes's recaps of the series.
7.

The Dropout
This was the year of scammer TV with narrative and nonfiction series like Inventing Anna, WeCrashed, and The Tinder Swindler. None was as well-written, well-acted, and well-directed as Elizabeth Meriwether's miniseries adaptation of the eponymous podcast about the biotech company Theranos and founder Elizabeth Holmes. For a few years, Holmes was everywhere in her black turtleneck, smudged eye makeup, and smear of red lipstick — the focus of glowing profiles about how her blood-testing technology was going to improve health care. But the Theranos facade did eventually collapse, and The Dropout explains how and why without letting Holmes or her business partner and lover, Sunny Balwani, off the hook. Amanda Seyfried and Naveen Andrews are fantastic: Seyfried communicates the wide-eyed optimism, intractable stubbornness, and many delusions of Holmes, while Andrews's Balwani is as menacing or braggadocious as a scene requires. They have believably odd chemistry, and The Dropout makes clear how they built a company (and an interior world) in which doubting each other was an unforgivable betrayal. There is a moment right before Theranos, and their relationship, have totally fallen apart when Holmes is resting her head in Balwani's lap, and as his hand hovers above her hair — before smoothing it as an expression of comfort — he makes a clenched, tight fist. The discontent there is as memorable as Seyfried's affected voice as Holmes. Through both imagination and mimicry, The Dropout conveyed something very real about how megalomania is born and bred.
Read Kathryn VanArendonk's review of The Dropout, Jackson McHenry's interview with series creator Elizabeth Meriwether, and Jessica MacLeish's recaps of the series.
6.

For All Mankind
For All Mankind's season-two finale, "The Grey," was a practically impossible act to follow. And yet when the series returned for a third season, every episode felt like it was chasing the highs of that finale — and often reached them. The aging makeup could have been better. The Danny and Jimmy Stevens subplots could have been cut entirely or at least edited down. But in its best moments, and there were many, For All Mankind was transcendent TV, reaching the dialogue-driven heights of Mad Men and the deep character work of The Americans while precisely choreographing space catastrophes, mining explosions, and an absolutely bonkers sequence in which a pregnant woman is thrown across space from one ship to another. Joel Kinnaman, Sonya Walger, and Wrenn Schmidt did some series-best work, while Krys Marshall and Lev Gorn made us root for another American-Soviet romance. The soundtrack remained full of bangers ("Black Hole Sun" in space? Hell yes!), and series co-creators and writers Matt Wolpert and Ben Nedivi found new ways to remix U.S. history through the lens of this alternate reality. Nearly every character on this show has tedious conservative politics, and yet I love them all! Such is the impact of For All Mankind!
Read Kathryn VanArendonk's review of For All Mankind's third season and Sophie Brookover's recaps of season three.
5.

We Own This City
Given that it took literal years for The Wire, David Simon and George Pelecanos's last series about corruption and violence in Baltimore, to catch on with critics and viewers as arguably the best television drama of the last few decades, maybe it shouldn't have been a surprise that We Own This City came and went without much attention. Nevertheless, it's odd that the miniseries was so slept on (with absolutely zero Emmy nominations) given that it was so deftly crafted as a sort of spiritual sequel to The Wire. Over only six episodes, the adaptation of journalist Justin Fenton's nonfiction book pulled off an explanation of Baltimore's recent history and the tensions between citizens and the police and spryly moved between time periods to show how patterns of misbehavior became so entrenched throughout the city's law-enforcement and criminal-justice systems. Perhaps most ingenious of all was the casting of the series, which brought back various actors from The Wire in roles that were at odds with characters they'd played in that show. Jamie Hector, formerly "my name is my name" drug-dealer Marlo Stanfield, gave an impressively nuanced performance as conflicted homicide detective Sean Suiter. That choice underscored series commentary on how our paths can wander from hero to villain and how easy it is to slip into corruption and cruelty when the system keeps telling you that your position of power is there to protect yourself, not others. That message is bleak, timely, and as American as it gets, and We Own This City delivered it without blinking.
Read Jen Chaney's review of We Own This City and Scott Tobias's recaps of the series.
4.

Severance
It's not that Severance is introducing an entirely new sci-fi idea. Stories in which one's mind is bifurcated between time periods and locations have existed in the genre's literature for decades. (Thank you, as always, to Philip K. Dick.) But what those written descriptions have lacked is the visual flair that series creator Dan Erickson and executive producer and director Ben Stiller brought to a concept that Erickson had worked on for years (the menace of the violent artwork decorating the walls of Lumon Industries, the claustrophobia they built in that all-white Macrodata Refinement office, those never-ending hallways), the thorough characterizations of this flawless cast (in particular its villains), and the mysteries layered into the narrative. What does Lumon actually do? What was up with that congratulatory orgy for the best macrodata refiner? What is the end goal of a company that wants to divide a person's mind in two? Severance draws viewers in with those questions and invites them to form their own theories but doesn't get lost in puzzle-box-making. The series pours genuine attention into Adam Scott's Mark, Britt Lower's Helly, John Turturro's Irving, and Zach Cherry's Dylan and into what in their personal lives could have inspired them to buy into the promise of work-life balance. Severance never forgets that it's the people at Lumon that we care about most, not the company's obfuscations. Never has a company gift with a staff photo on it felt this meaningful.
Read Roxana Hadadi's review of Severance and interview with star Britt Lower, Jen Cheney's season-finale analysis and interview with star Patricia Arquette, and Erin Qualey's recaps of the first season.
3.

Reservation Dogs
Burden of representation? Reservation Dogs co-creator Sterlin Harjo scoffed at the idea in the sophomore season of the series. Every episode of Reservation Dogs felt like the best episode of Reservation Dogs — with some installments furthering our understanding of its titular characters ("Roofing," "Mabel") and other stand-alones highlighting their relatives or fellow community members ("Wide Net," "This Is Where the Plot Thickens"). Whether the narrative was getting broader and more inclusive by spending more time with Okern elders or returning to the intimate friendship between Devery Jacobs's Elora, D'Pharaoh Woon-A-Tai's Bear, Lane Factor's Cheese, and Paulina Alexis's Willie Jack, Reservation Dogs never deviated from the sensitivity and silliness with which it tells its coming-of-age story. The season-two finale, "I Still Believe," is a marvel, an homage to who the Rez Dogs were and a promise to who they are becoming as they remember their friend Daniel (Dalton Cramer) and mourn his loss. "For people like us / In places like this / We need all the hope / We can get," Tim Cappello sings in the song the episode is named after, and Reservation Dogs excelled this year as an embodiment of the growth that kind of hope can fuel.
Read Kali Simmons's recaps of seasons one and two, Roxana Hadadi's essay on the season finale, and Kathryn VanArendonk's interview with showrunner Sterlin Harjo.
2.

The Bear
My father died last year after a sudden, devastating illness, and every day since then, I've wondered what I could have done differently, thought of questions I would have asked him if I knew what was coming, and thrown myself into work as a way to avoid my miasma of misery. So it was unnerving, then incredibly cathartic, to watch that experience mirrored in The Bear, in which Jeremy Allen White's Carmy struggles to understand why his older brother died by suicide and left him a Chicago sandwich restaurant. But putting aside my connection to the material, The Bear immediately felt wholly itself: a portrait of how grief and anger can overwhelm a family dealing with loss, a demonstration of how one's passion for something does not always equal success, an exploration of how the relentless pace of a kitchen can be variably dehumanizing and collaborative. That mélange of feelings was all over White's face as he sparred with Ayo Edebiri's talented Sydney and Ebon Moss-Bachrach's nagging Richie, and one-take penultimate episode "Review" let everyone shine. All the thirst tweets and "Yes, Chef" memes were fun, but what endures about The Bear is its deeply humane core, its pondering about who and what makes us the people we are, and its suggestion that the ones we love are deserving of our compassion — even if we don't understand their choices. Now, whether that tomato-sauce plan really made sense … that's a question for another time.
Read Jen Chaney's review of The Bear, Roxana Hadadi's interview with Jeremy Allen White, and Marah Eakin's recaps of the first season.
1.

Andor
Because "Remember this: Try" are the most beautifully written words of the year. Because this series that redefined what IP content can be is the best thing creator, showrunner, writer, and executive producer Tony Gilroy has done since Michael Clayton. Because it reminds us that our voices, our identities, and our selves are more than cogs in a machine. Plus have you seen Diego Luna's cheekbones?
Read Roxana Hadadi's review of Andor and interview with Tony Gilroy and Jesse Hassenger's recaps of the first season.
Kathryn
VanArendonk's
Top
10
Shows
10.

The Bear
Snappy, taught, and satisfying, The Bear barreled into this year in TV thanks to a combination of beautiful performances, breakneck pacing, "arms in white T-shirts" thirst, and some unmistakable visual influences from producer Hiro Murai. The Bear is ostensibly a behind-the-scenes restaurant show but, at its heart, is mostly a fairy tale of the prodigal son, hitting all kinds of deep, simple storytelling pleasure centers: competence porn, families reunited, hidden treasure, hard work that pays off in the end. Plus before The Bear, I'm not sure how I ever made dinner without barking "Cousin!" at anyone in the vicinity.
Read Jen Chaney's review of The Bear, Roxana Hadadi's interview with Jeremy Allen White, and Marah Eakin's recaps of the first season.
9.

Andor
Andor is a Star Wars show that dares to ask, "What if the most important things about Star Wars are not mystical space wizards and daddy issues? What if, instead, the most resonant, exciting thing about Star Wars in 2022 is its framework for telling stories about grinding institutional evil, what radicalizes people, and how exhausting it can be to decide to fight back?" Most prequels are traps for small imagination. Not Andor, which is full of vibrant, memorable minor characters (four hands up for Doctor Quadpaw), exciting new planets, and gorgeous set design.
Read Roxana Hadadi's review of Andor and interview with Tony Gilroy and Jesse Hassenger's recaps of the first season.
8.

The Last Movie Stars
As docuseries have become bigger business for streamers, they've gotten more boring and indistinguishable from one another. One Netflix true-crime docuseries is much like another. Each well-made political-insider docuseries makes roughly the same observations as every other one does. But there are exceptions, and the best of them this year was The Last Movie Stars, which swaps the blithe impersonality of other docuseries for creator Ethan Hawke's intense fondness for his subjects, Hollywood legends Paul Newman and Joanne Woodward. There is a scrapbook quality to the series, a warmth and awe toward Newman and Woodward, but it's balanced by Hawke's astute critical assessments and his insistence on seeing their imperfections as well as their achievements.
Read Kathryn VanArendonk's review of The Last Movie Stars and Alice Burton's recaps of the series.
7.

This Is Going to Hurt
With a different lead performance or a less capable script, This Is Going to Hurt could fail in about 12 different ways. In its depiction of Britain's underfunded National Health Service (and a private health-care system that's just as broken), the series could've been shrill or didactic. It could've been grim beyond palatability or too buoyant to have enough impact. What exists, instead, is a deft, hilarious, gutting show that's a fantastic showcase for lead actor Ben Whishaw.
6.

Industry
At a glance, Industry might be mistaken for a plodding rich-person drama. It's full of whispers and long pauses, and it's shot against a palette of cloudy skies, tasteful monotone interiors, and perfect corporate grays. But all of that's just cover, because, in fact, Industry is a fizzy whizbang of a show that only got fizzier and more fun in its second season. Leads Myha'la Herrold, Ken Leung, and Marisa Abela have always been good, but the new season's addition of Jay Duplass as a disarmingly gentle financial shark helped ratchet the show up into a new gear. Don't overlook one of the sneakiest sources of the show's perpetual burbling humor either: its sound design, which is both immersive and sly.
Read Kathryn VanArendonk's review of Industry's second season and her essay about its finale, Nina Li Coomes's recaps, Jackson McHenry's interview with creators Konrad Kay and Mickey Down, and Allison P. Davis's profile of star Myha'la Herrold.
5.

Severance
One of this year's no-question breakout hits, Severance offers all kinds of cultural grappling hooks to help assure its relevance. It's genre-bending. It's a puzzle box. It's about work-life balance and how everyone should unionize their workplaces. Hell, make any show where John Turturro has a thing for Christopher Walken, and you're already on your way to something people are going to want to talk about. What makes Severance work beyond its slam-dunk elevator pitch of a premise, though, is its completely beguiling cinematography and set design. It is so, so good at feeling so, so unnerving. The Music Dance Experience alone is an all-timer TV scene.
Read Roxana Hadadi's review of Severance and interview with star Britt Lower, Jen Cheney's season-finale analysis and interview with star Patricia Arquette, and Erin Qualey's recaps of the first season.
4.

Star Trek: Strange New Worlds
Viva la episodic-TV revolution! (Does that track? I don't speak Spanish.) The newest addition to the Star Trek franchise is its best, because it — nearly alone among the vast wasteland of milquetoast TV-franchise extensions — remembered that people like to watch TV. Even Andor is at best uneasy with its own role as a TV series. Not SNW, which is a deliberate throwback to the episodic rhythms of old-school Trek while embracing the long-arc characterization standard from more recent decades of TV. It is beautifully made and anchored by a rock-solid performance from Anson Mount as Captain Pike. It is a freewheeling romp of a show, and every episode is a new adventure. Episodes! What a concept.
3.

Somebody Somewhere
Every year brings new examples in the storied genre of "comedian's life transmuted into a biographically inspired TV comedy" (this year included Mo Amer's Mo, a new season of Ramy, and Amy Schumer's Life & Beth), but Bridget Everett's Somebody Somewhere is the best of them in 2022 — and among the best of them period. The show owes a great deal to Everett, of course, who performs the genre's typical fish-out-of-water role with an unusual combination of tenderness and certainty. But it would not be half the show it is without co-lead Jeff Hiller, who can play self-confidence and sweetness in ways that are somehow both vulnerable and lacerating.
Read Kathryn VanArendonk's review of Somebody Somewhere and Jackson McHenry's interview with star Bridget Everett.
2.

Pachinko
This show has a thoughtfully restructured approach to a beloved novel, exquisite location and costume-design work, epic historical scale, quiet family secrets, joy, mystery, grief, astounding performances (from Youn Yuh-jung, Lee Min-ho, and especially Kim Min-ha), and the hands-down, no-question best all-around opening-credits sequence TV has seen in a while. It's not an easy show. It's worth it.
Read Kathryn VanArendonk's review of Pachinko and Nina Li Coomes's recaps of the series.
1.

Reservation Dogs
One of the hardest, and best, things about TV is what happens in the second season of an already great show. By midway through its first season, Reservation Dogs was already great: assured, balanced, entirely and unmistakably itself. But second seasons can be when shows run out of steam. They get pushed out the door too quickly, or they fall back on trying to recapture the magic that got them this far. But the second season of Reservation Dogs dug deeper. It took time to dwell on each of the show's teen protagonists in turn, explored family dynamics it hadn't touched on before, and refused to supply one easy, simple, season-long arc that might've distracted from the care of each episode. No show was funnier this year. No show was capable of a broader tonal range. It seems impossible to make a show that was already so good even better, but the second season of Reservation Dogs is one of those beautiful, remarkable feats.
Read Kali Simmons's recaps of seasons one and two, Roxana Hadadi's essay on the season finale, and Kathryn VanArendonk's interview with showrunner Sterlin Harjo.
Other
TV
Highlights
From
This
Year
Throughout the year, our critics maintained "Best TV of the Year (So Far)" lists. Many of those selections appear above in our top-ten picks. Below, the rest of the shows that stood out to them this year, presented in order of release date.
As We See It
It's difficult not to think that Amazon Prime Video did As We See It a disservice by releasing the show's eight episodes all at once in late January. Jason Katims's series about three 20-somethings on the autism spectrum trying to navigate the personal and professional challenges of adulthood is thoughtfully nuanced and surprisingly funny, with a flair for unexpected scenarios that poke at whatever preconceived notions viewers might hold about this community. Rick Glassman, Albert Rutecki, and Sue Ann Pien, who all identify as neurodivergent, fully embody their characters' singular arcs, while Sosie Bacon adds both compassion and friction as the roommates' aide. The series's emotional rawness and pervasive honesty build up in that typical Katims way until your only option is to cry and cry, and a slower rollout might have let that atmosphere breathe. Still, whatever your viewing schedule ends up being, As We See It is worth your time. —Roxana Hadadi
Read Roxana Hadadi's review of As We See It.
We Need to Talk About Cosby
As much as the media has covered Bill Cosby's assaults on women, as a culture we haven't fully reconciled our reverence for his body of work with our disdain for his decades-long history of drugging and preying on women. W. Kamau Bell, who directs this four-part Showtime docuseries, forces that conversation by assembling academics, journalists, people who worked alongside Cosby, and survivors of his assaults to discuss his legacy and how it has been diminished, if not fully destroyed, by the crimes he committed. These are difficult conversations, and Bell guides them with intelligence and empathy. He also lays out Cosby's assaults and cultural achievements on a timeline that fully drives home that, as one interview subject puts it, as much as we thought we knew Cosby, we didn't really know him at all. —Jen Chaney
Read Jen Chaney's review of We Need to Talk About Cosby.
Starstruck, season two 
We tend to think of romance in terms of scale, and it's usually about extremes. It is either massive (grand, sweeping romance that is life-changing and earth-shaking and huge) or it's tiny (intimate, gemlike, precious, rare). Starstruck's remarkable quality is that it is simply life-size. Its humor and emotional range is dialed precisely for the experience of love in the real world. It can be devastating and thrilling and all of those impressively scaled things, but the world of Starstruck, and especially its lead creator and actor, Rose Matafeo, is unmistakably built for people. They make plausible mistakes and get into stupid arguments, and their misunderstandings and jealousies are hilarious and sharp, while also being humane and grounded. The only thing wrong with Starstruck's scale is that it is always over too soon. —Kathryn VanArendonk
Read Kathryn VanArendonk's review of Starstruck's second season and Maggie Fremont's recaps of both seasons.
Julia
Julia, the HBO Max series starring the charming Sarah Lancashire, is sort of a biography of Julia Child. Yes, Lancashire plays Child, and the series is about the moment in her life when she swiftly changed from being an unknown cookbook author to a beloved TV personality. At its heart, though, Julia isn't really about Child's life. It's a workplace show set in the 1960s that considers how to create public television that people will actually want to watch. It's also about Child's role in culture, about her role as an early TV personality and her feelings toward fame and feminism, but Julia handles those ideas with a fairly light touch. Its strongest draw is the pleasure of witnessing a remarkable person care about something, and how fun it is to watch her friends take a great deal of joy in helping her pull it off. —K.V.A.
Read Kathryn VanArendonk's review of Julia and Alice Burton's recaps of the series.
Gaslit
There is such an overwhelming amount of TV these days that Gaslit, starring movie stars Julia Roberts, Sean Penn, and Dan Stevens in a '70s period piece about the Nixon administration's scrambling during the Watergate scandal, seems to have gotten lost in the shuffle. That's a shame given that each of those three and the literal dozens of character actors surrounding them are having a grand time sneering, screaming, and scheming through writer Robbie Pickering and director Matt Ross's portrait of American politics gone to rot. There are layers of camp, intentional and unintentional, in these broad performances, particularly that of scene-stealer Shea Whigham as zealot Nixon operative G. Gordon Liddy. (His dyed-black mustache and slicked-back hair are enough to communicate This guy's bad news before he even opens his mouth to deliver gritted-teeth diatribes against anyone who isn't a white Republican man.) But Liddy is just one part of a massive machine that works to defend Nixon, smear the people who dare talk about his misdeeds — including Roberts as Martha Mitchell, a member of his inner circle whom Nixon orders abducted and restrained so she doesn't talk to press about Watergate — and lay the groundwork for the Republican Party as we know it. It's a horror show, and its excessive grime isn't easy to wash off. —R.H.
Read Roxana Hadadi's review of Gaslit and Alice Burton's recaps of the series.
Tokyo Vice
Every element of this show that actually focuses on characters who are Japanese (either ethnically or nationally) is fantastic: tense, methodical, and immersive. The series almost shot itself in the foot by having the incomparable Michael Mann direct the premiere episode, but whatever visual stagnation the season might have slightly fallen into was counterbalanced by this exceptional cast, especially Ken Watanabe, Shô Kasamatsu, and Rinko Kikuchi. HBO Max better not renege on that second-season order. —R.H.
Read Roxana Hadadi's Tokyo Vice review and Andy Anderson's recaps of season one.
Under the Banner of Heaven
No TV show can fully explain the entire history of Mormonism as a religious ideology and political movement; trace the violence, racism, and misogyny within its traditions; and connect that lineage to a true-crime framework with frustrated detectives, evasive suspects, and intracommunal tension. It is too much, and Under the Banner of Heaven doesn't always pull off the balance. But the fact that the FX on Hulu adaptation of Jon Krakauer's nonfiction best seller mostly finds a way to connect all these threads into a grimly thought-provoking portrait of religious fundamentalism in America is laudable, and the ensemble's performances make the dense, time-hopping series compelling. Series creator Dustin Lance Black makes a thoughtful change to Krakauer's source material by inventing two detectives, portrayed by Andrew Garfield and Gil Birmingham, to investigate the murders of young wife and mother Brenda Laffety (Daisy Edgar-Jones) and her infant daughter, and that entry point into this story allows Under the Banner of Heaven to fulfill some cop-show traditions while subverting others. Sometimes the flashbacks to Mormon leaders like Joseph Smith and Brigham Young are jarring, and the perspective shifts between various characters can be choppy, but for the most part, Under the Banner of Heaven nails the pacing and tone required to try to make sense of this horrific crime. Garfield in particular knows what he's doing — watch as his shoulders slump over the course of the season, as his line deliveries get sharper, and as he realizes that the way of life he grew up in might not be as pure as he thought. The dread he feels, we do too. —R.H.
Read Kathryn VanArendonk's review of Under the Banner of Heaven and Andy Andersen's recaps of the series.
The Staircase
Making a scripted version of The Staircase, a story that had already been told over multiple episodes in a docuseries of the same name, should have been a pointless endeavor. To build a limited series around the confounding murder case involving writer Michael Peterson, who was sent to prison for killing his wife, Kathleen, despite his claims of innocence, seemed as if it would only be redundant. That assumption turned out to be wrong. Under the supervision of creator Antonio Campos and starring Colin Firth and Toni Collette in the roles of Michael and Kathleen, this scripted iteration provides a fuller, 360-degree view of the Petersons' blended family and the dynamics within it. It also introduces the documentarians as characters in their own right, including Sophie (Juliette Binoche), an editor who develops a personal attachment to the case that raises questions about the way bias can infiltrate true-crime projects. While Michael, played with an appropriate edge by Firth, is still the central figure, The Staircase does something its predecessor and many docs like it don't: establish Kathleen as not just a victim but a human being who had her own struggles before her life was cut short under such frustratingly mysterious circumstances. —J.C.
Read Jen Chaney's review of The Staircase.
Couples Therapy
The most captivating TV docuseries of the past several years had a small but fully incapacitating hiccup last year. COVID protocols, combined with the particular intimacy of Couples Therapy's beautiful set design, meant that while the show's second season was certainly compelling, it didn't quite live up to the heights of season one. So it's absolutely a delight to see season three come roaring back with the insights and compassion of this show operating at its best. It helps that the couples chosen for this season are particularly fascinating — the group provides a varied set of circumstances and challenges, but all the couples come to therapy after many years of commitment to each other. Without question, though, the show's therapist, Dr. Orna Guralnik, is key to making the show tick. If any TV figure ever had the power to make you feel seen through the screen, it's her. —K.V.A.
Conversations With Friends
Sally Rooney's first novel provides the foundation for the second Hulu adaptation of her work, one that's more challenging than Normal People. Focused on the relationship dynamics between Frances (Alison Oliver); her best friend and ex-girlfriend, Bobbi (Sasha Lane); and a married couple they befriend, Melissa (Jemima Kirke) and Nick (Joe Alwyn), Conversations With Friends is a slow-burn character study that spends much of its time with a pair of introverts — that would be Frances and Nick — who often struggle to communicate their feelings. As co-directed by Lenny Abrahamson, who also worked on Normal People, and Leanne Welham, this limited series has an intimate, naturalistic vibe similar to the previous entry in the Sally Rooney–verse and features an exceptional performance from newcomer Oliver, whose instincts perfectly suit the material and Frances's soft-spokenness. This is a show that asks its audience to slow down, pay attention, and take note of what's not being said as much as what is. —J.C.
Read Jen Chaney's review of Conversations With Friends, Rachel Handler's interview with star Joe Alwyn, and Jessica Goldstein's recaps of the series.
Ms. Marvel
The Marvel cinematic universe has felt like a conveyor belt for a long time: the same types of stories featuring the same kinds of world-ending events with the same cast of (mostly) white Avengers and villains. For those who enjoy routine, that's great; for anyone looking for something different in tone, visuals, and audience, the emotionally layered and aesthetically joyful Ms. Marvel has delivered something new. Creator Bisha K. Ali's Disney+ series, based on the comic books about first Muslim MCU superhero Kamala Khan, tweaked the character's origin story to more explicitly focus on her personal coming-of-age and how her Pakistani heritage, her family, and the legacy of Partition shaped her powers. That more intimate focus was the right call and gave actor Iman Vellani — a megawatt star in the making — the opportunity to shine as the slightly self-deprecating, yearning-for-more Kamala, who chafes against her parents' overprotectiveness but also wants their love, support, and acceptance as she discovers her new abilities. That's not to say the series is perfect — the pacing of the six episodes is a little messy, and neither the Department of Damage Control nor Clandestine villains were that well-developed. But the series establishes itself well as a story for viewers who are the same age as the titular character with a lighter tone and an imaginative visual style that conveys Kamala's inner thoughts, and its treatment of the time period around Partition is thorough and compassionate. Ms. Marvel is so enjoyable when it's doing its own thing that a season-finale reminder of the larger world of the Avengers is almost a disappointment. More time with Vellani's pitch-perfect Kamala would be preferable to all that, and a potential season two will hopefully provide it. —R.H.
Read Roxana Hadadi's review of Ms. Marvel and Siddhant Adlakha's recaps of the series.
P-Valley
The second season of P-Valley had an uphill climb, given that the first season of Katori Hall's Starz series was such an invigorating depiction of life in fictional Chucalissa, Mississippi, and work at the strip club the Pynk. In its celebration of the athleticism and allure of the Pynk's dancers, its acknowledgment of sex work as labor, and its thoroughly inclusive cast, P-Valley was like nothing else on TV. Those first eight episodes were so fully realized and so well acted that in comparison the beginning of season two felt bumpy, with a time jump, a wider narrative sprawl, and the incorporation of COVID-19 as a storytelling device. The series' ambitions briefly fell out of step with its execution — until about midway through the season, when all the various subplots finally began to come together. At their center were concerns about the future: Who would be elected mayor of Chucalissa? Who would gain control of the Pynk? Who would help Keyshawn (Shannon Thornton) escape from her abusive boyfriend? Would Mercedes (Brandee Evans) get the opportunity to raise her daughter on her own? Could Uncle Clifford (Nicco Annan) and Lil Murda (J. Alphonse Nicholson) continue a relationship despite Lil Murda's increasing fame? And when would Hailey (Elarica Johnson) finally realize that her plan to make $10 million off the club was an impossible dream? In the series' customary noir-meets-soap-opera style, P-Valley offered up satisfying answers to those considerations of legacy, and the flawless ensemble cast imbued them with ann appropriate verve and provocativeness. Starz hasn't yet announced a third season, but it would be a mistake not to. —R.H.
Read Roxana Hadadi's review of P-Valley's second season, Ile-Ife Okantah's recaps of it, Martine Thompson's interview with Alphonse Nicholson, and Ile-Ife Okantah's interview with Shannon Thornton.
Flatbush Misdemeanors
This one's bittersweet, because Showtime recently canceled Flatbush Misdemeanors after two seasons. But on the very slim bright side, at least people starting the show now can be confident in the knowledge that its story has a definitive end and concludes in a place that feels right for its characters. The series from co-creators Dan Perlman and Kevin Iso is an extension of a series of shorts they previously made together and follows a teacher named Dan (Perlman) and an aspiring artist named Kevin (Iso) living in Brooklyn's Flatbush neighborhood. As Dan struggles with an opioid addiction and Kevin wonders whether his painting can ever support him financially, they encounter local drug dealer Drew (Hassan Johnson) and his niece Zaina (Kristin Dodson), who also happens to be one of Dan's students. The four of them keep passing in and out of one another's lives, giving this ensemble great opportunity to spark off one another and deliver moment after moment of downbeat humor: Dan and Kevin owe Drew a debt, but Drew takes advantage of that leverage; Zaina is aware of Dan's drug habit and is irritated by his denial; Kevin and Dan grow apart as Kevin and Drew develop a friendship. And what the characters go through at work, at home, and at school reflects the changing nature of Flatbush, which is increasingly being gentrified into a place Dan, Kevin, Drew, and Zaina will no longer be able to afford. Each episode of Flatbush Misdemeanors is packed with pointed social commentary and likable performances — in particular from the immensely talented Dodson — but at its core, this is a series about the effort needed to maintain the relationships that mean the most to us but that we might take for granted. Whether we appreciated Flatbush Misdemeanors enough for the lesson it tried to teach us before its cancellation is a question with a poetically ironic answer. —R.H.
Read Shamira Ibrahim's recaps of season two, Tirhakah Love's interview with Dan Perlman, Hershal Pandya's interviews with Kevin Iso and Hassan Johnson, and Roxana Hadadi's interview with Kristin Dodson.
The January 6 Hearings
The hearings conducted by the House Select Committee to Investigate the January 6th Attack on the United States Capitol were not episodes in a television series. They were real and necessary efforts to lay out the truth of what happened on that Wednesday in 2021 when an insurrection attempt came horrifyingly close to becoming a successful coup. But those hearings were broadcast on national television, in some cases in prime time, and carefully structured to function episodically. In that context, they gave us some of the more memorable and gripping moments in the medium this year, spanning the spectrum from genuine drama — Shaye Moss, a Georgia election worker who was harassed out of her job by Trump and his supporters, was truly heartbreaking — to full-blown comedy. The January 6 attacks were not funny. But Josh Hawley mad-dashing out of the Capitol after throwing up a fist of solidarity toward the insurrectionists? That shit was funny. —J.C.
Would It Kill You To Laugh?
This is a slightly odd fit on the list of best TV, but Early and Berlant's stellar, glorious hour of sketch comedy is going onto our TV list for two reasons. The first is that it is closer to Kids in the Hall than it is to stand-up, and the flexibility and collaborative nature of sketch comedy are key to what makes Would It Kill You to Laugh so fantastic. Berlant and Early are so compelling as comedic partners, able to swap their assumed roles while also retaining everything about what makes an Early performance feel distinct from a Berlant one. (Early operates on another plane of reality right up until he reveals a sudden softness; Berlant appears firm and grounded but then you realize her ground has been the ceiling this whole time.) The other reason to include Would It Kill You to Laugh on the TV list is that it absolutely should be a sketch show. Please, Peacock. Give us at least six episodes! —K.V.A.
Read Kathryn VanArendonk's review of Would It Kill You to Laugh?
What We Do in the Shadows
The challenge of a great sitcom as it moves past its first few seasons is in finding some way to retain all the things people like, but shake up the status quo enough to avoid eternal repetition. In its fourth season, What We Do in the Shadows attacks the challenge from multiple angles. The vampires are opening a new nightclub; their home has fallen into ruin; and the beloved, nightmarish energy vampire Colin Robinson has been reborn as a tap-dancing theater kid (???). Most fascinating, though, is the way the show continues to poke at the relationship between goofy-dumb vampire Nandor and his paradoxically vampire-slaying familiar Guillermo. That experimentation is what makes season four not just a rest-on-its-laurels, continued good time, but one of the best comedies on TV. —K.V.A.
Read Katie Rife's recaps of season four.
The Rehearsal
The question of whether Nathan Fielder is a monster or a genius has swirled around The Rehearsal since its meta-experimental premiere episode, "Orange Juice, No Pulp." Is giving people the opportunity to "rehearse" major moments from their lives a generous move, a way to help exert power over their own choices? Or is making people act out a tense, stressful event over and over again, even if it is ostensibly to prepare for all possible outcomes, its own kind of torture? Fielder has long luxuriated in the fluid space between documentary and fiction (watch any episode of Nathan for You to experience all-body hives brought on by his determined awkwardness), and The Rehearsal takes that approach one step further with the shockingly vast resources at Fielder's fingertips and the freedom HBO has seemingly given him to do whatever he wants. Build an extremely detailed version of a New York City bar so a guy can practice coming clean to a trivia team member about his educational achievements? Sure! Rent a home for a woman to live in and cycle out various actors posing as her son to determine whether she wants children? Okay! One of the purposes here is to probe at the different standards between how we consider "reality" in our regular, day-to-day lives and how we consume "reality TV," but even if you were to disregard that very philosophical reading of The Rehearsal, Fielder and the people he has invited into this world will still manage to surprise you with what they reveal and what they obfuscate. It is awesome in the original sense of the word — off-putting and compelling to dueling degrees — and its voyeurism feels a bit like spying on the lies we tell ourselves. You don't really like The Rehearsal so much as you hand yourself over to it and to the specificity and engrossing oddness of Fielder's vision. —R.H.
Read Kathryn VanArendonk's review of The Rehearsal, Lila Shapiro's profile of Nathan Fielder, and Emma Healey's recaps of the series.
Bluey
Bluey is the best children's television created within the last 20 years. I know this kind of statement tends to make eyebrows raise, and no one ever believes me, but it is also one of the best shows on TV hands down. It is an absolute emotional barn burner for anyone into animation, the challenge of seeing your parents as people, the drama of childhood, or just the pleasure of seeing perfect little pieces of storytelling executed in astounding 7-minute intervals. —K.V.A.
This Fool
This Fool is a triumph in inverse impact. No character on the show is having a good time as they struggle with their place in their family, their relationships, their work, and overall society, but the amusing ways in which they toil — their bickering, name-calling, one-upping, and self-deprecation — make this Hulu comedy one of the most watchable new shows of the summer. Co-creator Chris Estrada plays the skinny-jean-wearing, emo-listening Julio, who works at the nonprofit Hugs Not Thugs, which is devoted to battling recidivism by giving convicts new skills. When Julio's cousin Luis (Frankie Quinones) gets released from prison after years inside, Julio begrudgingly gets him a spot in the Hugs Not Thugs program, and they're off: insulting each other at every opportunity, attacking each other's softness (Luis to Julio) and irresponsibility (Julio to Luis), and forming unlikely alliances against the other members of their multigenerational family including Julio's strict, Ronald Reagan–adoring mother Esperanza (Laura Patalano). The season's ninth episode, in which Fred Armisen guest stars as a smugly feckless billionaire visiting Hugs Not Thugs for a photo op, is a masterpiece in bleak social commentary. The viciousness with which Julio and Luis argue over the opportunity for degradation during that PR spectacle is of a piece with the rest of This Fool: The cousins can't stand but desperately need each other, like oil and vinegar or salt and pepper. Each provides the contrasting complement the other requires, and the series's combatively humorous rhythm is derived as much from their persistent friction as it is from their unlikely moments of affection. —R.H.
Read Kathryn VanArendonk's review of This Fool and watch Vulture's interview with the cast.
Mo
Muslim representation on American TV is such an incredibly incremental process that 2022, with three shows about Muslim families (Ramy, Ms. Marvel, and Mo) felt like a revolutionary turning point. All three had their charms and triumphs, but Mo felt the most consistently audacious, buoyed by Mohammed "Mo" Amer's winning turn as a fictionalized version of himself, his clear affection for his Texan upbringing, and the series's willingness to dig into aspects of Palestinian identity that are almost never seen in the mainstream. Netflix has not renewed the series, which makes its cliffhanger ending especially frustrating. But before that point, the way Mo argues, implicitly and explicitly, against the need for borders and for a broader kind of unity between disenfranchised people of all cultures and ethnicities is invigorating stuff. —R.H.
Read Roxana Hadadi's interview with Mo co-creators Mo Amer and Ramy Youssef.
The Patient
There is no shortage of television shows about serial killers and people who commit murder. But very few of them — be they true crime or scripted — explore that discomfiting territory with the discipline and thoughtfulness of The Patient. This limited series, purposefully paced at roughly 30 minutes an episode, wastes no time introducing its central conflict. Therapist and recent widower Alan Strauss (Steve Carell) gets kidnapped by and imprisoned in the basement of a patient (Domnhall Gleeson) who turns out to be a serial killer and who won't let Alan free until he cures him of those homicidal impulses. The main question hanging over the series is whether or not Alan can escape. But as crafted by co-creators Joel Fields and Joe Weisberg, the pair responsible for the brilliant The Americans, The Patient also explores deeper, existential issues, including religion, forgiveness, and familial loss. Driven by two intense, committed performances from Carell and Gleeson, this is not exactly light viewing. However, it is extremely compelling television that insists on honest answers rather than easy ones. —J.C.
Read Jen Chaney's review of The Patient.
High School
Twin sister indie rockers Tegan and Sara published a memoir in 2019 called High School, an accounting of their adolescent experience that inspired this refreshingly honest FreeVee series. Developed by the duo and Clea DuVall, who writes and directs several of the episodes, the series stars real-life twins and TikTokkers Railey Gilliland and Seazynn Gilliland as Tegan and Sara, respectively, sisters navigating teenhood as they gravitate toward new relationships and grapple with their sexual identities. It's a beautiful series with palpable My So-Called Life vibes and, not surprisingly, a kick-ass soundtrack. Set in the 1990s, this show is so evocative of that decade that sometimes it will break your heart — but in a good way. —J.C.
Guillermo del Toro's Cabinet of Curiosities
The Guillermo del Toro brand of horror is not really scary. As a filmmaker, he's more interested in unsettling, spooking, and mesmerizing you, whether that's by unveiling memories of people lost and childhoods cut short (The Devil's Backbone, Pan's Labyrinth), emphasizing the cruelty of conformity (The Shape of Water, Nightmare Alley), or simply highlighting his obsession with the transformative power of odd, ancient things (Cronos, Mimic). All of those interests and peculiarities are on display in his lavish, consistent, immersive Netflix anthology series, Guillermo del Toro's Cabinet of Curiosities. Del Toro provided the story basis for two episodes and invited in various other genre mainstays for directing and writing duty, like David Prior of The Empty Man, Panos Cosmatos and Aaron Stewart-Ahn of Mandy, and Jennifer Kent of The Babadook. The result is essentially a collection of short films that run the gamut from gory and grotesque ("Graveyard Rats" and "The Viewing") to demonic and supernatural ("Pickman's Model" and "Dreams in the Witch House," both of which are based on H.P. Lovecraft stories), and their production design, cinematography, and visual effects are all top-notch and distinct. No, the installments aren't nightmarishly frightening. But at their best, they make us question the nature of our own reality and how we absorb the everyday mysteries and traumas and triumphs of the human experience. That's the del Toro way, and the team he's assembled for Guillermo del Toro's Cabinet of Curiosities beautifully aligns with that approach. —R.H.
Dead to Me
It would be wrong to say that Liz Feldman's series was never really about murder. Throughout its third and final season, it remained a show about death — and responsibility and guilt and shame and regret — and that truism makes the work by Christina Applegate and Linda Cardellini that much more impressive. Somehow, in this story that was so often about learning to live with self-loathing, they reminded us of the impact of love. Their comedic timing was surgical and their chemistry infectious, and I will miss Applegate's irritated line deliveries and Cardellini's elastic grimaces very much. —R.H.
Read Jen Chaney's exit interview with Dead to Me series creator Liz Feldman, Devon Ivie's finale interview with Linda Cardellini, and Brian Tallerico's season-three recaps.