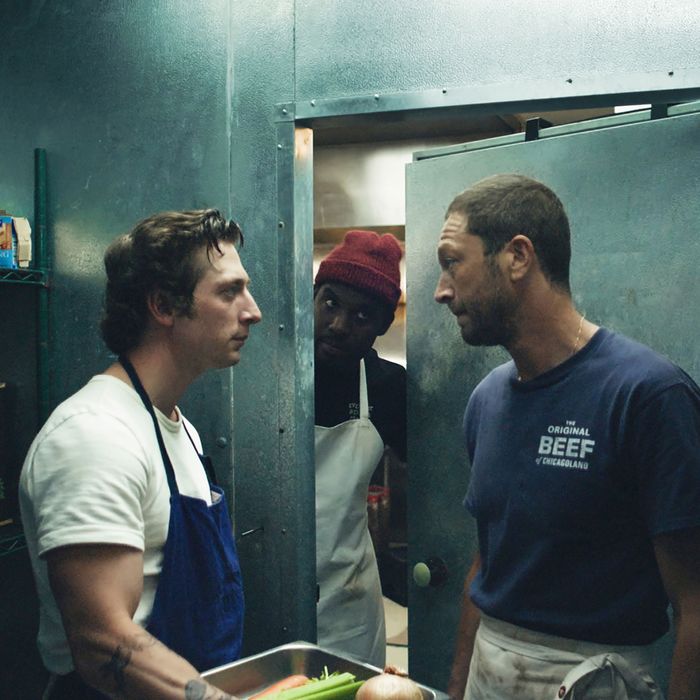 Best TV Shows on Hulu by Genre
Hulu is still primarily known for television as it's the best place to watch current shows the next day. With that in mind, this guide mostly includes Hulu originals, exclusives like their deal with FX, and shows that have completed their run, but Hulu is also the place for current comedies we love like Abbott Elementary. With that FX deal and a robust original programming slate, they're one of the best streamers out there for TV, maybe the best, so expect this list to be rotated and updated regularly. There's a lot to choose from.
This Month's Editor's Pick
The Bear
Years: 2022-present
Length: 1 season, 8 episodes
Creator: Christopher Storer
One of the most critically acclaimed new shows of 2022, The Bear is the story of a sandwich shop owner in the Windy City, and the pressures of life in the food business. Jeremy Allen White is spectacular in the lead role, but he's ably supported by great turns from Ayo Edibiri and Ebon Moss-Bacharach. Expect them all to be Emmy players this year, and for the show to return for a second season expected sometime this Summer. It's both one of the funniest and most stress-inducing shows on TV.
Drama
The Americans
Years: 2013-2018
Length: 6 seasons, 75 episodes
Creator: Joe Weisberg
Arguably the best show of the 2010s, this FX drama stars Keri Russell and Matthew Rhys as Elizabeth and Philip Jennings, a seemingly average couple with two kids living in '80s suburbia. It turns out that they're actually undercover Russian operatives, staying on step agent of the FBI agent (Noah Emmerich) who happens to be their neighbor. Smart, sexy, moving, and thrilling, this show really feels like nothing else on TV then or now. It's such a daring, brilliantly written program, and time will be very kind to it.
Fargo
Years: 2014-present
Length: 4 seasons, 41 episodes
Creator: Noah Hawley
All four seasons (so far — year five is currently in production) of this twisted gem are exclusively available on Hulu, and there's really no logical reason not to watch this show as soon as possible if you have yet to see it. Noah Hawley's critical darling is simply brilliant, starting with a wonderfully entertaining first season anchored by Billy Bob Thornton and Martin Freeman, and then developing into an arguably-better second season. Years 3 & 4 may not live up to the first two but remains must-see TV. Just trust us on this one. Watch them all.
Fleishman is in Trouble
Year: 2022
Length: 1 season, 8 episodes
Creator: Taffy Brodesser-Akner
Arguably the best limited series of 2022, this adaptation of Taffy Brodesser-Akner's book of the same name by the author herself is a brilliant character study, a look at how our decisions impact the people in our lives anchored by spectacular performances and clever dialogue. Jesse Eisenberg plays Toby Fleishman, a divorcee who thinks he can have fun now but is thrust into a mystery when his ex-wife (Claire Danes) disappears. Forced to figure out how he got here to figure out where he is, he reunites with old friends, including one played by the amazing Lizzy Caplan, who narrates the show. She deserves every award possible for maybe the best TV performance of 2022.
Freaks and Geeks
Years: 1999-2000
Length: 1 season, 18 episodes
Creator: Paul Feig
It was considered enough of a failure by NBC that the network only aired 12 episodes before pulling the plug, but few shows have ever reclaimed their legacy as much as this one. Judged on its own terms, it's one of the smartest coming-of-age comedies to ever play on television, but it was also the minor leagues for comedy to come, helping launch the careers of James Franco, Seth Rogen, Jason Segel, John Francis Daley, Martin Starr, Linda Cardellini, and many more. It's so great.
Hannibal
Years: 2013-2015
Length: 3 seasons, 39 episodes
Creator: Bryan Fuller
It's hard to believe this was ever on television. Bryan Fuller did the impossible, using the Thomas Harris books about Hannibal Lecter in a way that escaped the shadow of Sir Anthony Hopkins to become its own twisted thing. Mads Mikkelsen is perfect in the title role, a forensic psychiatrist who basically plays with FBI investigator Will Graham (Hugh Dancy) like a cat would a mouse. More formally daring than anything that's been on network TV since Twin Peaks, the only bad thing about Hannibal is that we didn't get more of it.
Justified
Years: 2010-2015
Length: 6 seasons, 78 episodes
Creator: Graham Yost
FX premiered one of the best Elmore Leonard adaptations of all time in 2010, introducing the world to the beloved Raylan Givens, perfectly embodied by Timothy Olyphant. Givens is an old-fashioned hero in a modern world, dealing with the forces of evil in his corner of Eastern Kentucky, particularly one tough guy played unforgettably by Walton Goggins. Smart, thrilling, and character-driven, one wishes there were more shows like this (and at least Raylan is coming back in the upcoming limited series Justified: City Primeval).
The Shield
Years: 2002-2008
Length: 7 seasons, 88 episodes
Creator: Shawn Ryan
The only place you can watch one of the best cop shows of all time is Hulu. Shawn Ryan's FX drama helped shape the modern TV landscape with its no-holds-barred presentation of cops who operate in a very gray area or morality. Michael Chiklis and Walton Goggins really drive the show, but the entire ensemble works, especially later season-long guest stars like Glenn Close and Forest Whitaker. This is a must-see.
Sons of Anarchy
Years: 2008-2014
Length: 7 seasons, 92 episodes
Creator: Kurt Sutter
Kurt Sutter's macho reimagining of Hamlet in the world of a California motorcycle gang often gets a bad rap as nothing more than macho posturing. This is a much smarter, daring show than you might think at first, and it's anchored by stand-out performances from Ron Perlman and Katey Sagal, who was robbed for at least one Emmy nomination for her work here. This is another long-running drama with some rocky, sub-par seasons, but the entire trip is worth the ride overall.
Comedy
Atlanta
Years: 2016-2022
Length: 4 seasons, 41 episodes
Creator: Donald Glover
The last couple of pandemic-delayed seasons of Atlanta, both of which aired in 2022, were pretty divisive, but there's some undeniable genius in these 20 episodes, especially in the very satisfying end run of the show. Now that we can look at Donald Glover's creation as a whole, it's easier to appreciate its broad swings and willingness to feel like nothing else on TV. It's also going to be fun to watch talents like Glover, Brian Tyree Henry, LaKeith Stanfield, and Zazie Beetz get more and more popular.
Better Things
Years: 2016-2022
Length: 5 seasons, 51 episodes
Creators: Pamela Adlon, Louis C.K.
One of television's smartest comedies is this gem created by and starring Pamela Adlon. The brilliant comedian presents a skewed version of her own life balancing parenthood with working as an actress, and the result is as confessional, hysterical, and daring as any comedy of the modern era. This show still feels a bit under the radar of where it deserves to be. Maybe time will correct that now that it's completed its run. Be on the right side of history now.
Cheers
Years: 1982-1993
Length: 11 seasons, 275 episodes
Creators: Glen Charles, Les Charles, James Burrows
Any list of the best TV comedies of all time that doesn't include Cheers is just wrong. For most of the '80s, this was quite simply the best show on TV, and it's held up incredibly well over the years. It's still laugh-out-loud hysterical, anchored by one of the best ensembles in comedy TV history and razor-sharp writing. There's a reason this show won 28 Emmys.
Community
Years: 2009-2015
Length: 6 seasons, 110 episodes
Creator: Dan Harmon
We got six seasons, now where's our movie!?!? Fans of this NBC hit will get that reference, and those who don't should check out this Dan Harmon-created laugher that struggled due to low ratings but stayed afloat and on the air due to its incredibly loyal fan base. Much smarter than critics ever gave it credit for being, this was a show that matched NBC darlings like 30 Rock and Parks and Recreation at its creative peak. The entire run is definitely rocky, but you should watch it all…so you're ready for the movie!
The Great
Years: 2020-present
Length: 2 seasons, 20 episodes
Creator: Tony McNamara
Most period pieces aren't as wickedly hysterical as this one. From the Oscar-nominated writer of The Favourite, this is a fictional reimagining of the true story of Catherine the Great, played perfectly here by Elle Fanning. When she's thrust into a loveless marriage with Emperor Peter III (Nicholas Hoult), Catherine is forced to play political and even sexual games to get what she wants. This is such a clever, creative show, an examination of power and ego that may take place centuries ago but feels remarkably timely too.
It's Always Sunny in Philadelphia
Years: 2005-present
Length: 15 seasons, 162 episodes
Creator: Rob McElhenney
FX's longest-running show also has one of the network's most devoted fan bases. The dark comedy about a bunch of misanthropic lunatics in a Philadelphia bar has been surprisingly consistent over its remarkable run — season 16 is in production now. If you like shows about selfish people behaving very badly, take a look at this, and marvel at how often this program has pushed the envelope in terms of taste and somehow survived changes in TV comedy to remain as popular as ever.
Only Murders in the Building
Years: 2020-present
Length: 2 seasons, 20 episodes
Creators: Steve Martin, John Hoffman
One of the best original shows of the streaming era stars Steve Martin, Martin Short, and Selena Gomez as unlikely allies in a series of murder mysteries. The first season centered on a suspicious death in their high-class apartment building that had ties back to the youth of Gomez's character. The second season? Another murder and a few more memorable guest stars. The third season is currently in production with Paul Rudd and Meryl Streep for a premiere later this year.
Reservation Dogs
Years: 2021-present
Length: 2 seasons, 18 episodes
Creators: Sterlin Harjo, Taika Waititi
One of the best comedies on television is this phenomenal coming-of-age story about young people on a reservation. Blending cultural resonance with universally relatable themes, the writers find a way to make comedy television that feels completely fresh and new. Alternately very funny and incredibly moving, this is a must-see for all generations.
Schitt's Creek
Years: 2015-2020
Length: 6 seasons, 80 episodes
Creators: Eugene Levy, Daniel Levy
This is one of the biggest word-of-mouth hits of all time. When it started, people barely noticed. By the time it ended? It was the biggest comedy on television, winning multiple Emmys. What happened? Well, people noticed the perfect timing between Eugene Levy, his son Daniel Levy, Catherine O'Hara, and Annie Murphy. However, the show got even better when it highlighted supporting players like Emily Hampshire and Chris Elliott. It's hilarious even if you're watching it for the second or third time.
Scrubs
Years: 2001-2010
Length: 9 seasons, 182 episodes
Creator: Bill Lawrence
Life at Sacred Heart Hospital was part of the comedy scene for pretty much the entirety of the '00s. Bill Lawrence's beloved show lasted nine seasons and survived a jump to another network and a cast reboot. Launching the career of Zach Braff, Scrubs contained some of the decade's best ensemble comedy when it was at its peak. It's shockingly rewatchable and still more often funny than it's not.
Horror, Sci-Fi, and Fantasy
American Horror Story
Years: 2011-present
Length: 11 seasons, 123 episodes
Creators: Ryan Murphy, Brad Falchuk
American Horror Story is so popular and so long-lasting that it's become a powerhouse brand. Sure, it's not as culturally vibrant as it once was, but fans of this anthology series are loyal to the twisted visions of Ryan Murphy and his team of regular collaborators. Personal favorites are the original (rebranded as Murder House), the demented Asylum, and the underrated Cult.
Buffy the Vampire Slayer
Years: 1997-2003
Length: 7 seasons, 144 episodes
Creator: Joss Whedon
This show is still dismissed by some people as a "teen soap opera with fangs," but anyone who doesn't recognize how brilliant and important this show is to the history of television simply hasn't seen it. Buffy helped redefine audience expectations, proving that deep, progressive social commentary could be embedded in a show about monsters and that people of all ages could get it. There is so much genre TV that followed — from Stranger Things to Westworld — that owes a debt to this show.
Devs
Year: 2020
Length: 1 season, 8 episodes
Creator: Alex Garland
A release early in the pandemic might have kept this limited series from the audience it deserved — people were too busy watching the news and trying to stay alive. Go back and revisit this creative vision from the director of Ex Machina and Annihilation. Sonoya Mizuno stars as a software engineer who ends up working for an eccentric genius played by Nick Offerman. Visually and thematically daring, it makes you wish creators took risks like this more often.
Firefly
Year: 2002
Length: 1 season, 14 episodes
Creator: Joss Whedon
The top of almost every list of "shows canceled too soon," it almost feels like the brief run of this FOX sci-fi show helped to cement its legacy. Would we still be talking about it so much if it had been on for years? The fact that FOX couldn't see what they had in Firefly actually had a greater impact — illustrating how creatively naïve the networks were at a time when companies like HBO were stealing talent away. See for yourself how big a mistake they made.
Gravity Falls
Years: 2012-2016
Length: 2 seasons, 40 episodes
Creator: Alex Hirsch
A lot of animated programming aimed at kids goes on for years and years. It feels like there has to be at least 4,000 episodes of SpongeBob Squarepants by now. But this Disney hit is a rare exception, running for only two phenomenal seasons, and leaving viewers wanting more. The result is a tight series run that really doesn't have a single bad episode in it. The story of two kids whose uncle runs one of those tourist-trap mystery shops — only this one contains some actual mysteries — works for all ages.
The Handmaid's Tale
Years: 2017-present
Length: 5 seasons, 56 episodes
Creator: Bruce Miller
Hulu has lagged behind Netflix in the original drama department with one huge exception, the Emmy-winning thriller based on the Margaret Atwood novel about a dystopian future that feels increasingly and disturbingly like life in the 2020s. The show has struggled some since its universally-acclaimed first year, but the performances continue to make it worth everyone's time, especially the leading one from Elisabeth Moss, one of the best actresses of her generation. And it's headed into its final season soon. We're all curious to see where this saga ends.
The Last Man on Earth
Years: 2015-2018
Length: 4 seasons, 67 episodes
Creator: Will Forte
On the one hand, it's amazing that something as delightfully strange as this sci-fi comedy ran for four seasons on network TV. On the other hand, we're still angry that FOX canceled the show after a cliffhanger, denying Tandy (Will Forte) and his friends the narrative closure this show really deserved. Here's what we need — everybody watch this on Hulu. If it's their #1 streaming show, maybe they'll get the gang together for a Deadwood-style closure movie.
Legion
Years: 2017-2019
Length: 3 seasons, 27 episodes
Creator: Noah Hawley
With the possible exception of Twin Peaks: The Return, there's no more WTF show of the modern era of Peak TV than this very loose adaptation of the Marvel series starring Dan Stevens. This is a show that's nearly impossible to describe to people who haven't seen it, which is one of the reasons it's great. It's an absolute mindfuck of a program that just got weirder in each of its three seasons. Check it out and try and explain it all to us.
Lost
Years: 2004-2010
Length: 6 seasons, 121 episodes
Creators: Jeffrey Lieber, J.J. Abrams, Damon Lindelof
Our current era of twisty TV with hits like Yellowjackets wouldn't exist if this ABC masterpiece hadn't built its foundation. The first season was a legitimate phenomenon, telling the story of a group of plane crash survivors who discover they have landed in a very unusual place. Brilliantly written and rivetingly directed, it holds up very well, even in the "lesser" seasons that turned fans on the show.
What We Do in the Shadows
Years: 2019-present 
Length: 4 seasons, 40 episodes
Creator: Jemaine Clement
Jemaine Clement adapted his own 2014 film into a show that's even better than its source material. Sort of "The Real World with vampires," this is a mockumentary look at a group of immortals who just happen to be living in Staten Island. The writing is incredible, but it's the timing of the cast here that slays, including Kayvan Novak, Matt Berry, Natasia Demetriou, Harvey Guillen, and Mark Proksch. They're always funny.
The X-Files
Years: 1993-2002, 2016-2018
Length: 11 seasons, 218 episodes
Creator: Chris Carter
Chris Carter's show truly changed the way people looked at genre TV in the '90s, paving the way for the next two decades of hit sci-fi and supernatural programming. At its peak, it was one of the best shows on TV, and those episodes have held up as well as anything from the era. Pick out your faves and don't be surprised if you get sucked back into the entire saga of Mulder, Scully, Skinner, and the Cigarette Smoking Man.
If you subscribe to a service through our links, Vulture may earn an affiliate commission.