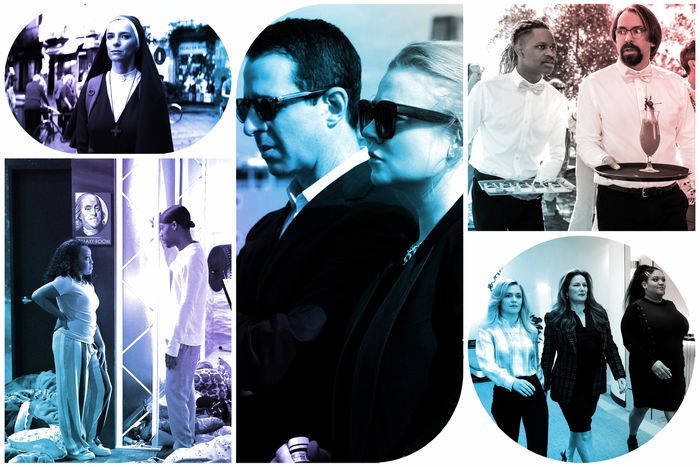 Photo-Illustration: Vulture; Photos: ABC, HBO, NBC, Peacock, Starz
Surveying the TV landscape as 2023 enters season two (that would be spring), what becomes apparent is that no one type of show has a monopoly on quality. Sure, the first few months of the year may be most remembered for the splashy debut of an HBO series straight out of the Prestige TV playbook, but look beyond the Last of Us hype and there's an unexpected medley of series that together reflect all the varied ways TV can satisfy and delight. A stylish, boldly episodic procedural mystery? Check. A previously solid workplace sitcom shifting into a higher gear? Check. A can't-look-away deconstruction of reality-competition strategy? Check. A long-awaited revival that somehow manages to outshine the beloved original? We are, indeed, having fun yet. Only three months in, and this is already shaping up to be one of the more interesting TV years in recent memory.
All titles are listed by U.S. premiere date with the most recent series up top.
Somebody, Somewhere
The second season of Somebody, Somewhere continues to excel at what season one did so well: reflecting the day-to-day moments in its characters' lives in a way that makes us feel as though we are watching those moments unfold in real time. Our main focus is on Sam, played with openhearted honesty by Bridget Everett, as she continues to navigate life after moving back to her Kansas hometown following the death of one of her sisters. Her relationships — with her best friend, Joel (Jeff Hiller), her sister Tricia (Mary Catherine Garrison), and her mother (Jane Drake Brody), among others — provide the framework for the HBO dramedy. But what makes it something truly special is its capacity to make us laugh through tears while witnessing the messy, relatable beauty of being alive. —Jen Chaney
Read Jen Chaney's review of Somebody, Somewhere season two and Maggie Fremont's recaps of the season.
Dead Ringers
Dead Ringers is a maximalist's ultimate televisual fantasy. Brought into being by playwright Alice Birch and its star and producer, Rachel Weisz, the series proves to be a masterclass in the feminine grotesque. The limited series — six supremely refined episodes — revamps David Cronenberg's 1988 body-horror film about twin gynecologists, giving the story new life by making the twins female and the thematic terrain keenly interested in women's interior lives, bodies, and struggles to gain purchase in a world that wants them to remain powerless. I have long been wary of revamps of this nature. But Dead Ringers bests its predecessor, turning it into a hothouse romp, an engaging thriller, a treatise on the medical Establishment's disinterest in and cruelty toward women's bodies without ever shying away from the blood, gristle, and births interwoven into the story. The direction by Sean Durkin, Lauren Wolkstein, Karena Evans, and Karyn Kusama has an elegant brutality. Birch and her collaborators on the scripts craft a propulsive story that is gorgeous and frightening in equal measure. But the crown jewel of the series is undoubtedly Rachel Weisz's powerful performance, which is bolstered by a precise ability to render the internal machinations of these wild, cunning women with care; she never loses sight of their humanity or touching differences, even when their actions spin into arch territory. In this manner, Dead Ringers is an acting masterclass that deserves to be studied for years to come. —Angelica Jade Bastién
Read Rachel Handler's interview with Rachel Weisz and Alice Birch and Jackson McHenry's interview with actress Jennifer Ehle.
Mrs. Davis
In a programming world that can so often feel like everything is a copy, spinoff, adaptation, brand extension, cinematic universe, or uninspired attempt at cashing in on the success of something else, the existence of a show like Mrs Davis looks like a giddy, near-impossible achievement. It is full of big, weird swings. Its tone is all over the place. Its themes are faith, the nature of personhood, and how and where we find meaning in the world. And if that weren't enough, it also has an outstandingly great lead performance from Betty Gilpin. Mrs Davis! Let's all get ourselves some magic Holy Grail shoes! —Kathryn VanArendonk
Read Jen Chaney's review of Mrs. Davis, Kathryn VanArendonk's interview with creators Tara Hernandez and Damon Lindelof, and Sean T. Collins's recaps of the series.
Beef
Any discussion of Beef must include the acknowledgment that David Choe's self-described "rapey behavior" was pretty grotesque; his attempt to scrub the internet of clips from the podcast where he made those comments was, at the very least, ill-advised; and the statement in support of him from series creator Lee Sung Jin and co-stars Ali Wong and Steven Yeun is noticeably sparse. That's all disappointing given that a discussion of accountability is baked into Beef. Can one's unhappiness be reversed by people around them owning up to their wrongs, transgressions, and misdeeds? If it were possible to put Choe's behavior aside, so much about Beef is exemplary: Lee's distinct narrative that toggles between incredibly deep introspection and gonzo humor, Wong's and Yeun's comprehensive performance as dueling characters who can't decide if their loneliness is something they even want to fix, the specifically evocative needle drops amassed by music supervisor Tiffany Anders, the thoughtful look at Asian-American identity and mental health. One of the best things about Beef is how effectively it recalibrates viewers' perceptions of the benefits of feeling good versus the downsides of feeling bad, but whether the series' explicitly agitated equilibrium is enough to offset the shadow cast by Choe's choices isn't an easy question to answer. —Roxana Hadadi
Read Roxana Hadadi's review of Beef, Erin Qualey's essay on the season finale, and Nina Li Coomes's recaps of the series.
Succession
The Emmy Award–winning drama has always been an exceptional series that succeeds in practically every category. The writing, directing, acting: It's always been A+++. But this fourth and final season is operating at an even higher frequency as the notion of who will succeed Logan Roy as chief architect of the Waystar Royco empire becomes a much more urgent issue. Practically every line of dialogue, often so cutting that it instantly draws blood, is a quotable masterpiece. What's more surprising is how genuinely emotional this journey has become, drawing performances out of its principal cast members that are so layered, they merit days' worth of dissection. The only complaint about Succession right now is that pretty soon it will be over. And then what are we going to do? —J.C.
Read Scott Tobias's recaps of Succession's season four, Jackson McHenry's interview with Brian Cox, and Matt Zoller Seitz's interview with Jeremy Strong; sign up for our Succession Club newsletter; and catch up on the rest of Vulture's in-depth Succession coverage.
Perry Mason
In the first season, Perry Mason was a show full of good elements that couldn't figure out how to organize them all into something that really worked. Season two is one of those sharp improvements in television that make you feel a little giddy. All the minor characters fit together now, and Perry Mason's reticence about actually doing his job has been harnessed into a more interesting inner turmoil. And best of all, season two is just more fun. Perry Mason! He slouches around Los Angeles, glaring grimly at the city's blithe sunny exterior, knowing that it conceals a rotten core of corruption and greed! Perry Mason! He wears tweeds and rides around on a little motorbike and carries a floppy leather briefcase full of evidence he may or may not have acquired legally! He hunches over lunch counters eating sandwiches; he yells at judges when he knows they're being unfair; he can't stomach injustice, and he loves a little bit of legal theater! His nemesis is named Ham Burger! What a delight. —K.V.A.
Read Kathryn VanArendonk's review of Perry Mason season two and Andy Andersen's recaps of the season.
Party Down
Resurrecting a comedy 13 years after it was canceled because its first two seasons were so low-rated? Doesn't exactly sound like the kind of gamble most cable networks want to take these days. Thank the gods of passed hors d'oeuvres that Starz did it anyway, because the third season of Party Down is as good, if not better, than the two that came before it. The vibe carried over from the Party Down of yore — in which young, creative L.A. types trudged their way through gigs at a catering company on their way to what they assumed would be more successful careers — has become even more tragic and comical in the present day, when the same people still find themselves stuck in the same hustle. It helps too that everyone in this murderer's row of a comedy cast — Adam Scott, Ken Marino, Jane Lynch, Megan Mullally, Martin Starr, Ryan Hansen — has gotten even more skillful with age. (Ken Marino is a genius, and no, this is not hyperbole!) They're also joined by equally talented actors in Jennifer Garner, Zoë Chao, and Tyrel Jackson Williams, who fit in seamlessly among this motley, bow-tied crew. In real life, it sucks to be dealing with the same dead-end job for more than a decade. On Party Down? It's the best. —J.C.
Read Kathryn VanArendonk's review of Party Down season three, Erin Qualey's recaps of the season, Jen Chaney's profile of Ken Marino, and listen to Jesse David Fox's Good One podcast interview with star Adam Scott and showrunner John Enbom.
Poker Face
All hail the new vanguard of the episodic mystery show, now brushed up and retrofitted for a streaming audience. Rian Johnson's soft-pedal Columboreboot series, starring Natasha Lyonne as an unintentional detective who happens to have an infallible mental lie detector, was a bit of an experiment in the TV calendar this year. Would viewers embrace weekly episodic stories on a platform known for its binge releases and serial dramas? (Would viewers … subscribe to Peacock??) At least for the first question, the answer appears to have been a hopeful yes. Poker Face, which ended with two especially strong format-twisting episodes, has been renewed for a second season. (Jury's still out on whether enough people are signing up for Peacock in order to watch it.) —K.V.A.
Read Kathryn VanArendonk's review of Poker Face, VanArendonk's interview with creator Rian Johnson, Roxana Hadadi's essay about the role of police in the series, and Amanda Whiting's recaps of the season.
American Auto
The workplace sitcom has a long and storied history in American television, but in its second season, American Auto has proven itself to be a notable and satisfying new iteration of the genre. Set in the executive suite of a fictional Michigan car company, the show is at its best when it finds ways to skewer all the absurdities of American corporate culture. Often that plays out in fun, surreal ways: There's a wildly silly episode about trying to select a company spokesman, and another where the CEO (played by an excellent Ana Gasteyer) gets talked into spending too much money on a Theranos-esque start-up. It's a generally light show, but season two has also embraced more pointed story lines. In one of the standout episodes, several higher-level employees form a committee (all men) to write the company's abortion policy — what will the company cover, what happens if employees need to travel to other states, how much leave they'll get. It's American Auto at its best. There are lovable, often well-intentioned characters, doing their best while also being total corporate nightmares. —K.V.A.
Read Devon Ivie's interview with Ana Gasteyer on American Auto.
The Last of Us
Yes, this is the series that led to Pedro Pascal's official coronation as the Internet's Hot Daddy, but that is not why you should watch. (Fine: It can be a why, just not the only why.) This adaptation of the revered video game, whose filmmaking nods heavily to its source material, may initially seem like yet another standard postapocalyptic saga, but series co-creators Neil Druckmann and Craig Mazin take great pains to invest in character as much as the plot points that comprise their journeys. The first season's end product is a series that's grippingly faithful to the original interactive tale but willing to take detours — see the brilliant third episode — that result in inspired television. And yes, co-leads Bella Ramsey and Pascal are wonderful together, so much that you can't wait to reunite with them in the already promised season two. — J.C.
Read Jen Chaney's review of The Last of Us, Roxana Hadadi's essay on the show and American exceptionalism, Hadadi's interview with co-creator Craig Mazin, and Keith Phipps's recaps of the season.
The Makanai: Cooking for the Maiko House
There's a lot of TV about being nice out there — Parks and Recreation, Ted Lasso. But there's something different about The Makanai: Cooking for the Maiko House, a feeling more tangible and meaningful than generalized kindness. Here is a show about generosity in all its forms: feeding someone you love, forgiving someone who wronged you, caring for someone who's ill, accepting someone's differences in perspective and attitude. The warmth generated by The Makanai isn't just from the steaming bowls of Japanese comfort food that we see painstakingly prepared in each episode, but from the friendships and relationships that slowly unfurl over the course of the season. The Makanai follows two teen best friends who travel to Kyoto, Japan, to train to be geiko, or traditional performance artists; once they start their education, their paths diverge professionally, but their bond only grows tighter. Showrunner and director Hirokazu Kore-eda has helped craft a beautiful work that Netflix barely promoted, but that is probably more nourishing than most TV you'll watch this year. —R.H.
Read Roxana Hadadi's review of The Makanai: Cooking for the Maiko House.
The Traitors
Competitive reality TV has been in a monotonous state for a while, what with the glut of dating and dropped-in-wilderness programming following the same old narratives. It's been a long time since a group-focused show took advantage of all the backstabbing and scheming this format can offer, and since a show debuted that had no established formula its competitors could take advantage of. Enter The Traitors, the American adaptation of a Dutch production. The Peacock streaming series mixed together reality-TV stars with regular people, some of whom would be selected by host Alan Cumming as "traitors" and others as the "faithful," and the former had to sabotage the latter and the latter had to figure out the identities of the former. As always, money was on the line, and physical challenges along the way helped sharpen the team dynamics. The broad strokes of The Traitors are familiar to this genre, but what made for compelling TV was how truly awful most of these people were at reading each other, how easily the normies fell into their own (mostly negative) groupthink perceptions of the reality-TV stars around them, how diabolical some of the traitors were in their double crosses, and how the people who flourished in this setup (like the eventual winner, whose name we won't reveal here for people who haven't yet watched) really made it their own. One last bit of praise? The Traitors didn't stick to revealing who went home at the end of the episode, instead moving around its reveals within each hourly installment. That choice kept viewers on their toes, too, making The Traitors immersive, entertaining viewing in nearly every way. —R.H.
Read Brian Moylan's recaps of The Traitors.
Cunk on Earth
Philomena Cunk is the kind of comedic persona who feels as if she emerged from the sea fully formed, much like Botticelli's Venus, a painting that Philomena Cunk herself does not understand. In Cunk on Earth, Diane Morgan plays the supremely airheaded and yet self-certain host of a history series, spending her time wandering across various landscapes in a long coat and badgering historians with some very stupid questions (for instance, why didn't Beethoven add any lyrics to his "Fifth Symphony"?). The show walks a fine line between making fun of the kinds of documentaries high-school history teachers tend to put on when they don't want to teach a class and lovingly matching the rhythms of those series. It all depends on Morgan, who brings an essential warmth to Cunk, making the character supremely ridiculous and yet totally endearing. You've gotta love someone who, in the middle of trying to recap all of human history, just can't stop bringing up "Pump Up the Jam."  —Jackson McHenry
Read Hershal Pandya's piece on the "perfect stupidity" of Cunk on Earth.
Abbott Elementary
The network sitcom isn't entirely dead: American Auto is good, Ghosts is good, Grand Crew is good. But Abbott Elementary continues to operate at a slightly higher level, with a sophomore season that built out the internal lives of its wide ensemble cast, experimented with different character pairings (Ava and Jacob was a particularly inspired twist), and made an unequivocally pro-public-school statement via a season-long subplot about the predatory nature of the charter system. The season took advantage of its 22-episode order by making space for departure episodes that took these characters out of their comfort zones (like to the Philadelphia Teacher Conference, where we saw another layer of Barbara and Melissa's friendship) and continuing established storylines that reminded us of the series' own past (the return of Tariq, who's as haphazard as ever). The result was a richer, fuller show that, episode by episode, makes its world both a little bit bigger and a little bit more like home for its characters and its audience. Everyone had more to do and everyone did it well, and the series overall felt more confident — enough so that Abbott Elementary's decision to delay the inevitable Janine-Gregory romance made absolute sense. The waiting is the hardest part, but there's no doubt we'll get there eventually. After all, partially thanks to all those awards-season wins, season three is already in the works. —R.H.
Read Jen Chaney's essay on Abbot Elementary's season two finale, Ile-Ife Okantah's recaps of the season, Roxana Hadadi's character study of Janelle James as principal Ava Coleman, and Into It host Sam Sanders's interview with star Sheryl Lee Ralph.