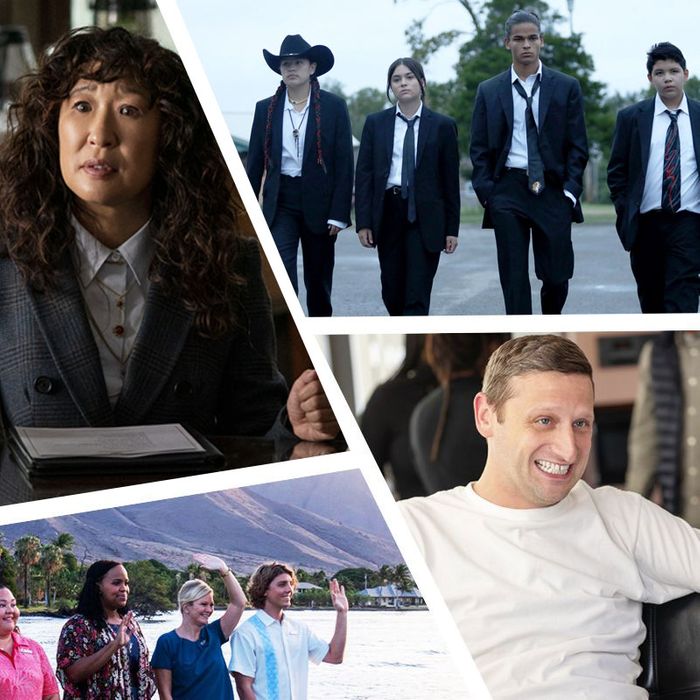 (Clockwise from top left)
The Underground Railroad
;
The Chair
;
Reservation Dogs
;
I Think You Should Leave; The White Lotus
Photo-Illustration: Vulture. Photos: Amazon; Netflix; Hulu; HBO
For the first few months of 2021, TV seemed to be in a late-pandemic funk; the highly discussable productions were few and far between (thank you, WandaVision, for keeping us fed this winter), and while there were some smaller-scale gems scattered about the broadcast and streaming lineups, it was hard to shake the feeling that the mid-2020 production slowdown had pushed a lot of the Good Stuff just over the horizon, into some near but indeterminate future.
Well, the future is now! That's right, TV is back to its old tricks, pumping out new content at a rate no mortal could possibly hope to keep up with. Sure, there's still a whole lot of chaff floating around out there, but the hit rate has been much higher in the second half of the year; and with the vaccines having eliminated most of the barriers to production (well, mostly), we expect the hits to keep coming as television fully transitions to its post-pandemic era. As they do, Vulture's critics will be here, keeping track of 2021's most enticing offerings.
All series are listed chronologically by U.S. premiere date. New additions are marked with a ➽.
Defiantly, gloriously sentimental, All Creatures Great and Small is a kind of TV that's become a little hard to find lately. The series is a beautiful, meticulous adaptation of the James Herriot novels about rural vets in 1930s Yorkshire, and although it's superficially easy to dismiss as a garden-variety PBS period piece, every tiny piece of it is absolutely perfect. The series is anchored by two lovely performances from Nicholas Ralph as Herriot and Samuel West as his mentor Siegfried Farnon, but their work is supported by the show's sweet, sincere depictions of empathetic masculinity, mentorship and friendship, rural life, and dealing with the ever-present awareness of life and death. You will laugh; you will weep buckets; you will feel better for it. — Kathryn VanArendonk
(Available to stream on PBS.)
As the first Marvel Studios television series released under the Disney+ banner, a status acquired thanks to pandemic-related schedule shifts, WandaVision would have been notable no matter what. But under the supervision of showrunner Jac Schaeffer, it became the first must-see series of 2021. A portrait of grief funneled through a mix of sitcom throwbacks, mystery box–style drama, and Marvel mythology, WandaVision simultaneously appealed to Marvel die-hards and viewers who wouldn't know Thanos if he snapped his gigantic fingers right in front of their faces. Grounded by great performances from its two leads — Elizabeth Olsen as the in-denial Wanda Maximoff and Paul Bettany as Vision, the android love of her life — it was just the entertaining obsession we needed to take our minds off the pandemic. Yet with its themes of loss and confinement, WandaVision also spoke directly to the quarantine-weary moment. On top of all that, the series reminded everyone that Kathryn Hahn, who played nosy neighbor Agnes — or is it … Agatha? — is a national treasure and should always be regarded as such. — Jen Chaney
(Available to stream on Disney+.)
This miniseries from Russell T. Davies, inspired by his own life as a gay youth in '80s London, does provide all the heartrending, intense tragedy you expect from a drama about the AIDS crisis. The show follows one young aspiring actor (Ritchie, played by Olly Alexander) and his cohort of friends as they gradually discover and are drawn into the AIDS epidemic. Although the arc of their stories will not be a surprise, It's a Sin finds so much humanity in its characters, and so much shock in the horror of AIDS and the stigma against queer lives, that the story is still fresh and vibrant. The best thing about the series, though, is that it refuses to sacrifice its characters to total tragedy. It's an indictment of the society that makes them suffer, but it's also a celebration of their joy. — KVA
(Available to stream on HBO Max and YouTube TV.)
Showing zero concern with whether its subject matter appeals to competition-style reality show fans, this nonfiction series is a traditional documentary that picks a place and some people and watches them as they live their lives. The Saints of the title are actually two Brooklyn-based football teams, one was a high-school team and the other was elementary-school aged. Series director Rudy Valdez treats their progress through a season as mere pretext to examine the children, their parents, their community of supporters, and the surrounding city, and what emerges is more of a stealth portrait of working-class Black and Latin families in an early-21st-century United States. It's about how hard it is to find stability, peace, and satisfaction in an increasingly gig-driven economy where multiple adults in a household can be working every free moment of their lives and still not be able to support themselves and their children. And yet still, somehow, beauty exists in this world, and Valdez and his filmmakers find it in Terrence Malick–esque shots of sunlight, grass, trees, flowers, animals, and urban landscapes that might seem unremarkable if not viewed through a poet's eye. —Matt Zoller Seitz
(Available to stream on Netflix.)
Anyone expecting two hours of uneventful pleasantries from Oprah Winfrey's conversation with recently defected royals Meghan Markle and Prince Harry was surprised by what this heavily hyped CBS interview turned out to be: a brutally honest, albeit one-sided, peek into what goes on behind closed doors in the royal family. Against the backdrop of an extremely well-manicured Santa Monica backyard, Winfrey politely forced her interview subjects to go into specific detail about the dismissive and at times racist attitudes toward Meghan within the monarchy, and how those attitudes have affected Meghan and the couple's son Archie. Watching it live, it felt like every second of this prime-time special was generating a new, major headline. But what made the interview such extraordinary television was both the level of candor Harry and Meghan brought to it — they were more blunt and outspoken than even Harry's mother, Princess Diana, was in her famous 1995 interview with Martin Bashir — and the skillful way that Winfrey steered the conversation, with respectful but firm follow-up questions that gave Meghan and Harry the space to tell their truth on their own terms. — JC
(Available to stream on CBS and Paramount+.)
There are too few TV shows that are really great for all ages — not just watered-down entertainment for adults or kids' shows with winking grown-up references. The list of shows that fit that bill and are also astonishingly beautiful is even smaller, but Netflix's City of Ghosts is one of them. The animated, fictional docuseries-style show follows a group of kids who travel around Los Angeles searching for ghosts, but the kids don't want to trap or eliminate them. The kids want to interview them, to ask them why they're haunting these places, what the neighborhoods and microcultures of Los Angeles still mean to them, what the ghosts remember about these places that current residents have forgotten. The series is funny and sweet, but City of Ghosts is also so smart, so sensitive, and so loving as a portrait of how places change and how people move through the world. — KVA
(Available to stream on Netflix.)
This Netflix docuseries, which previously focused on junior college football, delivers equally intense drama and high emotional stakes by turning its lens on the world of junior college basketball. Following the young men of the East Los Angeles College basketball team and their spiritual, committed coach John Mosley, Last Chance U takes us inside the locker rooms and lives of guys who just missed their shots as Division I players and must claw their way through all kinds of challenges — including grief over lost loved ones and management of their anger — in the hopes of winning a championship and a path back to a major university. What would have been an absorbing season of television under any circumstance is elevated by the specific, unforeseen circumstances that the 2019–2020 season brings. The eighth and last episode of the season will break your heart in ways that few sports documentaries have before. — JC
(Available to stream on Netflix.)
Top Chef
The best that most long-running TV shows could hope for in 2020 and 2021 was that they could still make television, and that the pressure and restrictions of COVID would not make their shows noticeably worse. For a very few shows, though, being forced to reconsider old habits and rework the baseline status quo resulted in something even better than what has come before, and that has been most noticeable for Top Chef. Some of the changes were big, obvious COVID shifts — restaurant wars became a chef's table-style meal, and the challenges included events like catering for a drive-in and making meals for essential workers. What was most moving, though, and most effective for season 18 of Top Chef, was the sense that the mood has changed. Contestants were still extremely competitive, but they were also collegial, and open to learning. Challenges that might've come off as lip service in an earlier year, like cooking Pan-African cuisine or learning to use Indigenous ingredients, instead felt earnest while also making for beautiful food and great TV. It's true that the finale has come with a sour twist; nothing is ever perfectly sweet in reality television. But we can hope that season 18 will still be the model for how the show moves forward in the future. —KVA
Everything's Gonna Be Okay
The first season of Everything's Gonna Be Okay was lovely but occasionally uneven. At the start, the intimate family comedy about an older brother who becomes the guardian of his two teenage sisters felt a little too beholden to plot. Things needed to happen; there was an impulse to have driving events for its characters to respond to. The second season, which also happens to be one of the most light-handed, careful treatments of COVID on television, fully relaxes into what EGBO does best. It's a mood, a group of interesting, nervy, imperfect, and loving people who are stuck with one another but who also actively choose to be a family together, every day in every interaction. The series is a really fun, thoughtful depiction of a character who has autism, but its real strength is how it leans into the truth that everyone in the family has their own weird brain things, their own peculiarities and strange desires and flaws. It's worth watching for all of those things, but the cherry on top for season two is that Richard Kind and Maria Bamford play a regularly appearing married couple. What more could you possibly ask for in a TV show? —KVA
Many reality shows have included footage of subjects in therapy, but in most contexts, putting therapy on TV is iffy at best. At its worst, it can be exploitative and gross, and even decent ones tend to be performative. But the docuseries Couples Therapy is sensitive and also endlessly respectful of its subjects — both its wonderful therapist and the many people she helps throughout the series. It does that without sacrificing the intimacy or the very real conflict that makes therapy so fascinating to watch, and the result is a very personal TV show that is engrossing but still full of compassion. —KVA
(Available to stream on Showtime)
At first, this HBO limited series looks similar to other melancholy detective stories set in small towns that have been on television before. But Mare of Easttown quickly distinguishes itself as something more than crime drama. It's a character study of Mare — played by Kate Winslet, skillfully ditching her British accent for the exaggerated o's of the Delco, Pennsylvania, dialect — and her struggle to move beyond a painful past that is inescapable in this place where she's always lived. It's a sitcom about a daughter, Mare, and her mother (Jean Smart at her blunt, sarcastic best) living together and driving each other berzerk. It's a showcase for exceptional acting by Winslet, Smart, Evan Peters as Winslet's police partner, Julianne Nicholson as Mare's longtime friend Lori, and numerous other supporting players. In other words, it doesn't take long to realize that Mare of Easttown is one of the more absorbing TV shows of 2021 so far. — JC
(Available to stream on HBO Max)
This docuseries is a completely mesmerizing portrait of one person, Philadelphia District Attorney Larry Krasner, but it's much more striking as an entry point into everything that Krasner and his election represent. As a longtime progressive lawyer, Krasner comes storming into the D.A.'s office promising massive, widespread reform, and then he barrels into the reality of his job. There are so many institutions he wants to dismantle, except he can't do it unless they're replaced with other systems that he doesn't have the power to create. There are so many changes he wants to make, but he's temperamentally ill-suited to the retail politics required to get things done. Philly D.A. is worth it for the specifics of Krasner's story alone, but its sweeping look at institutional power turns this one discrete story into something transcendent. —KVA
(Available to stream on PBS)
The series inspired by the 1985 Margaret Atwood novel has often been a bumpy ride, particularly in its uneven second and third seasons. But in its fourth season, The Handmaid's Tale pushed its narrative forward and gave the audience some payoff — Long-awaited reunions! Escapes! Acts of vengeance! — that they've been aching for since season one. The series also turned its thematic attention toward the ramifications of escaping ongoing abuse and trauma, and the process of realizing that getting away is only the first step in a very complicated healing process. The cast continued to do exemplary work, with star Elisabeth Moss, who also directed three episodes for the first time this season, turning in some of the more intense moments in her run as June Osborne. Given how intense this show has always been, that's saying something. —JC
A throwback to antihero-driven serialized dramas, this adaptation of Paul Theroux's 1981 novel concerns a family living off the grid with their patriarch, inventor and anti-capitalist Allie Fox (Justin Theroux, the novelist's nephew), and ultimately ending up in the Amazonian jungle in a scenario that leads to Conradian darkness. It often plays like Breaking Bad by way of The Americans, getting the Foxes into potentially bad situations, tightening the screws on the audience at each step of their journey, and revealing new aspects of the family's history and psychology. The direction, writing, and acting reactivate what could've been played-out material, connecting Allie's charismatic bluster to recent history, and linking him to a long tradition of fast-talking, handsome white guys who are invested with authority mainly because Western culture teaches people that this is what a natural born leader looks like. The trail of human wreckage this family leaves during its travels should test the inclinations of viewers whose sympathies tend to flow towards whoever the story happens to be about. And that's the point. —MZS
(Available to stream on Apple TV+)
Really great songwriting is not enough to make a musical-comedy show worth watching, but it helps a ton, and the Meredith Scardino comedy Girls5Eva is absolutely chock full of them. The songs are loaded with perfectly dumb lines — "so what are you waiting five?" — while also being uncannily good takeoffs of the mid-aughts girl group sound they're spoofing. I think Girls5Eva would be worth it for that alone, but the show lives up to its goofy songs. Renee Elise Goldsberry plays an incredible, absurd diva. Sara Bareilles is great as the slightly off-kilter straight woman. The writing is sharp, and the whole show is both nimble and dense. If you haven't checked it out yet, truly, what are you waiting five? —KVA
This Hulu series about a budding journalist (Aidy Bryant) trying to live her best life has always been on its heroine's side when she's been knocked down by unsympathetic bosses, lousy boyfriends, and people who look down on her based on her weight. But in Shrill's third and last season, co-creators Bryant, Alexander Rushfield, and Lindy West, whose book of the same name inspired the show, challenge Bryant's Annie to consider her own judgmental-ness when it comes to romance and racism. Bryant is, as always, terrific in a lovely final eight episodes that confirm that the effort to be a better human is perpetually ongoing. — JC
Jean Smart is in this show. Technically, that's all the information you need to know that Hacks is worth watching. But you should also be aware that this ten-episode HBO Max series about a legendary comedian, Deborah Vance (Smart), attempting to work with a "canceled" young TV writer (Hannah Einbinder) is an astutely scripted study of two women from vastly different generations realizing they have more in common than they think. Einbinder's Ava tells Deborah that "traditional joke structure is very male" and as a show about two women, Hacks doesn't do traditional jokes. Co-creators Jen Statsky, Lucia Aniello, and Paul W. Downs mine humor from the idiosyncratic behavior and conflicts between their lead and ancillary characters. Anyway, watch Hacks. Again: Jean Smart is in it. —JC
To call The Underground Railroad a stunning achievement is both an understatement and somewhat flattening. The miniseries — helmed by auteur Barry Jenkins, who reunites with regular collaborators cinematographer James Laxton and composer Nicholas Brittell — is both haunting and transcendent, potently crafted and emotionally profound. The Amazon series is sprawling in its cast of characters, but it ultimately is guided by the journey of Cora (Thuso Mbedu), an enslaved young woman who escapes the grueling plantation in Georgia to travel along a literal underground railroad while continuously trying to escape the grasp of the hellbent slave catcher Ridgeway (Joel Edgerton). The show traverses rich ground, exploring everything from the ways Black people's bodies are manipulated and harmed by the state to the prickly dynamics of maternal ties. Its visual and sonic grammar is gorgeously wrought, with a lucidly fluid camera that charts the faces, bodies, and landscape of its story with aplomb. This is an at-times bleak work that nonetheless shows the ways Black folks find love amongst the wreckage of American life. —Angelica Jade Bastién
It's always worth watching Uzo Aduba, in anything. But HBO's revival of a fourth season of its intense, formally inventive therapy series In Treatment is a remarkable platform for Aduba. She can play her therapist character Brooke's intense fascination (and occasionally, disgust) with other people, but she's also a convincing, mesmerizing presence in the episodes when Brooke struggles with insight into her own behavior. The show is strong all the way through, but it's an especially great platform for Anthony Ramos, who plays one of Brooke's patients. It's hard to walk away with any scene anchored by Uzo Aduba, but Ramos absolutely does. —KVA
The third season of Master of None bears little resemblance to the previous two. Star Aziz Ansari, who co-created the series with Alan Yang, is very much involved behind the camera; he directed all five of the episodes and co-wrote them with co-star Lena Waithe. But Ansari's Dev only appears on-camera a few times. Season three really belongs to Waithe's Denise and her wife, Alicia (played by a superb Naomi Ackie), as they navigate both the banalities and heartbreaks that make a marriage. Deliberately paced and much more intimate, Ansari's detail-oriented directorial approach pays off in the fourth episode, which focuses on Alicia's experience with fertility treatment. It's one of the best episodes that 2021 and Master of None have produced. —JC
Although Peacock has struggled to distinguish itself in the crowded streaming marketplace, it has found a real niche in small, well-wrought comedies. We Are Lady Parts is a lean six-episode sitcom season about an all-female Muslim punk band in London who lack a lead guitarist and find it in Amina (Anjana Vasan), a virtuoso guitarist who also happens to have stage fright so terrible that she can't perform in front of people without puking. Lady Parts is largely Amina's story, following her work to overcome her stage fright but also to integrate the side of her life that asks her to be a perfect Muslim friend and daughter with the side of herself that wants to scream the lyrics to "Bashir With the Good Beard." The show is remarkably efficient, though — it squeezes more than a familiar coming-of-age arc into its very short season, and finds rich stories for each of its characters. Show it to your preteen daughter who loves empowerment stories. Show it to your dad who loves to belt the Proclaimers' "I'm Gonna Be (500 Miles)" in the car. — KVA
In its second season, HBO's Betty continues to be like no other show on television, unless you can find another series about female skateboarders, the exploration of gender and sexual boundaries, female empowerment, and the authentic, visceral pleasures of sliding into the nooks and crannies of New York City. Oh, you can't? Right. Got it. The new episodes take place in the late summer/fall of 2000, so the presence of the pandemic is felt, as is the desire for freedom and connection in an environment dominated by masks, distancing, and lockdowns. The characters in the Betty world remain fascinating, and director Crystal Moselle, who steered the indie film that inspired this series, Skate Kitchen, continues to capture the city in ways that are authentic and recognizable, and that sometimes make it look like a place where gravity no longer exists. — JC
Evil
Maybe no one is having more fun on television this year than Michael Emerson is having in Evil. In its second season, this joke-setup-of-a-TV-series (a priest, a psychologist, and a home contractor walk into an exorcism) has sprawled outward into a weirder, darker, more serialized, more frightening version of itself. The mythology it hinted at in season one has not taken over in season two — there are still remnants of its old early X-Files structure — but Evil is now more free to take all its scariest and most perverse impulses and run wild with them, especially now that it's streaming on Paramount+ instead of its old broadcast home of CBS. It understands the creepiness of children, translated into the 21st century. It understands memes and virality, and the sense that they are mythical, godly, in their power. And mostly it understands how captivating it is to watch Michael Emerson, servant of Satan, eat popcorn while watching a church sermon. —KVA
Since season two of I Think You Should Leave dropped in early July, Twitter has been overrun with references to Dan Flashes, Corncob TV's Coffin Flops, and Calico Cut Pants, all classic bits from the latest six episodes that landed on Netflix. Does that tell us anything about the actual quality of I Think You Should Leave? I mean, technically not. But it definitely says something about I Think You Should Leave's ability to immediately insert itself into the Zeitgeist. The way the show's characters, played by Robinson and others, sandblast through the boundaries of social decorum is both jarring and hilarious on first watch, the specific kind of hilarious that forces you to crack up while saying, "That's so fucking stupid," at the same time. But every moment becomes funnier the more times it's mentioned. As Rachel Syme recently wrote in The New Yorker, the I Think You Should Leave callback jokes that so many fans relish are not mere callback jokes. They're a love language. In that spirit, I will say this: I love I Think You Should Leave because the patterns are so complicated. — JC
This HBO limited series created, written, and directed by Mike White, father of the HBO masterpiece Enlightened, is a dark satire about vacations that go awry and an unforgiving exploration of white privilege and the power dynamics that can both give and take away the upper hand. Gathered at the titular Hawaiian resort, the cast of actors playing the overbearing guests and scrambling staff members is as good as it gets. Those actors include but are not limited to: Connie Britton in perfect, ultra-high-maintenance mode; Steve Zahn as her semi-cuck of a husband; Jake Lacy doing the most as a pampered asshole; Natasha Rothwell in a great U-turn away from her role on Insecure; Murray Bartlett as a resort director who makes Basil Fawlty look serene; and Jennifer Coolidge in a complex, hilarious, and possibly career-best performance as a solo traveler determined to spread her mother's ashes at the beach. What distinguishes White Lotus most of all is the tone that White sets and his actors follow, a tone that is unsparing in its judgment of these prosperous elites and power-hoarders while still making room to reveal their humanity. — JC
If this docuseries about the ascendant tennis star had dropped on Netflix before Osaka opted out of post-match press conferences at this year's French Open, a move she made to preserve her well-being, it still would have been a compelling watch. Director Garrett Bradley sensitively and intimately captures Osaka as she attempts to find her footing during her first two years as a legitimate Grand Slam champion, a status that requires discipline, hard work, and constant demands on her time while also fostering insecurity and doubt. "What am I," Osaka asks at one point, "if I'm not a good tennis player?" As you move through the three episodes, it feels as though you're moving through the world with Osaka. Watching Naomi Osaka fosters empathy with its subject, empathy that has become that much more important as the public conversation about elite athletics and mental health, via Osaka, Simone Biles, and others, continues to unfold. — JC
Sincere, heart-on-your-sleeve, utterly corny musicals are a polarizing genre. Like cilantro, you either enjoy the flavor, or you experience it as an oppressively soapy nightmare. Schmigadoon! does not transcend the genre it comes from — how could it? It's born from, obsessed with, absolutely enchanted by Golden Age musicals, and its takeoffs and pastiches of shows like Sound of Music, Oklahoma, and Carousel are faithful, gently teasing copycats. There's also something magnetic about a show that owns its earnestness. Being trapped in Schmigadoon does seem like a nightmare, but spending six episodes with Schmigadoon! is just lovely.
Sophomore seasons of beloved, breakout new shows offer such a challenge, and the hill was particularly steep for Ted Lasso. Its premise is based on a protagonist whom everyone loves, a beacon of positive masculinity who is warmth and curiosity personified. It would've been understandable for a second season of Ted Lasso to just try to repeat what it did before, to skate along on the surface of Ted's niceness and bring in sources of external conflict to gin up some plot. To its immense credit, season two of Ted Lasso chooses a different path. Where it could've dodged, the show instead digs in deep, unwinding the pathologies of Ted's personality and insisting that no person, not even Ted Lasso, is perfect. It makes an already good show richer and more complex.
➽ An immediate, beautiful standout in 2021, FX's Reservation Dogs, created by Sterlin Harjo and Taika Waititi, is that rare TV show that feels like entirely its own thing, not just for its four lead characters (Indigenous teens from Oklahoma), but for its gorgeous, meditative rhythm and style. It is not a series about momentum. It dawdles and pauses, following its characters as they wander through their small town, stopping with them as they sit in hunting blinds or clinic waiting rooms or restaurant booths. The four friends want to leave — their persistent, pulsing motive is to somehow earn or steal or find enough money to move to California, a place they know little about other than its being very far from Oklahoma. But Reservation Dogs does not put a timer on that goal, and it refuses to hurry them along through weird, false fictional pretenses. They're stuck where they are. But the conversations and relationships that develop out of that slow, deliberative pace are some of the funniest, loveliest scenes on TV.
➽ Netflix's half-hour dramedy The Chair is many things — probably too many things, and some of them are inevitably given short shrift. It's an academic satire set in the English department of a not-quite-Ivy university, and it's full of spiky jabs at the antique faculty members who refuse to retire, the absurd academic red tape, and the university's fast willingness to sacrifice education for financial support. It's also a portrait of the newly appointed department chair, Ji-Yoon Kim (played by Sandra Oh), a single mother floundering and often failing to balance her family life with her professional responsibilities. On top of that, The Chair is a series about [clenches teeth] cancel culture, and the changing cultural landscape for clueless white dudes. It's too many things, especially for a short six-episode season. And yet The Chair is great TV nonetheless, biting off more than it can chew, but attacking it all with curiosity and good faith and stinging humor.
Work In Progress
➽ It's rare to watch a scene in a scripted television series that appears to be evolving the way real life actually does. Better Things regularly delivers scenes like that. Maybe the only other current series that does so as well and as often is Work in Progress, a portrait of Abby, the self-described "fat, queer dyke" played by series co-creator Abby McEnany, who's trying to get through life while struggling with mental health issues. The second season of this Showtime comedy is as observant as its first, and wonderfully adept at evoking the bitter and the sweet of everyday existence. Every time Abby interacts in a group setting, whether at a birthday party unfolding on a Chicago mafia tour or an incredibly misguided workplace gender reveal party, Work in Progress unearths laugh-out-loud moments that truly feel authentic. The show's sensibility is defined by McEnany's humanity and her perfectly dry sarcasm. ("What are they revealing?" Abby's nephew asks when told about the party at Abby's office. "That my boss is an exhausting human being," she responds.) There's truly not another character on television quite like Abby, and it's a blessing to have her there.
➽ Lots of shows have satirized the entertainment industry and the American obsession with celebrity. At the moment, very few do it with the laser-beam specificity of The Other Two, which shifted from Comedy Central to HBO Max for its second season. Series creators Chris Kelly and Sarah Schneider, former head writers for Saturday Night Live, jam-pack this comedy with jokes about everything from Cameo to Hillsong Church, but they also effectively show how exasperatingly difficult it is to make it in this business by contrasting the experiences of aspiring actor Cory Dubek (Drew Tarver) and his talent-manager sister Brooke (Heléne Yorke) with those of their much more successful younger brother, pop star ChaseDreams (Case Walker), and talk-show-host mom Pat (Molly Shannon). The humor can be biting, but it always punches up — unless it's punching Chase or Brooke in the face with yet another humiliating indignity that, inevitably, they will find a way to overcome.
If you subscribe to a service through our links, Vulture may earn an affiliate commission.