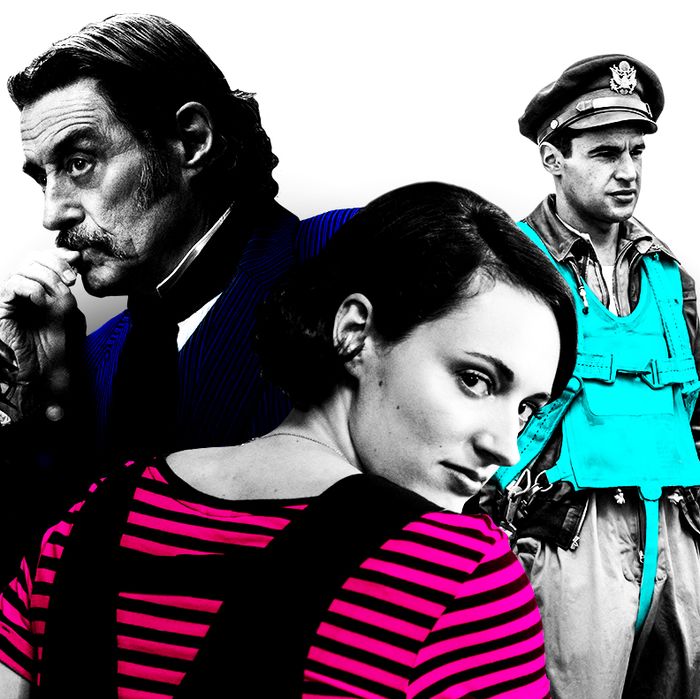 Photo-Illustration: Maya Robinson/Vulture and Photos by Amazon, Hulu, Netflix and HBO
Now that you've seen all the best shows of 2019 (so far), your summer content plans can go one of two ways: Rewatch The Office for the fourth time while questioning its streaming mortality, or give something new a try. Here at Vulture dot-com, we're very much in favor of taking something new out for a spin, and thanks to the season's bounty of fresh debuts and returning favorites, you've got a bunch of options to put in your queue, baby! Below, we've listed every confirmed premiere date for shows in the months ahead, as well as highlighted a few notable titles that should be on your radar. Enjoy!
Catch-22 (May 17, Hulu)
Everyone's favorite 20th-century artful dodger is back, and this time, his buddy George Clooney is right by his side. Adapting Joseph Heller's novel for the streaming age, here's what you need to know if you didn't read it during tenth-grade English class: Catch-22 follows an Army Air Force captain stationed with his crew on a small Italian island during World War II, and he wants nothing more than to go home — but some bizarre bureaucratic rules make that impossible. And if he complains about those bizarre bureaucratic rules or refuses to do his job? Well, that's the catch.
Fleabag (May 17, Amazon)
Forgive us father, for we have sinned looking at Fleabag's hot priest. Three years after Phoebe Waller-Bridge gave us one of the best British comedies of all time, the antics of her "greedy, perverted, selfish, apathetic, cynical, depraved, morally bankrupt" character is back — except, hang on, she might just be mature now? Anyway, let's still follow along as she explores becoming a better person with the help of some hope and faith, and maybe even a holy booty call. Those fourth-wall breaks will also return in all their glory, obviously.
The Hot Zone (May 27, National Geographic)
Time to stock up on all the Purell you've been lusting over! The Hot Zone (a miniseries adapted from Richard Preston's book) finds Julianna Margulies back on television as an Army veterinarian who works with the military to stop a catastrophic Ebola outbreak — less than 15 miles from Washington, D.C. — that was famously brought to the page by Preston's 1994 nonfiction thriller. Sure, we're all alive now, but will the characters survive?
Good Omens (May 31, Amazon)
The end times have never looked so attractive. Part buddy comedy, part time-to-question-religion adventure, Good Omens finds the unlikely BFF duo of an angel (Michael Sheen, swoon) and a demon (David Tennant, also swoon) who find themselves trying to prevent Armageddon from coming to Earth and destroying everything as we know it. Turns out, they quite like their cozy existence on our planet after spending thousands of years here, and aren't thrilled that it might turn into a charred fireball. Amen to that!
Deadwood: The Movie (May 31, HBO)
You got what you wanted, you fucks. After years of praying for HBO and series creator David Milch to give Deadwood closure in any way, shape, or form, Al Swearengen (Ian "Tits and Dragons" McShane) and his merry band of coarse-mouthed pals (Timothy Olyphant, Molly Parker, and others) are back for one last adventure, which finds them together a decade later to celebrate South Dakota's statehood. We're also being teased with the promise of "former rivalries," "new alliances," and the inevitable concept of modernity. Well, fuck!
Big Little Lies (June 9, HBO)
Another season, another round of big lies, small lies, and maybe even some medium lies for the Monterey Five. Picking up where they left off after the impaled-by-stairs murder of a bad man, our pack of moms find themselves in defense mode as the town (and, gasp, the police) start getting suspicious about what exactly went down on that fateful evening. Add in Meryl Streep, whose character swears to seek justice for her son at whatever cost, and we have … quite an extensive web of lies to keep track of, no? Start counting the Emmy nominations now!
Stranger Things (July 4, Netflix)
With everything these poor Hawkins kids have been through on Stranger Things, it's about damn time for them to unwind, enjoy some fun in the sun, and have a relaxing summer devoid of any and all extraterrestrial species. Just kidding. The demogorgons don't care about seasons or your puberty hormones, you fools! They're ready to descend at any moment — in a pool? in a hazy mall? on a fun fair Ferris wheel? — but we have a feeling it's nothing these tweens haven't seen before. Also, there's some potential political corruption going on. Everyone really is growing up.
The full summer 2019 lineup
Monday, May 13
12 a.m. L.A.'s Finest, Spectrum
8 p.m. The Bachelorette, ABC
9 p.m. Paradise Hotel, Fox
Wednesday, May 15
8 p.m. Southern Charm,  Bravo
Friday, May 17
12 a.m. Catch-22, Hulu
12 a.m. Fleabag, Amazon
12 a.m. Rain, Netflix
Monday, May 20
8 p.m. Beat Shazam, Fox
Tuesday, May 21
9 p.m. Blood & Treasure, CBS
Wednesday, May 22
8 p.m. The Amazing Race, CBS
Thursday, May 23
9 p.m. Christina on the Coast, HGTV
10 p.m. Elementary, CBS
10 p.m. Red Nose Day 2019, NBC
Friday, May 24
12 a.m. She's Gotta Have It, Netflix
12 a.m. What/If, Netflix
Sunday, May 26
8 p.m. Vida, Starz
Monday, May 27
8 p.m. The Hot Zone, National Geographic
Tuesday, May 28
8 p.m. America's Got Talent, NBC
9 p.m. Animal Kingdom, TNT
10 p.m. Blood & Treasure, CBS
10 p.m. Chrisley Knows Best, USA
10 p.m. Pure, WGN America
10 p.m. Songland, NBC
Wednesday, May 29
8 p.m. American Ninja Warrior, NBC
8 p.m. Masterchef, Fox
9 p.m. Property Brothers: Forever Home, HGTV
10 p.m. The Inbetween, NBC
Thursday, May 30
9 p.m. Lip Sync Battle, Paramount
Friday, May 31
12 a.m. Good Omens, Amazon
12 a.m. When They See Us, Netflix
9 a.m. Swamp Thing, DC Universe
8 p.m. Deadwood: The Movie, HBO
Sunday, June 2
8 p.m. Luther, BBC America
9 p.m. American Princess, Lifetime
9 p.m. Fear the Walking Dead, AMC
10 p.m. NOS4A2, AMC
10 p.m. Perpetual Grace, LTD, Epix
Tuesday, June 4
10:30 p.m. The Radkes, USA
Wednesday, June 5
12 a.m. Black Mirror, Netflix
12 a.m. The Handmaid's Tale, Hulu
8 p.m. grown-ish, Freeform
Friday, June 7
12 a.m. Armistead Maupin's Tales of the City, Netflix
Sunday, June 9
8 p.m. The 73rd Annual Tony Awards, CBS
9 p.m. Big Little Lies, HBO
9 p.m. Claws, TNT
Monday, June 10
7 p.m. Are You Smarter Than a 5th Grader, Nickelodeon
9 p.m. So You Think You Can Dance, Fox
Wednesday, June 12
9 p.m. Queen Sugar, OWN
10 p.m. Younger, TV Land
Friday, June 14
12 a.m. Absentia, Amazon
Saturday, June 15
8:30 p.m. All That, Nickelodeon
9 p.m. Frankie Drake Mysteries, Ovation
Sunday, June 16
9 p.m. City on the Hill, Showtime
9 p.m. Endeavour, PBS
9 p.m. Instinct, CBS
Monday, June 17
10 p.m. Grand Hotel, ABC
Tuesday, June 18
8 p.m. Good Trouble, Freeform
Wednesday, June 19
10 p.m. Yellowstone, Paramount
Thursday, June 20
12 a.m. Riviera, Sundance Now
8 p.m. Masterchef, Fox
8 p.m. The Wall, NBC
9 p.m. Spin the Wheel, Fox
Saturday, June 22
7 p.m. Frankie Drake Mysteries, PBS
Monday, June 24
10 p.m. The Hills: New Beginnings, MTV
Tuesday, July 2
9 a.m. Young Justice: Outsiders, DC Universe
Thursday, July 4
12 a.m. Stranger Things, Netflix
Sunday, July 7
8 p.m. Evel Live 2, History
Tuesday, July 9
10 p.m. Bring the Funny, NBC
10 p.m. The Disappearance, WGN
Wednesday, July 10
12 a.m. Harlots, Hulu
Thursday, July 11
8 p.m. Siren, Freeform
9 p.m. Hollywood Game Night, NBC
Sunday, July 14
9 p.m. Grantchester, PBS
Friday, July 19
12 a.m. La Casa De Papel, Netflix
Friday, July 26
12 a.m. Orange Is the New Black, Netflix
Monday, July 29
8 p.m. Bachelor in Paradise, ABC
Wednesday, August 9
9 p.m. BH90210, Fox
Friday, August 30
12 a.m. The Dark Crystal: Age of Resistance, Netflix