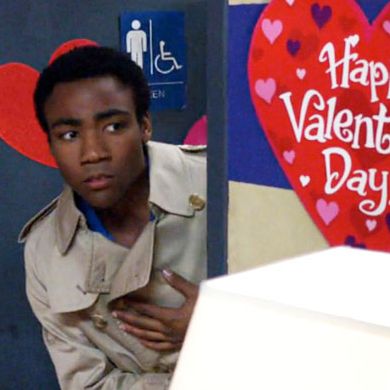 Photo-Illustration: Vulture. Photos: NBC; Fox; The CW
A rule of thumb that holds true for absolutely all holiday-themed TV show episodes: They will amp up the drama to wring the absolute most emotion out of you. It's true of Christmas episodes, but it's also true of Valentine's Day ones. When a show is already dealing with complicated matters of the heart, how better to escalate things than with some enforced romance?
Here are some tropes to expect from Valentine's Day episodes: (1) people realizing that, actually, friends are more important than romantic partners, (2) someone's boyfriend ruining everything by being thoughtless, and (3) the day entering into highly dramatic territory before being rescued from the brink of disaster. That said, we've rounded up some truly memorable Valentine's Day TV episodes to get you all full up of love (or jealousy) this week.
"My Fuzzy Valentine," Bob's Burgers (Season 3)
A lot of shows aren't doing Valentine's (or other holiday, for that matter) episodes like they used to, but Bob's Burgers has stepped up to the plate. With so many to choose from — "Romancing the Beef," "The Gene and Courtney Show," etc. — it was a tough choice, so maybe the first official one, "My Fuzzy Valentine," is the logical place to start. Here, Bob is on the hunt for the best Valentine's Day gift for Linda, after years of struggles. Louise, Tina, and Gene skip school to help — anything for their dad, of course. They find a love thermometer, which, despite being an inside-joke with a former girlfriend before Bob's marriage, Linda loves all the same.
"Out With Dad," Frasier (Season 7)
It just wouldn't be a Frasier holiday episode — or any Frasier episode, really — without a big dose of confusion and deception. Frasier and Martin (with a little convincing) go to the opera, where Frasier flirts with a woman (Marg Helgenberger). However, when her mother, Helen (Louise Wilson), takes a fancy to Martin, everything takes a turn. Martin isn't interested, so instead of letting her down easy, he convinces her that he's gay — leading her to set him up with her gay uncle. Desperate to make things work with Emily, Frasier begs his dad to go along with the charade over a nightcap, leading Martin to pretend he's really dating Niles. High jinks ensue, confusion escalates, and as always, nothing goes all that well for anyone.
"Dance Cards & Greetings Cards," Will and Grace (Season 7)
Valentine's Day is probably one of the more maligned holidays, but maybe your derision of it isn't a great early conversation topic — y'know, so as not to seem too bitter. In this Will and Grace episode, Grace meets Nick, a handsome writer who makes greeting cards. She lets her condescension for the holiday be known, he jabs back at her for her resentment, and that should be the end of it. However, they then bond over their experiences with divorce and plan to see one another again. Meanwhile, Karen goes to an event to meet a guy she met online only to learn she's been catfished by her nemesis, the late, great Leslie Jordan. The most heartwarming moment comes when Jack and Will, learning that gay couples are banned from dancing at the country club, decide to dance in protest, inspiring a lesbian couple to do the same.
"The Heartbreak," The O.C. (Season One)
In "The Heartbreak," Kirsten is pumped about her favorite holiday and storms in shooting Cupid's bow, but the boys are feeling less romantic. While Marissa wants to make things normal again after the incident with Oliver over Christmas, Ryan pulls away — and when ex-love Theresa is in town to cater a big O.C. bash, drama ensues. Elsewhere, Seth and Summer finally have sex in the most perfect portrayal of teen first-times, with very little frills or buildup as you might see on more dramatic shows (or between Ryan and Marissa further down the line). We see them lying in bed — "Well, that was sex," Summer says, as they lie there covered up, looking away from one another. Cue funny father-son chats from Sandy, featuring this amazing, all-time Valentine's Day line: "We Cohens are very sexual beings!"
Michael Bolton's Big, Sexy Valentine's Day Special
Now, it's not technically an episode; Michael Bolton's Big, Sexy Valentine's Day Special is an Akiva Schaffer and Scott Aukerman–written stand-alone TV special featuring Andy Samberg and Jorma Taccone. In it, Michael Bolton runs a telethon to make loads of people have sex on Valentine's Day so that they'll have children in time for Christmas, because Santa's elves have made too many toys. It's silly, obviously, but with music and dancing and appearances from everyone from Sarah Silverman to Eric André to Fred Armisen, it's got everything you need to forget about your own Valentine's Day woes and just have a big, sexy laugh. Plus, it's even more evidence of Michael Bolton's singular comedic talent — who else could make that many people laugh while also making babies?
"Galentine's Day" Parks and Recreation (Seasons Two and 6)
The best holiday episodes end up creating a cultural phenomenon — see The O.C.'s Chrismukkah, or Seinfeld's Festivus. One relatively lesser-known holiday is Parks and Recreation's Galentine's Day, born from not one but two episodes from the series of the same name. Both feature Leslie throwing her annual "Galentine's Day" brunch for her female friends and mother, where they big each other up, chat, and complain about men. In the first, they attempt to set up Leslie's mom but it goes wrong, and in the second, Leslie attempts to find a new best friend before visiting Ann in the hospital after the birth of her son. While all the Parks and Rec Valentine's Day episodes do feature a little romance, they are first and foremost about the importance of friendships and of realizing that you don't need a partner to be happy — a reminder that some of us need to prompt us to call our friends every now and again.
"Bewitched, Bothered, and Bewildered," Buffy the Vampire Slayer (Season Two)
In classic Buffy style, our slayer spends most of this episode dealing with Angelus, who becomes particularly vicious around the holiday of love. But the real focus of this episode is Xander, who, frustrated by Cordelia's rejections, attempts to place a love spell on her but ends up cursing the whole school to obsess over him. In 1998 it was funny, but today it serves as a reminder of Xander's toxic masculinity and entitlement, and a strong lesson in consent. The silver lining: Seeing Giles telling Xander off for being "foolish" and trying to trick women into loving him is pretty cathartic.
"Crazy, Cupid, Love," Gossip Girl (Season 5)
Happy Valentine's Day, Upper East Siders, and get ready for some drama … because, well, it's literally any Gossip Girl episode. Blair attempts to play Cupid for Serena and Dan, Georgina tries to start drama by crashing a party, and there's more trouble elsewhere. But the real focus is Dan and Blair having a big kiss despite Blair being married to the perfectly okay Louis, which is all very tense and stressful — and oh God can these people not just get on for, like, one holiday?? Still, it's worth a watch to remind yourself why it could be worse — you could be a millionaire and still have the same problems you already have anyway.
"You Also Have a Pizza," Orange Is the New Black (Season Two)
Orange Is the New Black fans everywhere are still mourning the loss of Poussey Washington, so maybe don't have a rewatch of the Valentine's Day episode "You Also Have a Pizza" if you're feeling particularly sensitive. But there's a lot to enjoy here. Because the inmates can't go anywhere, the best parts of this episode are all very much dialogue-based as they bake cookies, have their own romantic issues with one another, and share their own definitions of love. Poussey delivers a short speech in which she calls love "kicking it with somebody, talking, making mad stupid jokes" and "not even wanting to go to sleep, because you might be without 'em for a minute. And you don't want that," leaving the audience (especially in hindsight) in tears.
"Valentine's Day," New Girl (Season One)
These episodes all explore different aspects of romance and sex, and in this early New Girl episode, Schmidt, Cece, and Jess go looking for someone for Jess to bone because she has the "dirty twirls." Schmidt tries to convince her that she should have a one-night stand with someone who cares about her, so she goes across the hall to do it with him … only to find that he's already at it with Cece. "Valentine's Day" is a fun episode that shows how romance and sex have us behaving out of character, with our usually very uptight Jess attempting to do it with her friend and housemate in an effort to exorcise herself of the "dirty twirls." Elsewhere, Nick and Winston have a little more luck — for once.
"The Gang Tends Bar," It's Always Sunny in Philadelphia (Season 12)
If you ever feel lonely, remember that nobody has ever felt less love than the gang of It's Always Sunny in Philadelphia. In later seasons, they've strayed into more concept territory with episodes like "The Gang Turns Black" that often fall a little flat. In "The Gang Tends Bar," they take it back to basics, actually working in the bar on Valentine's Day — well, until they decide to try to open a crate in the alleyway instead. The gang is suspicious as to why Dennis is so obsessed with actually working, and Dee is hurt when she sends Charlie a Valentine but he writes one for Frank and the tapeworm he's given himself instead. They fight, of course, and eventually open the crate — which contains a rocket-propelled grenade, and they are united by violence. For Sunny in Philly, that's real romance.
"Marta Complex," Arrested Development (Season One)
All great Arrested Development episodes lean heavily on misunderstandings or on things not having their desired outcome, and this one is no exception. In "Marta Complex," Michael gives an impassioned speech about love at Lucille's Valentine's Day party that causes Marta, Gob's girlfriend, to realize he is the brother she actually wants to marry. Michael realizes Marta loves him, but the speech has other unintended consequences — like Lindsay realizing that she needs to finally divorce Tobias. Lucille, scared of being alone, visits George in prison, but ultimately learns to love her own company. While it's rare to be heart-warmed by an Arrested Development episode, Lucille's attempts to love herself are a valuable message for us all on a potentially lonely holiday. If you're alone, go forth and buy wine. You'll feel better.
"Communication Studies," Community (Season One)
When Britta drunk-dials Jeff before the Greendale Valentine's Day dance, Jeff makes fun of her for the Booty Call Implication (BCI) — so the gang decides there's nothing to do but to force Jeff to embarrass himself right back. Meanwhile, Troy and Pierce, who were not given V-Day gifts, send some to themselves, ensuing further humiliation. And when Chang makes fun of them, Annie and Shirley attempt to prank Chang in revenge; Troy and Pierce are touched by the gesture. The whole episode is a cycle of humiliations with friends attempting to make one another feel better, which, aside from how horribly it goes, is pretty sweet.
"The One With the Birthing Video," Friends (Season 8)
The best Friends episodes center on good old-fashioned camaraderie and comedy. In this episode, intragroup drama is everywhere, with Joey loving Rachel, telling Ross, and making a dog depressed, and with Ross trying to tell Mona that he lives with Rachel but getting caught in a web lies. None of that is as fun, though, as Chandler, thinking that it's porn, accidentally watching a birthing video that Ross has left at his house. Monica watches it, too, ruining their Valentine's Day and scarring them both. Rachel tries to watch the birthing video again, but it turns out that she's got the porn movie that Monica did get for Chandler. It's a lot of fun, and another reminder that your friends are the only constant.
"Up All Night," 30 Rock (Season One)
In this early but memorable 30 Rock gem, Jenna has issues with "Vagina Day" (not to mention Frank constantly saying he would "kill" Jenna in games of "Marry, Boff, Kill"), and Jack and Bianca attempt to finalize their divorce. Jack picks up a sex worker (an exceptional Rachel Dratch) in an attempt to get over his wife and, along the way, ruins Tracy's Valentine's Day. But the next day, he manages to finalize his divorce papers, and despite sexual tension escalating, Bianca finally leaves. Liz, naturally, has her own misunderstanding when she receives a gift from a secret admirer — that turned out to be from a "law stylist" and intended for his wife, Liz Lemler. (This will lead to a top-notch recurring arc with that same lawyer, played by Jason Sudeikis.) "Up All Night" is a busy, fun V-Day episode that showcases Liz Lemon at her best — as always, helping everyone else out and failing to take care of her own life. Happy Valentine's Day?