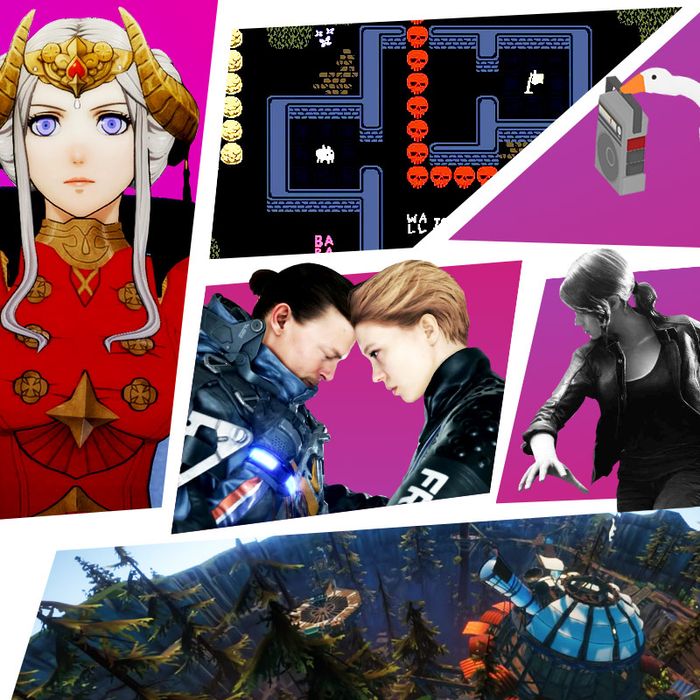 Photo: Vulture and Photos by Mobius Digital, Intelligent Systems, Remedy, Sony, Zach Gage, House House and Arvi Teikari.
This time next year, video games will be making their next generational leap with a new line of consoles promising all sorts of new digital wonders. Historically, the year before a new console generation is a time for showing off, a last hurrah before developers start over with new technology. 2019, however, has been a more muted prelude than usual. The better games from this year are quiet and understated, refreshing diversions from juggernauts like Fortnite and its many imitators. Here are the ten best.
10. Apex Legends (PC, PlayStation 4, Xbox One)
A bright spot in a disappointing year for first-person shooters, Apex Legends also bears the distinction of being the best permutation on the battle-royale genre popularized by PlayerUnknown's Battlegrounds and Fortnite. As with those games, you're dropped empty-handed on an island with dozens of other players and must scramble for weapons and equipment while you fight to be the last one standing. Unlike those games, Apex Legends feels incredible to play, thanks to the expertise of development studio Respawn Entertainment — makers of Titanfall 2, one of the best shooters ever made.
9. Card of Darkness (iOS)
A collaboration between indie designer Zach Gage and Adventure Time creator Pendleton Ward, Card of Darkness is a delightfully strange spin on Solitaire. Cards are placed face down on a 4-by-5 grid in stacks of varying sizes. Your goal is to reach the exit at the top of the board by picking up an entire stack of cards in the bottom row, so you can then begin drawing from the next one. Each card you draw affects you in some way — maybe they represent a monster that will take away some of your limited health, maybe they have a spell that will help you down the road. With a few rules and a lot of whimsy, Card of Darkness manages to take a very old format and turn it into an adventure that takes players someplace new.
8. Dragon Quest Builders 2 (Nintendo Switch, PC, PlayStation 4)
There's no shortage of charm in video games this year, but if there were, Dragon Quest Builders 2 would have plenty to spare. In Builders — there's no need to play the first game — you play someone with the magical power to, well, build things. The absurdity of that statement is part of the game's appeal; in this world, building is outlawed, and no one does it. So you begin a rebellion of altruism, building things for people oppressed by an evil cult that has forced them to live in squalor. With Minecraft-esque gameplay and a storybook aesthetic, Dragon Quest Builders 2 is an engrossing, delightful game about doing good for the people around you.
7. Slay the Spire (Nintendo Switch, PC, PlayStation 4, Xbox One)
In Slay the Spire, you must ascend a tower full of monsters one floor at a time — by beating them in card games. Players pick one of three characters with their own unique play styles, and start their climb with a small, simple deck of cards. You play cards to whittle down your opponents health or guard against their attacks, to tip the odds in your favor or deliver some arcane punishment. Each victory gives you the opportunity to expand your deck of cards and repertoire of stratagems; fail, and you must start all over again from the bottom. You won't mind, though — Slay the Spire is one of the most compulsively replayable games on this list, perfect for a quick hit or a lazy Sunday.
6. Death Stranding (PlayStation 4)
A post-apocalyptic video game that fully embraces a subtext-as-cowardice approach, Hideo Kojima's Death Stranding casts the player as a courier tasked with reconnecting a divided America haunted by literal ghosts of sins past. Full of ideas equal parts rich, half-baked, and laughable, Death Stranding will ask you to make weapons fueled by bodily fluids one moment and to contemplate what happens when a nation dies the next, all while delivering packages across the barren remains of the United States. Death Stranding is a confounding testament to everything fascinating and troubling about video games and our connected world.
5. Baba Is You (macOS, Nintendo Switch, PC)
A series of impossible puzzles are collected in Baba Is You, a game that is difficult to describe, easy to grasp, and at times, infuriating to solve. Where most puzzle games have you manipulating objects of some sort, Baba Is You asks you to also manipulate rules as well. Each level begins the same way: with a creature called Baba stuck in one part of the screen, and a goal in another. Getting to the goal is never possible under the rules a puzzle starts with — so you must change them. Baba Is You will delight in leaving your brain in disarray, until you put it back together again, a genius.
4. Control (PC, PlayStation 4, Xbox One)
Jesse Faden arrives at the fictional Federal Bureau of Control — think The X-Files, but for internet urban legends instead of aliens — to find that the building is haunted, possibly alive, and she is now its director. As director, Faden will acquire supernatural powers and a shape-shifting weapon that will help her delve deeper into the FBC's House of Leaves–esque labyrinth to discover what went wrong. An action game with B-movie sensibilities and a sharp wit that parodies the self-serious nature of its peers, Control reimagines the stranger corners of the internet through the mundanity of a DMV office, a juxtaposition that makes it one of the most fascinating games in this or any year.
3. Fire Emblem: Three Houses (Nintendo Switch)
For the first half of Fire Emblem: Three Houses, you are a professor at a military academy, responsible for one of three groups of talented, quirky young students. In its second half, five years have passed, and your former students are at war with their former classmates and friends. If you're careful in this strategy game's chesslike warfare, they'll survive with their lives intact. The same can't be said about their hearts. Three Houses is a tragedy where young people of good social standing learn about the cost of that standing, and the way no amount of care can keep oneself safe from the rot and decay of war.
2. Outer Wilds (PC, PlayStation 4, Xbox One)
In 22 minutes, the sun will die, and everything will come to an end. Then you will wake up, and begin those 22 minutes all over again as you search for an answer to fix your broken solar system. Outer Wilds is a game about a little blue alien from a planet of explorers trapped in a time loop and racing through space to find a way out of it, 22 minutes at a time. Despite doom looming over everything, Outer Wilds never feels bleak. It is instead enamored with the notion of discovery, the hope that fuels the pursuit of knowledge, and the peace that comes with reconciling just how small we all are to the universe.
1. Untitled Goose Game (macOS, Nintendo Switch, PC)
The biggest surprise hit of the year was a video game in which players assumed the role of an awful, awful goose. Untitled Goose Game is beautifully elegant, with a single piano narrating your exploits as you work your way down a to-do list of mayhem: cobbling together a picnic from produce stolen from a garden, stealing toys from children, hectoring a shopkeeper. There is a button for honking and a button for raising your wings, none of which matter for anything other than roleplaying as a goose. The chaos you could cause struck a chord even among those with only a passing interest in video games, a strangely universal exercise in catharsis during a bleak year.