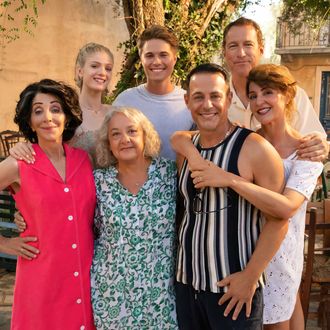 Pull out your baklavas and put away your Bundt cakes. Everybody's favorite Greek rom-com series is adding a third movie to its ranks, and it's already on its way. On Friday, Focus Features announced that My Big Fat Greek Wedding 3 is set to release in theaters on September 8. Nia Vardalos previously confirmed on Instagram in June 2022 that the movie was filming in Greece, thanking fans at the time "for the lovely messages of just waiting and everything."
The new Portokalos family reunion will star writer-director Vardalos alongside other returning cast members such as John Corbett, Andrea Martin, Louis Mandylor, Maria Vacratsis, Elena Kampouris, Gia Carides, and Joey Fatone. New characters will be also played by Elias Kacavas and Melina Kotselou, while the movie's producers include Tom Hanks, Rita Wilson, and Gary Goetzman. "Thank you @focusfeatures @universalpictures !!" Vardalos captioned an Instagram post confirming the release date. "Here we go!" Honestly, who cares if the second movie didn't get great reviews — if you're not excited about this, we suggest spraying some Windex on your brain.
This post has been updated.