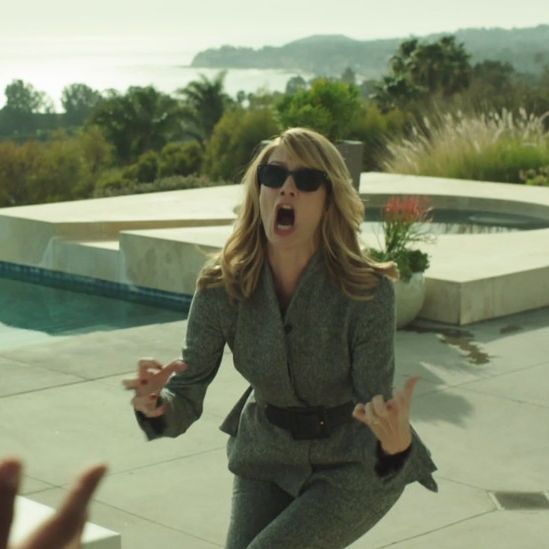 Laura Dern screaming.
Photo: HBO
The best thing about season two of Big Little Lies were the screams (and the coats). If you took the screams out of Big Little Lies, all it would be is a prestige HBO drama about PTA meetings that more than a handful of very accomplished actors signed up for for some reason. It's the screams that turn Big Little Lies into Big Little Liars, and that's why it is watchable.
Here, we rank every scream the Big Little Lies gaggle utters starting from season one, including the Meryl Streep scream from season two that made America's ears bleed. There are some great ones throughout the series, coming from nearly every character — but, if we're being honest, we all know this is Renata's game to lose.
13. Celeste's dream scream
"What Have They Done?" (Season Two, Episode One)
This scream has potential, but its placement in one of Celeste's nightmares during the season-two premiere feels like HBO just wanted more footage of the Big Little Liars in their Audrey Hepburn costumes.
12. Jane and her bangs scream about the first day of school
"What Have They Done?" (Season Two, Episode One)
The first ten minutes of the season-two premiere kindly remind us that Jane wears black skinny jeans and has a son named after a David Bowie song who somehow knows every lyric to every song recorded four decades before his birth. In this scene, Jane and Ziggy sing along to Joan Jett's "Bad Reputation" in their apartment while getting ready in the morning. At the end of the song, Jane screams, "First day of school!" She did not have to scream this so early in the morning, but it was a clever (read aggressive) way to help the audience to understand how much time has passed since season one.
11. Madeline screams "I want more!"
"Push Comes to Shove" (Season One, Episode Four)
A weak scream — especially for one done from the driver's seat of a car — but very on brand for Madeline.
10. Renata wants a moment
"Tell-Tale Hearts" (Season Two, Episode Two)
Another scream in a car! What would this show be without these? Sadly, we don't even get to see Laura Dern's expressive face as she screams, "Will somebody give a woman a moment?" All that is visible is the butt of Renata's car and her dainty middle finger shooting out the sunroof — but, honestly, that's still pretty good.
9. Renata screams at her garbage husband
"Burning Love" (Season One, Episode Six)
Throughout season one of Big Little Lies, Renata's daughter Amabella gets bullied but refuses to say who is hurting her. Renata tries to talk to her dirtbag husband, Gordon, who wears Tony Stark glasses with red lenses (his, unfortunately, don't have an AI butler inside of them). But Gordon doesn't want to talk because being a dad is too hard! Instead, he initiates sex with her in the office bathroom. In this scream, Renata calls Gordon out for using sex to avoid the conversation. It's a good scream for sure, but Renata has far better ones on the horizon.
8. Bonnie screams as she pushes Perry to his death
"What Have They Done?" (Season Two, Episode One)
Bonnie's character has not been done justice for many (many) reasons, one being that in two whole seasons of Big Little Lies, she never got to scream inside a car. This is the closest she got, but she made the most of it — one big, deathly stairway away from a parking lot.
7. Renata screams about her eye
"Burning Love" (Season One, Episode Six)
Jane finds out that a parent started a petition to get Ziggy suspended, and she accuses Renata of doing so. And because the women in Monterey are very good at drama, they kind of flail their arms at each other until Jane hits Renata in the eye. Renata screams, "My eye! I'm gonna sue you!" It is a stunning, underrated moment in television history.
6. Jane has a car scream
"Once Bitten" (Season One, Episode Five)
Every woman has had a good scream in the car, or maybe that's just me and the women of Monterey. Jane thinks she found the man who raped her and confronts him. When she realizes it's not him, she gets in her car to leave and lets out a necessary car scream. It's well-done, even though all you can really see is Shailene Woodley's mouth because the scream is shot through the rearview mirror.
5. Renata finds out Gordon was banging the nanny
"The Bad Mother" (Season Two, Episode Six)
This isn't Renata's best scream, but it is improved by her inspiring decision to stuff Gordon's mouth with tissues while he is driving.
4. Celeste screams in therapy
"Tell-Tale Hearts" (Season Two, Episode Two)
During a therapy session, Celeste's therapist asks her to imagine Perry abusing Madeline. It's a powerful moment for Celeste, who imagines this for a few seconds until she can't take it. She screams "No, no, no, no, no" while slamming her fist on the table. It's a more serious and powerful scream than most on Big Little Lies, which is why it's so effective. Plus, Nicole Kidman's performance of the scream suggests that Celeste learned a little bit about screams from her mother-in-law (and that Kidman learned a little bit about screams from Meryl Streep).
3. Mary Louise screams at the dinner table
"What Have They Done?" (Season Two, Episode One)
This is ridiculous, and I refuse to place it higher than a Renata scream. Don't contact me about this, dear reader! Congratulations ahead of time to Meryl Streep on her inevitable Emmy for this scene alone. There are no more words.
2. Renata says "thank you"
"Serious Mothering" (Season One, Episode Two)
The first big scream of Big Little Lies set the tone for Renata's character and the show, and it is exactly what all women feel like inside when they have to say "thank you" to get someone to stop talking to them. Thank you, Renata, and thank you, Laura Dern, for your screams.
1. Renata screams while beating up a train set
"I Want to Know" (Season Two, Episode Seven)
It was a good train set, but it got what it deserved: The greatest Renata scream to date, complete with a baseball bat.