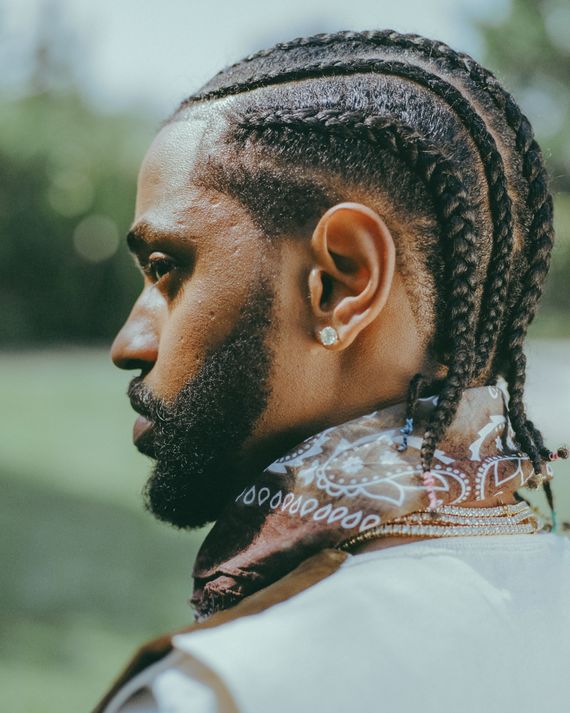 Photo: Ibra Ake for New York Magazine
Detroit rapper Big Sean signed to Kanye West's G.O.O.D. Music imprint in 2007 after impressing his future label boss with an impromptu freestyle in a chance meeting at a local radio station two years earlier. In the 2010s, Sean hit the ground running with a string of increasingly sharp studio albums and guest spots, matching wits with heavyweights like Drake, Nicki Minaj, Jay-Z, and Ariana Grande and shining on solo singles like "Guap" and "Bounce Back"; deep cuts like "Bigger Than Me" and "One Man Can Change the World" balanced the upbeat mood of the singles with heartfelt emotion. Sean has slowed down a bit since doubling up in 2017 with the release of his fourth album, I Decided, and a collaboration with Metro Boomin, Double or Nothing. He has taken his time working on Detroit 2, the sequel to his critically acclaimed 2012 mixtape and love letter to his home city, out September 4. And, as I'd learn talking with him in mid-August, Sean has been working on himself, inspiring some of the best music of his career.
Before this month, it had been three years since your last album and a year since your last official single. What have you been up to?
Honestly, I've just been making sure I'm happy with the music. For some reason, time seems to be going faster than usual. So [the album] has taken longer than I expected it to. But I was on my schedule and making sure that I felt good doing the music, because it is my happy place. I don't know if I took too long or what the outcome may be. I don't know if it'll do better than anything I've ever done, but at least I am a hundred percent happy with it.
You started the year by announcing a Coachella performance and finishing up the album, but not long after the trailer dropped, things went left in the world. Did you delay the release until you saw how things would unfold in the music business?
No, I didn't delay it because of that necessarily. My whole life shifted. All our lives shifted. When I would listen back to a song, I would feel like, Oh, I need to talk about this feeling that I'm experiencing right now on here. I was inspired to progress the album a little further. I don't know what the consequence of that will be. Maybe it'll be great, maybe … I don't know.
Pandemic time does feel shorter. The summer is almost over, and it feels like it just started.
I've been feeling that way for the last year, year and a half. It just seems like things have been going faster than I can even grasp. But I've learned to accept it and not always feel like I'm trying to catch up. I've been making an effort to stay aggressively happy. I meditate seven days a week, and that gives me a chance to connect with myself. It feels like charging your phone. It's like waking up with a full charge, as opposed to waking up with your phone dead. Taking time for myself has really helped, even if it's just, like, playing Call of Duty a little bit. I only play for an hour, an hour and a half at the most, just to give myself a break if I'm in the studio for 12 or 14 hours. Because if you don't, things start to blend in together. That's why I really fuck with London, how they, like, take teatime, lunch, all these breaks. I heard Albert Einstein did this too.
Trying to force creativity can create anxiety of its own.
It was destroying me, too. That type of mindset was destroying me, and I didn't even know. It was making me wake up with so much anxiety, so much heaviness. Once the anxiety starts overflowing, it turns into depression and then you just …  that ain't no way to be when you're trying to make something. How are you going to attract something you're not putting out there? You're trying to listen to 92.3, but your station is on 105. You got to get on that frequency.
The rap game moves pretty quickly nowadays. A lot of young artists are on a cycle of one or two releases per year. Did you ever worry that time off would slow your momentum?
I kind of felt like that when I was working on Dark Sky Paradise. With I Decided, I didn't have as much time, but I still made sure that I didn't try and rush it. I realized that I'm on my own schedule in my own lane. I'm not a new artist. I gotta treat things a little differently than they probably would. I had a lot of living to catch up on. After my last album, I felt like I was not enjoying my life that much — not to sound depressed or anything like that. I was thankful for opportunities and for everything I got to do, being able to take care of my family. But those are two different things — being grateful and being happy. I believe in God and the universe, so I'm gonna always be grateful, even if I don't have anything. But I wasn't enjoying it. I needed to explore that and figure out why I was feeling some of the ways I was feeling, why I felt down, and why I had all this anxiety. I had to sit down, talk through it, and do therapy.
You tweeted something in July that stuck with me. You said, "DON'T PRETEND TO BE OKAY WHEN YOU'RE NOT!" I feel like, as Black men, we feel pressure sometimes to chin up and accept whatever's on our plate instead of asking for help. Have you had to unlearn some of that?
Hell yeah. Growing up, you had to be a man. You couldn't be emotional all the time. That's looked down on. My granddad was dry. He was an amazing granddad, but he just didn't show that much emotion. He was a stone-cold military man. I don't know what he was going through. He never talked about it. He liked his TV shows, and he liked his food hot. My dad was a little bit more expressive, but he has gone through a lot he never talked about. So it was a new thing for me to approach my life like, Let me sit down and talk with somebody. It inspired my dad to do the same thing — to talk about his life and sit down with people, to pursue therapy. It's something that I'm very proud of.
But when I tweeted "don't pretend to be okay when you're not," I was tweeting at myself. I saw a lot of people say I was talking to Kanye, but if I have something to say to Kanye, I say it to Kanye. What I was dealing with is that my assistant that I'd worked with for a couple of years had passed away, actually committed suicide. It affected me. I went through another situation before that. It really helped when I came to the realization, like, Hey man, don't pretend to be okay if you're not okay.
Do you sometimes avoid social media to cut down on stress?
I don't go on social media that much. I go on there periodically, but I am a person who would easily get addicted to social media. I get on there and go from one thing to the next. It's a rabbit hole. I just be looking up facts, random things. It wasn't productive for me. For some people, that's their means of income now, so it's nothing to frown upon or to judge anybody over. But for me, personally, I get distracted.
You also have a different situation with it than the average person. There's more scrutiny. A lot of artists I talk to aren't crazy about social media even though they're kind of expected to maintain a presence.
I don't know where that expectation came from. But my thing is I just do what I feel. If I feel like being on there, I'll be on there, but I always catch myself after a few minutes. [But the scrutiny] doesn't bother me as much as it used to. I used to get really torn down by people's critiques. I used to think, like, Man, how can somebody judge another person that's just trying to do something productive with their life?
Would you say that there have been times where criticism drove you? I feel like you're someone whose music gets a little better every year, and I wonder how much of that comes from the fact that people have a relationship with you where they count you out until you deliver. Does that push you to take your music further?
I guess it has before. But there are people you're just never going to be able to impress and people who want you to do one thing when you do another. But they're not you. You're not them. [Criticism] isn't something I think about every day. I don't feel like I have to prove myself. That's not what I'm thinking about. I'm thinking more like, I gotta offer something that people need. That's where I am lately, where my mind has been with the music I've been making now.
I needed a lot of inspiration in my life while I was making this album. That's why I took a lot of time off. That's why I did things and I lived life and went through experiences. One of my goals is to give inspiration, to inspire people. It has been since my first mixtape. I have fun songs, but I always put some type of realness in it. Even with a song like "Bounce Back," I tried to put a hint of inspiration in it.
Do you ever listen back to your older stuff and feel differently about it than you did on day one? 
Yeah, for sure. I've heard my progression and the maturity in my voice, my delivery and times changing. I appreciate it, though. I'm not embarrassed about it. It's a ladder. It's a step at a time. You keep stepping it up. That's the goal, at least for me.
You're in unique position because you have a record deal with Kanye and a managerial situation with Jay Z — two legendary figures in your corner.
Everybody who I've ever respected in music has shown me respect back. Kanye changed my life, for real. That's who saw me and saw my potential. That opportunity and that chance he gave me, I'll never discount that. Obviously, I respect Eminem. Stevie Wonder. The list goes on. Even [Lil] Wayne — who was one of my biggest inspirations, too — takes up for me like he signed me, defending me on songs and being like, "Sean, he one of the greats." Even if I never sell another record again, I can truly say that I was successful and manifested so many of my dreams that my life is already a success no matter what happens.
Is it hectic when rappers you respect are beefing?
It ain't hectic. It is what it is. People be having disagreements. We're human beings, so I just let people handle it how they handle it. I feel like, at this point, beefing with each other ain't really productive when it ain't that deep, when it's just like, "This person may have said something. Now we got rap beef." [But remember that] this motherfucker [Trump] is trying to take our rights away. This motherfucker is killing us. If there's any type of tension or any type of misunderstanding [over rap], communication is the way to go. It's different if somebody comes for your fucking family. If somebody killed my brother in the streets, I probably would want to kill him even 50 years after that. That's a whole different thing.
I respected that you squashed the rumor that you had beef with Kendrick Lamar. Stuff like that can get twisted on the internet and become something it wasn't.
That's what happened. It was nothing. I didn't even know what the fuck it was. We communicated to each other that it was all love. That's what you're supposed to do. It should never get to a point where you can't communicate with someone, especially somebody who had been in my house before, somebody who I've been invited to their mama's house, or somebody I've made music with that was fire.
Are you following Kanye's political career?
Yeah. Who isn't following it? Kanye is my brother, so it's like … there have been so many times where he says something people may have thought was crazy, and I've seen him execute it. I was there when he was in debt for millions. He believed in himself, and now he's out of debt. He's one of few billionaires in hip-hop. More than anything, more than a presidency, I just want my brother to be happy. That's the goal.
If I may ask, do you regret making "IDFWU," a song that many interpreted as being about your ex, the late Naya Rivera?
That's a tough question to answer because I'm still processing a lot of that … I don't feel comfortable talking about it because I want to respect her. She's made such an impact on people, and she's done so many great things in her life and her career that it was hurtful to even have that [song] be associated with her. It wasn't a diss to her. I truly made the song and played it for her. She knew about it, and she liked it. We had a breakup that was very public, and we were young and we forgave each other and moved on from that. If I would have known something this tragic would have happened, I would have never made the song.
Were you ever considering dropping a project with the rest of G.O.O.D. Music when they were doing the seven-track albums in summer 2018? Fans will be hype to hear "Lucky Me," the snippet you posted from Wyoming last year.
I just wasn't feeling the vibe. That's no disrespect. I was loving the projects, but I just couldn't get in the groove. That's just something you can't force. I thought Kids See Ghosts was crazy. I liked Teyana's album. All the projects were very unique. But when it was time for me to really get in there on that, I guess I wasn't inspired. I was going through things in my head that I was still working out. I wasn't ready to be creative right then. When I tried to force it, I realized I'd be in the studio just beating a dead horse, listening to a beat over and over and over. It would start to get torturous. I was looking at it as a job: "You gotta get this amount of work done, or else." I was still more in an observant point, living through experiences in my life. I had to work my way back.
Would you say being in a relationship is part of what's been keeping you grounded? 
It always helps to just have somebody that you consider your partner or somebody that you can share with.
And someone you can make music with and bounce ideas off of and collaborate with.
Absolutely, absolutely. [Jhené Aiko is] amazing. She definitely has helped a lot. It's cool when you can just be there for each other, especially in times where the world is in peril and things aren't regular. Things have drastically changed, so it definitely has helped ground me for sure.
What inspired you to return to the Detroit concept, as someone who hasn't really done a sequel since the mixtape days?
It was something I always wanted to do. When I was making Detroit 2, I felt like I was returning to my roots but with a stronger foundation. I feel like my roots got even deeper. Not only did I reconnect with myself, I reconnected with my passion and my hunger. The music reminded me of the Detroit mixtape while I was making it. Before I decided to call the album Detroit 2, I kept going back to that idea: Man, I remember I was doing this when I made Detroit. I found myself doing some of the exact same things. I got back to journaling. I got back to not feeling restricted. The city of Detroit is owed so much respect and honor. When I was talking to Stevie Wonder, I was saying Motown gave Black music and Black people an identity in music. Motown isn't an era to me. It's almost like a genre of music.
I made it a point to make the whole city feel included. There's a song on there that just takes me back. I used to do this radio show called "Friday Night Cypher." The whole city would come together and we would cypher it up — that's real Detroit-style right there. Obviously, Eminem blew that up to the world with 8 Mile; he helped pave the way for that aspect of Detroit. It's definitely a moment on the album where the city comes together, even people who are rumored to have misunderstandings and beef.
But I think people will be able to relate to [the album] wherever they're from. Detroit is an inclusive city. A lot of people haven't been, but Detroit is fun, man. That shit is the best. It ain't bougie. It ain't Hollywood. We real people from there. We've been through the worst. We've been dealt the bottom before. It's cool whenever you meet people from the D. We know what it's like to hustle. We know what it's like to be starving. I think that does something to the character of a person. That's what I love about being from Detroit: It's like I had to really earn my way.
In spite of you having to rethink the timing, it's good that Detroit 2 is hitting right now. You're talking about issues that people are going to relate to, like loneliness and depression.
Well, the thing is, I don't talk about depression and those things that much necessarily, because that's not what I wanted to put energy into. I'm really talking about the things that lifted me up out of it. That's a difference. It affected a lot of the music. It's deep. I was in the studio playing it for [Griselda rapper] Benny the Butcher, and he was just like, "Man, you're putting all of this on the album? This motherfucker stacked." I'm like, "I've been working on it for two years."
I was in the studio with Stevie Wonder playing him my album. We were working on some stuff, and he inspired me to do music that's not necessarily on this album. After this album, I don't think that I'm going to be done again for a long time. I'm inspired to keep going. I'm not taking another three-year hiatus.
This interview has been edited and condensed for clarity.
*A version of this article appears in the August 31, 2020, issue of New York Magazine. Subscribe Now!