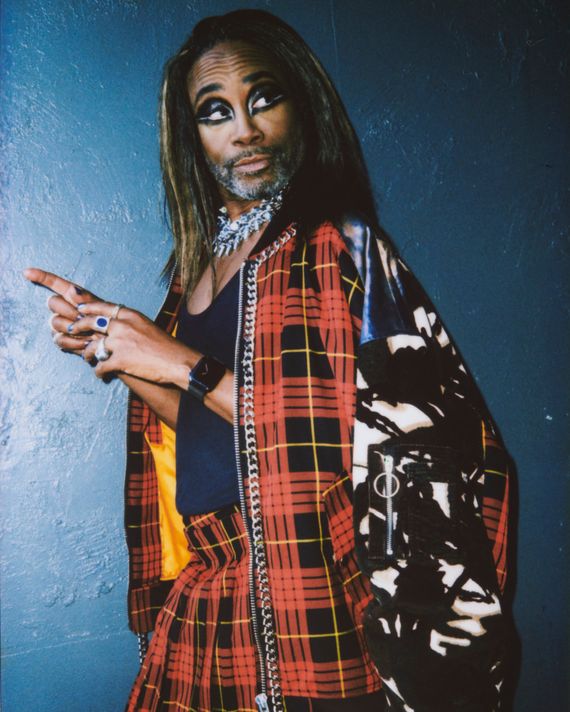 Billy Porter at his Vulture Festival Honorary Degree ceremony in November 2023.
Photo: Chantal Anderson
Billy Porter lives in the Venn diagram of seriousness and fabulousness. Long before he was dominating red-carpet SEO, Porter studied drama at Carnegie Mellon in his native Pittsburgh. He is equally known for his performing abilities and his propensity for turning out looks that treat gender as a grab bag rather than a set of rules. His career began as an ensemble member in Miss Saigon on Broadway in 1991, though it would be two decades of highs and lows before he won the 2013 Tony for Best Actor in a Musical for his role as the drag cabaret artist Lola in Kinky Boots. From there, it was off to the races: winning an Emmy for Best Actor in a Drama Series in 2019 for his work as ballroom emcee Pray Tell on Pose and making headlines for his tuxedo-dress combination at that year's Oscars.
Porter's best work, whether onscreen, onstage, or on-carpet, packs both a fabulousness that grabs your attention and a seriousness that forces you to engage — and it's for that reason that he's the recipient of this year's Vulture Honorary Degree as a Master of Culture. Given the vastness of media that Porter has worked in, the idea of "culture" has rarely seemed so appropriate: This year alone, he released an album (Black Mona Lisa, out now) and starred in a dramatic feature film about a gay divorce and its accompanying custody battle (Our Son, out December 8). We conferred the award upon him at Vulture Festival in Los Angeles earlier this month, and he showed up to the event wearing a pop-punk look that set an appropriate tone.
The first time you were introduced to America was on Star Search.
Yes and no.
Tell me the "no" first.
I was already in my first Broadway show.
Miss Saigon.
Miss Saigon. Second semester, senior year of college. I moved December 27, 1990, to NYC to start rehearsals on January 11, 1991, to open April 11, 1991, so I did Star Search during my vacation from Miss Saigon. I came to L.A. and did four shows on the first weekend, and then the final two shows on the second weekend, and then I went back to work the next day! So, yes, it was the first time I was on TV like that.
How did you think of yourself as a performer at that time? Did you already consider yourself a multi-hyphenate?
I was always a multi-hyphenate. I was already doing theater, which was a part of the original dream, and I also wanted to be the male Whitney Houston, so I was trying to be a mainstream recording artist at the same time. They were simultaneous tracks — Broadway and the recording industry. It was pre–American Idol. Star Search was our generation's American Idol. And I won!
Went back to work $100,000 richer!
$42,000 post-taxes!
Your first principal role on Broadway was as Teen Angel in Grease, which you later called "prancing around like a Little Richard automaton on crack." What was unfulfilling about Grease?
The original Teen Angel wore a white suit and a pompadour. When it came time for me to play the Teen Angel, they put me in 14 inches of orange rubber hair, a white spacesuit, and glitter all over my face. Why? I didn't want to do that show to begin with.
Why?
Because I don't like that show. Never did. It's not about me, as a Black person. During auditions, everybody else had a role to read for. They were just calling me in. They gave me carte blanche to do whatever I wanted with the song. I did a completely Blackity-Black-Black arrangement. I thought, They're gonna hate this and I'm gonna be done with it. No. They loved it and wanted me to do it with another part — but they made me a clown! It took me 25 years to dig myself out of the hole of that visual.
Because people could only see you that way?
Yeah! I'm already gay, I'm already Black, and now you've turned me into this magical fairy. I went to CMU to study drama, like everybody else that y'all love, the Meryl Streeps and the Viola Davises. I went to school like that, and y'all turned me into a clown because it's easy. "He sings real high, he's a little sissy, so that's it!" It took me from 1994 until 2010, when I was cast in the revival of Angels in America in the role of Belize, to change that.
I read that it was during your time in Grease that you saw the original Angels in America. 
The theaters for Grease and Angels in America were literally butted up against each other. The Eugene O'Neill was on 49th, and the Walter Kerr was on 48th. The people in Angels were like, "We always knew when your song was happening!"
What changed for you when you saw that show?
I saw myself in the role of Belize. I didn't even know that's what I was looking for. I just knew I was unfulfilled. I got here. I'm doing the thing, I'm out of my circumstance, everything is supposed to be great, and I'm mis-er-able. And then I went to see Angels in America and I saw Jeffrey Wright play Belize and I was like, "That's who I am. That's what I represent, and nobody knows that, and nobody's gonna be interested in it because of what I'm doing next door." So from 1994 to 2010, I had to pull myself out of that pigeonhole. And I did it, bitches!
Your first album came out around that time. How did that experience compare to breaking into theater?
My first album was Billy Porter on A&M Records. It was traumatizing. The industry was very homophobic. I had an R&B deal on A&M, and nobody would do anything that I wanted. It was all about the smoke and mirrors of trying to make the world think I was straight, that I was masculine enough to exist. It was traumatizing, since my voice, my singing voice, had been my savior. It was what allowed me to dream beyond my circumstance, and then for the first time in my life, my voice didn't matter. All they were concerned about was who I was fucking behind closed doors on my own private time.
It was traumatizing, but I thought, Well, these people know more than me, so I should listen to their advice, and slowly, who I was was chipped away until I woke up after six or seven years of being in the business and didn't recognize myself. Then my label gave my song to Celine Dion for The First Wives Club! They gave it right over to her! Same producer produced it for her. I was like, "I did not come here to be a demo singer for fucking Celine Dion! I'm done!" I love her, no shade, she's fabulous, this isn't about Celine Dion. It's about the systems of oppression that mute and dismiss our contribution to the world. It happened in that moment, and I said, "I'm done. If this is all the music business has to offer me, I'm done. She can have it, y'all can have it, I'm out."
That was 1999, and I had no intention of coming back to the music industry in a mainstream way. I thought, I can do this on my own, and I did. I made three albums on my own. I am now 54 years old, signed to Republic Records and Island in the U.K., my new album comes out next week, mainstream pop on my Black faggoty-ass terms, yes! You can see it now! She free, bitch!
At the same time, in the late '90s, theater wasn't doing you much better.
No, it wasn't. As a Black artist, we didn't have Hamilton in the '80s. We had musical revues that you came into, no character, no human being, no nothing. Just come and perform for us, let the happy darkies perform for us and make us happy. And when I demanded to be treated like a human being, the work dried up.
They wouldn't let you go in for the Emcee.
I asked to audition for the Emcee in Cabaret, the Alan Cumming one, and they were like, "Oh, that's not the story we're telling." Cabaret is about Nazi Germany! What are you talking about? I sent books to the entire company, the Roundabout Theatre Company, Rob Marshall and Sam Mendes, all of them bitches. The book was called Destined to Witness: Growing up Black in Nazi Germany. We were there! What are y'all talking about?
So I spent the first 25 years of my career not being able to audition for shit! Fast-forward to: I win the Tony for Kinky Boots, then Hedwig and the Angry Inch comes in the next year. A year later, they want me to replace this little white boy. Seventeen years ago, you wouldn't let me audition for the original production of Hedwig, but now that your box office is dwindling because Doogie Howser is gone — God bless him, he was brilliant — now you want me to come in and put my name above the title. I was like, That bitch has been on TV since he was 15! He's selling out houses at $1.4 million a week! The only thing I'm gonna do with my name above the title is not make money, and you can close it on my back. Y'all can kiss my ass. I created my own thing! I don't have to come behind this white boy no more! All of my white counterparts had many things to do. I had nothing. If I didn't want to be in a musical revue, there was nothing for me. I loved seeing the recent revival of Into the Woods with its multi-culti cast. My generation fought for that. I was cast as the Witch in the 2001 revival of Into the Woods, and then the Trade Towers came down and they took the part away from me.
I want to talk about that period after you left NYC but before you came back with Angels in America in 2011, which rebooted your career. In 2005, you did your first solo show, Ghetto Superstar.
Yes I did!
Looking over your career, it felt like the first time that you were able to — allowed to — claim the narrative of your life. Is that how it felt?
Yeah. What happened is that I finally got in with George C. Wolfe. He was somebody I had always wanted to work with. After I booked a Keith Haring musical with him in 2002, he became a real mentor for me. I had moved to L.A. in 2000 because I did a couple films, The Broken Hearts Club and The Intern, which was The Devil Wears Prada before Devil Wears Prada. Will & Grace was on TV, and I thought, "Maybe there's a space for me and my authenticity now." I got out here and there was not a space, and I left. I went back to NYC because I was cast in the revival of Little Shop of Horrors playing the voice of the plant. We went out of town, the director was fired, and then a new director was brought in, who then fired me.
After that, I went back to NYC to do an internship at the Public Theater under the tutelage of George Wolfe, which is where I then wrote Ghetto Superstar, which is my first one-man show and probably my last because I don't need to do that again. At that time, there was nothing else for me to do, so I had to create something for myself. That's an amazing piece of advice that George always says: You can't wait for anybody to give you permission to practice your art. You have to always be doing that, whether people are listening or not. And most of the time, they will not be listening. 
So Ghetto Superstar came, and I was able to talk about my life and just put myself out there. I did it at the Public and then took it back to Pittsburgh to a regional theater, and that was the beginning of me taking agency, because I'm the last of a generation who was taught to be interpreters of other people's material. I'm pre-internet. It's baked into the culture now that you should come up with your own stuff, for better or for worse. I grew up with Sondheim and Shakespeare and Chekhov, and never once did anybody say, "You should write it. Your story is just as important as the classics." Classics for whom? I went to these white institutions. Who are these classics for, based in this European space? Those are the conversations that we now get to have post–George Floyd. I'm grateful for that.
A few years later, you finally got to star as Belize. It had already done so much for you, but did it change you again when you were in the role? Did you learn something about yourself through the process of acting in it rather than just seeing it?
Yeah, being inside of your purpose. I grew up in the Pentecostal church, Church of God in Christ. COGIC. Look it up. It's the worst for anything that is not the status quo. I also came out when I was 16, in 1985. We went straight to the front lines to fight for our lives during the AIDS crisis. The hypocrisy of the church — to this day I don't know how to speak about it. I lost more friends by 21 than my 85-year-old grandmother. And every time I went to church, they told me I was an abomination and was going to Hell.
And then you're playing that out onstage.
Belize has all of that history, plopped in the middle of a very white world. What I loved is that Tony Kushner understood that, and he used the character of Belize, that Black spiritual person, to be the center of that vortex. Belize is the moral compass for all these spiraling white people around him. He masqueraded as a side character: If you see Part One, he's only in around 20 minutes of it. But then you see Part Two — I was like, "Oh my God! Oh my God!" I had never seen anything like that! That's what was so special about it. I didn't know that's what I was waiting for. Then I got that part years later, after I hadn't worked in the theater in NYC for a decade. I came back with that part, which nobody in the business thought I could play. Nobody.
Which leads into Kinky Boots. I looked back at stories from when Kinky Boots was being created, and there was an expectation that you couldn't do it. When people are saying these things about you, does that affect how you work?
Yes and no. First of all, I don't give a fuck about what people say or think about me. But you have to know what people are saying and thinking so that you can address it in the work. Nobody thought I could do it. The voice part was easy. Any time that I felt scared or nervous or that I wasn't gonna make enough money to survive or anything, I would just go back into a singing job, I would go back into a job that was most comfortable and closest. That was what Little Shop was. When I got fired from that show, I was like, "Okay, universe, I hear you. If I want other people to take me seriously, I have to extract myself from that so that I can build a new thing for myself."
After 9/11, I was diagnosed with acid reflux, and that was debilitating. I was praying and I was saying, "I'm more than my voice, I'm more than my voice, lower it, help me please make that a thing in this industry." When Kinky Boots came around, I had made such a name for myself doing what I call extreme singing and they were using me for that, but I couldn't extreme-sing anymore. My specialty was sounding like Whitney Houston and Jennifer Holliday and Jennifer Hudson as a man. You can go listen to it, it's on record. You'll hear. It's otherworldly. And all of a sudden, I was no longer otherworldly like that, and I was punished for it. I remember going in for Porgy and Bess for the role of Sportin' Life. The highest note is a B-flat. In my heyday, I was singing almost an octave higher than the required note in this opera. But the feedback was, "Oh, his voice is a little weak." Fuck y'all. After over a decade of proving who I am and what I can do, that's all you have for me? In a role that doesn't even require me to do what you're used to me doing? And then you hire David Alan Grier? No shade, David! He's a great singer, I'm a better one. On my worst day, I sing better than that, and he knows it! It was insulting. So when I got Kinky Boots, I stayed with that show for three years and never missed a performance. It was a "fuck you." Don't ever question what I can do again.
But I do love auditions. I love proving the naysayers wrong. Question me at your own peril! I'm not gonna put myself in a position to try to do some shit I can't do. That's one of the things about the best artists: They know what they can do and what they cannot do. You don't have to be able to do everything! Look at the stars and the celebrities! Most of the time, they do one thing, unless you're Meryl Streep or Daniel Day-Lewis. You know what I mean! For the most part, Will Smith is playing himself. Julia Roberts is playing herself. There's no shade to that — I'm playing myself too! But playing myself in this industry was not popular. Nobody wanted it. I've lived long enough to see the day where my queerness is my asset. Y'all want it now because I'm "fun"!
When you won the Tony for Kinky Boots, you said, "Mama's relevant again!" It was a different kind of relevancy than you had previously achieved. When you left that show, were you confident that relevancy was going to continue?
No, because it wasn't. You go from the original dream — creating a role, winning the Tony — and the trajectory is, "Okay, I wanna cross over now into film and TV. I want to be more than relevant than just this ten-block radius." That continued to be elusive until Pose.
You got Pose two years later. That show has a lot of fabulousness and a lot of seriousness. How did you arrive at the right balance of the two?
It was Ryan Murphy's brilliance in understanding diva-dom. He deals with those women all the time, the Jessica Langes of the world. He understands how to create for them — for us — so that we're presented at our best. He saw me. He saw the necessity for my lived experience on that show. Pray Tell was not in the original script. The character was created for me, post-audition. What he responded to was my combination of rage, fabulousness, and seriousness, which is what he does best. He was on my vision board.
It was a goal to work with Ryan Murphy?
Yes. I knew he would understand me. He wouldn't be afraid of me. "He's too flamboyant" is all I would ever hear. "He's too much." Too this, too that. It's like, well, somebody has to be! Ryan was one of the first people in film and TV to go, "No, all of you, all of that." I remember the first day of shooting, we were doing a scene in the ballroom, and I was hosting the ball, shouting, "The category is!" I was doing the TV version, performing the way I assumed everybody wanted because I was told I was "too much" all the time, and then I hear, "CUT!" Ryan comes up to the podium and says, "What the fuck are you doing?" I go, "What do you mean?" And he's like, "Where's the Billy Porter thing?!" I was like, "Oh, I was just trying to … you know … do the TV version!" He's like, "Please stop. I need all of you! Everything on the floor, now." And that's all I needed to hear, child!
Was that the first time you'd heard that in the film and TV space?
Yeah!
Were you instantly able to process that? Did you know how to respond to, "They want the full me"?
Yes. It was easy to do at that point, because I had spent my whole life trying to get there, trying to get to the place of my own truth and being able to come from there, always.
It's around that time that you started to become a public figure, both through the press from Pose and the ways you were using fashion as a tool. How did you create your public style during that time, and what did it do for your ability to express yourself?
It was very organic. I grew up in the Black church, which is a fashion show. My whole life, I've been a fashion person. My favorite times of year were Easter and Christmas because I got a new suit, and I continued that tradition into my 30s. When I started Kinky Boots, I knew I wanted to use fashion as a part of the promotion, as a part of my image. It's not just about performing — it's show business.
I knew going in that I was going to go "geek chic," because I figured, "I'm playing a drag queen, so I need to do boy for press." That was bow ties and suits. In the summertime, I would wear shorts and high argyle socks and a jacket and pocket squares and bow ties. I was walking in Harlem and somebody was like, "All right, hot fashion Pinocchio!" But around that time, something interesting happened. I hadn't been on Broadway in almost 13 years, and while I was away, the internet happened. So in 2012 we were in Chicago doing previews, there were some people there, and they took my picture looking like a vagabond —
At Kinky Boots?
Yeah, because I was rehearsing all day. We were doing the out-of-town tryout. You rehearse all day, you make changes, you put them in at night. Then you go home and hope you get enough sleep to come back the next day and do it all over again. So I looked like a vagabond, because I was rehearsing all day. I wake up the next morning, and my picture was plastered all over the internet, and I thought, Oh my God, if people are taking my picture like this, I need to dress up every single day.
After that, I commenced spending a lot of my money on the evolution of that idea. My business manager was saying, "You're spending too much on clothes." I'm like, "It's a reinvestment. Bear with me." The whole Broadway industry made fun of me for dressing up every day. "Why are you doing that? You gonna do it every day?" But my aunt Dorothy said, "Dress for the job you want, not for the job you have." I was trying to run shit! I need to look like I'm gonna run it.
I got a Gap ad as a result of that approach — an international ad in 2013 with me and Cyndi Lauper. Then fast-forward to the Golden Globes when I had my first nomination for Pose. I wore that suit with a cape with the pink on the inside. I didn't win the Globe, but I was the only person people were talking about that weekend. On Sunday I woke to my phone buzzing because there were headlines: "Golden Globes parties 2019: Billy Porter is the winner." I said to my team, "Are y'all getting it?"
Then I got the invite for the 2019 Oscars. Literally, I got a call ten days before: "ABC wants you to be a co-host on the red carpet at the Oscars." I was like, "Uhhhhh, what am I gonna do?" It's the biggest night! It's our Super Bowl! John Travolta said Idina Menzel's name wrong and she became a household name! What the fuck am I gonna do?
This was during New York Fashion Week, my first Fashion Week. I was a spokesperson or whatever you call it, and I went to the Christian Siriano show. I had loved him from Project Runway. The models came down the runway, and as I was seeing it, I was like, "Oh my God. A gown! Right!" When I was in college, I would joke about not wearing the penguin suit and going in a gown. "I'm gonna wear a gown to the Oscars!" Joking! Then while watching the fashion show, I thought, If from waist up my outfit looks like a tux, and then you pull out and it's a full, antebellum ball gown on the bottom, the world will gag! That's exactly what happened.
Your image started to represent something on a worldwide level that it hadn't before. Did you feel ready for that?
The short answer is yes. When it happened, I was almost 50 years old. I'd been working for this. I knew exactly what I was doing. Yes, people tried to come for me. "Oh, he's just trying to get attention!" Yes, I am! Why you mad at me because I'm good at my goddamned job? I'm supposed to be getting your attention! That's my job!
But what I didn't understand is that I wasn't doing it simply for attention's sake. There is a calling on my life, and the reason everything has happened is because I stepped into the fullness of that calling. The conversation is not actually about me wearing dresses. It's about being free. I can't tell you how many times I've read, "Oh, yeah, he's just in a dress again." This conversation is more nuanced than that. Everything has changed. Straight boys are showing up to the Met Gala with trains. You're fucking welcome, Bad Bunny! I love it! The de-gendering of fashion — we put gender on clothing!
Is there a fear when you're communicating through an image that the nuance won't come across?
I don't live in fear, so let's change that word. I don't care whether you understand it or not. I'm not doing it for your understanding. If you want to understand it, you will ask. It's very easy to put me in a box.
Do you feel yourself still being put in the box?
All day, every day.
I know you received criticism for taking the role of James Baldwin …
First of all, the majority of energy I receive is positive. That said, I got a call one day from my sister back in April. She was apoplectic. It had been announced that I'm playing James Baldwin, and there was a Facebook page set up by Black gay men in opposition to me getting the role. Not just Black gay men, but Black gay English professors around the country. There is a self-hate that exists in the queer community, particularly in the Black queer community, and the self-hate is in relation to our proximity to straightness and masculinity. And because I took myself out of that toxic masculinity space, I don't exist in it anymore. So now there's a whole gaggle of Black gay men that don't think that I'm "straight enough" to play James Baldwin.
In general, it's Black people that put me out first. There's no worse pain than being consistently put out by my own. In 2024, Billy Porter is not the one to play James Baldwin? What do you mean? You want a straight man to do it? You want Jonathan Majors? You want LaKeith Stanfield? No shade, they're great actors — but we're not doing that no more! I'm the Black faggot that worked my whole life to play that part. Finally, we have an out, Black gay man playing an out, Black gay man! And y'all better go see Colman Domingo in Rustin! It's a new day!
The whole point is: No more straight boys playing gay people! For years, if the description of the role didn't start with "flamboyantly …," I wouldn't be seen for it. And even when I would get seen, the feedback would be, "He's too flamboyant." Then I would turn on the TV and it would be a straight man playing the part, being "flamboyant." I'm so thankful to have lived long enough where I can go and play a gay man in the mainstream.
You have a movie coming out later this year called Our Son —
Yes, I do! Strike's over! We can talk about it now!
Which is a straight-up drama. We talked about the difference between the fabulousness and the seriousness before. This felt like you were being asked to do something that was to be taken seriously. How was the process?
It was unbelievable. My agents brought this to me for that reason. It's a divorced child-custody drama in the spirit of Kramer vs. Kramer meets Marriage Story. It's very quiet. We made it for $1 million, it stars Luke Evans and myself, and a little boy named Christopher who is brilliant. I wrote a love duet for Luke Evans and myself to sing. Luke Evans can sing his ass off, so I'm trying to get that Oscar nomination for Best Original Song.
You're one award away from an EGOT!
The movie debuted at the Tribeca Film Festival; we sold it during the strike, and it's coming out on December 8. My hope is that we have enough time to get it in front of the right people to at least get a nomination. I know they gonna give that bitch Billie Eilish the Oscar! I like her song, but you ain't never seen a love duet with two queens singing on the Oscars! You got the queen and you got the Welsh straight-presenting gay boy. They need to have us there, so I'm putting that out in the universe. I'm a businessman! Don't think I'm not trying!
the vulture spot
Another
Vulture
Festival
Moment
While onsite to receive his Master of Culture degree, Billy Porter stopped by the video studio for a chat with Jay Jurden, and he also had a message for Fran Drescher.
The show was Radiant Baby and premiered at the Public Theater in 2003. Porter was cast in a 2003 production of Little Shop under Connie Grappo, who was replaced following the show's out of town try-out.