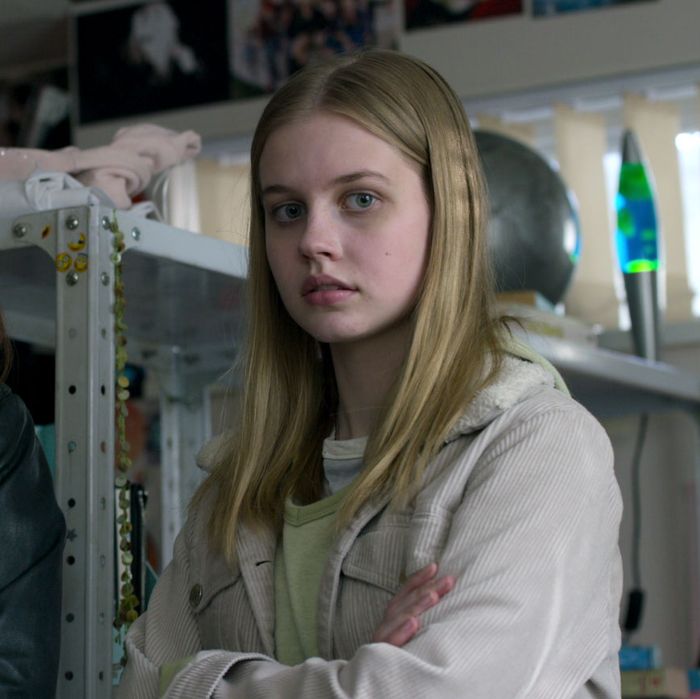 It wouldn't be Black Mirror without tons of hidden Easter eggs. As showrunners Charlie Brooker and Annabel Jones have been doing for the last several seasons, the Black Mirror team has tied the three latest episodes to quite a few others from the show's history. These three latest chapters have the briefest of nods to "The National Anthem," "Crocodile," "USS Callister," "Playtest," "San Junipero," and many more. Did you catch them all? Let us guide the way. Major spoilers, of course, to follow.
One of the least Easter egg-heavy episodes in recent memory, this story of two old friends who fall in love through a virtual-reality fighting game only has a pair of connections to other Black Mirror installments.
When Karl gives Danny a copy of Striking Vipers X for his birthday, you can see in the upper-left corner that the game was made by SaitoGemu, a reference to season three's "Playtest" and the video-game company run by the legendary Shou Saito. (The company will be referenced in all three episodes of this fifth season.)
A few seconds later, Karl presents his buddy with the VR system that will change his life, and the box clearly says "TCKR," which is the same company that created the virtual reality in "San Junipero."
Any Black Mirror episode filled with shots of computer screens and phones is bound to lead to a number of Easter eggs, and there are literally dozens in just a handful of blink-and-you'll-miss-them shots here.
In fact, the Easter eggs for "Smithereens" started before the season: There's an ending you can get in Bandersnatch that includes a ticker filled with headlines that connect to other episodes. When it aired in December, "Senate Committee Grills Smithereen CEO Billy Bauer Over Russian Bots" didn't mean anything, but now we know who Bauer is and about the social media company he runs.
The deluge of hidden callbacks comes mostly in two places: Chris's phone screen for his ride-share app and a few screenshots from Smithereen about Chris. Let's start with the phone screens. Chris is basically stalking employees of Smithereen, and we see him do two pickups. Both times include shots of his ride-share app map with more than just Smithereen's U.K. Office. The first time, you can make out SaitoGemu Arcades ("Playtest"), something called "Arquette's" (the name of the antagonist from "Men Against Fire"), and Stripe's Cocktail Bar (again, "Men Against Fire"). The second time, the map includes Bandersnatch Theatre (Bandersnatch), Raiman's ("Men Against Fire"), Dahl's Shoes ("Hated in the Nation"), Fence's Pizza ("Crocodile" & "USS Callister"), Redfield Theatre ("Playtest"), and Huq's (Black Mirror creator Charlie Brooker is married to Konnie Huq).
When Chris finally gets Jaden connected to the Smithereen office, there's a shot of a screen behind the receptionist's desk that's full of Easter eggs. On the left, there are trending topics that include #SaituGemuAnnouncement ("Playtest"), SaitoXNetflix ("Playtest" and arguably Bandersnatch), #AshleyOWembley ("Rachel, Jack and Ashley Too"), #Tucker (Bandersnatch), #StJuniperStrike ("Black Museum" and "San Junipero"), and a headline, as well as two trending topics about Prime Minister Callow from way back in "The National Anthem."
When the London office of Smithereen is forced to call the United States and the formidable Penelope Wu, the caller thumbs through her contacts, calling up more than a few familiar names. It takes some major pausing, but you can catch Michael Callow and Carlton Bloom ("The National Anthem"), Naomi Blestow ("Nosedive"), Nate Packer and Dudani ("USS Callister"), Nish and Clayton Leigh ("Black Museum"), Blue Coulson ("Hated in the Nation"), and Dr. Peter Dawson ("Black Museum"), among probably others that are going too fast for the human eye to catch.
When Smithereen is trying to figure out how to negotiate with Chris, they bring up his old Smithereen profile, and the post at the bottom of the page reads: "Which of the new SaitoGemu consoles should I get?" That's another "Playtest" reference, of course.
He also digs Fences Pizza, just as the characters from "Crocodile" and "USS Callister" did.
Finally, there's a word cloud of things that Chris has posted about in the Smithereen office, and it includes Victoria Skillane ("White Bear"), Space Fleet ("USS Callister"), Fences Pizza ("Crocodile"), and Michael Callow ("The National Anthem").
Most of the Easter eggs in the season finale come courtesy of a news ticker, but there are a few others sprinkled throughout.
First, Angourie Rice's Rachel is a loner at Ritman High School, a clear reference to Colin Ritman from Bandersnatch.
Not long after, we can see Ashley's horrible aunt using Smithereen after Ashley's latest appearance.
The real egg hunt comes when Ashley goes into her coma and the news starts reporting on it. First, she's rushed to St. Juniper's ICU, an obvious nod to the hospital in "Black Museum" (and a slightly more subtle reference to "San Junipero").
The news ticker includes a "Crocodile" egg: "Architect Arrested on Multiple Murder Charges."
Later, the ticker reports "…ng Narrative Creator Still Missing" (Bandersnatch), "SaitoGemu Shares Jump on Striking Vipers Release" ("Playtest" & "Striking Vipers"), and "Museum Owner's Body Found in Smoking Ruins" ("Black Museum").
While Rachel is dealing with the tragedy, an entertainment-news program drops references to stories about Tusk from "Hated in the Nation" …
… and a reboot of an in-series franchise called "Sea of Tranquility," which was first referenced back in "The National Anthem" and expanded upon through cosplay in "Nosedive."
Finally, it wouldn't be a season of Black Mirror without a version of "Anyone Who Knows What Love Is (Will Understand)," which was previously used in "Fifteen Million Merits," "White Christmas," "Men Against Fire," and "Crocodile." This time, it's sung by none other than Miley Cyrus almost exactly 40 minutes into her episode.