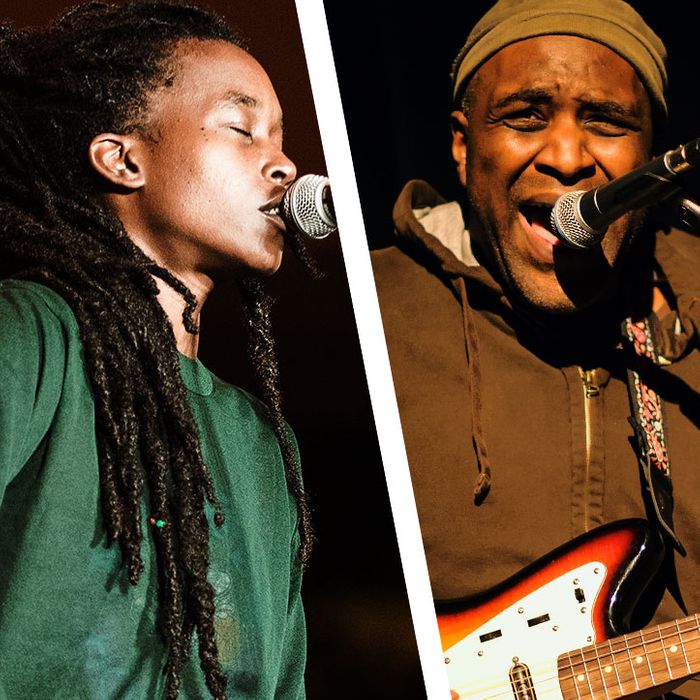 Moor Mother, Chad Clark of Beauty Pill, and Sampa the Great.
Photo: Getty Images
Today's music landscape wouldn't exist without black performers. Singers like Sister Rosetta Tharpe and Big Mama Thornton built rock-and-roll music. Folk music often borrowed from gospel and soul. Electronic genres from house to techno came out of Black communities across the U.S. — not even to mention Black-built genres like hip-hop that currently define pop music. As the country has protested systemic racism, spurred by countless police killings including those of George Floyd, Breonna Taylor, and Rayshard Brooks, the music industry has begun to turn toward its own complicity in systemic racism. With that, music-distribution platform Bandcamp announced plans to donate its cut of Juneteenth profits (from midnight to midnight PT) to the NAACP Legal Defense Fund, along with committing an additional $30,000 to racial-justice organizations. Not only that, the site committed to continue the donations "every Juneteenth hereafter." It's a perfect time to support black artists on the platform, which also recently donated 100 percent of profits to musicians on March 20, May 1, and June 5, and will do so again on July 3. Here are 18 black artists and one compilation across all genres to support on Bandcamp today and every day.
Bangs & Works
Few albums have formed a genre more than Bangs & Works Vol. 1, the 2010 compilation that brought footwork — a hyperactive, detailed style of dance music that sounds like a stimulant high — from Chicago's streets to the country. The wide survey features all the greats, from Teklife Crew leaders RP Boo, Traxman, and DJ Spinn to indies like DJ Nate to late hero DJ Rashad. While the hip-hop–focused Vol. 1 is an essential entry point, follow-up Vol. 2 paints with a wider brush, drawing from house, techno, funk, and pop, while introducing more producers like the experimental Jlin.
Beauty Pill
Beauty Pill is the sprawling project of Chad Clark — a rock band in name only that draws from punk, hip-hop, and psychedelic music, among many others. And Beauty Pill's Bandcamp page is equally sprawling, from the band's beloved 2001 EP The Cigarette Girl From the Future to its just-released score to the 2010 "dance play" suicide.chat.room to recent quarantine EP Please Advise. Start with their 2015 opus Beauty Pill Describes Things As They Are, recorded in 2012 for a performance-art project. It ebbs and flows over the course of an hour, and Clark sprinkles just enough delicious pop throughout to keep you listening.
Big Joanie
London rockers Big Joanie boast an impressive list of cosigns: Their debut album came out on Thurston Moore's Daydream Library Series, and they've opened for punk giants Sleater-Kinney and Bikini Kill. Sistahs is both loyal to those heroes and self-made in DIY spirit — boiling their influences down to its elements and reconstructing new music out of guitars, feedback, and confrontational lyrics. Just one album in, Big Joanie is already special.
BIG $ILKY
Two former members of Chicago group Rapperchicks united this year to form BIG $ILKY, a sharp project devoted to '90s rap and R&B, both in sexuality and braggadocio. The prolific rapper Psalm One (she's released music under about a half-dozen names and groups) takes the lead with Angel Davanport spitting close behind, the two feeding off each other like the old friends they are. Standout BIG $ILKY VOL. 1 closer "RPRCHX IZ DED" places them firmly in the present, both with a more synthetic beat and hard bars that prove they're still at the top of their game, six years after they started Rapperchicks.
DJ Nate
DJ Nate follows his own path. In 2010, the Chicago producer released the monstrous, definitive album Da Trak Genious, which pummeled accessible samples into entrancing, frenetic beats, along with loosies like the ethereal "Ima Dog." Then he turned from footwork to R&B and rap, making the local anthem "Gucci Goggles." It took a November 2016 injury, which left him paralyzed for a period, to bring him back to the dance genre. His resulting second footwork album, 2019's Take Off Mode, blends tracks from the Da Trak Genious era with new work to portray nothing short of, well, a genius.
Dua Saleh
One of the most affecting songs released in the wake of protests against George Floyd's killing by police came right out of Minneapolis: Dua Saleh's haunting "body cast," on which the singer dwells on every line about bearing witness to police violence. It was the unintentional precursor to Saleh's next EP, Rosetta, with a title paying tribute to early rock performer Sister Rosetta Tharpe, a black woman. In sound, it falls closer to pop, R&B, and trap at times, but Saleh channels Tharpe in performance — working to make something new through notable devotion to their craft.
Jackie Venson
Some blues musicians might scoff at Jackie Venson, an Austin singer and guitarist with a taste for electronics. She plays guitar with a blues ethos — well enough to be named Austin's best guitarist in 2019 — but fills in the space around her riffs with synthesizers and pop melodies. Her 2019 album Joy is an intriguing hour-long exploration of her blues-fusion, while two recent live CDs, released for past Bandcamp Days, show that she can still play as raw as her peers.
Jeff Parker
During the recording for his 2016 album The New Breed, Jeff Parker's father died. The Tortoise guitarist turned jazz virtuoso dedicated the new album to him, and in turn decided his next would be for his living mother. January's Suite for Max Brown finds Parker using all his gifts, playing nearly every instrument for the lively outing. Centerpiece "After the Rain" is a soft-spoken performance of John Coltrane's '60s song for his mother, while "Max Brown," his mother's nickname, is a grooving grand finale.
Jlin
Footwork is an experimental genre, built by rocketing Chicago's hip-hop and house traditions into the future. Even amid her footwork-based peers, Jlin's electronic music falls left of center. The producer's debut Dark Energy is symphonic, percussive, and dissonant at once, and led her to collaborations with figures like Björk and Holly Herndon. Follow-up Black Origami continued to push her to the edges of her uncompromising vision, while her most recent release, Autobiography, is her distinct score to a dance performance choreographed by Wayne McGregor.
keiyaA
On her debut album Forever, Ya Girl, keiyaA lingers on her words: She sings them, then speaks them, often layering her vocals until she fills your ears. They spill over from one track to the next on the record, which the singer also produced mostly by herself. Her strong, silky voice could've easily carried her to a traditional R&B career, but keiyaA wanted to speak on her terms. So instead, the auteur created her unique, experimental debut, one of the most uncompromising visions on any album this year. And she knows it — "My love is heavenly," keiyaA proclaims after the beats and samples fade out on an early highlight, landing on the message she'd been circling.
Medhane
Cold Water is a fitting title for Medhane's most recent effort: a rap album dense enough to drown in but refreshing enough to wake you up. The New York rapper has released baritone, succinct stream-of-consciousness raps for a few years now, including an early Earl Sweatshirt–produced track "Agoura134" on his EP DO FOR SELF. Cold Water tops off a run of three Medhane projects in six months, also including the self-produced FULL CIRCLE, and only leaves you waiting to hear more from the 23-year-old.
MIKE
The past year will mark one of the longest gaps in MIKE's releases since he began making music in 2015. The prolific 21-year-old Brooklyn rapper and producer will release his new album Weight of the World on June 21 — a year to the day after his last one, Tears of Joy, a caring ode to his late mother. And throughout his extensive catalogue, he's remarkably consistent: a singular, straight-shooting, confessional young rapper, addressing mental health and youth with arresting clarity. He'll have a lot to carry on Weight of the World.
Moor Mother (and Irreversible Entanglements)
The poet Camae Ayewa is a presence as Moor Mother, both a formidable solo artist and a bandleader who commands attention. She's explored racism and trauma from her haunting first album Fetish Bones, which established her musical perspective as much as her political one: dense but sharp. That carries to her more recent projects, from jazz collective Irreversible Entanglements — whose sprawling February album Who Sent You? rewards a patient listener — to the beginnings of her ANTHOLOGIA series of near-freestyle poems with producer Olof Melander.
Proper.
Erik Garlington is a student of 2000s and early 2010s emo — I Spent the Winter Writing Songs About Getting Better, his band's first album under the name Proper. (after previously performing as Great Wight), references a popular Wonder Years lyric. Proper.'s music channels the same angst as its predecessors with songs about love, depression, and just not fitting in, but with a perspective singer-guitarist Garlington hadn't heard in emo: a black, queer young person from Middle America. Garlington's lyrics are strikingly direct but not heavy-handed, accented by the three-piece's sometimes muted, sometimes grandiose rock sound. It's stunning.
Quelle Chris
Quelle Chris's recent string of releases prove the alternative rapper and producer can do it all. The 2016 beat tape Lullabies for the Broken Brain defined his idiosyncratic lo-fi style on the edges of hip-hop. His 2017 album Being You Is Great, I Wish I Could Be You More Often defined his anxious, straightforward style. Follow-ups Everything Is Fine (with wife Jean Grae) and Guns turn to social and political commentary — the former leaning toward satire, the latter more poignant but equally biting. He returned to collaborator Chris Keys in April for Innocent Country 2, a leaned-back rap record as proficient as his past work.
Sampa the Great
The groundbreaking debut album by Sampa the Great, The Return, earned the rapper her confident title. The Zambia-born, Botswana-raised, Australia-based musician draws from all sides of her influences on the record, blending African music with a hip-hop and R&B framework and spoken-word flows, for a captivating 78-minute celebration. If that's not enough, work your way back through 2017 mixtape Birds and the BEE9, a more low-key Sampa affair that's still exceptional on its own.
Shamir
There's something in Shamir's discography for all listeners. The musician's first album, Ratchet, is an instant dance-pop classic, marked by woozy synths and his confident tenor voice. He quickly turned to guitar-driven rock music on subsequent releases — equally loud, but significantly more raw. That's where March's Cataclysm found Shamir, but new single "On My Own," off a forthcoming second 2020 album, nearly finishes the circle back to his pop sensibilities with fantastic results.
Sneaks
To Eva Moolchan, punk is more theory than practice. She started playing guitar with former Priests leader Katie Alice Greer in a band called Shit Stains, but soon turned to more synthetic styles, building toward her first drum-and-bass-driven record as Sneaks, Gymnastics. Over the next two albums, Moolchan slowly traded her guitars for more synths, leaning fully into hip-hop influence on 2019's Highway Hypnosis. She still hasn't shaken her DIY ethic and bold performance style.
Tyshawn Sorey
For Tyshawn Sorey, a 2017 MacArthur grant winner, instrument comes before genre. The drummer's jazz studies come through in some of his collaborations, like his hazy trio project Versimilitude, along with his propensity and skill for improvisation. But something like the more recent Invisible Ritual, with the violinist Jennifer Curtis, lets Sorey lean into his experimental side. His drumming never overshadows his collaborators, but it never gets lost either — it's controlled and commanding, like good jazz.