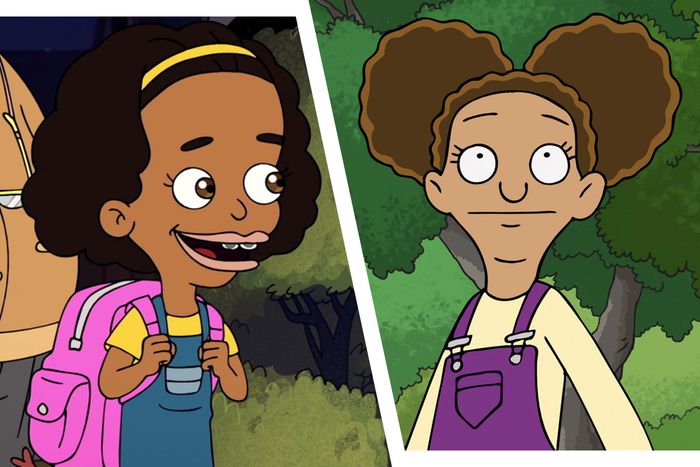 Missy in
Big Mouth
and Molly in
Central Park
. White voice actors stepped away from both roles last month.
Photo: Left: Netflix, Right: Apply TV+
"Hello, gentlemen! Would you like to be in my club that relives the American 20th century?"
When Jenny Slate said her very first lines in the Netflix animated series Big Mouth, viewers met a smart Black girl with braces named Missy, clearly the brainiac of the bunch. But what they might not have seen is the white woman behind her.
Last month, Slate stepped down from her Big Mouth role and called for the show to recast Missy with a Black voice actor. "Black characters on an animated show should be played by Black people," she wrote on Instagram. The same week, the creators of the Apple TV+ animated series Central Park announced that Kristen Bell would no longer voice a biracial character named Molly, and will be replaced by The Umbrella Academy star Emmy Raver-Lampman for the show's second season.
As the Black Lives Matter movement has reignited this summer, prompting vows from almost every major U.S. institution to confront their racist cultures and practices, the voice-over industry has been no exception. The sudden rise of calls for color-conscious casting comes after years of criticism about whitewashed roles. But while many Black voice actors are glad to see white actors leaving roles where they played characters of color — a trend that also includes The Simpsons star Hank Azaria, who voiced the Indian convenience store clerk Apu up until February, when he claimed that it just "didn't feel right" — they believe more meaningful changes are needed for truly equitable hiring.
"The fact that this conversation is now front and center, after decades of being bypassed, shows that something transformative is happening," said Joan Baker, a Black voice actor who is the co-founder of the Society of Voice Arts and Sciences. "We must insist that casting directors, talent agents, and talent managers who are the primary gatekeepers for major voice-over jobs be enlightened to the reality that they are complicit in racial inequality if they don't do the work of matching actors of color with characters of color."
Whitewashing within the voice-over industry has existed for decades, and white men have historically filled most roles in casting, drawing, animating, writing, and voicing characters. Baker, the author of Secrets of Voice-Over Success, co-founded the SOVAS to counter those trends. Since 2013, the nonprofit offers education, professional training, and job opportunities for voice actors. But Baker still thinks a lot needs to change in the voice-acting world. While most jobs are governed by predetermined union rates (and nonunion jobs often follow the same parameters), she says that Black voice actors simply aren't getting enough job opportunities. "The real question, as it relates to Black voice actors versus white voice actors, is who gets hired," Baker says. "Black actors are still working overtime to get equal representation and critical acclaim."
Neither the SAG-AFTRA union (which represents TV and film actors) nor the University of Southern California's Annenberg Inclusion Initiative (which tracks Hollywood diversity) tracks statistics on diversity within the voice-actor industry. Still, Baker says, the inequity is obvious: "Blacks lag behind, as they do in almost every other segment of employment. In America, the number of Black voice actors is still not representative of the population."
Wyatt Cenac, a comedian and former Daily Show correspondent, voices two characters on Nickelodeon's Fanboy & Chum Chum. A fair industry, he says, is one where Black voices are not just in the recording booth, but hired on all levels as writers, directors, and animators. "We're still in a time where TV networks have no hesitation making four animated shows about white families," he says, "but if they had two great scripts starring Black families, they'd feel like they have to choose."
"It feels like the problem has grown in part because there has been an emphasis on casting big names over the right names," Cenac continues. "When we talk about systemic racism, when every top-level person is white, chances are that top-level talent is overwhelmingly white, too."
Venus Crute, who has been working in the voice-over industry for more than 15 years, including for shows produced by Disney and CBS, says that it's admirable white actors are voluntarily stepping down to make room for Black actors. But she, too, agrees that it is not enough. "If the producers, directors, and network executives don't adopt fair casting practices and cast actors who are the right fit for the role in all regards, then these gestures will not make any difference," Crute says.
Recently, Hollywood casting agents have begun tapping into the African American Voice Actor Database to find Black voice actors. The database features over 170 members and offers free membership to any Black voice actors who are over the age of 18 and have a professionally produced audio demo reel. Bryan Howard, the founder of the database, says that several streaming companies have written to him in search of more Black voice actors for their shows. "The ultimate solution is to get more African-Americans and people of color into casting, the production side, to create opportunities," he says.
Those kinds of opportunities can have profound effects on a project. While working on the 2018 indie animated short Make It Soul, the Paris-based voice actor Avant Strangel was able to change a casting director's mind after he saw that a white co-star couldn't nail the voice of James Brown (the director then found another actor for the role). He also offered recommendations to a few talents in his professional network for a pair of other roles, which ended up working out ("There is a small network of Black expats I knew, so I put out the word," he adds). Make It Soul wound up getting nominated for a César Award.
"In this case, it was really more of a 'they didn't know where to look,'" Strangel recalls. "It's simple: Hire the appropriate person of color for the roles. Anything less is just an aural and oral blackface. And any white person telling someone to 'sound more Black' deserves a punch in the throat."
Changing the voice-acting industry won't just come down to casting alone. Baker, for one, wants to see more Black creatives get the opportunities to create their own TV shows and projects, so they can call the shots of how to cast each role. "The all-white ensemble that plays the roles of people of color, whether those roles are principles or incidental, is a gross and immoral situation," she says. "It must be called out from the backroom studios and it must be stopped."