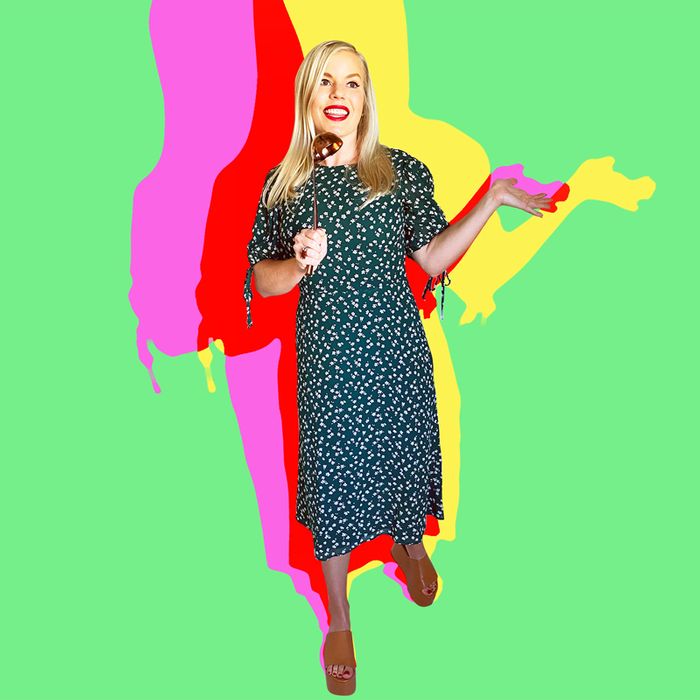 Blair Socci.
Photo-Illustration: Vulture and Photo courtesy of comedian
This week, we're highlighting 20 talented writers and performers for Vulture's annual list "Comedians You Should and Will Know." Our goal is to introduce a wider audience to the talent that has the comedy community and industry buzzing. (You can read more about our methodology at the link above.) This year, for the first time, we asked the comedians on this list to answer a series of questions about their work and comedy under quarantine. Next up is Blair Socci.
When did you feel that you were funny enough to make a legitimate go at comedy?
Probably a few years into comedy when I got to leave the computer coding job I lied to get because I got cast on an MTV show. What a relief because I had no idea how to code. But my boss told me I had "beautiful feet" every day, so who played who, you know?
Describe your comedy in five words.
Mischievous feral Looney Tunes eating.
If you weren't a comedian, what would you be doing?
I'd either be a grizzled private detective or a Rubenesque model married to a Greek shipping heir.
What of your work do you think you're best known for?
I haven't the faintest clue of the thing I'm most known for. I have a five-minute bit about Triscuits (not a good cracker) that seemed to impact (severely polarize) people when I went around the country.
What's some of your work that you're most proud of?
Hmm. I wrote an hour of stand-up about food for a show I was thinking of maybe doing at Fringe in 2020. Obviously that didn't happen, so I've been releasing it in parts online over the past year. I also did a set in February about sexual abuse that I'm proud of. And I'm also really proud of my short films that I make with friend Reggie Henke. We released one in quarantine called "Lucien Wickles" that I love. Okay wow, I guess I'm a huge fan of my work.
How has quarantine affected the way you approach your comedy and your audience?
I've lived nine different lives in quarantine. The first few months I was a hard-core online bitch ripping tweets and front-facing videos and doing 7 mil Zoom shows. But then I slowed all of that a bit because I wanted to use this down time to complete some longer writing projects. Also, I don't want to be *controversial* but being online is toxic as shit. I dream of being off it completely so that I can live a real life before death comes for me. Am I the next Bill Murray?
What have you done in quarantine for comedy that you thought you would never do?
I used to say that I wish I could do stand-up comedy from my bed. Now I know that I'm an all-powerful witch and can never joke about anything again or it will come true.
Who are some of your favorite comedians right now? Who is putting out work that excites and inspires you?
I firmly believe that Ms. Pat is the best comedian that will ever exist. Nobody even comes close. Also, Eddie Pepitone makes me laugh so hard. His special, For the Masses, is unbelievable. Ron Funches, Martha Kelly, Michelle Buteau, Roy Wood Jr., Rory Scovel, Robby Hoffman, Martin Urbano. Anything Dan Licata does. And then my two best legends, Rosebud Baker and Greta Titelman, crack my ass up every day.
What is the best comedy advice, and then the worst comedy advice, you've ever received, either when you were starting out or more recently?
Nobody told me this but it's something I've realized myself, and that is to only take advice from people you admire or from people whose careers you'd want. I remember when I first started I'd get some of these unwell 40-year-old dudes who hadn't written a joke in ten years telling me what I needed to do, and I'd be endlessly polite listening to them. Of course there were a lot of other amazing comics who were generous enough to give me great advice too, but now I only listen to people I admire creatively whose lives seem fulfilling and sane.
And then, you know, you have the classics: Write a lot, be nice to people, try to help others when you can, take risks, and keep your head down and create work you're proud of. Also, I think a good rule of thumb is to spend your time writing jokes instead of complaining and talking shit about people.
Tell us one story from your childhood that is a good representation of your life.
I was 13 years old and I was driving this dinghy with an outboard motor at a lake with my friend, Danielle. I was going full-throttle and hit some unexpected chop that violently forced my hand all the way to one side. The boat started spinning in circles at full speed and we were both thrown off 30 feet away. I've to this day never laughed that hard in my life. Luckily, the kill switch was around my wrist. Is this a psycho answer? I also fell off a chairlift twice.
Assuming quarantine ends at some point, is there anything about the way that comedy or the industry in general has changed that you hope continues post-quarantine?
The main thing I hope continues is that I keep firing off exquisite cast-iron rib eyes anointed by none other than God herself.