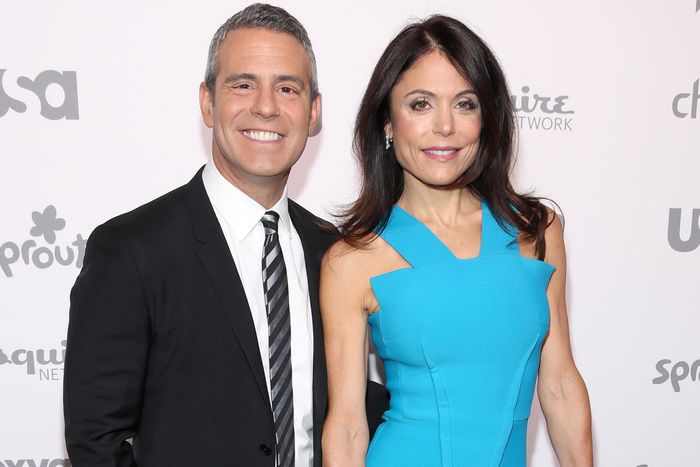 Photo: Cindy Ord/NBCUniversal Cable Entertainment Group/NBCU Photo Bank/NBCUniversal via Getty Images
After a firing for misconduct on a recent shocking episode of Below Deck Down Under and with Hollywood's strike in its fourth month, reality-TV powerhouse NBC Universal has found itself under the microscope with its growing reliance on reality shows. A scathing letter from a team of lawyers (who have notably partnered with Real Housewives of New York alum and genre blueprint Bethenny Frankel), shared on August 4, directly mentions Bravo and hints at a bombshell lawsuit to come. The controversy with Below Deck's Bosun Luke Jones, who was fired after he tried to get into steward Margot Sisson's cabin, completely naked, following a night of drinking, forcing production staff to intervene, has reignited the conversation over reality-TV participants' protection.
This isn't the first legal dispute to involve reality shows. Last July, Love Is Blind contestant Jeremy Hartwell filed a lawsuit against Netflix's production company Kinetic Content and casting company Delirium TV alleging that the show restricted food and drink options, regularly providing the cast with alcoholic beverages and energy drinks but not water and left them without phone access for hours at a time.
As reality shows continue to film during the strike, questions have also been raised as to whether the participants are being fairly compensated. Let's dive into what's really going on and what we can expect next.
What is Bravo being accused of?
High-profile celebrity attorneys Mark Geragos and Bryan Freedman are alleging that on multiple occasions, "NBC has exceeded the moral and legal limits permissible in a civilized society" during the filming of its slate of reality shows. They have sent a six-page letter to the network signaling their intent to file an imminent lawsuit; announcing that they are investigating allegations of fraud, emotional distress, distribution of revenge porn and false imprisonment; and asking the network to preserve any corroborating evidence.
The attorneys said they represent current and former cast and crew of "NBC's most lucrative reality shows" and accuse the network of "a pattern and practice of grotesque and depraved mistreatment of reality stars and crew members." They allege that individuals have been mentally, physically, and financially victimized by the network.
"As a result, the solid and dark underbelly of NBC's widely consumed reality TV universe has remained under wraps for far too long," the letter states. "Please be advised that the day of reckoning has arrived."
According to the letter, attorneys are investigating deliberate attempts to manufacture mental instability by plying cast members with alcohol and depriving them of food and sleep; covering up acts of sexual violence; refusing to allow cast members to leave their shows; and denying mental-health treatment to cast members who are displaying obvious and alarming signs of mental deterioration.
Has NBC responded?
With a huge stake in reality shows, NBCUniversal has a lot on the line. Bravo alone has 11 different Housewives shows spanning the country — Orange County, New York City, New Jersey, Atlanta, Potomac, Beverly Hills, Miami, Salt Lake City, Dubai, and Dallas — along with multiple spinoffs, from Luann & Sonja: Welcome to Crappie Lake to Ultimate Girls Trips. There are also seven spinoffs of Below Deck, two Summer House shows, Winter House, and three Southern Charms. Plus there's Vanderpump Rules, as well as its expanding slate of competition shows, including Project Runway, America's Got Talent, Top Chef, Shark Tank, Temptation Island, The Voice, and countless more.
NBCUniversal insists that it is "committed to maintaining a safe and respectful workplace for cast and crew" on all of its reality shows.
"At the outset, we require our third-party production partners to have appropriate workplace policies and training in place," an NBCUniversal spokesperson said in a statement issued to Vulture. "If complaints are brought to our attention, we work with our production partners to ensure that timely, appropriate action is or has been taken, including investigations, medical and/or psychological support, and other remedial action that may be warranted such as personnel changes."
How is Bethenny Frankel involved?
Frankel, 52, stepped into the fray by taking to her Instagram and saying that it was time for a "Reality Reckoning." Frankel proposed ten rules for the "reality revolution," saying that while reality entertainment had exploded during the actors' strike, the participants on the shows were not being fairly compensated. Frankel called for a $5,000 base minimum for unscripted talent and a 10 percent raise each season, as well as for talent to be paid whenever their show re-airs on other platforms.
"These are ways that talent can understand compensation without having to try to audit a multi-billion dollar powerful company that hides money in different places and likes to try to pretend that everything equals a show expense so you never get any of the gross," Frankel said in her post. "Content used later with no profit sharing & exploitation of hard working talent is as archaic as calling empowered independent women 'housewives,' a term setting back women 100 years then using them for drama."
When will we see the lawsuit?
When asked when a lawsuit might be filed, Geragos responded that at this stage, he and Freedman have been overwhelmed investigating complaints.
"Frankly, we have been inundated with a litany of horror stories and abuse that Bryan Freedman and I have been working feverishly to investigate," Geragos said to Vulture. "Bethenny Frankel deserves a tremendous deal of credit for bravely speaking out and inspiring others."
Geragos and Freedman have stepped up their pursuit of "Reality Reckoning" against NBC. The duo have fired off a letter to NBC's general counsel saying that they had "discovered the breadth and scope of [NBC's] wrongdoing is greater than previously believed." They are now asking that NBC release cast and crew from "draconian" contract terms and "onerous confidentiality provisions" that they said were enacted to ensure silence.
"We demand that NBCUniveral and its affiliates publicly release unscripted cast and crew from nondisclosure agreements that violate California law," the letter provided to Vulture states. Geragos and Freedman said there is a "culture of fear and silence" and demanded that NBCUniversal inform all unscripted employees and contractors that they are released from any contract provision that will interfere with their ability to "freely disclose conduct in the workplace."
This post has been updated.