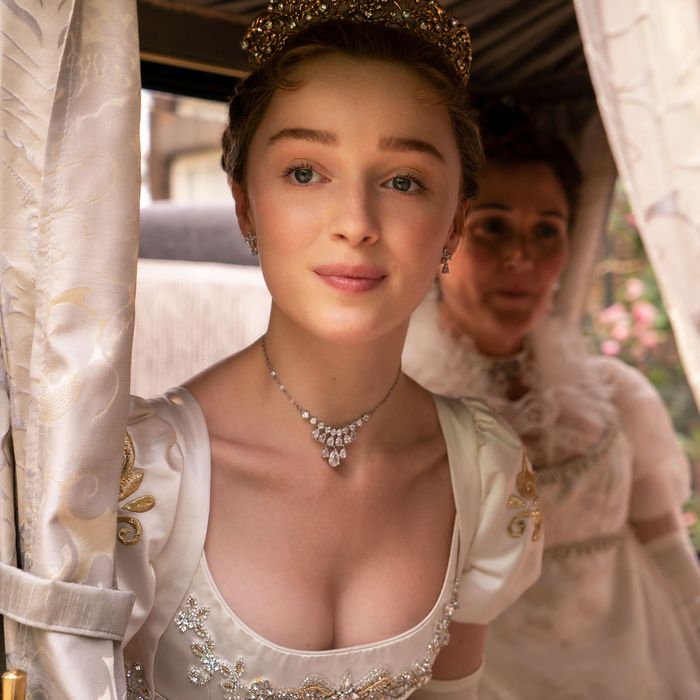 In
Bridgerton
,
Daphne Bridgerton's (Phoebe Dynevor) romance with the powerful duke of Hastings (Regé-Jean Page) is a chaste story right up until the moment when it is incredibly not.
Photo: Liam Daniel/Netflix
At the end of this miserable year, at least there is Bridgerton, arriving this holiday season like a frivolous but fulfilling present. The show is a Shonda Rhimes–produced adaptation of Julia Quinn's series of romance novels of the same name, a Regency-era confection of gloves and glances and dicks and dukes. Rhimes's first series for Netflix, Bridgerton is also a beguiling example of what can happen when romance is allowed to belong to characters who aren't all straight and white, and a fanfare-and-confetti reminder of what the genre can be at its best. It made me want to whisper obscene gossip, pop Champagne, and run giddily through a hedge maze.
If anyone is primed to have that response to Bridgerton, it's me, a person whose high-school years were shaped by watching the 1995 Pride and Prejudice miniseries with my mother and surreptitiously devouring Quinn hardcovers when I was supposed to be shelving books at my after-school job as a library page. I remember Quinn's works coming in through the return slot with plastic cover protectors full of beach sand and thinking that they were silly, shameful objects. Jane Austen was literature; these were chintzy, mortifying knockoffs. But there I was anyhow, standing over my wooden library cart where I knew no one would bother me, paging through Quinn's The Duke and I, looking for all the dirty parts.
Rhimes's Bridgerton series has everything I was looking for back then. It is primarily the story of Daphne Bridgerton (Phoebe Dynevor), the eldest daughter of the eight charming and wealthy Bridgerton siblings. She hates, then inevitably falls for, Simon Basset, the powerful duke of Hastings (Regé-Jean Page). It is a chaste story right up until the moment when it is incredibly not: Once the barriers are breached in this elaborate Regency dating game, the two fall all over each other with a single-mindedness that shocks the servants. The series tells that story with sparkling momentum, pausing at all the moments when one character or another wrestles with unexpected feelings, then prodding them forward before anyone can wallow for too long. Like the best romances, it marches its protagonists through agony (loathing, hidden lust, buried secrets) with regular intervals of relief, only to reinstate them in some even more unbearable state of tension.
Bridgerton's writers also have the advantage of being able to draw from Quinn's entire series, which focuses on each Bridgerton sibling in turn. Those characters arrive in the TV version with their stories already in motion, allowing Bridgerton to balance the narrative among a broader base of characters than a romance novel's usual primary duo. That's especially the case for Lady Featherington (Polly Walker), her three daughters (Nicola Coughlan, Harriet Cains, and Bessie Carter), and her ward, Marina (Ruby Barker). The Featherington wing of the show does an admirable job of carrying the drama when Daphne and Simon's relationship is in a lull, propelled by Walker's typically commanding performance. Walker has been slicing and scheming her way through twisted maternal roles at least since HBO's Rome, and it's fun to watch a series that lets her really perfect the part of venomous mother.
The show also includes potent roles for women outside the marriage market—notably, Julie Andrews provides the voice of the unseen narrator, Lady Whistledown, the pseudonymous and mysteriously well-informed author of the gossip column that regularly apprises the characters of everyone's scandalous comings and goings. (Mostly comings.) It gives Bridgerton the flavor of an early-19th-century Gossip Girl, and it has the added benefit of helping viewers such as myself who may have lost track of exactly which nearly identical Bridgerton brother is which.
When I first read the Quinn novels, I got a thrill from seeing all those stuffy Regency rules get smashed to pieces—of reading about people in Empire-waist dresses and impeccable cravats behaving like messy, horny humans. It was the shock of cracking open a Fabergé egg and finding it full of bodily fluids and betrayal. That viscera, the stuff I scoffed at in high school, was exactly what Quinn was striving to insert into this realm of delicate sensibilities. It's a restrained, homogenous world that never existed, not in real life or in Austen's often brutal fiction, but that nevertheless lives on in the collective imagination of the early-19th century. Quinn and other Regency-romance novelists filled that world of politeness with the demands of lustful bodies. Even so, the versions these writers created in the late 1990s tended to be just as circumscribed in their own way. The bodies were nearly all white. The lust was universally straight.
Onscreen, Bridgerton cracks the Regency fantasy open a little wider. Daphne Bridgerton, who is white, hates and then longs for the duke of Hastings, who's Black. High society is full of people of color, and the most powerful person in Bridgerton's social order is a Black woman, Queen Charlotte, played with haughty, gossipy, sometimes tragic tenderness by Golda Rosheuvel. For the first several episodes of the series, this seems like race-blind casting rather than a part of the story—a way to substitute an older Regency daydream for a new one, its diversity emptied of all meaning and historical context. Gradually, though, the foundation of Bridgerton's world starts to reveal itself through the most romance-genre logic: This English upper crust is full of powerful Black characters because of a love story. And like all love stories in the genre, this one changed everything, creating its own world of new obstacles.
Bridgerton's diversity backstory feels warm yet half-baked, as though the writers were eager to include a rationale but not all that interested in dealing with the less pleasant ramifications. It's an explanation that acknowledges viewers may need one but that neglects to, say, dig into immediate questions about slavery and colonialism. It's an Obama-era kind of race fantasy, where the fact of one Black person's power can nearly eradicate racism. You could easily see this as dismissive hand-waving. But because it's happening in a genre that always papers over some realities, I don't really mind. Bridgerton's end result is a heady cloud of pleasure and true love set in an idealized, more inclusive milieu. At a time when I'm longing to escape the real world, few fantasies are more inviting.