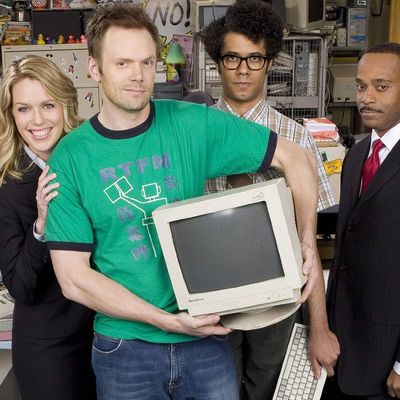 Last spring, Anglophiles got word of TV news that likely elicited eye rolls and a bit of head-scratching: Freeform announced its adaptation of the popular British sci-fi dramedy Misfits. Despite a swift pilot order and subsequent casting announcements, nothing has been uttered about the project in about a year, and it's unclear how the family-friendly network plans to adapt Misfits' delightfully signature lewdness to its new audience. But the big question is already obvious: Will the show eventually join the graveyard of British comedies and dramedies that couldn't thrive stateside?
Over the past decade or so, American TV has made numerous attempts to adapt uniquely British source material, but the vast majority have met cancellation almost immediately — if they even managed to go beyond the pilot stage. (Dramas have been a bit more successful, as evidenced by the longevity of House of Cards and Shameless.) Read up about 13 of these instances below, and remember: Not everything can be The Office.
Absolutely Fabulous
The U.S. has tried to adapt AbFab twice since the early '90s, both times with excellent pairings for the leading roles of Edina and Patsy: Carrie Fisher and Roseanne Barr's ABC iteration never actually made it to the pilot stage, while Fox ended up shooting a pilot in 2009 with Kathryn Hahn and Kristen Johnston, with Zosia Mamet as Saffron. Set in Los Angeles, writers from Arrested Development and Saturday Night Live were onboard to write that version. "I think [the pilot was] at a time where maybe this country was not quite ready to talk about conspicuous consumption in a light way," Hahn later revealed. "But it was a ball, it was crazy."
The IT Crowd
Joel McHale and Jessica St. Clair joined The IT Crowd's original cast member Richard Ayoade to film this NBC adaptation, with several scripts written and a pilot filmed. It never got a series order, though, with NBC's chairman at the time admitting it "didn't quite spark" as much as the network had hoped. (The pilot, which can be viewed in full here, has a palpably odd energy to it.) "I was the only one dumb enough to do it. It was deeply weird," Ayoade later confessed. "It was a bit like a play where everyone else had left. It was very odd." In 2014, NBC was trying to adapt it once again — and not to be outdone, as of late 2017 the network was still hard at work at "re-imagining " the show for more modern times.
Skins
Despite actually lasting for ten episodes on MTV with the same showrunners as the U.K. version, Skins was doomed from the start. It immediately angered American advertisers and parenting groups with its rampant sexual content and drug use, with companies pulling their ads after the first episode and outraged parents petitioning to get the show off the air. (MTV executives even worried the series might violate child pornography and exploitation laws, as most of the actors were under the age of 18.) Despite canceling Skins, MTV stood by the series until the final episode aired, saying that it addressed "real-world issues confronting teens in a frank way."
The Inbetweeners
Just like Skins, MTV adapted The Inbetweeners for one season before it was canceled, and it also brought in the original showrunners to lead the U.S. version. (ABC tried and failed to adapt the series years prior.) The adaptation proved to be a failure in both ratings and acclaim: less because of teenage lewdness à la Skins, but rather because of an incredibly poor reception of the general narrative, the tone of which MTV dumbed down from the U.K. weirdo-lads-in-suburbia version. (How would they translate "bus wankers," anyway?) A critical essay in the Independent sums this dissonance up perfectly: "The failure of the U.S. remake is nothing to do with Yanks not getting irony. It's just British teenage life is much dirtier than the American imagination can bear."
Peep Show
You gotta respect resiliency, even if that resiliency ultimately lead to the David Mitchell and Robert Webb-fronted Peep Show being rejected from American television an astounding three times. The show's journey began when it failed to be picked up after filming a pilot for Fox in 2005, when Johnny Galecki, who later found astronomical success as one of the leads in The Big Bang Theory, played one of the lead roles alongside Josh Meyers. (Seth's brother!) Spike TV came calling in 2007, but that didn't even make it to the pilot stage. As a last hoorah, Starz placed an order for yet another remake in 2016, which prompted the show's creators Sam Bain and Jesse Armstrong to talk about why the network "turned it down" in the end. "I think adaptations to America are really hard," Bain explained. "The exceptions — the ones that work, like The Office — are much more rare, because you're trying to change a show and keep it the same at the same time, which is quite weird." They vowed to never try to get it adapted again.
Spaced
Spaced — the truly inimitable sitcom created by Simon Pegg and Jessica Hynes, and directed in full by Edgar Wright — was brought overseas by Charlie's Angels director McG, where it landed a pilot order for Fox in 2008. The original trio was never consulted about the across-the-pond move, with Pegg going so far to condemn the "sheer lack of respect" that the network and production company "have displayed in respectively selling out and appropriating our ideas without even letting us know." Due to the vast backlash from fans of the original series after Pegg's statement, as well as vicious statements from Hynes and Wright, Fox pulled the plug on the adaptation and hasn't pursued it since.
Us & Them
Fox's adaptation of the cute rom-com situational comedy Gavin & Stacey — which featured a solid cast of Alexis Bledel, Jason Ritter, Michael Ian Black, and Jane Kaczmarek — originally got a 13-episode order for the 2013–2014 television season, but the tally was unexpectedly cut to seven and then eventually didn't air at all. (The show followed the long-distance relationship of a young-and-in-love couple.) The network never gave an official statement as to why it was canceled, despite this particular adaptation not getting terrible reviews.
The Thick of It
Consider this a blessing in disguise, as Armando Iannucci ended up wowing American audiences with Veep a few years after this failed The Thick of It adaptation. Arrested Development creator Mitch Hurwitz spearheaded the ABC project alongside Iannucci, trading in a U.K. government minister for a low-level U.S. congressman and his staff. A pilot was shot and directed by Christopher Guest with a cast including John Michael Higgins, Oliver Platt, and Alex Borstein, but ABC chose to not pursue future episodes. Years later, Iannucci blasted the failed attempt, saying, "It was terrible … conventionally shot and there was no improvisation or swearing … there were just scores of people working on it, all called vice president this and that, and a lot of them were buffoons."
Coupling
Looking for a group-dynamic sitcom to fill the impending void of Friends, NBC decided to pick up an adaptation of Steven Moffat's provocative Coupling for a season order in 2003. It lasted only four episodes before being pulled by the network, after receiving an onslaught of complaints that the near-identical scripts from the U.K version were far too sexually explicit for U.S. television. NBC chief Jeff Zucker later admitted that the adaptation "just sucked," while Moffat said that the network "fucked it up because they intervened endlessly. If you really want a job to work, don't get Jeff Zucker's team to come help you because they're not funny." The cast was criticized for their stilted performances as well.
Free Agents
Kathryn Hahn and Hank Azaria only got four episodes into this pitch-black romantic-comedy adaptation for NBC, which follows two colleagues as they navigate their feelings for each other following a drunken one-night stand and their respective romantic heartbreaks. (Catastrophe's Sharon Horgan stars in the original.) The series fizzled out because people didn't tune in, although it received decent critical response.
Viva Laughlin
With a solid cast including Hugh Jackman and Melanie Griffith, plus a hefty budget, the CBS musical-dramedy casino extravaganza Viva Laughlin had all of the fundamental tenets for success. But as always, that's no guarantee: The Blackpool adaptation was mercilessly criticized for its acting, narrative, and duds of songs. Canceled after a mere two episodes, it was too ambitious and misguided for its own good — and dubbed by the New York Times as potentially the "worst show in the history of television."
Outnumbered
On paper, the family-friendly premise of Outnumbered — suburban parents being "outnumbered" by their three rambunctious children on a daily basis — is universally translatable. But for whatever reason, Fox wasn't able to get its adaptation up and running on two separate occasions, for reasons we're not privy to. In fact, neither attempt made it to the pilot stage.
The Minister of Divine
Dawn French's beloved religious sitcom The Vicar of Dibley tried to find a second life in America with Kirstie Alley fronting the adaptation for Fox. The premise changed slightly, though, with the log line teasing a series that "centers on a woman, known for her rebellious younger days, who returns to her small hometown to be a minister." A pilot was shot in 2007, but Fox never picked it up for a season order.