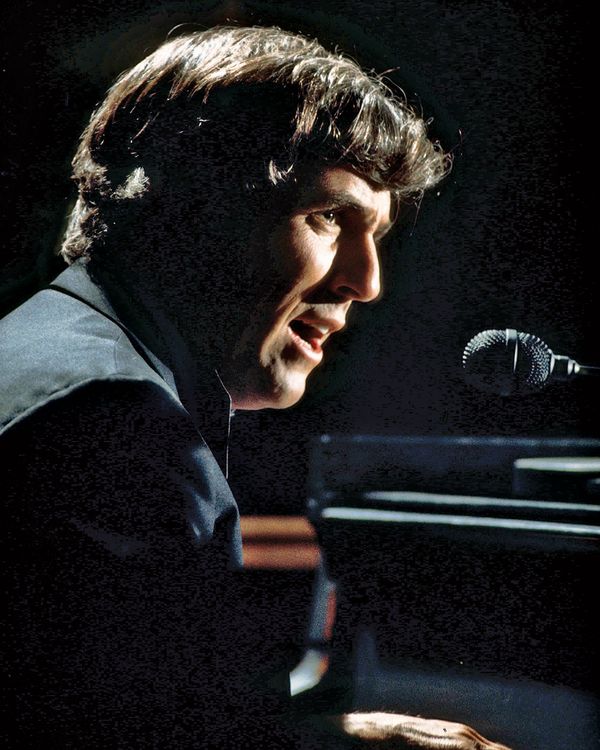 Photo: David Redfern/Redferns
In honor of legendary songwriter Burt Bacharach, who died on February 8 at the age of 94, we're re-running this 2014 as-told-to piece where he reflected on writing music at New York City's Brill Building.
I'd been on the road, playing for acts. Vic Damone was the first, then the Ames Brothers. I'd hear some of these songs that were being submitted to the Ames Brothers, and I thought they were so absurdly simple, and maybe very easy to write. So I left to come back to New York to write songs. There was a man named Jack Wolf, and he was the first person I wrote with. He introduced me to the Brill Building. We wrote one song together, probably in my apartment, called "Keep Me in Mind," for Patti Page. It was not an overnight thing — you had to write a song, get a publisher, make a demo — but that was my introduction.
I met a few people in the Brill Building and there was an office I could use, and I started to just work with different people. Sid Shaw was one of the early ones.  There were all these writers I'd see in the elevator, and artists recording there, like Del Shannon. I got signed early by Famous Music, by a man named Eddie Wolpin. Eddie liked to go to the racetrack with me. We'd go maybe once a month together. I was drawn to it, and I've had racehorses ever since.
I got to meet Hal David and Bob Hilliard, two writers with a lot of credibility. Bob was a kind of lovable guy. Hal and I initially wrote some very bad songs. We had an office we worked out of with a piano. It was on the sixth floor and the window didn't open and the air-conditioning didn't work, and Hal smoked constantly — this was when you were used to people smoking around you, engineers, girls you might date. If I was working with Hal, we would meet at the office of Famous Music. We would meet four or five times a week, go out for lunch or go get a hot dog across the street. We would never really work into the night. Hal kept very businesslike hours. He would be in the car going home to Roslyn at 5 p.m., 5:30 p.m. And we never really finished a song together, we'd start something or a couple of things. We never finished four or five songs in a day. He'd do his work on his own, and I always liked that. I'd go home to my apartment at 166 East 61st Street on the 18th floor, right over the Isle of Capri restaurant, take a look at work, and get a much better handle on it. Hal and I wrote some very terrible songs early on. There was a song called "Underneath the Overpass," and another called "Peggy's in the Pantry." Very bad songs. There were a lot of turndowns in that period. Bob Hilliard and I had written a song, it might have been "Take Me to Your Ladder," and we went over to play it for a publisher named Goldie Goldmark. He let us make a demo. We went to see him maybe two months later, when he'd had a chance to show the song, and Goldie said, "No good. Nobody wants it." Bob Hilliard was very funny. He said, "Goldie, lie to me! Just tell me somebody likes it." "No, nobody likes the song."
The breakthrough really was a good demo on "Magic Moments" and a good demo on "Story of My Life." Marty Robbins did "Story of My Life" and Perry Como did "Magic Moments," and they were both significant hits. I wrote a lot of songs that got compromised by someone who'd say, "Well, we like this song but the three-bar phrase doesn't feel right. If you make it a four-bar phrase I'll give you so-and-so to record it." If you know my music, it's not really normalized, it's not intentional that way. If it's a three-bar phrase, it's okay because it was meant to be a three-bar phrase. I lost some pretty good songs with compromise, thinking, "Maybe these guys are right — they run record companies, they run the A&R department." I think it really started to happen for me when I made the first record where I could produce. It gave me freedom, to do that. By the time I was having hits, starting with Dionne Warwick, and with Chuck Jackson, the Shirelles, that was happening because somebody gave me permission to write the orchestration, to control the way the song was going down.
I was getting to know Jerry Leiber and Mike Stoller. I was closer to Jerry. We became pretty good friends along the way. We would hang out in Germantown, up in Yorkville, 86th Street, and drink. I liked him a lot. They used to let me come to the sessions when they were recording, whether it was the Drifters or the Coasters, at Bell Sound. I was amazed watching them work — I can't say I didn't learn a lot watching the two of them. It was just amazing what Jerry and Mike could get on to tape, with that many people playing and interacting. I saw Jerry in the studio and Mike in the control room when they did "On Broadway." They had four or five guitars, percussion players and a string section, all that going on! And getting it all to work where no one was getting in anybody's way. They could just get in the studio and nobody was going to overdub. They were going to do a song of mine written with Bob Hilliard called "Mexican Divorce," but they wanted background vocals. So we got this background group from New Jersey that came in. That was an amazing group: Dionne; Dee Dee, her sister; Cissy Houston, Whitney's mother; Loretta Smith, who was a cousin. They were all related. Things grew out of that; Dionne came in to sing for Hal and me. That was my introduction to her.
*This is an extended version of an article that appeared in the March 24, 2014 issue of New York Magazine.