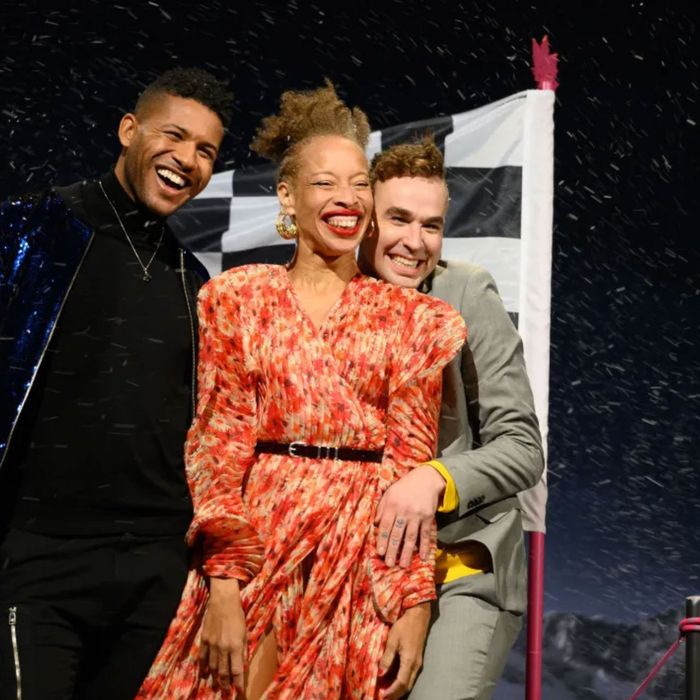 As they say at the dep when you're grabbing a two-four, bonjour hi! The Drag Race industrial complex is skipping nary a beat when it comes to showering us with new content. Drag Race is like a mythical Greek hydra, or a Mason jar of quarantine scallions: snip off one head, three more sprout up in its place. The week after Jaida Essence Hall's season 12 victory, the just-wrapped season of All-Stars began, and here we are with a concurrent, exotically canadienne season of Canada's Drag Race, premiering Stateside tonight. En fait, the first-ever season of Canada's Drag Race premiered three weeks ago in Canada on Crave TV and in America on some shady Google Drives, but now the little Canuck reality spinoff that could has made it to the big time: Logo. This is the biggest thing to happen for a Canadian TV show airing on American cable since Moira Rose first said "bébé." This inaugural cast of Canadian queens have massive, honkin' boots to fill, and the show gets right to it, with the queens making their entrances through a gaping, bright red … maple leaf.
First in the workroom is Priyanka from Toronto, serving Riddler the house down. She's only been doing drag "for two years, but you wouldn't know that because I'm an icon," and where is the lie? Pri gives great talking head; no doubt she'll get the narrator edit this season. Pri used to be a kids' TV host for YTV's programming block "The Zone," which is a goddamn institution. (Fun fact: When I was 5 I told my parents I was changing my name to "Jenny" because that was the name of the Zone host at the time. "The Zone"'s impact.)
Next is Ilona Verley from Vancouver, whose "Ariel Versace fed through an irony machine" vibe makes for a genius entrance: She talks into a fake phone saying that she's gonna "let the poors have it." We appreciate prop work! She immediately tries to start something with Priyanka, suggesting that half of her followers are probably bought/fake on sight. To anyone who was worried a Canadian Drag Race would be too polite: that won't be a problem.
Kiara from Montreal is next, and she's so young and gorgeous I damn near passed out. Her main weakness is "shit, I'm flawless, sorry." She's right and she should say it.
Next up is Juice Boxx serving Philadelphia Cream Cheese Angel (were those commercials just a Canada thing?) "from Essex Ontario, live in Toronto." She juices her entrance pose for longer than most, mostly because she gets her rhinestone bangle caught on her fishnets. An ominous portent of things to come? Maybe. (Yes.)
The episode might as well end when Anastarzia Anaquway walks in, because she's already won the whole competition, in my book. Her bio says she's from East York, which is just a borough in Toronto. (Noticing a pattern yet?) Anastarzia is here to represent the pageant queens, and she's got the titles to back it up.
In walks Lemon, wearing a less draggy version of Rihanna's 2017 Met Gala yellow gown. She's from Toronto but lives in New York City, and like every early-20s Toronto kid who moves to New York, she will not let these girls forget it. We appreciate that in the talking heads, boy-Lemon wears a shirt with lemons on it to remind us that he's Lemon and not Andrew Rannells with a bleach job.
Next we have Scarlett BoBo from — say it with me — Toronto! She's circusy, crafty, arty, and punk, and the other Toronto girls are thrilled to see her. Anastarzia calls her "weird as hell," so the pageant versus edgy queen battle lines have been drawn!
Attention, fives, Kyne is next to arrive. Is Kyne Drag Race's first bona fide TikTok queen? She'll have to prove that she's more than just her huge YouTube presence. Then again, they don't call her "the dancing diva of the Kitchener-Waterloo-Cambridge tri-city area" for nothing.
BOA, or Bitch On Arrival, is here, she's constipated, and she's dressed like a walking Far Side cartoon. The Toronto queens are shaking because BOA is messsssyyyyy. She's shaping up to be the udder-dog of the season.
Rita Baga of Montreal walks in next, and the word that comes to mind is professionalism, darling. Franglais legend. We're not even ten minutes into this season and she has "front-runner" written all over her.
Jimbo's up next, looking like an unbeatable Cuphead boss level in the best way possible. I'm inclined to compare her to Tammie Brown or Katya, but to try to compare Jimbo to anyone else would be doing her a disservice. Jimbo's a star, and every second she's onscreen feels like a gift.
Bringing up the derriere is Tynomi Banks from Toronto, bringing us ABAB rhyming structure. When I asked my Toronto friends who they were most excited about seeing this season, the answer was unanimously Tynomi. She's flawless, gorgeous, hilarious, and lovable. Her name is a cross between Tyra and Naomi, and it feels correct.
Now that we've all been acquainted, it's time to address the elephant in the room: Unlike the American franchises and even Drag Race U.K., Canada's Drag Race is the first English-language Drag Race series to be Ru-less. I assume Mother decided not to host the show once she learned that there were no Alberta queens this season, and therefore no one to talk with about fracking. Ru shows up onscreen in the werkroom to assign challenges, but the series is hosted by a trifecta of extra-special Drag Race mainstays Jeffrey Bowyer-Chapman, supermodel of the world Stacey McKenzie, and the Queen of the North herself, season 11's Brooke Lynn Hytes. If Canada's Drag Race is an indicator of what a post-Ru version of Drag Race will look like, let's just say I'm very optimistic about the future of Drag Race. 
This episode feels like an old-school Logo episode of Drag Race in the absolute best way possible, right down to kicking off the season with a photo shoot mini challenge designed for laughs first and lewks second. The girls must scale a mountain and plant their flag at the peak, before getting hit with a wind machine, in the grand tradition of season two's "Gone With the Window" mini challenge. Kyne wins the mini challenge, but Jimbo wins the race with her scream heard 'round the internet.
The maxi challenge also throws it back to the crafty design challenges of yore, as the girls are each assigned a box that "screams O, Canada." The "fabulous fabrics and accessories provided by our friends at Roots" was the first time this Canadian recapper screamed at the TV, because these girls are being asked to cut up and glue-gun hundred-dollar hoodies! The box labelled "Muskokurrr" was the second (serving "staying with your rich friend on Lake Joe" realness). Having won the mini challenge, Kyne took the "Yukon Gold Digger" box for herself, and gave the other queens boxes like "Man of Green Gay-bles" (complete with actual potatoes) and "Much Ru-sic Video Prance." (If you know, you know.) Lemon doesn't know what any of the "Jock Scraps" in her box actually are. Rita pulls a giant bag of cheese curds out of her Quebec-themed box and gives the line delivery of the episode when she says, "I'm really happy to see these cheese curds baby, she's been eating it for yeeeeeahs!" Juice Boxx says sewing isn't her strong suit, but she's got scissors and CDs and she's going to make it work. On the other end of the confidence spectrum, Kyne talks about her sewing prowess and says she "can't help but win."
In the werkroom, Ilona talks about being First Nations, and how important it is to her to represent indigenous people and her Nlaka'pamux tribe. Ilona also talks about discovering her Two-Spirit identity, and how it's important to her to talk about it and take pride in it. Ilona's the first Two-Spirit queen on Drag Race, and we shall be stanning.
On the mainstage, we say "bye, Felicia", "hi, Elisha" to Elisha Cuthbert. The girls all screamed in the werkroom when she was announced as the special guest, so I'm going to assume they're all big "Alex was actually the funniest one on Happy Endings" truthers like me. In another shake-up from the OG series, the guest gets to deliver Ru's usual mainstage spiel, swapping puns with the hosts and introducing the queens. We love participation!
I won't give a breakdown of every runway look but I will mention my personal standouts: Anastarzia made an entire-ass high-fashion puffer jacket reminiscent of Moncler. Kiara serves the Oz-ian scarecrow sidekick to Yvie Oddly's lion. Jimbo is adorable "serving 645 working pockets, but I can't find my bus fare!" Unfortunately for the validity of my taste, Anastarzia and Kiara are deemed merely safe, and the top slots go to BOA's Little Miss Potato P.E.I. look, Jimbo, and Rita Baga. Kyne sets herself apart as this season's Pearl right out the gate, refusing to humor the judges and getting very argumentative about the structural integrity of her jumpsuit, loose balls and all. Poor Juice Boxx has a panic attack on the mainstage, and I respect the editors for not really sensationalizing it. In the true spirit of quasi-socialist democracy, all the judges get to cast a vote in the deliberation, and Rita Baga takes the prize.
In the bottom are Lemon and Juice Boxx, who lip-sync to the worst song on the best album, Carly Rae Jepsen's "I Really Like You." It's a fairly "meh" LSFYL, with neither queen out lipsyncing Tom Hanks. Juice Boxx is squeezed out of the show, but not before sharing the legendary parting words, "Bye, cunts!" And that's a wrap on the first episode Drag Race's scrappy, lovable drag daughter to the North. And next week: Heritage Minutes!
Stand-Oots:
• BOA saying, "Splits. High kicks. Death drops. I do none of it," made my mom laugh out loud.
• "Anne of Green Gables. I don't know her, I've never met her" made me laugh out loud.
• "Wagwan darlings?" Stacey giving the queens a Jamaican English greeting was the most gloriously Torontonian thing about the episode.
• "Her tuck is séparatiste." Vive la Drag Race libre!
• "What do we get? A daddy." Hi Jimbo!
• "So this Babadook bitch, she's gonna walk it down, baby." Kiara, I love you.