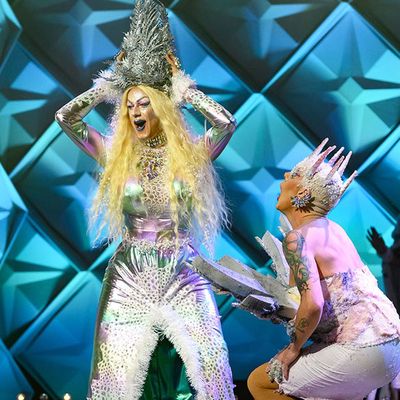 This episode of Canada's Drag Race has been brought to you by the "sword being unsheathed" editing sound effect. Step aside, "shade rattle," there's a new drop in town. Canada's Drag Race made that pull-out game strong, if by "pull-out game" you mean a sword being pulled out of its sheath. Which I do. [Shing!]
The episode begins with some more teasing of the great love story that never was: Walking to the mirror, one of the queens tells Rita, "Let's see what your boyfriend wrote," meaning Lemon. Look, I think we can all agree that blessed be the mystery of love, so if this story line was kept a secret until it was literally over for some reason, I'm sure there's some very good reason for it. I'm just a trusting and generous critic that way. (Hahahhahhaha, okay, but for real, just between us squirrelfriends, if you have some tea about Rita/Lemon or any other good CDR info, do not hesitate to drop a gal a tip in the comments.) So now it's a Top Four, and Priyanka's crowing about her "Pri-demption." She's feeling her Jan-tasy.
Next day in the werkroom, Rita is literally wearing a lemon-print shirt. Did she have that all season? Are we reading too much into this? What is the story here? No time to pry, Stacey comes to introduce the mini-challenge: The queens will have 20 minutes to get into "local chanteuse quick drag" and then do screen tests in which they sing the national anthem for a TV writer named Sabrina Jalees. Everything about this mini-challenge is what I feared Canada's Drag Race would be: the laziest possible Canadiana. In contrast, look at RuPaul's Drag Race: It's about drag first, drama second, Ru third, and America, like … 17th (at least before they started using "American" as the outro song). Before this season began, I feared Canada's Drag Race would be like the Canadian McDonald's logo: the normal yellow arches with a little red maple leaf in the middle. Or worse, the Canadian Wendy's logo: the same font spelling out "Wendy's" with a maple leaf where the apostrophe normally is. These Canuckifications of American brands existing leechlike in our ecosystem always feel sweaty and pathetic to me, and this mini-challenge inspired that same low-level acid reflux. Although maybe that's just because I was eating McDonald's while I watched. Anyway, I think Canada's Drag Race on the whole is a beautiful, unique beast of a series, a true success, but this mini-challenge went on for too long and wasn't that great. If it did anything, it proved that Rita can bring very different energies to different improv challenges depending on the mood. She really stood out while the others resorted to their usual stock characters (Jimbo being horny, Scarlett being ditzy, etc.).
For the maxi-challenge, the Top Four queens have to throw a snowball, not to be confused with season 12's "Frozen the Musical on Broadway Get Your Tickets Now! Oops. Never Mind. This Is Airing During an Unprecedented Pandemic" Ball. The queens will walk three distinct looks: Executive Holiday Party Realness, Icy Walk of Shame, and Ice Queen Eleganza, the last of which they'll have to craft from scratch using materials that look like the Pit Crew staged an armed robbery of a Hobby Lobby holiday aisle.
Right off the bat, Jimbo doesn't want to share his fabric with anyone but soon gets roped into helping BoBo, who's "not a seamstress" (enough of this excuse, please, it's 2020), to design a cape, because "it would be worse for me not to help at this point." Rita gives some great talking head here, summarizing the strengths of each of her competitors while the camera cuts to her using an electric turkey carver to sculpt some foam. I don't think I've ever seen that done on Drag Race before, and it's very Alpha Daddy at Thanksgiving or Beta Wedding Planner Carving an Ice Sculpture, depending on which way you look at it. Priyanka is in truh-bull — she can say her final look "is Beyoncé inspired" all she wants, but she's just glue-gunning shit to a corset. Gworl.
Stacey McKenzie, a woman who has mastered the art of the werkroom walk-through, points out that Rita's won the past two design challenges and talks to Priyanka about how she's bombed during past improv challenges. And for once, the queens don't have to do the additional acting challenge of pretending like they know who the guest is, because Stacey announces that the extra special guest is … Michelle Visage! Priyanka's corset strategy is seeming even riskier, now.
On elimination day, the queens have their usual makeup mirror talk, where their Producer-Provided Question of the Day is if they have anyone at home rooting for them. Rita Baga says that her biggest cheerleader is her extremely supportive dad, who says things to her like "Je t'aime, mon garçon" and is "the CEO of a construction company," so now I'm imagining that Rita comes from Quebec mafia realness, because in my experience, when you have ties to construction in Montreal, you're probably, like, bribing the mayor. Scarlett talks about her mother, and it's very sad, and when Jimbo's asked who's rooting for her, she basically says, "Literally all of Canada." This gets to a problem that's emerged with Jimbo as more queens have been eliminated over the weeks and we've had more time with her: She's a hilarious and artistic queen who's an absolute thrill to watch every episode, but there's a remove, an aloofness, a front she puts up that doesn't usually make for a good protagonist. If she doesn't let anyone in, how can we root for her to win?
And now it's the runway (all these weeks writing recaps and I'm somehow getting worse at segues?) and Brooke Lynn is wearing bright yellow in what I will choose to believe is an homage to Lemon, who should have been in this final-four ball despite her horrible track record with fashion. I imagine Michelle waits until Ru leaves the studio at night before slipping on mommy's heels and walking down the mainstage pretending like she's the host, so she was really eating up her moment doing this introduction. First category is Executive Holiday Party Realness, and Jimbo is up first in champagne shoulder pads and a festive lingerie reveal. Rita's wearing the worst look of the night: a Grimace-purple Village des Valeurs number. Priyanka really steals my heart in a Christmas-tree-tinsel pantsuit, saying "She is Brenda from Ajax, Ontario, and she runs the building!" Last is Scarlett, who looks like the world's sexiest order of fish and chips wrapped up in her newsprint pantsuit. And of course, she pulls a stunt where she "burns the bonuses" because this queen loves nothing more than pyrotechnics.
The second category is Apres the Apres-Ski: The Icy Walk of Shame, which is a long-winded way of saying "skiwear." Jimbo looks like she skinned Monster from season one of The Masked Singer, but I want her rainbow moon boots. Priyanka absolutely sells a Roots-inspired sock monkey look, complete with absolutely schwasted characterization. The woolly socked-stilettos show a level of attention to detail that these queens don't always hit. Scarlett wears a pink latex bodysuit and enters the stage by blowing either snow or "snow" out of her nose. Rita serves the sort of daring comedy look that would make Katya proud in her mullet and snowsuit. The judges say it isn't fashion, but I have seen family photos from the '80s that would classify this as "authentic period costume."
The grand finale features the looks the queens had to make themselves, which are meant to be the showstoppers of the evening. Jimbo and Rita went for gowns embellished with sparkly geometric extras: a massive silver crown for Jimbo and this sort of jutting-out iceberg breastplate for Rita. I'm pretty tired of Rita not wearing a wig and calling it fashion, because I don't think short hair does her noggin any favors in drag, but she's extremely confident and elegant even if she can't walk in that gown, and she's made this cute icy veil that blocks out her eyes and gives a very cool effect. Scarlett's wearing a diaper, with an exposed midriff and a fur cape thrown over top, but she's styled gorgeously from the neck up. Priyanka really does just have a bodysuit on with a frame/train in the back, and it's a rough final look in an otherwise very successful ball. The judging is when it becomes clear why we like to have Michelle around: She speaks to Jimbo frankly and constructively about her too-white foundation problem, says she would buy tickets to the performance art that was Rita Baga's apres ski, and shuts Priyanka's bodysuit down while still praising her other looks for combining fashion and humor. I was surprised by how much the judges adore Scarlett's final look, but I'm sure she sold it and stomped the runway in person.
Then we get to my least favorite part of any season: the part where the judges pull out the childhood photos and ask, "What advice would you give to young Matt/Mark/Sonny Jim/Timothee/Macaulay?" It always comes across as manipulative, and there has been a sour taste surrounding it ever since season seven. That being said, of course Rita's name is Jean-François.
Funtucked Tiny Toons is a quickie this week: Jimbo briefly channels the devil to read Pri for filth, and Pri double-fists drinks until a producer says "We're cutting you off" from off-camera. Back on the mainstage, Scarlett finally gets her first challenge win, and in good time, too: It means she's also won a spot in the Top Three and means that she never had to lip-sync in her entire season. All hail the consistent-track-record queen! Priyanka is thrilled to learn she's also not lip-syncing, and so am I, because I want Priyanka on that finale podium.
Which means the two queens who can't walk in their gowns are going to have to lip-sync for their lives to "Closer" by Tegan and Sara. Looking at Rita and Jimbo's faces, I thought, You don't bring a brick to a brick fight. I also thought of the Crimson Chin from Fairly Odd Parents. Anyway. Jimbo is an extremely awkward lip-syncer, relying on the sort of uncomfortable "sexy moves" she's pulled out all season, and her face doesn't show any expression or variation. It's a pretty rough lip-sync and not befitting a penultimate episode. Just because Rita really has no competition here doesn't mean she can just coast. She emotes far more than Jimbo even though you literally can't see her eyes. She whips some scissors out of her boobs to rip up her gown. She scoots her body across the stage like a dog with worms. It's entertaining, and it's pretty obvious that she's making it to the final three.
Jimbo's always at her best when she's playing on her own terms, so it's no surprise that all of that energy she didn't use in the LSFYL gets offloaded for a pretty memorable exit: She falls over flat and drags her body off the stage, and she goes full Buffalo Bill when she writes her lipstick mirror message, saying "Who's a pretty girl, huh?" I'm glad Jimbo made it to the final four so that we got a ton of her all season, but Priyanka/Scarlett BoBo/Rita Baga is a pretty polished, impressive Top Three. Next week: Finale!
Stand-Oots
• When Stacey introduces the Icy Walk of Shame category, Rita mutters, "Story of my life," which, speaking as someone who went to college in Montreal, there is no lie to be found.
• "When was the last time you saw a POC at the ski hill, bitch!" —Priyanka speaking truth when Jimbo asks if she's ever been to an apres-ski.
• "I was trying to sell fake DVDs on the corner" —Pri when Michelle said she was selling her bodysuit.
• "It was like a bukkake gangbang and then you got left out in the snow." —Brooke, referring to the icicles in Scarlett's second look. Damn. 
• "Now, as we get further in the world, padding has become a topic of conversation." —I love when this show gets academic.