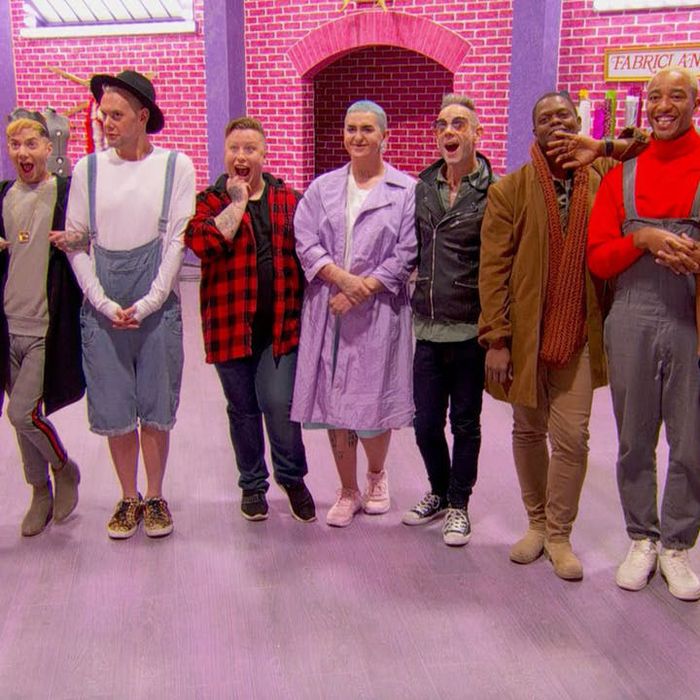 Welcome back to my Jimbo fandom Tumblr page! Let's muff-dive right into it. After Lemon made lemonade out of her first lip-sync and sent Juice Boxx packing in the last episode, Kyne is already serving levels of delusion not seen since Jinkx Monsoon bottled and sold it. When the girls congratulate Rita on her win, Kyne straight up says she thinks she deserved it — Kyne, who had the advantage of assigning boxes for the design challenge yet still ended up in the bottom after literally spilling her balls all over the runway. Sure, Rita's look was mostly a piece of fabric under a throw blanket, but at least it didn't unravel onstage. Has Kyne learned nothing from every makeover challenge ever? Disco will land you in the bottom, especially when your disco balls become a tripping hazard. The other girls laugh in Kyne's face and then we're on to another day, another slay, in the werk room.
For the mini-challenge, Brooke Lynn Hytes plays off her own ballet background and has the girls get into ballerina quick drag to dance it out in "The Nutsmacker." This mini-challenge finally helped me figure out the appeal of BOA: I wasn't quite sure if she was intentionally serving Blind Melon bee girl or if that's just how BOA … is. It's that central tension between self-awareness and maybe-not-so-much that makes for the most watchable Ru girls. Starzy's performance was like Natalie Portman in Black Swan meets Natalie Portman in Annihilation meets Natalie Portman in "Natalie's Rap." BOA and Starzy become team captains for this week's maxi-challenge, an acting contest in which they'll have to film "Her-itage Minutes."
Time for a herstory lesson: Canadian history doesn't enjoy quite the level of Disneyfied, near-biblical mythmaking that U.S. history does in classrooms and pop culture. Sure, Canadian history education is replete with its fair share of convenient colonial cover-ups of white settler atrocities, but wherefore the cherry trees? The log cabins? The fife and drum? The cinema of it all? So in the '90s, in order to artificially foster some sense of Canada as a cohesive concept with shared national myths, the CBC developed little short films called "Heritage Minutes" that would air during commercial breaks. Think gauzy sepia tones, horse-drawn carriages, muttonchops, and cloche hats. Think a schooner called Bluenose winning a sailboat race, an event apparently so important for Canada that it is literally on the back of our dimes. Did "Heritage Minutes" succeed as educational tools? Unclear. When Ru said "Paging Dr. Penfield!," I wasn't entirely sure who Dr. Penfield was or what he did (neither were the girls in the werk room). But did "Heritage Minutes" totally succeed as a message within themselves, a dorky-lovable cultural shorthand so iconic you can build a maxi-challenge off of them? Absolutely. 
BOA drafts Priyanka, Kyne, Bobo, and Jimbo for Team Muffragettes, while Starzy takes Tynomi, Rita, Kiara, and Lemon for "I Smell Burnt Tuck." Ilona's the last one standing and joins up with the Muffs. The girls get their scripts, which include the words "Vegan and Tara, lesbian twin musician duo. They sing everything in unison." So worry not, Drag Race fans; the Canadian Drag Race writers' room is just as cringey as the American one. Ilona's a little sore that she was picked last and that BOA can't seem to be bothered to pronounce her name right, but we put a pin in that drama so Brooke Lynn can do a werk-room walkthrough and ask Kyne point-blank if she's ready to accept the judges' critiques. A smart drag queen would just kiss the ring and say "Yes, of course," but math smarts don't translate into drag smarts and instead of saying "Sorry," like a good Canadian, she says, "I forgive you." Cue rattlesnake sound effect. Cue awkward laughter. Cue a dead stare from Brooke Lynn. You're on borrowed time, Kyne. Brooke advises them not to overact in the scene, a piece of advice that's probably not so helpful on a show where contestants land in the bottom for "not standing out" in group challenges.
Brooke Lynn moves on to Team Tuck, where she tells Tynomi that she seemed nervous on last week's runway and needs to get more confident. Lemon, on the other hand, has had a fire lit under her tush from landing in the bottom last week, and she vows to dial it up to 100 percent effort from here on out. Brooke Lynn announces that the extra-special guest judge and acting coach will be the "superstar from Shadow Hunters, Jade Hassouné," and the girls scream and cheer as if they've heard of either of those things before. (Sorry, but for this recapper, Jade is Dr. Penfield–tier "I don't know her.")
In the acting challenge, BOA stumbles through her lines, while Jimbo makes a serious case for being cast on the Kids in the Hall reboot. Her breathy oddball persona shines as an old-timey judge with a caked-on face and secret drag proclivities who doesn't want to give queens the vote. (Scott Thompson, please make this happen.) The second group, about a "Dr. Hennyfield, who solves rare drag diseases," has some top-and-bottom parallels: Tynomi is a bundle of nerves who can't get through her lines, and Rita is serving the hilarious genderfuck Trunchbull-Ratchet Quebecois wartime nurse we didn't know we needed. Her work? Essential.
While getting ready for the runway, Lemon cries when talking about how supportive her mom is, adding that she nicknamed her family "Five Alive," in keeping with the citrus theme. (TIL: Five Alive is widely available in Canada but is only limitedly available in the U.S. See? Totally different cultures.) Starzy is originally from the Bahamas and talks about the violent homophobia there and how friends of hers have been murdered for being gay. She also tells a story about how she herself was near-fatally shot, which led to her claiming asylum in Canada. Watching Starzy cry is heartbreaking, but her using Canada's Drag Race as a platform to share her refugee story is a justification for the show in itself.
The runway category is "Not My First Time," with the girls all re-creating and elevating their baby-drag looks. Their flash-photo, busted-contour "before" pics, contrasted with their more refined, expensive looks, lend the whole affair a real "Thank you, Dr. Zizmor" energy. Priyanka gives the slowest runway walk of all time. Scarlett Bobo eats fire onstage to remind us that, yes, her hometown of Ottawa is home to an International Busker Fest, thank you very much. But the win in everyone but the judges' books has to go to Jimbo, a zombie cheerleader who pulls the pigtails out of her head for pom-poms. This is the level of elevation, concept, and weirdness that inspires legions of superfans.
In the top are Lemon, Priyanka, Jimbo, and Kiara. Pri's performance in the final Muffragettes scene totally milks the script; I'd want to watch a full-length "Her-itage Moment" about "how we all got boyfriends and learned how to smile." Kiara serves stunning Naomi Smalls body on the runway and thrives in the acting challenge. And Lemon rebounds as she promised she would, looking expensive and winning the week.
The judges read BOA for her acting but deem her safe for her bodysuit (NB: meh). They also read Kyne for her Ursula look, which was based on the first time she did drag for a Halloween party three years earlier, as actually being less polished and detailed than the before picture. Her performance in the Muffragettes doesn't do her any favors either; she really flubbed that Hinterland line. They also don't vibe with Tynomi's Neverending Story chain-mail runway. Kyne and Tynomi face off to the radio/club version of Gordon Lightfoot's "If You Could Read My Mind," by Ultra Naté, Amber, and Jocelyn Enriquez, which is, of course, Canada's national anthem and a perfect "Lip Sync for Your Life" song. Tynomi shows off the stage presence, moves, and sex that make her such a drag A-lister in the Toronto scene, while Kyne … is also there! The feeling's gone, and she just can't get it back, thus bringing an end to Kyne's time on Drag Race. Next week? Girl groups!
Stand-oots:
• For as dumb and annoying as "Vegan and Tara" were, Bobo and Ilona wearing denim vests atop their 1916 suffragette garb was a much-appreciated lesbian touch.
• "I got tea-bagged by a butch lesbian nurse. That's the best day of my life!" Once again, Kira with the good commentary.
• Jimbo's character's name was Premier Cisman. LOL.
• BOA not knowing the difference between lag and leg is lobotomy goals.