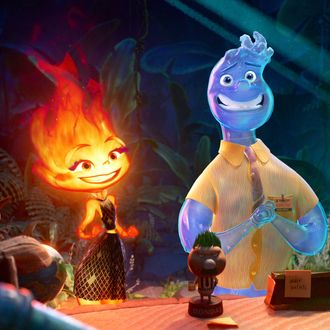 Elemental
.
Photo: Disney/Pixar
The first thing Cannes 2023 attendees will see on the big screen is Johnny Depp, and the last thing they'll see is Disney Pixar's latest 3-D-animated parable, Elemental. Jeanne du Barry, Depp's first film role in three years and latest attempt to rehabilitate his image, directed by Maïwenn, will open the 76th Festival de Cannes on May 16 at the Grand Théâtre Lumière (and will likely have the unfortunate effect of giving Depp apologists something to TikTok about). Depp plays a love-blinded Louis XV, who seems to think the court of Versailles will accept his lover. On April 7, just after the first films were announced for the upcoming bacchanal in the south of France, Jeanne du Barry's director was sued for allegedly assaulting a journalist. It's not the only thing in the lineup bringing its drama to the Riviera — Sam Levinson's The Idol will debut out of competition, a show that some sources described as a "rape fantasy."
The remaining lineup at Cannes includes the latest offerings from some of the most beloved auteurs (and franchises) working right now. Martin Scorsese's Killers of the Flower Moon, starring Leonardo DiCaprio and Robert De Niro, will debut there, marking the filmmaker's return to the Official Selection since After Hours in 1986. Indiana Jones and the Dial of Destiny, the fifth installment in the franchise, will also take a bow at this year's Cannes Film Festival in the Official Selection. Formalist director and nostalgic-object enthusiast Wes Anderson will premiere his new film, the star-studded alien-invasion comedy Asteroid City, at Cannes as well, together with Alice Rohrwacher's La Chimera, Wim Wenders's Perfect Days, and Hirokazu Kore-eda's Monster. Below, the full lineup.
Opening Night
Jeanne du Barry, Maïwenn
Closing Night
Elemental, Peter Sohn
In Competition
Club Zero, Jessica Hausner
The Zone of Interest, Jonathan Glazer
Fallen Leaves, Aki Kaurismaki
Four Daughters, Kaouther Ben Hania
Asteroid City, Wes Anderson
Anatomie d'Une Chute, Justine Triet
Monster, Hirokazu Kore-eda
Il Sol dell'Avvenire, Nanni Moretti
La Chimera, Alice Rohrwacher
L'Eté Dernier, Catherine Breillat
La Passion De Dodin Bouffant, Tran Anh Hung
About Dry Grasses, Nuri Bilge Ceylan
May December, Todd Haynes
Rapito, Marco Bellocchio
Firebrand, Karim Ainouz
The Old Oak, Ken Loach
Banel et Adama, Ramata-Toulaye Sy
Perfect Days, Wim Wenders
Jeunesse, Wang Bing
Black Flies, Jean-Stéphane Sauvaire
Le Retour, Catherine Corsini
Out of Competition
Killers of the Flower Moon, Martin Scorsese
Jeanne du Barry, Maïwenn
The Idol, Sam Levinson
Cobweb, Kim Jee-woon
Indiana Jones and the Dial of Destiny, James Mangold
L'Abbé Pierre – Une Vie de Combats, Frédéric Tellier
Midnight Screenings
Omar La Fraise, Elias Belkeddar
Acide, Just Philippot
Kennedy, Anurag Kashyap
Hypnotic, Robert Rodriguez
Project Silence, Kim Tae-gon
Cannes Premieres
Le Temps d'Aimer, Katell Quillevere
Kubi, Takeshi Kitano
Cerrar los Ojos, Victor Erice
Bonnar, Pierre et Marthe, Martin Provost
Lost In The Night (Perdidos en la Noche), Amat Escalante
Just The Two Of Us (L'Amour et Les Forêts), Valérie Donzelli
Eureka, Lisandro Alonso
Special Screenings
Anselm, Wim Wenders
Occupied City, Steve McQueen
Man in Black, Wang Bing
Little Girl Blue, Mona Achache
Bread and Roses, Sahra Mani
La Théorème de Marguerite, Anna Novion
Un Certain Regard
How to Have Sex, Molly Manning Walker
The Delinquents, Rodrigo Moreno
Simple Comme Sylvain, Monia Chokri
The Settlers, Felipe Galvez
The Mother of All Lies, Asmae El Moodier
The Buriti Flower, Joao Salaviza & Renee Nader
Goodbye Julia, Mohammed Kordofani
Omen, Baloji Thasiani
The Breaking Ice, Anthony Chen
Rosalie, Stéphanie Di Giusto
The New Boy, Warwick Thornton
If Only I Could Hibernate, Zoljargal Purevdash
Hopeless, Kim Chang-hoon
Rien à Perdre, Delphine Deloget
Les Meutes, Kamal Lazraq
Terrestrial Verses, Ali Asgari & Alireza Khatami
La Regne Animal, Thomas Caille
Only The River Flows, Wei Shujun
Une Nuit, Alex Lutz
This post has been updated.