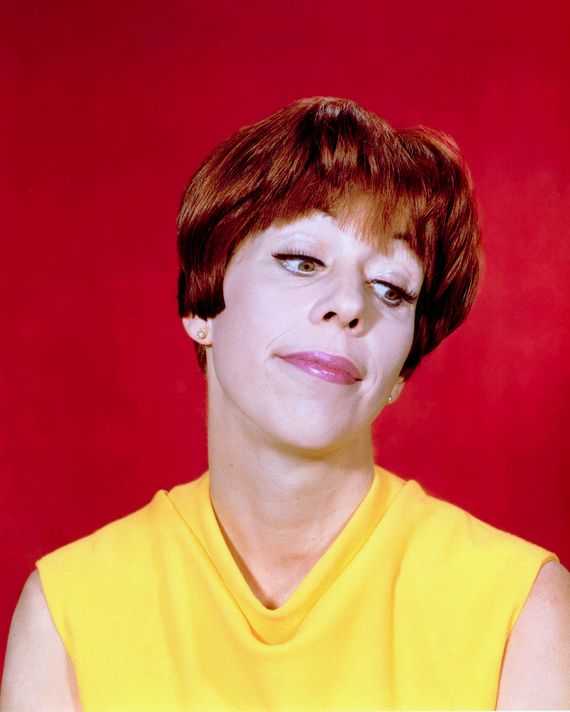 Photo: Courtesy Everett Collection
Carol Burnett turns 90 today, but she's got the career of a performer in her prime. Later this year, she'll portray a high-society matron opposite Kristen Wiig, Laura Dern, and Allison Janney in the Apple TV+ dark comedy series Palm Royale. Last summer, she played a pivotal role in the final season of Better Call Saul, a dramatic turn that went very much against type. "Somebody said, 'Eunice got Better Call Saul,'" Burnett laughs, referring to the histrionic housewife she played on both The Carol Burnett Show and Mama's Family.
While reaching the age of 90 is a milestone for anyone, it often comes with some sort of gala or prime-time special when you're a Hollywood legend. Burnett is getting both: Tonight at eight, NBC will air a two-hour celebration taped last month in front of a star-packed audience filled with her friends and admirers. Carol Burnett: 90 Years of Laughter + Love (which will also stream as an extended cut on Peacock starting April 27) features a slew of classic clips from her career and musical tributes from the likes of Katy Perry, Billy Porter, Bernadette Peters, and Kristin Chenoweth. "It was one wonderful segment after another with so many lovely people," she says. "It was just so touching."
First things first: After all these years, are you still on fire with desire for John Foster Dulles?
Oh, yes! [Laughs.] I'm just sorry I never met him. In fact, with this special, there's a whole segment about my singing that song about him. It was quite a break for me. That was way back in 1957. Can you believe it?
For readers who have no idea what we're talking about, my question was about a comedic song you did back in the 1950s called "I Made A Fool of Myself Over John Foster Dulles." It was about the secretary of state at the time and became a viral hit before we called them that. How did it happen?
I sang it on the Jack Paar Tonight show on a Tuesday. I was working at a nightclub called the Blue Angel at the time, and the phones were ringing off the hook when I went back to work there. People hated it or they loved it. And one of the phone calls was from Mr. Dulles's television adviser, David Waters. He said, "Mr. Dulles didn't see it. Could you go back on the Paar show and do it?" Jack said, "Absolutely." So on Thursday I did it on the Paar show again. And then Ed Sullivan called, and I did it the following Sunday on The Ed Sullivan Show. I sang that song three times in one week.
And then the following Sunday, Mr. Dulles was on Meet the Press. I'm watching it, and it's all very serious about what's going on in the world. And just before they were going to wrap it up, they asked Mr. Dulles, "What's going on between you and that girl that sings that love song about you?" I'm sitting there gobsmacked! And he got a twinkle in his eye and said, "I make it a policy never to discuss matters of the heart in public." He had a sense of humor, and I thought that was so sweet.
It had to be a huge turning point for your career, no? 
As hot as that song was — and it was for about a week — people forget. It was a novelty song, it hit big, and then it kind of petered out. It took me a long time to get another big break. And that other big break — actually two in the same year, in 1959 — was when I got the lead in Once Upon a Mattress, which was an off-Broadway show, and I was also asked to be a regular performer on The Garry Moore Show. I was 25.
And now 65 years later, we're celebrating your 90th birthday. Tell me about the special.
Well, it's not a birthday party and it's not a roast. It's a variety show. There's live entertainment, and there's a 19-piece orchestra, and the people who entertain — it's just amazing. It was Kristin Chenoweth, Katy Perry, Darren Criss, Sutton Foster. Just a lineup of powerhouse performers. And then we show various clips, but not just featuring The Carol Burnett Show. There's The Garry Moore Show, various movies I made, television appearances, duets I did with various people. They had a scene from Better Call Saul. It was just a lovely evening. I'm still kind of reeling from it.
It's a little surprising your celebration is on NBC and not CBS, where The Carol Burnett Show aired for 11 seasons. Do you know what happened?
I'm not sure if executive producer Mark Bracco offered them the idea first, but they passed. And it was kind of odd because I was with them for 11 years, and before that on The Garry Moore Show. But NBC jumped up. They said, "Two hours? Great." And they've been terrific.
For a lot of folks under 40, the first time they remember seeing you was VHS copies of the 1982 film version of Annie. The reviews at the time were mixed, and because of its big budget, it was seen as something of a flop …
Yeah, but I had a good time. My first scene, actually, was with Ann Reinking when she comes to the orphanage and wants to bring an orphan home for a week for Mr. Warbucks. I went up to John Huston, who was directing it, and I said, "Mr. Huston, how do you see me doing this scene?" And he kind of paused, and he looked at me and said, "Just cavort, dear. Just cavort." So I cavorted! [Laughs.] I walked back to sit at the desk, and I just missed the chair and fell on the floor. He loved that. He said, "That's good. We'll keep that in."
Aileen Quinn, who played Annie in the film, is in the special, right?
She's on the show. Billy Porter, Bernadette Peters, and Jane Lynch do "Easy Street," and then Aileen comes in and sings "Tomorrow." And I'll tell you, Joe, there wasn't a dry eye in the house. It was just so touching.
Obviously people know about your CBS show as well as Garry Moore's, but during the 1964–65 TV season, you also starred in another variety show called The Entertainers, which featured Bob Newhart, too. What do you remember about it?
It was a tough show to do, and at the time, I was also in a Broadway show, Fade Out — Fade In. So I was doubling, and we had some problems. I had an accident in a cab where I was rear-ended and my neck was hurt. I had to miss a few shows and was in the hospital in traction, and then I missed being on the Broadway show. There was a lot of angst, and I was out a lot from The Entertainers. So after a while, CBS canceled it. In a way I was kind of grateful because it was a lot of work to do those two shows.
I've seen a clip from it on YouTube, but nothing more. Do you know what happened to the episodes? 
I have no idea! If there's any kinescope or anything, I really have no idea.
You've talked before about the relationship you had with Lucille Ball. How did you actually first meet her?
She came to the second night of Once Upon a Mattress. There was a lot of buzzing in the audience before the curtain went up, and I peeked through the curtain and saw her in the second row with this bright red hair. I was more nervous about doing the show in front of Lucy that night than I was with all the critics on opening night. After the show, she came back to my funky little off-Broadway dressing room and sat with me for close to a half-hour talking and visiting. And as she was leaving, she said, "Kid" — she called me "kid" because she was 22 years older than I was — "if you ever need me for anything, don't hesitate. Call me."
And did you?
About four or five years later I was doing pretty well and CBS offered me an hour-long special if I could get a major guest star. The producer Bob Banner said, "Well, you gotta call Lucy." And I said, "I don't want to bother her!" He said, "Well, all she can do is say, 'I'd love to, but I'm busy, I can't.' Give her a call." I got up the nerve and called her office and she got on the phone right away. "Hey kid, you're doing great. What's happening?" I was stammering all over the place and said, "Well, I'm supposed to do this special." I was just sputtering and she interrupted me and said, "When do you want me?" And so she did the special with me. It was called Carol + 2, and the other guest was Zero Mostel.
I'm sure you have a million interesting Lucy stories. Can you tell me one?
At one point when she was doing my show, we went out to dinner before the orchestra rehearsal and she was talking about how Desi Arnaz ran everything before they got divorced. He took care of the scripts, he took care of the lighting, he took care of the costumes, he took care of the camera work — all of that. She said, "All I had to do was come in on a Monday and be silly, crazy Lucy — and then the Cuban and I got divorced." She told me about doing the reading for the first Here's Lucy and the script was awful. There'd been no Desi there to fix it. So she called a break and went back to her office. And she told me, "I realized I had to be confrontative. I had to be like Desi. I had to be strong. I couldn't be wishy-washy or anything like that." So she went back into the script reading. "I told them in no uncertain terms what they had to do. They had to fix it. I didn't hold back." And then she paused — and I love this line — and said to me, "And kid, that's when they put the 's' on the end of my last name." [Laughs.]
We talked five years ago about your Netflix project, but I didn't get to ask about some of your more unconventional gigs. In 1983, you agreed to a recurring role on All My Children. I know you were a very big fan of the show and soaps in general. Did you call up Agnes Nixon, the creator, and just ask for a part?
I didn't have to. She volunteered. When I did questions and answers at the top of my show, I often talked about All My Children with the audience. I'd say, "Oh, I didn't see it today. What happened?" Because my lunch hour was built around watching All My Children. Agnes knew that, and she called and said, "Would you like it if I wrote a character for you?" I said, "Absolutely!" So on my hiatus, I flew back to New York and they had a whole story line for me. I was on it for two weeks, and I got to know Susan Lucci. Oh, and Susan is on the 90th! She flew out and I was thrilled. But soap operas are the hardest work, because, oh my God, you get 19 pages at night, you have to study the lines, and then you go do it in the morning. I really admire soap-opera actors, how they pull it off.
I also really loved The Four Seasons, with Alan Alda. Between that and Friendly Fire, you were really flexing your non-sketch acting muscles right after your show went off the air.
Oh, I loved doing it. Alan and I were friends before the movie. He was a guest on my show, and then in 1974 we taped an adaptation of a Broadway show called 6 Rms Riv Vu for CBS. So Alan and I go way back. Oh, here's a story! So I lived at Yucca and Wilcox in Hollywood when we moved out here from Texas. I was a kid, 10 or 11 years old, and the neighborhood kids, we would roller skate up and down Wilcox, a block north of Hollywood Boulevard. Robert Alda — Alan Alda's father — was in Hollywood at this time filming Rhapsody in Blue for Warner Brothers. Alan was 9 years old, and one day he told me a story about how he used to watch the neighborhood kids roller skating up and down Wilcox and wishing that he could. But he couldn't because he had polio when he was an infant. When he told me that, I said, "Alan, we could have known each other when I was 11 and you were 9! And here we are working together."
I never knew that about Mr. Alda. Obviously his polio improved. 
He was cured. They did a treatment item called the Sister Kenny Treatment, which was actually made into a movie. It was about a nurse who came up with a way to treat infantile paralysis with hot, hot, hot wet blankets on their limbs. Then they would stretch them, which had to hurt like hell. But it cured him. And today he can kick higher than a Rockette.
Speaking of stretching, you played a pivotal role in the final season of Better Call Saul. It was wild that your character ended up putting Saul Goodman in jail. Tell me how you ended up with the role.
I knew Vince Gilligan. He wrote on The X-Files, and one week he wrote a thing called "Monday Monday," about this girl who had to keep repeating the same day over and over and over and wanted to stop. And that girl was my daughter, Carrie. He said she was his favorite guest star on X-Files, so that's what we talked about when I first met him. And then I was a big fan of Breaking Bad, and at one point we were having dinner with him and his wife, Holly. I was telling him how much I love Better Call Saul. And he said, "I may write something for you." I said, "I don't care if it's a sentence — I'll be there." And so they wrote this part for me. I was there for two months in New Mexico and just loved everybody. It was a family.
I'm having dinner with Rhea Seehorn and her husband next week, and they were at the 90th. It's so nice that I have some new best friends at this age, with Allison Janney and Kristen Wiig and Laura Dern, too. I've made all of these new young friends. I'm the luckiest broad around.
When I was preparing for our interview, I discovered something I never knew about your career. In 1972, you released a pop album where you had some original songs and did covers of tracks by the Carpenters and Connie Francis. Did you ever think to do more singing outside of TV?
Well, my first love was musical comedy. I originally wanted to be like Mary Martin and Ethel Merman — be a Broadway baby and do musicals. Thank goodness I did do Once Upon a Mattress. But what happened was, when I got on The Garry Moore Show, I liked it more because I could do different things each week as opposed to being the same character eight times a week for a year. And then it started to be sketches and comedy more than music. But I always sang. I sang on Garry's show, and I certainly did a lot of singing on my own show. When we went into syndication, as you know, they cut all the music out and it was simply the sketches. A lot of people who grew up with me didn't grow up with the music, so I was happy I at least got to sing in Annie, even though "Little Girls" wasn't really a beautiful song. But it was fun. Oh, and I did get to do "Putting It Together," which was a tribute to Stephen Sondheim's work. We were on Broadway for quite a while with that.
You're one of the legends of sketch comedy and yet you've never hosted Saturday Night Live. I know there have been various social-media campaigns to get you on the show, including one last year. Has Lorne Michaels ever offered to have you host?
No, he's never asked me.
Wow. Would you do it now if he did? 
No, I don't think I would. Maybe like 20 years ago or whatever. But that ship has sailed.