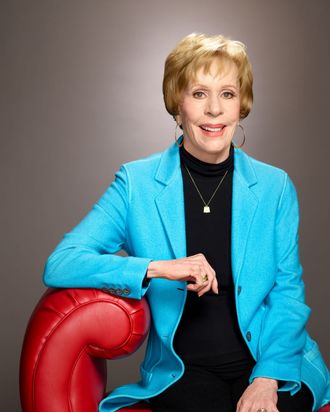 Comedy legend Carol Burnett turns 90 this spring, and she's celebrating the way icons do — with a prime-time network-TV salute. Vulture hears NBC has greenlit production on Carol Burnett: 90 Years of Laughter + Love, a two-hour special featuring musical and comedy tributes from a small galaxy of celebrities, including Katy Perry, Amy Poehler, Billy Porter, Bernadette Peters, Cher, Steve Carell, Tracee Ellis Ross, Kristen Wiig, Bill Hader, Vicki Lawrence, and Jane Lynch. The special, to be taped in March in front of a star-packed audience, will air on Burnett's actual birthday, April 26, and will also stream on Peacock.
Executive producer Mark Bracco says he and his colleagues at Silent House Productions (including fellow exec producer Linda Gierahn) first started talking to Burnett and her reps about the special around a year ago. "We approached them and said that this birthday would be a great reason to throw a big party and invite all of her friends and all of her admirers," he tells Vulture. "And luckily they liked the idea, and NBC wanted to partner with us to do it." While coordinating celebrity appearances and performances is never easy, "what's been so great about working on this special is that everybody wants to say yes," Bracco says. "Everybody wants to come out and celebrate Carol. We were laughing just the other day about how pretty much every single person coming is either an Oscar, Tony, Grammy, or Emmy winner." Jen Neal, who heads up live events and specials for NBCUniversal TV and streaming, says the company is honored to host the event: "It's hard to imagine anyone in television more beloved than Carol Burnett."
Bracco, a veteran producer and former ABC unscripted executive whose credits include the American Music Awards and Dick Clark's New Year's Rockin' Eve, says his goal is to make the two-hour special feel like a "very casual," old-school Hollywood soirée, with celebrities sitting at banquettes and tables as Burnett is feted onstage. Helping achieve that vibe: The special will tape at the Avalon Hollywood, which in the 1960s played host to The Hollywood Palace, a long-running ABC variety show known for its musical performances. "Music has been a huge part of Carol's career for all of these decades, dating back to her debut on Broadway in Once Upon a Mattress, as well as the incredible specials she did with Julie Andrews, all of the incredible music on The Carol Burnett Show, and the film version of Annie," Bracco says, noting that Andrews is scheduled to be in attendance. "So our plan is to take some of those iconic musical moments and pay tribute to them on our stage." Among the classic Burnett musical numbers set to be honored: "Old Friends" (a tribute to her six-decade friendship with Andrews); "Only an Octave Apart" (from the 1976 special Sills and Burnett at the Met); and, of course, the theme to Burnett's CBS iconic variety show, "I'm So Glad We Had This Time Together."
As for the comedy part of Burnett's career, Bracco says the special will mix a heavy dose of clips with in-person tributes and comedic segments from attendees. "I think everyone is going to want to have some fun with Carol," he says. Burnett also recently sat down for an extended interview in which she looked back at the highlights of her career, and segments from that chat will be interspersed throughout the night. "We're going to have really incredible packages in the show that will take us through Carol's career, all the way back to '50s and '60s when she first started and her specials with Julie Andrews, through to The Carol Burnett Show and her movies, and then all of the great TV shows she's appeared on, from Magnum, P.I., Law & Order: SVU, and Glee to Better Call Saul. It's a wealth of material, and we're going to have to figure out how to put it into just two hours," Bracco says.
In addition to the musical and comedy performances, guests scheduled to appear on the special include designer Bob Mackie, Ellen DeGeneres, Laura Dern, Lily Tomlin, Marisa Tomei, Sofia Vergara, Susan Lucci, and Aileen Quinn.