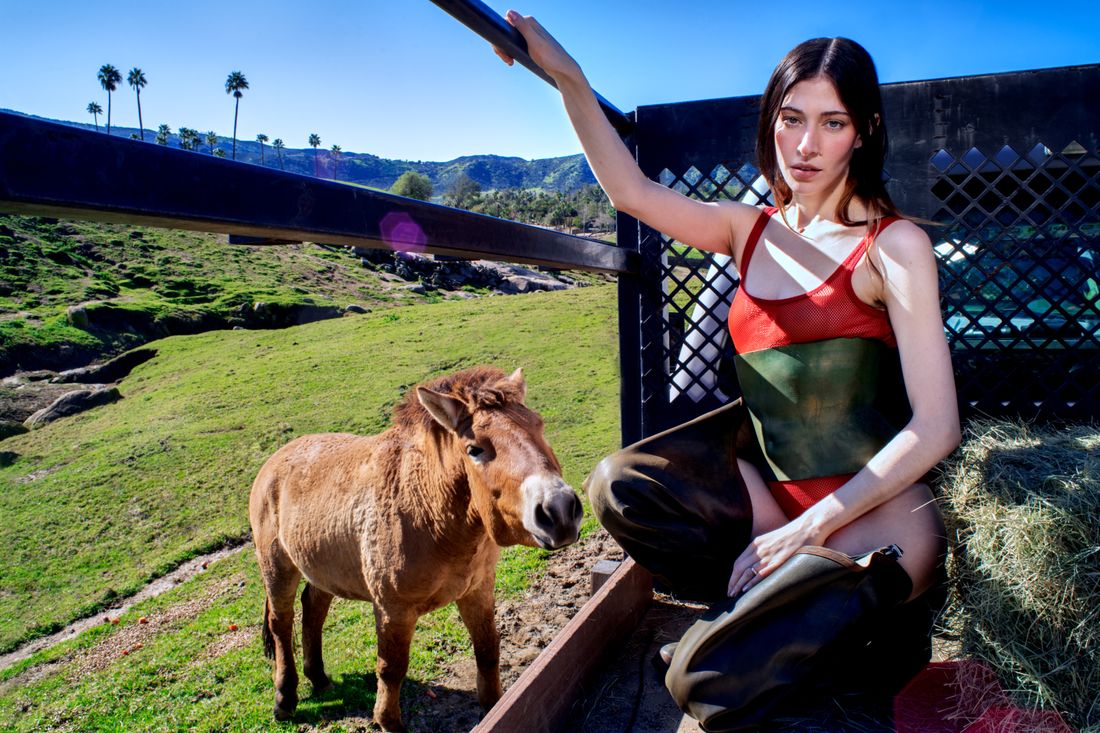 Kurt and Caroline.
Photo: Lindsay Ellary
This article was featured in One Great Story, New York's reading recommendation newsletter. Sign up here to get it nightly.
Caroline Polachek wasn't out to scandalize the zoo. She made the three-hour journey from Los Angeles, where she was deep in final-edit mode for her new album, Desire, I Want to Turn Into You, to the San Diego Zoo Safari Park, a wildlife preserve in Escondido, with the purest of intentions: She wanted to see Kurt. He's the world's first successfully cloned Przewalski's horse, an endangered breed with a fun little mohawk that needed some scientific intervention to survive. As a self-proclaimed Connecticut "horse girl" who obsessed over and rode horses until she was 15, Polachek hoped to spend a couple of hours learning about Kurt's unconventional genesis and marveling at his unnatural splendor. "It feels kind of symbolic and beautiful to do this," she tells me from the back of a truck, riding bumpily to Kurt's habitat.
The mood is cheerful, for now: she and I, two extremely polite zoo staff members, and a photographer. Polachek is particularly moved by the mud around us, which has oozed and twisted into new shapes after the recent torrential rains; the zoo team describes this as "a mess," but she longingly calls it "mud architecture." "A lot of the motifs I'm playing with on this record are about using elemental, primal textures. Dirt and the earth coming up in different ways — volcanoes, especially — as a metaphor for the subconscious and for everything we've repressed during the pandemic," Polachek says. "The elemental vitality that springs up again." I ask if she's referring to the thick brown lava that she graphically vomits up in the video for the album's fourth single, "Welcome to My Island." She laughs. "I mean, literally, yes."
Where her last album, 2019's yearning, hyperintense Pang, chronicled falling in love long-distance, Desire is freer, looser, weirder, and campier. On the Spanish-guitar-tinged "Sunset," she's "wearing black to mourn the sudden loss of innocence," but that's "all right, because it hides the dirt and hides the wine"; she brings up Wayne's World on "Crude Drawing of an Angel"; she's "sexting sonnets under the table" in "Billions." The title "Welcome to My Island" refers to a "sarcastic phrase" she'll sometimes use in conversation to "make fun of my own solitude." She saw the song, which she wrote three years ago, as an "anthem for a walk of shame, where your makeup is smeared across your face or your look from the last night is half-destroyed, and polite society is moving down the road, kind of giving you side-eye, and you don't care because you're completely insulated in your own kind of bratty, messy, slutty spiral."
Its video begins, she explains, with "me having an orgasm on a cracked terracotta floor." It's a sonorous orgasm — Polachek, who sounds like Dolores O'Riordan swallowed Enya and Björk, stretches her otherworldly, haters-will-say-it's-Auto-Tuned vocals over each ecstatic note. It's deliberately exaggerated, cheeky even, telegraphing a kind of irreverence for which Polachek rarely gets credit. "I get told quite often when I meet people that I'm shorter than they think I am and that I'm funnier than they think I am," she says. (For the record, she is five-foot-six.)
Polachek, 37, has spent nearly two decades in the music industry, seamlessly shifting from early-aughts indie-band girl (she co-headlined Chairlift, a quirky synth-pop band we both agree could have existed only during the brief, naïve hopefulness of the Obama era) to esteemed songwriter and producer (she co-wrote Beyoncé's "No Angel" as well as songs for Charli XCX, Travis Scott, and Pentatonix spinoff Superfruit) to concept-album artist (one-off experimental ambient releases under the aliases Ramona Lisa and CEP) to a solo artist writing and producing avant-garde electro-pop under her government name, all while singing arias and starring in Loewe campaigns on the side. She has an effortless, slightly haunted prettiness that's been historically difficult for music journalists to describe without sounding as if they want to kidnap her. (Previous attempts to do so include phrases like "siren," "synth fairy princess," "elf queen," "final girl," "unearthly apparition," and "surreal species of Disney princess.") When I list these descriptors aloud, she raises her eyebrows. "I feel like, as a woman artist, it's always a struggle to be thought of as human," she says.
Polachek thought about this constantly while making Desire, whose wide-ranging visuals riff on bodily fluids, Greek mythology — something that has fascinated her since she named her childhood horse Ariadne and that she comes back to throughout her art — Italian photographer Teresa Ciocia's work, and Pedro Almodóvar's filmography. "Pedro captures the contradictions that can exist within women in a very human way," she says. "It's the attitude of a mess rather than the actuality of it." She wanted the album to sound that way too — mucky, bold, feminine, contradictory. "Diva gets thrown around as an insult," she says, "but the diva archetype is capable of conveying vitality and comfort at the same time. I've been thinking about how to do my own version of that."
We've just reached our destination when the zoo informs us that we're not allowed to touch Kurt or let him touch us, in hopes that he will start behaving less like a clone and more like a horse born of the Lord's will. "He needs to learn how to be a wild horse," explains one affable staffer. "He doesn't need to know how to be a person's horse." Polachek nods agreeably, pulling off a black leather jacket and cargo pants to reveal a sort of deconstructed equestrian look: a red mesh bodysuit paired with a gold 1980s Issey Miyake corset, sheer tights, and thigh-high leather waders. She tells me the ensemble, which she put together earlier in the week with stylist Kat Typaldos, was inspired by "girls at clubs in Ibiza in the '70s." It's laced with the same graceful, provocative insouciance that she projects in Desire's music videos, in which she wears things like a "normcore baseball cap" with a white apron that exposes the top of her ass cheeks. ("Ass cleavage is in for 2023," she jokes.)
"Oh, you're really changing!" remarks one of the staff members, visibly alarmed. Polachek smiles serenely. The photographer directs her to kneel on top of the truck's cab so we can capture Kurt roaming cloneishly in the distance. She vogues while simultaneously asking questions of the increasingly anxious zoo employees ("Does Kurt ever exhibit behaviors that you haven't introduced him to?") and weighing in on various aspects of the photo shoot ("I feel like we're getting enough ambient bounce from here"). Polachek directs and manages like this all day. She does the same thing behind the scenes of her musical output, producing and compiling her own vocals, co-directing and editing all of her music videos, even clipping them into bite-size versions for Instagram and TikTok. "At the beginning, it was something I had to do, but it was also something I loved," she says. "I think it's an act of feminist agency to know your tools because then you can speak the language that everyone understands."
"You have excellent taste," says the photographer, and Polachek replies, "Thanks, queen."
With Desire, she wanted to unclench that steering wheel a little. She describes Pang as "precise, crystal cut, finely sanded" and says Desire was about "unlearning technique" and feeling lost inside the songs. She wrote and recorded it mainly with her trusted producer, Danny L Harle (of PC Music fame), in bits and pieces over the course of three years: while living in London during lockdown with her boyfriend, visual artist Matt Copson; while touring Pang on her own and with Dua Lipa; and with friends at Italian Airbnbs at the foot of Mt. Etna. She found the cathartic tone that ties the album together after the 2020 death of her father from COVID-19. "I had been pretty depressed after that happened, but being in Italy was a complete energy reset," she says. It inspired a new sort of Ray of Light–era vibrancy for Polachek, who mixed acoustic instruments and electronic production to create a freewheeling, energetic sound she describes as "Tantric." "Feeling so connected to antiquity and all the plagues that have happened over and over and how resilient art and artists have been brought me back to life," she says. "It gave me a spiritual road map to finishing the album." She listened to '90s dance music and Timbaland productions, trying to make songs without "a Taylor Swift chorus, where suddenly you're in this massive anthemic moment — instead, you're just coasting."
At the zoo, the staffers request that Polachek please get off the hood of the truck and maybe put on a jacket. "Normally, we wouldn't have something like this, where you're not wearing a lot of clothes in the area," says one. "I appreciate the artisticness, but it's not the image we usually portray. I'm not sure if there's something we can do to make it look more … normal?" There isn't. The photographs look both surreal and high fashion, like Polachek is beckoning the viewer into a Hayao Miyazaki–style dream world. Her connection with Kurt's ilk stretches back to her early days in Greenwich, Connecticut, where she moved after a childhood stint in Tokyo and where, as a "really tiny" kid, she would sit in the library researching prehistoric horse genealogy before hitting the stables. Decades later, when crafting the visual tone of Desire, Polachek immersed herself in ancient cave paintings and was surprised to find that many feature what appear to be Przewalski's horses, descendants  of one of the earliest domesticated breeds. She gazes at Kurt from the side of the truck, and he pees suddenly, forcefully.
The staff member clears her throat. "Is there any shot you can get with her more clothed or with a jacket?" she asks again. I look at Kurt, himself nude, quietly wandering the grass with no concept of human shame. Polachek and the photographer apologize, but the other staffer is not appeased. "I think we're done," he says. Polachek nods. "No one wants a scandal," she tells me moments later in the bathroom.
We retreat to a nearby park to finish the photo shoot, hopping into a big white van with her team. Polachek opens her phone and scrolls through Instagram, where she has been tagged in responses to the just-released "Welcome to My Island" remix featuring friend Charli XCX. On it, the British pop star waxes poetic about a lover who'll "drive me down to Florida and fuck me for days." Polachek tells me Charli wrote the whole thing while on a recent vacation with her boyfriend, the song's co-producer and The 1975 drummer George Daniel. I ask where they went. "The Florida Keys," says Polachek, grinning. "She's diaristic if nothing else."
Though Polachek is a prolific collaborator, regularly guest-starring on her friend's songs or asking them to flip hers, Desire's "Fly to You," with 2000s adult-contemporary mainstay Dido and alt-pop experimentalist Grimes, marks her first-ever album feature. Polachek recorded some of it in Grimes's bedroom at 6 a.m. — "Just the two of us, in this very sweet session" — while Dido's part came together later, after Polachek, a lifelong fan, wrote her a letter. "Her way of blending a quite natural, almost folk approach to pop singing with a very contemporary electronic production was very influential for me," says Polachek. When Dido FaceTimed her a few days later, "I screamed and screen-grabbed it," says Polachek, laughing. The two then met at Dido's Los Angeles house, where they sat outside on her lawn to write and record the rest.
In the weeks before the album's release, Polachek will travel back to London, where she spends half the year, to rehearse tech and choreo and pick out outfits and put together backdrop video animations for her tour, which will include an on-stage "theatrical volcano-scape," all while wrapping up a song she made for an A24 film. I ask if, like many artists nowadays, she's finding it financially difficult to tour, and she looks me in the eye. "Full disclosure: I'm taking my European tour at a loss," she says. "But it's worth it for me. I've always leaned to the slightly riskier side of reinvestment back into the project than maybe would be wise. But it's because I believe in it."
At the park, a group of elderly hikers ask us if we are "doing a school project." Polachek directs Typaldos to take video of her running across a highway that slices the grounds in half, requesting almost as an afterthought that I make sure she doesn't get hit by a car in the process. A man on her team — who is wearing a cowboy hat and a Royal Tenenbaums–esque red track jacket and jokingly introduces himself as a "TikTok mercenary" — silently trails Polachek across the mud and grass, occasionally asking her to do something strange (to dangle a carrot in front of her face, to stand in the middle of a puddle).
At one point, she swings the carrot cartoonishly and he stops her: "You're doing too much." She laughs wryly. "As ever," she says.
Polachek displays a casual savviness with social media. Her "So Hot You're Hurting My Feelings," from Pang, went viral on TikTok during the pandemic with its goofy, flirty dance, and her online persona is off the cuff and self-deprecating. In mid-January, she inexplicably went live for five straight minutes on Instagram, eating an entire plate of pasta to the sounds of Frank Sinatra. (Her boyfriend suggested she go live as a bit at lunch after she "set up the camera to record myself eating spaghetti for a couple of seconds, because I wanted to replace all of the audio with the sound of explosions," she explains, kind of.) Like any avant-garde artist, she sometimes misses her audience in translation. The week before we meet, she tweeted, "while I realize it's a huge compliment, i'm endlessly fucking annoyed by being told i'm 'this generation's Kate Bush.' SHE is our generation's Kate Bush, she is an active artist who's topping the charts, and is irreplaceable. I, meanwhile, am this generation's Caroline Polachek." The dunking and memeing began immediately. Although she was indeed referencing a recent interview in which she was referred to as "Gen Z's Kate Bush," people fixated on what they saw as her self-aggrandizement.
"I love the conceit of calling myself 'the Caroline Polachek of our generation' because people automatically assumed I was really blowing my own horn," she says. I ask if it's frustrating to be seen as so self-serious, even humorless. "No one could hear a song like 'So Hot You're Hurting My Feelings' and think I'm not joking," she says shortly before dropping down on all fours in the grass for the camera. "But maybe people want a more sincere version of me because it's easier to process."
Desire, I Want to Turn Into You is out February 14.