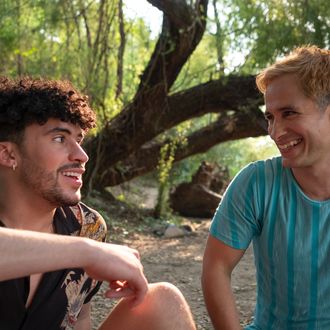 Let's fight.
Photo: Courtsey of Alejandro Lopez Pineda/Amazon
A win for us all — finally, Latine people get a movie about luchadores with actual Latinos stepping into the spandex. Cassandro is set to be released in some theaters on September 15 and then a week later on Prime Video, and this movie has it all — exóticos, queer love, a Celia Cruz song, a mother-son relationship, and … (checks notes) Bad Bunny? The movie has been well received by Un Verano Sin Ti fans who are looking forward to Bad Bunny locking lips with someone who isn't [redacted]. Cassandro is more than just a vessel for new Bad Bunny fan cams, but an exótico's fight for prominence, acceptance, and representation. Below, everything we know about Bad Bunny's cinema takedown, starting with the official trailer.
Quien es Cassandro?
Saúl Armendáriz is a luchador from El Paso, Texas, who rose to prominence in the '80s as an exótico, which is a type of wrestler (usually male) who performs in drag. Think of Mimi Imfurst heaving India Ferrah into the sky, but it's on purpose. In the luchador tradition, there is already a lot of pageantry in the way wrestlers present themselves and act, but exóticos embrace femininity at the core of their wrestling identities. Exóticos flip and tackle with the best of them, but they do it wearing eye shadow and lashes. To some, it's seen as a gimmick, but for people like Armendáriz, it's not just a way of life but how he got his ticket to success. He began training to be a luchador when he was 15 in Juárez, Mexico, where his family is from. He fought under a few names, both before and after he became an exótico, but eventually settled on Cassandro. Armendáriz was a wrestler for Lucha Libre AAA Worldwide and the Universal Wrestling Association, but he was also an important figure for queer and Latine people, as he was one of the first openly gay exóticos. Cassandro is no stranger to the limelight and has appeared as the subject of many stories from publications like The New Yorker, and he was the star of the 2018 documentary Cassandro, the Exótico!
What is the plot? (Read: How does Bad Bunny factor in?)
The movie is directed by Roger Ross Williams, a documentarian. Williams also wrote the script, alongside David Teague. The biopic is about how Saúl Armendáriz created the exótico character of Cassandro, his rise to fame, and the true lucha between identity and machismo. After Sundance Film Festival, where Cassandro debuted, My San Antonio reported that there is an onscreen kiss between Bad Bunny's character, Felipe, and Cassandro, so it seems a queer love story will be present in the Prime Video film as well. According to The Hollywood Reporter, the movie also prominently features Saúl's relationship to his mother, Yocasta.
Who is stepping into the spandex?
Gael García Bernal will be playing the titular role of Cassandro, also known as Saúl Armendáriz. Earlier this year, Bernal told Vulture about the training to play Armendáriz: "It was really, really tiring. But mainly it was hard on the bones and the muscles and the articulations." Playing Bernal's onscreen mother, Yocasta, who gave Cassandro his first costume, is Perla de la Rosa. Roberta Colindrez plays Cassandro's trainer, who convinces him to become an exótico. Raúl Castillo plays a fellow wrestler, "El Commandante," a.k.a. Gerardo. Felipe, a drug dealer working for Cassandro's promoter Lorenzo (played by Joaquín Cosio), will be played by Benito Martínez Ocasio, best known as Bad Bunny, the denouncer of colonialism and boyfriend to Kendall Jenner.
Do they kiss?
Yes, Benito gets a besito. Visual learners can find proof in the clip below, which picks up after Cassandro — partly acting under the influence of some substances — makes a move on Felipe.
When does Cassandro hit, jackknife, ankle-lock, and punt-kick into theaters?
Cassandro will be released in some theaters on September 15. The following week, on September 22, the film will be available for rewinding on Prime Video.