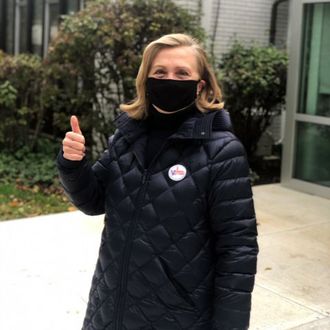 If Hillary Clinton took the time to
Pokémon Go
to the polls this year, sporting both a puffer jacket and a mask, so can you.
Photo: Hilary Clinton/Twitter
Between TV appearances and last-minute endorsements, more than a few celebrities found the time to make it down to the polls to vote in this year's election, or else drop off their mail-in ballot at the post office, and of course, they documented it all on Instagram and Twitter. Most proudly displayed their "I Voted" stickers, and many also elected to wear a mask if voting in person, while only one (Bad Bunny) wore a Chromatica T-shirt to cast his ballot.
Check out all of your favorite celebrities voting below, and while you're at it, vote, if you haven't already!
Gleeks, get to the polls. Your commander-in-chief, Chris Colfer, is counting on you.
It's not true love if you and your significant other don't get matching stress zits on Election Day. Clearly, Patton Oswalt and Meredith Salenger are truly in love.
Former Fifth Harmony member Ally Brooke knows it's not too late to vote. Reminder: If you're in line when the polls close, you can still vote!
It's now or never.
America Ferrera recorded herself and husband Ryan Piers Williams filling out their ballots, noting in her caption, "There was wine. There was singing. There were feelings."
Three guesses as to whom Hillary Clinton voted for.
Bella Hadid wearing tiny glasses and an "I Voted" sticker.
Hadid also posted a picture with her mom, Yolanda Hadid, who recently became a U.S. citizen and voted for the first time.
In lieu of dropping her skin-care routine, Zoë Kravitz posed with her ballot.
Props to Katy Perry, who became a human billboard and still wore her mask.
Kid Cudi smized while endorsing Biden.
Cyndi Lauper made use of a green screen.
Bad Bunny donned the most inspired look of all, in a Chromatica T-shirt and bucket hat.
Lionel Richie posed with an eerie likeness of himself on a mug, as well as an "I Voted" sticker.
Hayley Williams got the message across in a sweatshirt that read "Unity over division."
Bootsy Collins brought some much-needed funk to Election Day.
Selena Gomez filled out her ballot in what looks like a dressing room — relatable!
J.Lo seemingly voted mid-workout.
Noah Centineo admitting to being a first timer.
Marc Jacobs got all done up.
Jenna Dewan brought a future voter.
Michael B. Jordan, thanks for using our New York Mag stickers.
Christina Aguilera found this photo of herself in a gown.
Michael Phelps, water dweller, still seems invested in land-based elections.
Billy Eichner's doing fine.
Well, we all knew this was coming.