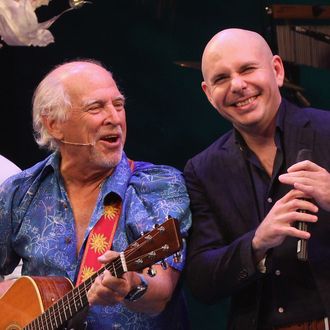 Mr. Good Vibes and Mr. Worldwide.
Photo: Bruce Glikas/Bruce Glikas/FilmMagic
Almost every celebrity seems to have a fond memory of the legendary Jimmy Buffett. Upon the news of his death, social media was flooded with sweet tributes to the "It's Five O'Clock Somewhere" singer. Pitbull, who made his Broadway debut in 2018 in Buffett's Escape to Margaritaville musical, remembered the man he shared a stage with by posting a video of their time together. "Jimmy, you lived life and didn't let life live you. A true pioneer and trailblazer. Thank God for Jimmy Buffett and when life gives you limes, make margaritas," wrote Mr. Worldwide to Mr. Good Vibes.
Paul McCartney wrote a long message, remembering when Buffett gifted him a guitar while on vacation. "It's a beautiful instrument, and every time I play it now it'll remind me of what a great man Jimmy was," mourned McCartney. "Right up to the last minute his eyes still twinkled with a humour that said, 'I love this world and I'm going to enjoy every minute of it.'" He also discussed Buffett's upcoming album, Equal Strain on All Parts, giving praise to a song called "Bubbles Up." McCartney explained the meaning behind the title: "He turned a diving phrase that is used to train people underwater into a metaphor for life when you're confused and don't know where you are just follow the bubbles — they'll take you up to the surface and straighten you out right away."
Below are more celebrity tributes to the late Jimmy Buffet.