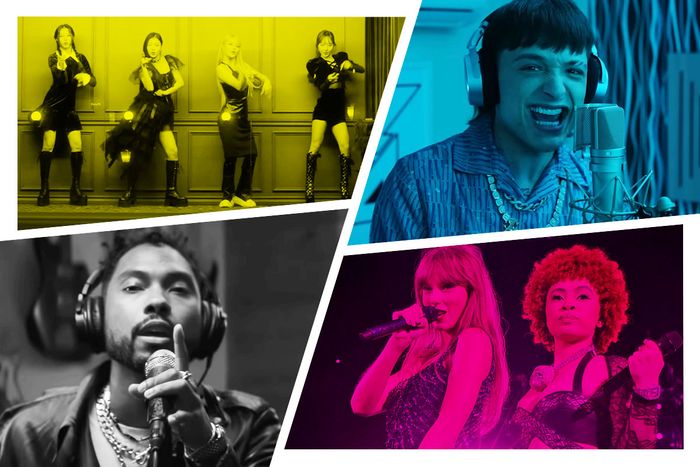 Clockwise from top left: K-Pop group FIFTY FIFTY, Peso Pluma, Taylor Swift and Ice Spice, Miguel
Photo-Illustration: Vulture. Photos: ATTRAKT; The Orchard Music; Getty Images
Chartbreakers combs through notable entries, anomalies, and trends on the Billboard Hot 100 to offer a snapshot of what you need to know about music.
The arrival of summer months typically occasions some shake-ups on the charts. Artists churn out releases in a fight for the song of the summer, while listeners stream things they wouldn't normally in darker and more dreary times. This year, however, those usual patterns have been overshadowed by the settling in of a long-emerging trend that can now be found throughout the top half of the Hot 100: the influx of Mexican regional music.
Since 2021's "Botella Tras Botella" by Gera MX and Christian Nodal, which peaked at No. 60, the past two years have seen many tracks by Mexican artists find success on the charts, with that array of songs highlighting various scenes and sounds from the different states in Mexico.
In this edition of Switched on Pop's Chartbreakers, we're joined by the co-host of NPR Music podcast Alt.Latino Anamaria Sayre, who says that Mexican regional, or simply regional, is a marketing "bucket term" that encompasses Latin genres including everything from Norteño to Corridos, all of which are comfortably finding a home in the top 20 of the Hot 100 in 2023. Between artists like Grupo Frontera and Fuerza Regida, there are currently 12 Mexican regional tracks on the Hot 100, with the 23-year-old phenomenon Peso Pluma himself occupying nine of those slots — including his Bizarrap session at no. 31.
As for the other 88 songs on the chart, there hasn't been much upheaval since our last edition of Chartbreakers in February: Morgan Wallen is Morgan Wallening (he has eight in the top 100, with one of them, "Last Night," on its tenth week at no. 1), "Flowers" by Miley Cyrus is still no. 2, and Jersey Club is still all over the charts (look at Bad Bunny's "Where She Goes," at number 16, for example). But as we discuss below, a few things caught our attention: TikTok sped-up remixes, legacy artists, and, on one occasion, a mix of both. (Looking at you, Miguel). Be sure to subscribe to Switched on Pop, and then read on!
RC: So we've gone from Mexican regional to the Taylor Swift phenomenon, but before we go, Ana, I have one more question for you. Do you think there will be more of a Mexican presence on the charts from here on out? Or do you think it's just kind of a momentary quote-unquote fad in America?
AS: You know, I've been joking, telling everyone that the reconquista is happening and it's happening through Peso Pluma. It's a good question. It's hard to predict because, like we've talked about, the genre doesn't really have the same kind of danceable beats that reggaeton has. It's so disparate from what we would consider your traditional pop sound that I don't know if it's something that's here to stay.
I do think there's a movement toward returning the epicenter of what is the export of music of Latin America to Mexico. It kind of shifted itself to the Caribbean for a little bit with the PR, but traditionally Mexico has been the lifeblood. It has been really the center for centuries. So if anything, that's maybe what's here to stay: a shift toward there. But is regional specifically going to persist as a global phenomenon? Only time will tell.
CH: You know, I've learned today that if fans want something, they can make it happen. Go bully your favorite artists to create what you want.
This interview has been edited and condensed.
Here's playlist of tracks discussed in this Chartbreakers. Be sure to check out Switched on Pop wherever you get your podcasts.
Jersey Club is an electronic genre founded in Newark, NJ that is now often marked by staccato, syncopated kick patterns.
A genre from northeast Mexico characterized by the use of the accordion and the twelve string instrument, bajo sexto.
A regional Mexican genre that heavily features wind and percussion instruments. The late Jenni Rivera was referred to as "La Diva de la Banda."
Taken literally, "corrido" refers to a story told through song. Corridos can be played in all regional Mexican styles, but the genre also has its own set of characteristics, including often being played in a polka or waltz style.
A genre of traditional Mexican music, often about love or Mexico itself, predating the Mexican Revolution.
A style of norteño played with guitars instead of the bajo sexto.
A genre that brings together Mexican influences with American ones, particularly from Texas and other Southwest states.
An off-shoot of cumbia that features synthesizers and drum machines alongside traditional cumbia instruments.
Originally from Colombia, the cumbia genre has regional offshoots all over Latin America. The sound is defined by the rhythm of the guacharaca.
Referring to the Mexico City music scene; "chilango" is a slang term for those from Mexico City.
Narcocorrido directly translates to "drug ballad." These songs, a subgenre of corridos, consisted of lyrics referring to real-world narcos and drug smugglers. Sometimes, artists would even be contacted by the kingpins themselves to write songs dramatizing their exploits.