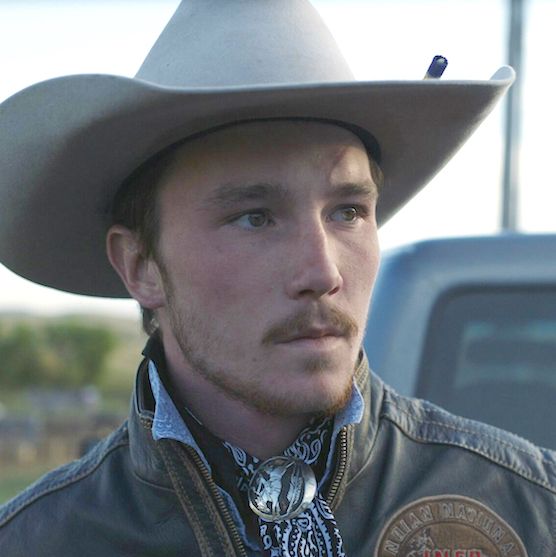 Brady Jandreau in The Rider.
Photo: Protagonist Pictures
This review first ran at the Cannes Film Festival.
As visceral and violent as many films have been this year at Cannes, few have been as tied to the body itself as Chloé Zhao's The Rider. The film, which won the top prize this year at the Director's Fortnight sidebar, is primarily concerned with the body and brain of Brady (Brady Jandreau) a rising rodeo champ whose career is cut short by a major head injury. We see his freshly stapled skull, a grisly sight treated tenderly by the camera: The body is a conveyance for the mind, and deep existential heartbreak occurs when one wants something that the other just isn't up to anymore.
The film follows Brady's reluctant struggle to walk away from the rodeo, the horses he loves so much, and the way of life he had pinned his identity on. The mixed messages of his community and peers — be a man, suck it up, but don't kill yourself — find him in a quietly tortured back and forth. He's resolved to do the prudent thing one minute, then finds himself involuntarily drawn toward the saddle the next. He sells his beloved horse, Gus, but can't bring himself to let go of his riding gear. His close friend Lane, another former rodeo star, is in the hospital suffering acute brain damage, and Brady still tries to convince him — and himself — that he will ride again.
The connection between men and horses is one of the most enduring themes in cinema, if an increasingly abstract and nostalgic one. But Zhao's framing of Brady's story is unmistakably contemporary; she gets so close up that the screen practically exudes the smell of hay and sweat. It helps that her star has the best method training possible: Jandreau is a real former cowboy Zhao met while filming her last feature, Songs My Brothers Taught Me, who underwent a similar injury. When Brady tries his hand at breaking horses for a living (a considerably safer job than riding bucking ones) we're watching Jandreau's own intuition and physical awareness onscreen, a careful, wordless dance with a jittery colt.
The film also stars Jandreau's own family and friends as themselves, and there's an easygoing naturalism to the scenes among the cowboys, talking shop, drinking beer, and praying for each other. But there could be no mistaking The Rider for a veiled documentary: Zhao's sense of lyricism and emotional rhythm is all her own. There are moments that soar — Brady's last ride on Gus is a visual aria — and others, especially those with Lane, that are quietly wrenching.
And that's what's so subtly special about The Rider — the way it takes what easily could have been reportage and turns it into modern American myth. Brady and his friends live in a milieu both quintessentially American and completely obscure to most 21st-century Americans. And yet, their story feels universal to any person — or country, for that matter — that has ever had to accept a fundamental change or loss or blow to their sense of self. It's never a clean break, and the push and pull to go back to the way things were can be agonizing and occasionally blissful. In telling the story of a disappearing slice of America, Zhao has created a portrait of resilience, and the bonds that last even after the rodeo's over.