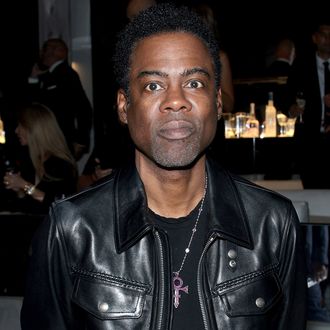 Photo: Dimitrios Kambouris/Getty Images for NYFW: The Shows
On March 4, Chris Rock's latest comedy special, Selective Outrage, will become the first event ever livestreamed on Netflix. With the big broadcast less than a week away, Netflix has offered some new information about how exactly the whole thing is going to work. While there will not be sex — or Champagne, necessarily — in either room, there will be virtual rooms fans can hang out in before and after the show to celebrate the occasion. Netflix will also air live pre- and postshow events from the Comedy Store in L.A. using the same live feed. The Show Before The Show, beginning at 9:30 pm E.T., will be hosted by Ronny Chieng and feature Arsenio Hall, Leslie Jones, Deon Cole, and others. It will include messages from Rock's peers and friends such as Amy Schumer, Cedric the Entertainer, Ice-T, Jerry Seinfeld, Kevin Hart, Paul McCartney, Sarah Silverman, and Wanda Sykes. The Show After The Show, hosted by David Spade and Dana Carvey, will be broadcast directly after the special with contributions from special guests Kareem Abdul-Jabbar, J.B. Smoove, Arsenio Hall, and more.
In between these shows will be the main event. Directed by Joel Gallen, a veteran known for comedy specials including Ellen DeGeneres's 2018 Relatable and live telecasts such as the Film Independent Spirit Awards, Selective Outrage will be broadcast live from the Hippodrome Theatre in Baltimore at 10 p.m. ET. Netflix users will click a red "Watch Live" play button that will take them to the special's livestream, where they'll have the option to watch the special in progress or toggle back to the beginning. The interface will give viewers the option to pause and rewind the broadcast, and it will also be available on Netflix following the live event. The pre- and postshow events, however, will only be viewable live on March 4.
Selective Outrage will be Rock's first special since 2018's Tamborine. It would have been a must-see for comedy fans even if Netflix had not decided to broadcast it live. On March 4, the world will find out whether it will be a spectacle worthy of appointment viewing too.