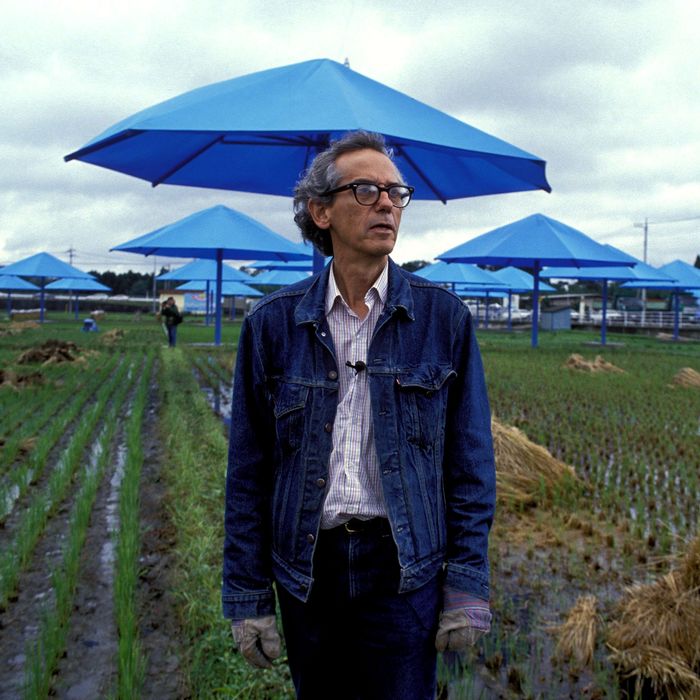 The Umbrellas
by Christo and Jean-Claude, Japan, October 1991.
Photo: Kurita KAKU/Gamma-Rapho via Getty Images
For the hours, days, or weeks that Christo's gigantic temporary artworks existed, wrapped around buildings, bridges, landmarks, sea coasts, city parks or geologic formations, each became a mesmerizing eighth wonder of the world. People made pilgrimages to them; first-dates happened with these works of art as locus; people in their teens became future artists while gazing at them; enormous numbers of people participated in their making, shared the love, and all for no profit with no permanent footprint. Some scoff at these works as mere spectacle. They are spectacle. But that isn't nothing. Christo, who died Sunday at 84, was a structural-spiritual genie. He made you feel the sculptural aurora borealis unfolding before your disoriented delighted eyes in a sentimental epiphany about the marvelous scale and awe-inspiring impermanence of human achievement. When a Christo work was on-view, whole cities might pause in self-admiration and revelation, as if to say "Look! We made this! And then this artist remade it. For us! And it doesn't have to mean anything! It just is! Isn't it wonderful?!" A Christo blasts pheromones of freedom.
Just saying what these projects were out loud can make you have hallucinations. I saw my first Christo from the inside in 1969, as part of a high-school class visiting the wrapped inside and outside of the brand-new Museum of Contemporary Art in Chicago. Each Christo strikes me still as a form of ancient mummification — wrapping a body in fabric somehow transforms and makes it sacred, undergoing some sort of passage from one state to another. In 1972 came Valley Curtain: the gargantuan 365 foot high, 1,300 foot long, 150,000 square feet of bright orange curtain strung for 28 hours across a valley in the Colorado Rockies before it blew apart. I never saw the piece in flesh but you don't have to see a Christo to know or love it. (David and Albert Maysles' Christo's Valley Curtain won the 1974 Academy Award for Best Documentary Short.)
Christo's best work, like the astonishing 1995 Wrapped Reichstag in Berlin, seems both old-fashioned and decorative, renegade and punk. It calms the soul, occupies the mind, lets the imagination run free a while, making poetry out of form, allowing inner stillness, reconciliations, and odd solitudes. In 1983 there were the 11 islands in Biscayne Bay, Florida, surrounded in pink fabric, like gaudy Miami as a flamingo, weird, proud, strutting, and funny! Christo wrapped the Pont Neuf in Paris with 440,000 square feet of honey-colored woven fabric — down to each of the bridge's 44 street lamps. It hushed the whole city, blended in, stood-out, shocked, thrilled and slowed down time, sucking in anyone who looked at it into a collective and personal dream tunnel. How does such simultaneous ephemerality and monumentality, human and natural scale, formalism and freeform, big-thinking, crazy-love, high-aesthetics, strict engineering, theatricality, beauty and audacity co-exist?
As world-famous as Christo was, he was never a big art world critical hit. You didn't see his work in Biennials and the like. Maybe because this art was too popular, too powerful at a glance, it didn't need an art-historian to tell you which way its cosmic wind blew. Maybe it was because he and his art and life partner, Jeanne-Claude (I love that both only went by first names, like pop stars) vanished from art world conversation for years at a time as they labored and plugged away at raising money, getting permits, meeting with community groups, negotiating labor contracts, appeasing environmentalists, working with fabricators and a million other things — all to realize these epic flashes of materialized form. They weren't really gallery artists and only sold drawings and related objects to raise money for the monumental projects. They never accepted grants. The Christos were anti-market before anti-market became a massive marketable movement. At the end of every project the profit the two drew was always zero. As with many artists of the period, the process was as much the art as the finished product.
The Christos were a team from the beginning; he with his almost indecipherable Bulgarian-accented English; she with her flaming red hair and constant wheeling and dealing. They occupy a singular place in the history of the last 120 years and are a link and brilliant bridge between Modern and classical art, popular and insider art, architecture, sculpture, earth works, cooperative economics, group engineering, and making masterpieces available to everyone for free.
All their art is site-specific but feels universal. As makers they were Godzilla-sized termites, always building, harvesting material, cultivating civic soil for their structures, having huge numbers of people function almost as a singular organism, fashioning vents for optical delight, all while making some of the largest single works of art that have ever existed. In the same way that Duchamp and Meret Oppenheim stepped outside mediums and were revolutionary artists while using traditional ceramics — him with his ceramic urinal, her and her fur-lined teacup — the Christos are revolutionary around fabric and sewing. All are visionaries.
Today, the week of his death, amidst the extended three and a half years of this terrible long American night, I wish we could enlist them to wrap the White House in black fabric shroud, a hyper-lucid mummified metaphor for the ghost ship of current pain and racism. Instead we can only mourn them, as we grieve for ourselves.