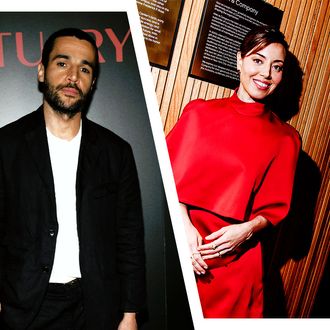 Danny and Roberta.
Photo-Illustration: Vulture; Photos: Getty Images
C'mon, jump in! The water's fine. It's just the deep blue sea! Christopher Abbott and Aubrey Plaza will be taking the dive into Danny and the Deep Blue Sea later this year Off Broadway. The play, written by Doubt playwright John Patrick Shanley, first premiered in 1984 with June Stein and a young John Turturro, and it has since become a classic for regional theater and drama schools around the country. Directed by Jeff Ward with movement by Bobbi Jene Smith and Or Schraiber, the production will be produced by Sam Rockwell and Mark Berger's Play Hooky Productions, Seaview, Sue Wagner, and John Johnson, and begin previews at the Lucille Lortel Theater on October 30 before opening on November 13 for a ten-week limited run. It is the second announced Shanley revival of the season, with Doubt starring Tyne Daly and Liev Schreiber arriving on Broadway this winter.
The production will be Aubrey Plaza's stage debut, something she is cautiously excited about. "Since this is my first time on the stage, I wanted to make sure I am in good hands and I know I will be with Chris," she told Vulture via email. "I think we're both perfect for these roles and it feels like a good time to bring back this classic. I'm terrified to make my stage debut but that's a good place to start. I'm excited too. I just want to act." The play follows two gruff characters — Danny, a blue-collar worker who may have killed someone, and Roberta, a single mother who still lives with her parents — as they have a chance encounter in a dive bar, initially hate each other, but eventually develop a deep connection.
Abbott, a stage veteran of productions including a 2011 Broadway revival of John Guare's The House of Blue Leaves, is excited without reservation. "I've always loved doing a live show, it's just a different animal," he said via email. "And because of the pandemic it's been years since I've had an opportunity to do a play."
Given both Abbott's and Plaza's stature, it could be surprising that they are doing the show Off Broadway rather than on the Great White Way, but that was intentional. "I hate going to midtown, so to be able to walk out every night of the Lortel will make me less angry," Abbott helpfully explained. "Also, we want an intimate theater experience for the audience, and for a clandestine feeling when you are there."
Both actors have had some experience with the show — Plaza had seen scenes from it done in acting classes, though she hadn't read the full play prior to receiving it from Abbott, and Abbott says that Danny is "just one of those roles you want to have a take on, akin to Stanley in Streetcar." But the two are excited to perform the iconic show for different reasons. For Plaza, it's about the fact that the show felt "familiar." "It's heartbreaking, it's funny and most importantly it's a love story," she said. "I want to do a love story." And for Abbott, getting to work with Ward and Plaza was a major part of the appeal: "It's a beautiful play with people I love."