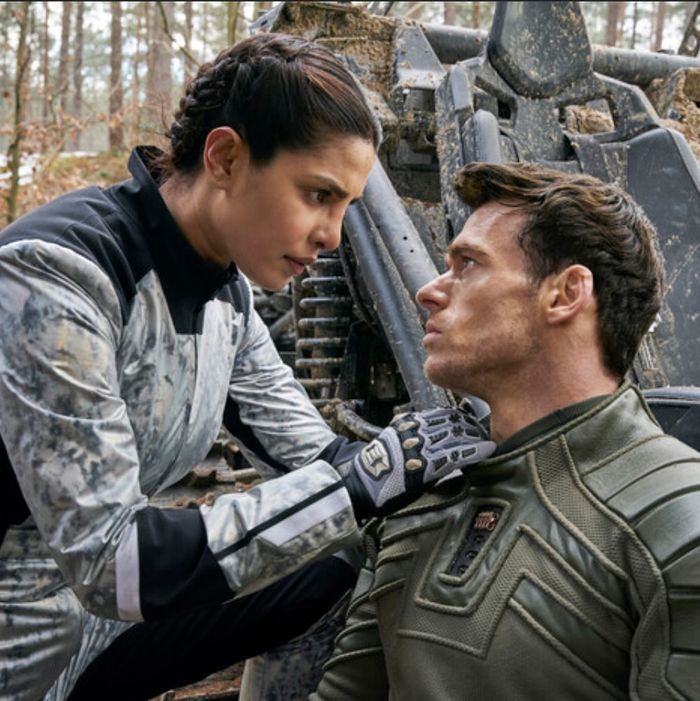 "Tell Her Everything" suffers a bit from midpoint-itis: With three episodes behind us and three ahead, we've met all of the first- and second-tier characters, and the big plot payoffs that will unfold in the final episode are in motion. It feels just a little thumb-twiddly, though, giving viewers a little "So what do we do now?" shrug even as it continues to unwind the tangled threads of the plot.
The previous episode closed with Bernard's emotional and informational atomic bombshell that Abby Conroy is Anders Silje's lost beloved, Brielle. But because Citadel loves to hop around in time and space, this episode opens with more of Mason and Nadia's daring rescue of Carter Spence until the huge needle scratch of their haggard, traumatized colleague shouting at Mason to stay away from him because "You did this." Oh dear. In the prior episode, we thought we were steeping in the most intense brew of trust and lies. Wrong! This situation will definitely get worse before it gets better, if that's even possible. Citadel may love delicious high-impact reveals even more than it loves multiple timelines, so we might learn at the end of the sixth episode that the entirety of this season took place in young Hendrix Conroy's feverish, delirious mind. Honestly, if that's the way this season resolves, fair play to the writers for sheer ballsiness.
The trust vs. lies conundrum Citadel has been exploring unfolds in more minute and agonizing detail in "Tell Her Everything" as we watch Mason being torn between the twin but increasingly distant poles of successfully masterminding an ultra-high-stakes mission and protecting Nadia, the spy who loves him. Fun fact: Constantly stewing in suspicion of others' motives and actions is not a great way to maintain friendships, romances, or work partnerships.
At the helm of a major field mission for the first time, eight years ago, he wants to trust Nadia's bestie, Celeste, with getting close to Anders, whom we know mostly as a murderer and torturer for hire. It turns out he's also an engineering savant! His latest invention, the Oz Key, sounds pretty dire. The job of the agent tasked with this mission is daunting: She must infiltrate the Silje twins' inner circle and get close enough to Anders to learn all about the Oz Key and eventually sabotage and/or steal it for Citadel.
Mason's voice-over lecture, in which he hammers away at the strategy Celeste must adopt to be successful at every phase of this psychologically grueling mission, sums up his philosophy of undercover work. Rather than just maintaining lies, Celeste will have to suppress her true identity to such a degree that "when you look in the mirror, you see an entirely different person." This way, Mason reasons, she won't be lying but instead telling the Silje brothers and their retinue the truth as her alter ego, Brielle, understands it. This is a variation of the on-the-job seduction technique Philip and Elizabeth Jennings discuss in a third-season episode of The Americans; Philip recalls that their training instructors referred to it as "making it real for ourselves."
Mason goes on at such length about truth and lies that it seems as if the show is asking us to notice and remember. Is he simply giving Celeste helpful advice on managing her most intense long-term field assignment to date? Is he perhaps talking just a tad about himself? A little bit of both? Time will tell. To guard against Celeste's completely losing herself in her 24/7 performance of Brielle, she agrees to weekly check-ins with Mason, who promises to "be your tether, reminding you who you are and what is real." Maybe Mason really is, as Bernard has described him, a top spy, really hot stuff.
Another of Citadel's big concerns takes the spotlight to ask if it's possible for elite spies to protect the people they love without harming others. How far would they go to do so, even when they suspect they've been betrayed? Nadia would trust Celeste with her life, but should she? Mason and Nadia are developing real feelings for each other, but how long can that last under the total lack of work-life balance in their chosen field?
When Celeste's mission inevitably fails, due in large part to Mason's panicking and ordering her extraction too early, the enormity of it leads him to become completely unhinged. The speed of the shift is astonishing. The Mason who very nearly carries out the assassination of Celeste's troubled brother while forcing her to watch is not the Mason we've come to know.
But what can he do? The whole thing is a gigantic shitshow. Several of his colleagues are dead, Davik has escaped, and the real Oz Key is nowhere to be found. If anything, the personal side of things is even worse; an encrypted message has alerted Mason that an unspecified woman "took the case." At most, three people could be that woman: Grace, Nadia, or Celeste. The odds are not in Nadia's favor.
If Celeste weren't compromised or planning to sell the Oz Key, she would have it or be able to produce it. She can't, and that's enough to cast a damning suspicion that she must be a double agent. Now that Davik is on the loose and out for revenge, it almost doesn't matter — Celeste is in even bigger trouble than any espionage charges.
This is all a little weird, right? Sure, Citadel is presuming the worst — that Davik either has the real Oz Key and knows enough about it to use it even with Anders in custody or is able to sell it quickly. Mason's theory is more personal: Celeste had always intended to betray them so she could sell Citadel secrets along with the Oz Key to help out her brother.
Under this theory, serious havoc is an inevitability, and all Mason can do is stanch some of the bleeding. Now it's just a hop, a skip, and a jump to deciding that appearing to protect his agent and whatever secrets she's got under mental lock and key is worth attempting to use a new, not fully approved technology. Mason suggests backstopping Celeste as a bulwark against her being a useful interrogation subject for Davik, and he does so with such intensity that he's both an unstoppable force and an unmovable object. For the good of the agency (and, sure, the fate of the world), she has to be "wiped clean" — temporarily, of course! — to buy Citadel enough time to figure out what's really going on. Obviously, Nadia can never know that they backstop Celeste.
None of this passes the sniff test, though — Mason's work and life are so enmeshed that he's not thinking clearly. For him, work-life balance may as well be a mythological concept. Carter thinks there's something off about Mason's behavior too, and after spending a few hours on a deep dive into various communication logs, he's got an answer to the question about the lengths a person might go to protect someone they love. His research proves that Nadia is a mole and that Mason suspects or knows it, so to protect Nadia, Mason asks Bernard to destroy Celeste's memory vial, thereby eliminating the evidence that Celeste isn't the mole.
Mason's apparently sincere desire to do good and to coach Celeste to success makes his decision to backstop her permanently — without explaining that it entails removing her memories — all the more appalling. He knows what an unethical breach of trust it is, but he does it anyway, telling himself it's a sacrifice for mission success, not a decision that will haunt him for the rest of his days. Even Bernard, who operates from what we could call a certain moral flexibility, takes a moment to drop his quippy façade to offer some words of caution.
Would it have been more, or less, cruel to arrange Celeste's assassination than to wipe her memories without her consent? At least now we know why, in the present day, Carter isn't telling Mason but rather Nadia to stay away from him. She's the one who destroyed Citadel. Or is she? Two more episodes left for us to get to the bottom of this!
Fun With Bullet Points
• When Brielle first meets Anders, there's a cocktail napkin covered in equations on his table. Is this a cute little homage to Glass Onion?
• If you're enjoying Citadel, I recommend the British political-thriller series COBRA. The first season covers the aftermath of a massive solar flare, and the second centers around an Oz Key–like scenario.
• The Oz Key is such a weird name for the all-powerful device Anders is developing. Has he not seen the end of The Wizard of Oz? You know, the part when the Fellowship of the Ruby Slippers is instructed by the great and powerful Oz to pay no attention to that man behind the curtain? It's not a name that inspires confidence, and a true friend would have counseled Anders to come up with something better. Another reminder that espionage is not a field that supports healthy, honest relationships.
• Some questions tickling the back of my mind: Did Bernard pair Mason and Abby on purpose, and if so, how? It seems way too random that by pure chance they wind up happily married with a cute kid in the idyllic-seeming Oregon town where Mason's grandmother lived. If Bernard did play post-backstop matchmaker, that would run counter to his earlier assertion that he believed Mason and Nadia were both dead, along with every other Citadel agent but himself, until he received the notification that Mason had submitted his saliva for DNA analysis. Of course, he has already said he's very untrustworthy. Tangled webs! This show has them in abundance.